Are we stuck in a loop?
This morning, despite President Trump moving the Doomsday Clock up another minute by unilaterally (which means without the agreement of ANYONE else who participated) withdrawing from the Iran Nuclear Treaty, which was put together after years of diplomacy with a dozen countries – including China. Now the World has to decide who they are going to side with – Iran, who, despite Israel's claims to the contrary, have been adhering to the agreement or Trump, who's a friggin' lunatic.
Unfortunately, the lunatic already has A LOT of nuclear weapons and he's already stated he's not afraid to use them, so people don't want to be on his bad side. If anything, Trump's action justify Kim Jong Un's strategy of first building the weapons and THEN negotiating – as the non-nuclear Iran has become Trump's whipping boy while Trump is arranging to meet with Kim, a consideration he has not given to Iran.
Former President Barack Obama, who rarely comments on his successor, issued a statement describing Trump's move as a "serious mistake" that could leave the US with a "losing choice between a nuclear-armed Iran or another war in the Middle East."
Some of the US' closest allies, the UK, France and Germany, issued a statement expressing "regret and concern" about the decision, emphasizing Iran's compliance with the deal and their "continuing commitment" to the Joint Commission Plan of Action, as the deal is formally known. Iran's President, Hassan Rouhani, said he had ordered the country's atomic industry to be ready to restart industrial uranium enrichment, while the country's foreign minister said he would work with the pact's remaining partners — France, the UK, Germany, China and Russia — to see whether they could ensure "full benefits for Iran. Outcome will determine our response," Javad Zarif tweeted.
It is mission accomplised for Trump's Big Oil Donors as oil (/CL) is back over $70 and gasoline (/RB) is over $2.15 wholesale ($3 retail) – just in time for summer driving season, when prices tend to trend up into July. The Iran sanctions won't actually change anything as Iran has hundreds of countries that will buy their oil so there will be no net change in supply but any excuse to jack up the prices paid by the American Consumers so the Top 1% who fund the campaigns can get much, MUCH richer is a good one, right?
I don't think oil prices can go much higher without wrecking the economy so we're once again shorting the S&P Futures (/ES) at 2,684 (as noted in this morning's Live Member Chat Room) as well as the Russell at 1,597.50 because we think the entire move up in the Futures this morning of 0.5% is nothing more than a prop job by Trump's proxies (yes, they can do that) to make it look like the markets are happy about his decision. If we're right and it's fake – it will unwind when regular trading resumes but, as long as we print a strong open – then Trump can say it wasn't because of what he did.
Also, the Dollar has taken a dive, which is boosting the markets (you need more Dollars to buy the same stock) so there's two factors that can reverse very quickly – and we have a $25Bn 10-year note auction at 1pm that is expected to be so bad that the Fed's Bostic is scheduled right after it at 1:15 to help calm the markets down.
Unfortunately for the United States, the question foreign investors are asking themeselves these days is: "Are you willing to lend Donald Trump money for 10 years at 3%?" Those of us who live in the Northeast know that's a TERRIBLE idea. When Trump went to get a casino license for the Taj Mahal in Atlantic City, he had to convince regulators he could raise enough cash to complete the $1Bn project. Testifying under oath, Trump said he could pull it off for one main reason: He was Donald Trump. Because of his reputation as a dealmaker, he said, bankers were lining up to lend him money at prime rates. That meant he could avoid the risky, high-interest loans known as junk bonds. "I'm talking about banking institutions, not these junk bonds, which are ridiculous," the now-President said.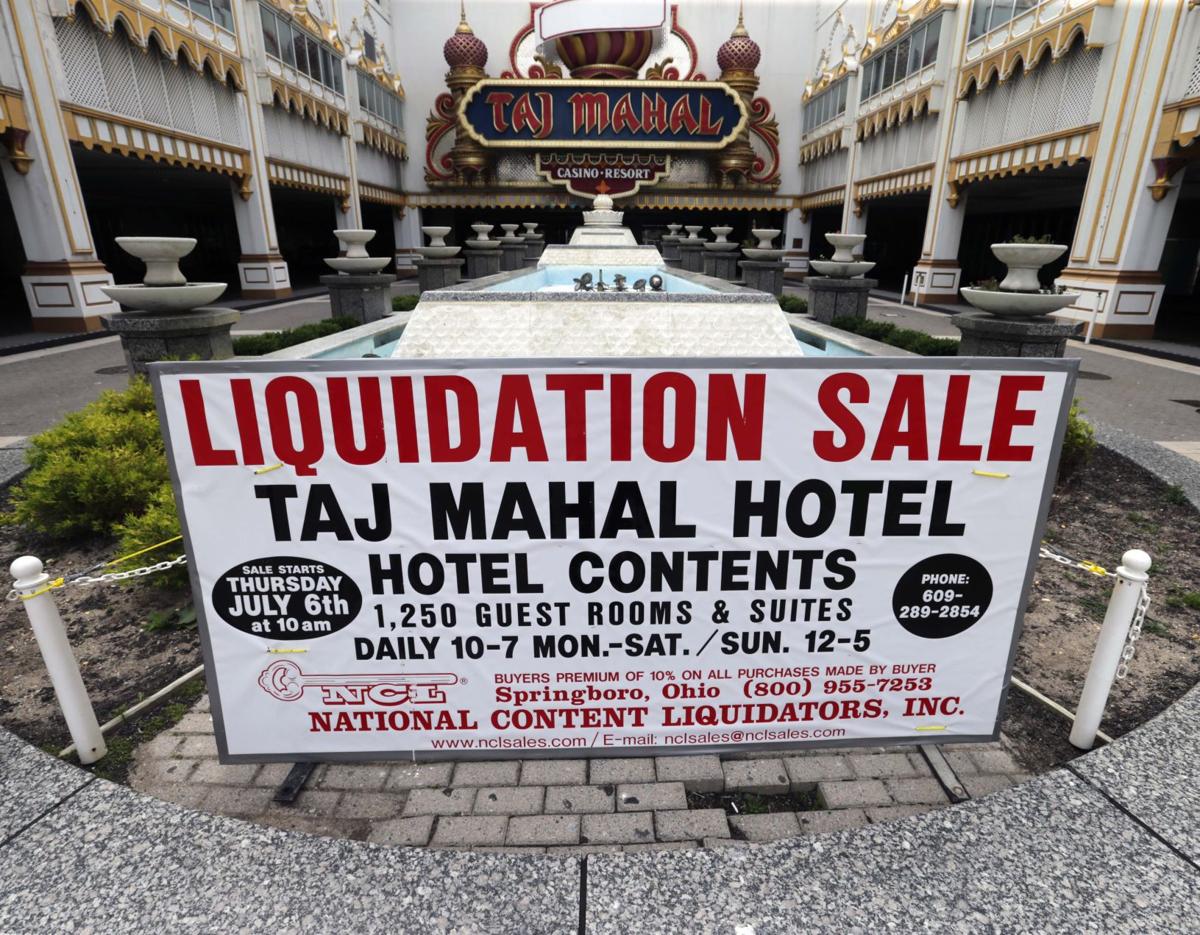 After he got the approval, the prime-rate loans never materialized – not one Dollar's worth and Trump ended up borrowing $675M at 14% using – you guessed it – junk bonds. Just 6 months later, the Taj Mahal defaulted on their payments and, in July of 1991, the company filed for bankruptcy.
This is the guy who is now in charge of the financial future of this country!
I'm terrified and not just because Trump is a terrible businessman and a serial liar – that we've known for quite some time. It's the complacency of the markets that worries me, the fact that the VIX is still in the low teens and that the market is trading at record high multiples to earnings and earnings growth is clearly slowing down, DESPITE the massive boost given this year by the tax cuts that have, so far, not done anything positive at all for the broad economy.
In our last Short-Term Portfolio Review (April 19th) we bought back our short DXD July $10 calls for 0.18 and left ourselves with 100 long July $8 calls which we bougth for net 0.78 after adding in the 0.18. Those are now 0.85 (up 10%) and we are glad to have them as additional protection as they'll make another $11,500 at our goal of $10 if we do have a pullback (now $8.61) and we also have a bull call spread on SQQQ but I think, not that earnings are mostly in, it's time to add another major hedge on the S&P using the Ultra-Short ETF (SDS) or the Russell, using their Ultra-Short ETF (TZA) – we'll look at those this morning in Member Chat.
We can certainly afford the hedges as our Long-Term Portfolio has popped $21,000 (4.2%) since our 4/20 Review of that portfolio. At 19.3% I will say the same thing I said last time we were up almost 20% with just 1/3 of the year gone and that's that is would be a good idea to cash it in and go on vacation (sell in May?) as this was our goal for the YEAR and it's not likely to continue at this pace, which means a pullback is inevitable (see my notes in yesterday's PSW Report).
I said the same thing in March and by late that month we had dropped back to about 12% and now we're back over 19% so you can continue to ride the snake or you can cash out and take some time off and enjoy yourself and just check the news once a week and, when the market is down 10%, then it's time to come home and we can start buying again. If the market doesn't go down, whenever you decide to come back I am certain we'll find PLENTY of things to trade (see Monday's Top Trade Review, for example).
That's my trading advice for the moment – DON'T! I have to be here – it's my job, but you don't and you can go and enjoy yourself, spend time with the family, do something you always wanted to do. It's not necessary to always play the market, just like a casino game – it will always be there waiting for you whenever you feel like playing.
I don't like playing when I feel like I need more hedges to protect gains just because I can't take gains off the table. Our Hedge Fund is over 90% in CASH!! and my children's college accounts are in CASH!!! and I don't expect that to change much until either we see reasonable July earnings or we get a nice, 10% correction. Until then, we can amuse ourselves with things that come up (like today's easy index shorts or yesterday's AAPL long) but I'm not going to force trades in a choppy market.
Do you know someone who would benefit from this information? We can send your friend a strictly confidential, one-time email telling them about this information. Your privacy and your friend's privacy is your business... no spam!
Click here and tell a friend!