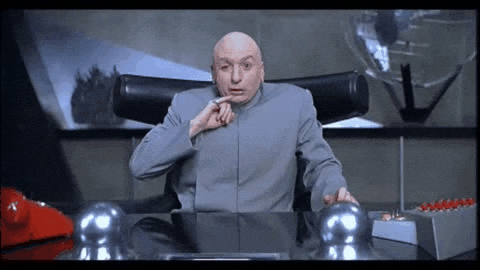 $817,961!
Now we're up $217,961 (36%) in our paired Long-Term and Short-Term Portfolios and that's up $44,185 from our last review, when I said I'd rather cash out than continue to risk our, at the time, 28.9% gains. Since we didn't cash out, we pressed our hedges AND since the market kept going up, we added more longs and, so far – it's all working out. As I said last month, as long as the indexes are holding their 50-day moving averages, we're not in immediate danger and this market seems to shake off everything that's thrown at it – so far.
On the whole, we haven't made too many adjustments to any of our portfolios this month as they are on a very good track and fairly well-balanced. Do keep in mind that we are failing (so far) at the lower high of 2,800 on the S&P (/ES), but once we're over that line – we have to seriously consider a whole new leg of the rally may be forming.
We still have $369,258 in cash and about $1M in margin remainin in our Long-Term Portfolio, so we're very flexible and that portfolio is our MOST invested. I'm still very risk-adverse in this market and yes, we could be making more if we were more aggressive but then again, we could blow it too – and that is what we're trying to avoid.
Long-Term Portfolio Review (LTP) Part 1: $643,761 is up an embarrassing $45,252 (9%) since our 5/17 review where I said I'd rather cash out ahead of the summer and come back in the fall. Luckily, you guys didn't let me take a nice vacation and we still have all these positions, which we hedged more heavily in the STP (see earlier review). Overall, we're up 28.8% for the year but that's 2% lower than yesterday – so it's a very volatile number and shouldn't be taken too seriously.
Since we decided to stay in and since we had a lot of hedges, we picked up a bunch of new trades in the past month (always try to balance longs and shorts while selling premium). As with the Money Talk Portfolio, these are mostly simple trades that we rarely touch – unless they go against us and then, AS PLANNED, we tend to add more or roll to a better position.
I talked about that strategy as well as scaling in during the Webinar so I won't get into it here but PLEASE, make sure you understand these concepts as they are the key to our entire long-term strategy!
FMCC – Already up 20% and I like them long-term. Sadly, no options.
Various short puts – None are particularly going against us and we stand to collect about $70,000 if they all expire worthless so pretty much even a flat market will make us $70,000 (14%) in 18 months, simply for promising to buy stocks we REALLY want to own – if they get cheaper. Since buying cheap stocks is our JOB – this is a very sensible strategy, right?
ETM – Still has that new trade smell.
FTR – Right where we expected it to be.
NRZ – Well over our goal.
SKT – At our goal already.
ETM just paid us a $180 dividend (not logged yet) on 6/12 (they pay monthly), FTR halted their dividend but I hope we have 10,000 shares when they reinststate it, NRZ paid us $500 in March (so another one coming), SKT paid us $700 in April (so July 27th), ARR is also monthly at $140, F paid $450 on 4/19, NLY paid $750 in March and NYCB paid $340 on the 7th (we didn't get that one).
It may not seem like much but that's $3,700 per quarter and you have to be very well off not to consider that a nice bonus for hanging onto a stock. As our old LTP matured, we were pulling in about $10,000 per quarter but this is just our 6th month on the new LTP and we don't like to deploy too much cash into stocks at this early stage. Still – it's a very worthwhile goal to keep adding nice dividend-payers as time goes on.
AAPL – There's a reason we always have AAPL in our portfolios. Right on track to turn net $18,000(ish) into $60,000. This is why we get so bored – it's like watching paint dry day to day but very exciting returns on a 2-year trade. As it stands it's about net $22,000 so there's still a $38,000 upside (172%) over the next 18 months and for most stock pickers – that would be their best trade ever but you guys just yawn and look for the next hot play… I know I've been complaining about this lately but that's because I'm hanging out with hedge fund managers who make a fortune with trades that aren't 1/10th this good and they just make the trade and then go play golf – no write-ups, no explanations – NOTHING!

You guys are lucky I don't play golf…

ABX – Still good for a new trade, down today with gold.
ALB – On track but looking weak.
ALK – On track
AMGN – On track.
ARR – A little risky not covering but I think they can do better.
BBBY – On track, good timing adding the bull call spread. That's what I'm talking about, we sold the 2020 $17.50 puts for $2.80 in Jan to remind us to keep an eye on them and then, when the fall to our target, rather than panic we simply followed through and added the bull call spread.
C – Oops, those May calls expired worthless and I don't think we sold more. Have to wait now as they took a hit but good for a new trade overall. By the way, notice how, as our LTP plays mature – they kind of turn into Butterfly Plays where we look to sell more premium. That's because it's the best way to make consistent long-term gains! In the early stages, the whole LTP strategy is to build a wall of very defensible longs that we turn into a premium-selling machine…
CDE – The better-performing miner.
CHK – Turned up nicely.
CHL – Good for a new trade on the AT&T of China.
CMG – I was hoping for a pullback but it isn't happening so far.
Long-Term Portfolio Review (LTP) Part 2:
DIS – Don't want to look a gift horse in the mouth here.

Let's sell 10 (2/3) July $110 calls for $1.90 ($1,900)

. It's only 35 days away and we have 735 days to sell so 20x $1,900 is $38,000 while we wait (not that we'll sell every time but illustrates why we should try to!).
F – We're in it for the dividends and right on track.
FNSR – We survived earnings so now we just wait for them to execute on the rest. As it stands now, we have the $15 calls and we bought them for $8.24 but we sold $25 calls for $3.95 and made about $2 on those so net $6.25, let's say. So, if we leave them alone, our break-even is $21.25 (not counting the short puts) but, if we

sell 20 2020 $22 calls for $3.25 ($6,500) and then spend $3.30 to roll our $15 calls ($6.20) to the $10 calls ($9.50

), we will have spent just $100 but dropped our break-even to $16.25 and we still get about a double at just $22. Well, it would seem silly not to do that, right?
GE – Yikes, back under $14! We're going to be waiting and seeing for at least 2 more earnings.
GIS – Good for a new trade.
HBI – This is our Trade of the Year alternate (to LB), depending on who's cheaper at any given time. Not HBI, at the moment as they've done well.
HMNY – Not doing well is HMNY, the Movie Pass people. As I said in this week's Webinar, I have a feeling for them like I did for SIRI back when they were 0.11 (now $7.50), when everyone said their business model was a bust and their plans were insane. Still a great trade for people who like to live dangerously and

we're going to buy 10,000 shares for the LTP at 0.35 ($3,500)

to essentially double down on the long calls.
HRB – Huge pullback hurt us this week but, long-term,

I still like them so let's take advantage of the dip and roll the 20 Jan $22 calls ($3) to 20 2020 $18 ($6.50)/25 ($3) bull call spreads at $2.50

and we'll wait for a rebound and then start selling short-term calls. We're putting net 0.50 in our pocket, getting $2 better strike position and 12 more months for the stock to go up – great deal!
IMAX – Back on track.
LB – Now our Trade of the Year is acting like it!
MO – Still good for a new trade. Just waiting for the stock to double when:
MT – Trade War talk is not good for steel stocks but I love MT long-term and this too shall pass. They are at the low end of our expected range though, so we do need to keep an eye on them and, overall, the trade is about even after 3 months.
NLY – On track.
OPK – Crazy up and downs on this one but making progress.
SPWR – Another Trade War kicking ball but holding up in our zone and still on track.

THC – Much as I love them, we can cash this out of $7 out of a possible $8 so let's clear the slot

.
UCTT – Not getting a move so far but seems super-cheap to me so we'll stay aggressive.
VRX – Blasted over our targets but still plenty left to gain so we'll keep them.
WBA – I think this is a sleeping giant, on track AND still good for a new trade so

let's double down on the position

.
WPM – 2017's Trade of the Year is back and just as good at net $2,650 on the $15,000+ (1/2 uncovered) spread. Only at $6,800 so far, which is up 200%+ for us but still has 130% gain left in it!
Well that was easy and it should be in this kind of market. Just a few adjustments and we're good for another month – enjoy!
Short-Term Portfolio Review (STP): I'm always surprised we're not down more on the STP. $174,200 is up 74.2% for the year and, although we have some very aggressive hedges that are killing us (insurance costs), we hedge our hedges by selling short calls and, of course, we have our short puts, which are mostly doing great.
Our last update was on 5/17 and we were at $175,267 and made no adjustments but then we got more aggressive on our hedges as the market went higher. Overall, we're down $1,067 (1%) for the month, so essentially nothing – especially compared to the gains in the LTP. If anything, it probably indicates we need more hedges as we're not losing enough in the STP on these huge up moves!
SQQQ – We bought back the short calls and now we have very little value left in the Sept $15s but that means we can get a cheap roll (always look on the bright side). This is why we have $182,000 in CASH!!!, folks, we use it to buy more insurance!

The Jan $15s are just $1.70 so + 0.80 and we can sell the Jan $25s for 0.70 so net 0.10 ($800) to do that roll and we'd still have $80,000 worth of protection so let's do that!
So here we're buying 3 more months of insurance 10% out of the money so we're giving away a 3% Nasdaq correction but our crazy LTP gains far more than cover that so no need to lock in 100% of our gains when we roll our hedges. For SQQQ to get to $25, it has to about double and that would be a 30% drop in the Nas and I'm very confident we'll have time to add more hedges before that happens so there's really no need to spend more than $800 to adjust our hedge.
That's the key to these hedges, there's a big up-front cost but, if you maintain them correctly, they require very little effort to keep them working for you (kind of like hedges).
The 8 short puts – We sold about $30,000 worth of puts on 8 stocks we'd love to own in the Long-Term Portfolio if we can buy them at those strikes. As long as we REALLY want to own, for example, 500 shares of IBM for $140 (it's $147 now), then it's really just free money to promise to buy it for that price.

That's how we fund some of our hedges, simply promising to buy things we want to buy anyway. It's only been 5 months but we've already gained about $10,000 or 1/3 of what we sold. This is one of the most neglected strategies in the market – even by "professional" hedge fund managers.
DXD – These things are getting complicated now. DXD reverse split so we now have 50 of the Oct $32/36 bull call spreads per our last adjustment and we added 100 of the July $31/32 bull call spreads at net 0.40 and they are still 0.60 in the money, so not too worried so far.
IQ – This was a great play except we also sold 4 short calls and those went flying higher and now we'll have to roll our way out of them. We're in the spread for net $5,700 and it's a $15,000 spread if all goes well and, at $12.50 in the money, the short calls are net $6,250 so actually still a nice profit – even if we don't fix this. Since we have tons of cash let's do the following:
Sell 20 IQ 2020 $15 calls for $22.60 ($45,200)

Roll 20 IQ 2020 $22.50 calls at $17.80 ($35,600) to 40 Jan $35 calls at $8.20 ($32,800)

Roll 5 July $22.50 calls at $12.35 ($6,175) to 10 Jan $35 calls at $8.20 ($8,200)

Buy 50 2020 $25 ($16.50)/$40 ($11.50) bull call spreads for $5 ($25,000)
That adds $19,200 to our cash pile and, if those short calls expire worthless, whatever net is left on the spread is more profit! THAT is how you adjust a spread… We opened the spread at net $5,700 and we've taken a $13,700 profit off the table and yes, we still have the risk of the short calls going more than $15 over $35 and blowing our covers but then we'll just roll and do it all again. And we haven't even sold puts on this one!
TZA – We added the Oct $8/13 spread to our July $10 calls as they are looking hopeless unless there's a real catastrophe. After the Fed, I may be inclined to roll the July $10s but really, they are essentially dead money.
That was easy. Not too many positions but a good amount of downside coverage and plenty of room to add more if we need it. That leaves us free to keep being aggressively long in the LTP.
Options Opportunity Portfolio Review (OOP): We didn't make a single trade this month but we're up $2,065 (2%) at $116,948 since our last review (5/16) and that's up just under 17% for the first half of the year, so well on track. Keep in mind I wanted to CASH!!! out at $114,883 and I still don't like the market but the market sure likes itself.
Apparently, we're very well-balanced and, as we know, if our positions stay on track, they stand to make another $140,000 through Jan 2020 so we're not inclined to tinker with the things that are working.
SQQQ – Our poor hedge is being beaten up and we bought back the short calls so now we have to decide if we want to improve what we have left. Since March 9th, this insurance has cost us about $2,000 per month and we can lose another $7,200 if it goes worthless. The Jan $10s are in the money at $3.85 so it costs about $2 to roll down $5 but that's $10,000 and I'd hate to spend that. We could sell the Jan $25s for 0.80 and then we spend just $6,000 to roll $18,000 in the money – that's certainly worth it but it means the $10/25 spread, with a net delta of 0.60, won't be as much protection – so we have to factor that in as well.

I'm going to say yes to this spread so that's rolling the Jan $15s to the Jan $10s and selling the Jan $25s to cover for net $1.20

but we'll need some more aggressive longs to cover.
AAPL – Not at all worried about these.
CBI – Now MDR and we have "special" MDR 2020 $15 puts in exchange for these but not reflected yet.
CHL – On track. We've been waiting for a dip to sell some short puts and I don't think we'll do too much better than this so let's pull the trigger and

sell 5 Dec $45 puts for $2 ($1,000)

.
TZA – Our other major hedge is also a bull call spread and in the money so no worries here.
FTR – Had a nasty pullback but on track for our $8 target.
ABX – Right where we started and good for a new trade.
ALK – On track.
BBBY – Good for a new trade.
CDE – On track.
CG – On track.
CHK – On track (finally).
F – On track and paying a nice dividend while we wait.
FNSR – Back from the dead and still good for a new trade.
GE – Still dead and good for a new trade, if you are a believer.
GNC – Finally coming back but still cheap.
HBI – On track
HMNY – This one has been terrible but I'd like to buy 5,000 shares for $1,900 (0.38) as I really think this one is going to pop at some point. If it does, we can sell the calls and let the stock run until we decide to cover.
HRB – Deep in the money now.
IMAX – All it takes is one bad film (Solo) and the stock tanks. It's not like they MADE the film… It's still over our goal so no worries.
LB – Our sleepy Stock of the Year is back on track.
NAK – They have had a wild ride lately.

Let's buy back the short 2020 $1 calls for 0.23 and see if they bounce back.

NLY – I'd like to see at least $11 before selling calls, hopefully $12.
SPWR – On track but way off the $9.50 highs so

let's buy back the 20 short 2020 $10 calls at $1.25 as that's up 50% for us and makes us more bullish

.
THC – Almost double our target but it's an $8,000 spread only netting $3,965 so this spread, which is 180% in the money can still more than double as a new trade. If we hadn't been in at just $525, I'd want to buy more!
VRX – Also a mile over our target so nothing to do but wait.
WPM – Last year's Trade of the Year is still killing it.
We're so well-balanced there's really not much to do but wait for the money to roll in. THC is a good example as it's going to double in 18 months – even though it's deep in the money. This whole portfolio is set up like that – we only have to wait for expirations and we'll do very well. Between now and then, we just need to protect our gains with hedges and try not to get to burned by the hedges but a $140,000 upside means we can certainly stand to pay the insurance costs along the way…
Butterfly Portfolio Review: As is often the case, the slow, steady Butterfly Portfolio continues to grind higher and is now up 15.5% at $115,545. That's up about $2,000 from last month but very good since we added AAPL and, as usual, the bid/ask spreads tend to reflect poorly on new positions.
This is our easiest portfolio to manage as we pretty much only touch it once a month and requires very little margin (virtually none if you have a PM account) and it's the least volatile of all our portfolios, since we're generally agnostic as to direction (we purposely pick stocks that we think will NOT move much).
Keep in mind we're very slow to build this one too as it's generally a retirement portfolio and has very little risk tolerance so we add one position each quarter and make sure that's working well before adding another. While it's tedious to start, just 3 positions have been cranking out almost 3% per month and, if we do it right, 6 will return 6% and 9 will return 9% – that's when it gets interesting!
AAPL – Brand new and on track. Good for a new trade.
DIS – On track.
OIH – Good thing we covered and sold calls. The short puts just stopped out as the crossed $1.75 (we sold them for $3.05).
Well, that was easy. Now go back on your yacht and we'll see you next month!
Money Talk Portfolio Review: I won't be doing the show again until July so we haven't touched a thing in it since Feb 1st. Nonetheless, a well-balanced portfolio is it's own reward and we're up another $6,010 from our 5/17 Review, which is very impressive as it's just a $50,000 Portfolio. Well, it's $92,727 now as we're up 85.5%!
The funny thing is, this portfolio is full of FU positions that we simply left alone! It doesn't get much more low-touch than this, the only adjustment we ever made was to get more aggressive on IMAX…
ALK – Good for a new trade and I want to add a bull call spread.
IMAX – Well-behaved now.
SQQQ – Notice how this simple hedge as covered us up to $28,0000 for $3,000 since Feb and is good until Sept and, in all that time, we're only down $1,280? That's the total cost of our insurance in this portfolio – insurance that would have paid us back $28,000 out of our initial $50,000 principle of the markets had gone horribly wrong. Hedging does not have to be complicated, or expensive!
AAPL – Accounting for a lot of our profits.
ABX – A late starter but I like them with gold coming back.
GE – Not as devastating as you'd think considering we went in in Feb.
LB – Back on track but only have until Jan to get to $40 so no more missteps.
WPM – Gosh I love this company!
Well that was easy. It''s a near perfect portfolio and you can see why I started a hedge fund because ordinary investors like the people who watch Money Talk up in Canada are like "WOW!" and you guys are like "Yawn – only 85%?"
Do you know someone who would benefit from this information? We can send your friend a strictly confidential, one-time email telling them about this information. Your privacy and your friend's privacy is your business... no spam!
Click here and tell a friend!