Archive for 2018
by ilene - January 21st, 2018 11:08 pm
Donald Trump doesn't understand Haiti, immigration or American history

Courtesy of Chantalle F. Verna, Florida International University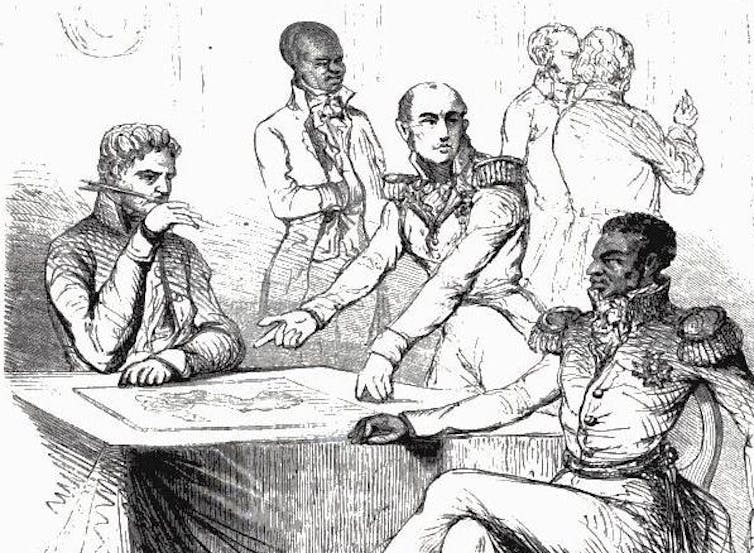 Donald Trump's denigrating comments about Haiti during a recent congressional meeting shocked people around the globe, but given his track record of disrespecting immigrants, they were not actually that surprising.
Despite campaign promises that Trump would be Haiti's "biggest champion," his administration had already demonstrated its disregard for people from this Caribbean island. In November 2017, the Department of Homeland Security announced it would end the Temporary Protected Status that had allowed 59,000 Haitians to stay in the U.S. after a calamitous Jan. 12, 2010 earthquake.
Their TPS was extended after Hurricane Matthew devastated Haiti again in 2016. Without protected status, these Haitian migrants have until July 2019 to get a green card, leave voluntarily or be deported.
As a scholar and first-generation Haitan-American, I can attest that Trump's statements and policies reflect not just disrespect for Haiti but also a profound ignorance about how migration occurs.
Why history matters

As shown in my recent book, "Haiti and the Uses of America," history shapes where immigrants choose to build their lives.
Outsiders head to the United States in times of crisis not at random but because historic ties point them in this direction. When nativists like President Trump and Attorney General Jeff Sessions refer to immigrants as "criminal aliens" – perpetuating the idea that foreigners are "invading" the country – they ignore this key fact.
Movement from Haiti to the U.S. has its roots in colonial times, when British, French and Spanish traders exchanged coffee, cotton and mahogany between the two territories.
In the 1790s, thousands of white and mixed-race residents sought refuge from a revolutionary war in colonial Haiti, which was then called Saint Domingue. Fleeing an uprising by enslaved men and women of African descent, French colonists boarded ships following historic trade routes to U.S.…

by Insider Scoop - January 21st, 2018 11:00 pm
Courtesy of Benzinga.
…

by Zero Hedge - January 21st, 2018 10:42 pm
Courtesy of Zero Hedge
Two weeks ago, when bitcoin was trading in the $15,000 range, we published what in retrospect was a warning to bitcoin investors, highlighting that traders of bitcoin futures appeared to be quietly building a net short position. As we reported on Jan. 7, CFTC data for leveraged funds – which consists largely of hedge funds and various money managers – showed a short of around $14mm, or around a quarter of the total open interest. "In other words", we summarized, "spec investors have used the futures contracts to establish Bitcoin shorts."
Just a few days later, following what in retrospect appears to have been overblown and misinterpreted news out of South Korea that the country was preparing a bill to ban bitcoin exchanges, something it has since denied (for now, at least), as well as frayed nerves after the shuttering of the allegedly fraudulent crypto-exchange platform BitConnect, those bitcoin shorts were generously rewarded, generating profits as much as 40% when bitcoin tumbled to a low of $9000 last week, before rebounding modestly since.
To be sure, the decline in prices across the crypto space last week was broad-based, with the aggregate market capitalization of cryptocurrencies declining by around 35% from a peak of around $800bn on Jan 6 to around $520bn on Jan 16. Cryptocurrencies eventually recovered on Jan 18 although the the recovery in Bitcoin was more modest, leading to a decline in the Bitcoin share of the total cryptocurrency market cap to below 30% for the first time.
And while some had already written off bitcoin futures barely a month after their launch due to lack of volume and trader participation, the recent sharp movements in crypto prices saw a rebound in trading volumes across the three largest cryptocurrencies, as the next chart from JPMorgan shows.
Trading volumes in Bitcoin futures on both the CME and CBOE also rose significantly, to $180mn and $165mn, respectively, approaching the highs of around $190mn on Dec 23, compared to average daily volumes of around $80mn and $70mn respectively between these two peaks.
While volumes picked up, overall participation in the futs markets remained shallow,…

by Zero Hedge - January 21st, 2018 10:38 pm
Courtesy of Zero Hedge
Three charts to consider ahead of Monday's post-Government-Shutdown open.
VALUE

The S&P 500 is trading at a Price-to-Sales ratio of 2.35x… a new record high for valuation…
GREED

The S&P 500 is up 8 of the last 9 weeks, 16 of the last 19 weeks, and 15 of the last 15 months (and 22 of the last 23 months – since The Shanghai Accord). This has pushed The S&P 500 to an RSI of 88.4… a new record high for overbought…
FEAR

The S&P 500 has averaged about four 5% declines – from peak to trough – annually since 1927, but volatility in US stocks has evaporated in recent years. Amid a reportedly robust global economy and still supportive global monetary policy, Friday's 0.4% gain meant that the S&P 500 extended its streak to 395 days without a 5% reversal… a new a new record for tranquillity…
As The FT notes, the last time the S&P 500 suffered a 5 per cent setback was in the global market carnage that followed the UK's shock vote in June 2016 to leave the EU, which constitutes the last significant, if brief, bout of volatility in markets. The last time the US stock market suffered an actual correction – typically defined as a drop of over 10 per cent from the recent peak — was in early 2016, when investors' anxiety grew over the state of China's economy.
Some investors and analysts fear that the tranquillity is encouraging investors to stop buying protection against declines, or to making aggressive "short" bets on volatility staying low through complicated derivatives – which could exacerbate any turbulence that might erupt.
Underscoring the combination of ebullience and simmering fears, Bank of America Merrill Lynch's latest investor survey indicated that most fund managers think the bull market will continue into 2019, but said that "short volatility" was the most crowded trade in markets.
"The short volatility trade remains strong – even though it is a huge potential risk," Mark Tinker, a fund manager at Axa Investment Managers,
…

by Zero Hedge - January 21st, 2018 10:33 pm
Courtesy of Zero Hedge
With Senate Majority Leader Mitch McConnell calling for a procedural vote on a senate measure that would keep the federal government running through Feb. 8 to begin at 1 am Monday, a bipartisan group of senators signaled that they're nearing an agreement to reopen the government following a Sunday afternoon meeting, the Hill reported.
Georgia Senator Johnny Isakson said the group had reached a "consensus of understanding" – essentially agreeing to the broad strokes of a plan to satisfy recalcitrant Democrats and Republicans, per the Hill.
As they left the meeting in Maine senator Susan Collins's office, some members expressed optimism that they will reach an understanding, if not a final agreement, that would let them move forward.
South Carolina Senator Lindsey Graham predicted that the group could cobble together a deal before the 1 am vote.
"Yeah because if it doesn't happen tonight it's going to be a lot harder," he said, alluding to the fact that most federal agencies have elected to wait until Monday before implementing the terms of the shutdown (here's a quick guide to what departments and services will be impacted by the shutdown)…
As the BBC pointed out, the closure of many federal services will be felt around the country and hundreds of thousands of federal staff face unpaid leave.
According to Politico, the senators took their proposal to McConnell and Senate Minority Leader Chuck Schumer after the 90-minute meeting. The plan would reopen the government through Feb. 8 and have McConnell commit on the Senate floor to holding an immigration vote before that date.
The previous government shutdown started in September 2013 and endured for 16 days…
However, this is the first time a government shutdown has happened while one party in this case, the Republicans – controls both Congress and the White House.
And according to the Associated Press, the 2013 shutdown left 800,000 government workers on temporary leave.
The bipartisan group isn't crafting separate legislation. Instead, senators say the bulk of their talks were about how to get 60 votes for the bill to fund the government through Feb. 8, paired with a…

by Zero Hedge - January 21st, 2018 10:29 pm
Courtesy of Zero Hedge
Twitter has taken it upon themselves to remind everyone that Russian influence is why Donald Trump won the election – and most certainly not the fact that the DNC ran a candidate who, along with her charity, continues to be under active investigation by the DOJ and the IRS.
To that end, if you're one of 677,775 Twitter users who followed, retweeted or liked content from one of 3,814 accounts allegedly run by a "Russian government-linked organization" known as the Internet Research Agency (IRA) during the election, you've likely received an email from Twitter like the one below:
Who else got an email from Twitter this morning for 'liking' a tweet posted by a "Russian"? ???? ???? pic.twitter.com/SRIv6PU6Rk

— Mark Dice (@MarkDice) January 20, 2018
During October, 2017 Congressional hearings, Twitter said that the IRA Russian "troll farm" accounts generated 175,993 posts between 2015 and 2017 - of which 8.4% were election-related.
Other Russian bot campaigns were directed at support for Black Lives Matter, Occupy, anti-fracking, and opposition to regime change in Syria.
In addition to the 3,814 accounts tied to the IRA, Twitter says a total of 50,258 accounts have been identified as "Russian-linked," - constituting 0.016% of total Twitter accounts.
Twitter also noted in a blog post regarding this week's mass emailing that the accounts in question were a "very small fraction" of the overall Twitter activity right before the 2016 election.
The results of this supplemental analysis are consistent with the results of our previous work: automated election-related content associated with Russian signals represented a very small fraction of the overall activity on Twitter in the ten-week period preceding the 2016 election.
The company gave several examples of content from said Russian bots:
by Zero Hedge - January 21st, 2018 10:16 pm
Courtesy of Zero Hedge
Authored by Nick Cunningham via OilPrice.com,
Will oil demand peak within five years? 15 years? Or not until 2040 or 2050?
The precise date at which oil demand hits a high point and then enters into decline has been the subject of much debate, and a topic that has attracted a lot of interest just in the last few years. Consumption levels in some parts of the world have already begun to stagnate, and more and more automakers have begun to ratchet up their plans for electric vehicles.
But the exact date the world will hit peak demand kind of misses the whole point, argues a new report, which is notable since it is coauthored by BP's chief economist Spencer Dale, along with Bassam Fattouh, the director of The Oxford Institute for Energy Studies.
They argue that the focus shouldn't be on the date at which oil demand peaks, but rather the fact that the peak is coming at all. "The significance of peak oil is that it signals a shift from an age of perceived scarcity to an age of abundance," they wrote. In other words, oil won't be on the only game in town when it comes to fueling the global transportation system, which will have far-reaching consequences for oil producers and consumers alike.
The exact date is unknowable, and in any event, the year in which the world does hit peak consumption won't result in some abrupt "discontinuity of behavior," the report argues. Demand growth will slow and then decline, but probably won't fall off a cliff. So, the exact date of peak oil demand is "not particularly interesting."
Nevertheless, the implications of a looming peak in oil consumption are massive. Without an economic transformation, or at least serious diversification, oil-producing nations that depend on oil revenues for both economic growth and to finance public spending, face an uncertain future.
And slowing demand growth is occurring at a time when supply is less of a concern than it used to be, in large part because new drilling technologies have led to a wave of supply from shale. "The world isn't going to…

by Zero Hedge - January 21st, 2018 9:38 pm
Courtesy of Zero Hedge
Submitted by Shant Movsesian and Rajan Dhall MSTA fxdailyterminal.com
Late Friday we got the news that the Senate failed to get the votes to put a funding gap in place, leading to the government shut down which started at modnight on Jan. 20. We expect when Asia markets open up on Sunday night, we will get a knee-jerk hit on the USD, but whether this will have a material impact on the rest of the week will be defined by sentiment on the Treasury market, which has prompted the latest leg lower in the greenback.
Fears of demand out of China and Japan have been instrumental in the pick up in yields, which have been followed up in the rest of the major bond markets, with 10yr Bunds pulled up to 57.5bps while Gilts now stand at 134bps. The US 10yr Note reached 2.66%, but a large chunk of this is down to anticipated selling interest ahead.
We feel this may be a little overdone, based on the premise that both China and Japan will not feel comfortable with any significant appreciation in the CNH or JPY. Any communication from the respective central banks on reserve ratios will have to be measured at the very least, with China already citing misinformation in the reports that they may trim or halt purchases from hereon out. The BoJ will also continue to communicate their intent on maintaining their current program, with the markets now pre-empting normalisation which was something we were watching from the end of last year. The ECB know all about taper tantrums, and it looks as though the BoJ could be the next target, but this will impact across the spectrum of currencies, where the likes of EUR/JPY and GBP/JPY could be a little vulnerable.
This does not preclude lower levels in USD/JPY, where 110.00 is proving to be near term support point, but currency markets are hungry for any notable themes, irrespective of whether they may be premature or not. We have seen this play through in EUR/USD, with the prospect of signalling an end to the QE program setting off strong gains here which has taken out 1.2300,…