Which way? Who knows?
It's all up to Trump, who may tweet anything at any time about China, the Shutdown, OPEC, Comey… There's no way to tell what the President will do because what he does seems totally random and 80% of what he says is a lie and the other 20% are pronouns – so you can't go by what he says or what he does and you can only react to what he tweets – that's crazy!
The markets rocketed higher yesteday as we finally broke through our 200-day moving averages, which are currently Dow 25,015 (now 25,502), S&P 2,743 (now 2,752), Nasdaq 100 7,047 (now 7,050), NYSE 12,500 (now 12,500) and Russell 1,587 (now 1,543) so we need confirmation from the Nasdaq and the NYSE today and, of course, the Russell has some work to do to catch up.
Yesterday we had Congress telling us they had a funding deal and Trump saying he might approve it – even though it only gives him enough money to build a picket fence – as long as he paints it himself. We also had all the people on the US side saying China Trade Talks were going great but then Trump said he's not planning on meeting with Xi in March – so how great can it really be if the March deadline is on the 10th? Trump also said he might extend the deadline – again, who knows?
Today we have 3 Fed speakers: Bostic, Mester and Harker speaking at 7:15 (Europe), 8:50 and noon respectively and they are all going to echo Powell's comments on how the economy is great but nowhere near great enough to raise rates or they may crash the markets another 20% because, you know, great markets are fragile – like great egg shells…
25,600 would be a great place to short the Dow Futures (/YM) if it fails, with tight stops above but ONLY ENTER AS IT CROSSES BELOW! At $5 per point, per contract, if you give it 20 points to the stop (25,620, you risk $100 but the Dow is up 600 points off Monday's lows and up 3,600 points since Christmas so it's very likely we get a 20% retrace of 500 in the short run and that's 120 points for $600 per contract reward and, if we get lucky, we retrace the larger rally by 720 points for a $3,600 gain – so I think it's worth a toss – especially in light of these frightening charts: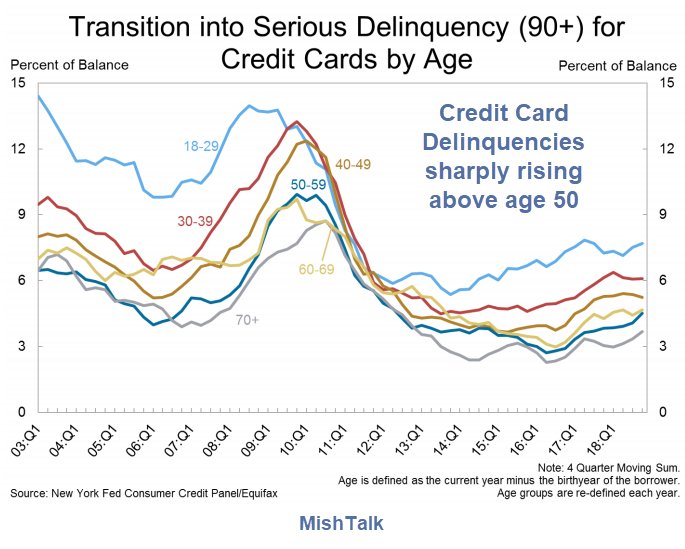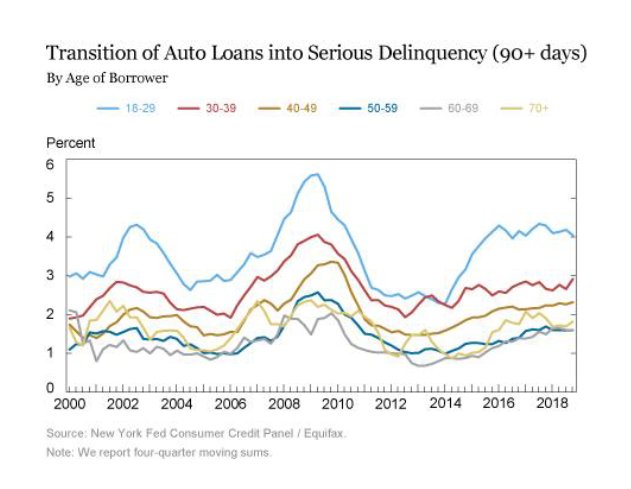 While we're nowhere near the 2008 crisis levels in delinquencies, don't you wish you would have heeded the warning signs in 2007 and been more careful with your investments? We have been pressing our hedges on the way up and will continue to do so in this week's Portfolio Reviews for our Members. Another interesting chart is where people are putting their money in 2019 vs the historical norms and CASH!!! is, of course, king while money is flowing OUT of equities at an alarming rate: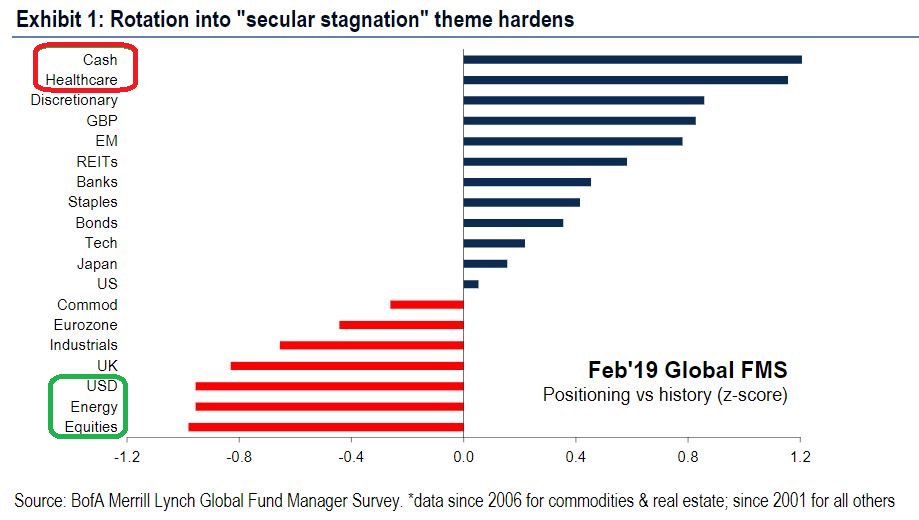 And here's what investors are worried about: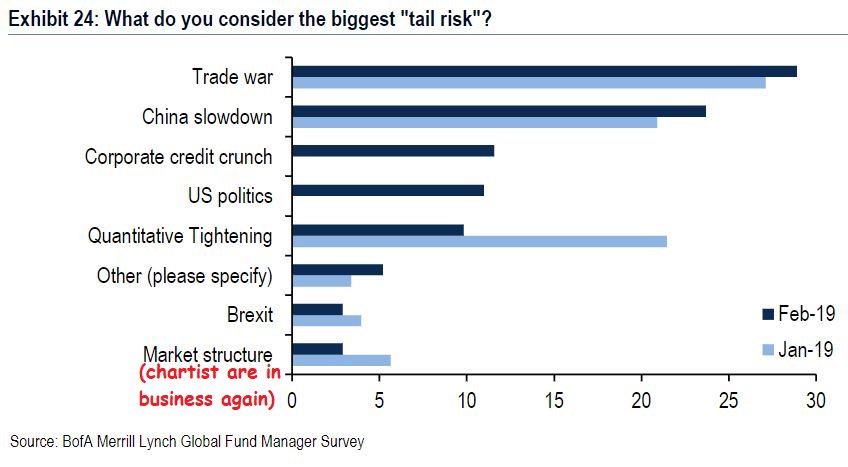 Notice that Qualitative Tightening came quickly off the table but now people are suddenly worried about Corporate Credit, which wasn't even on the radar a month ago and US Politics also entered in 4th place as the Trump investigation (37 indictments so far) heats up and the Democrats bring oversight back to the House Committees and, it turns out, when you shine a light on a swamp that's been ignored for 4 years – you find A LOT of very ugly things!
George Soros says the European Union is heading for a "Soviet-style collapse" and our National Debt passed $22Tn yesterday – which is the real reason the Fed is too scared to raise rates (it would increase our borrowing costs by $220Bn per percent rate hike and also increase our Annual Defict by over 20% a year) and China is in no better shape as they also have to reach out to Foreign Money sources to finance their growing debt.
So what happens when the World's two largest economies (3 really as Japan is worse than either of us) are all competing to borrow money from the rest of the World? Well, usually that would cause rates to go up – with or without the Fed or it becomes very, very expensive for the Fed to step in and save us (again). So it's likely that we are very, very F'd but it's a long, slow F that will take several quarters before most people realize how F'd we are so, for now – lie back and enjoy it!