President Trump said Sunday he would delay an increase in tariffs on Chinese goods set to take effect at the end of this week, citing "substantial progress" on issues including intellectual property and technology transfer after a weekend of talks. In a tweet, Mr. Trump wrote that should progress continue, the U.S. would plan a summit with President Xi Jinping of China to "conclude an agreement" that would settle a yearlong trade fight between the two nations.
While Trump's tweets didn't specify how long the extension of a trade truce would last or any date for a potential summit, we are halting the tariff increase on $200Bn worth of Chinese goods that were scheduled to go from 10% to 25% as of March 1st, so that's $30Bn already not being collected and I'm pleased with just that as my primary fear was that trump wouldn't be willing to give up the $360Bn budget offset those tariffs represented (but even his thick fans were starting to notice that they were the ones paying the tariffs, not the Chinese).
The key concession Trump seems to have gained from China is a promise to buy $300-400Bn more goods per year from the US to "balance" the trade and mostly that will come in the form of farm and energy products (you didn't think the Chinese would actually want our manufactured goods, did you?) and that's already giving our Natural Gas (/NGV19) trade a nice bump (we talked about that in last Wednesday's Morning Report) and, of you missed that one, try going long on July Coffee Futures (/KCN19), which are still down at $102.45 as that's been very depressed all winter.
Oil prices are off a cliff today as the Trump, feeling all-powerful this morning, decided it was time to declare "Oil prices getting too high. OPEC, please relax and take it easy. World cannot take a price hike – fragile!". Keep in mind that Trump had room for another 200 characters, so he didn't need to sound like a cave man but it's possible he's working on some new type of Haiku.
Oil is actually 10% lower than it was last year but now it's lower than that, dropping 2.5% this morning back below $56 but we knew it was too high on Friday and I had made a call for our Members to short Gasoline Futrues (/RB) on Thursday as we expected them to top out at $1.62, saying about the EIA Report: "Oil inventories net neutral – not likely to help but /RB off to the races at $1.617 – I'd short them below $1.62 with tight stops above."
Sadly, we took an 0.02 ($840 per contract) gain off the table into the weekend as it wasn't worth the risk, that extra 0.035 drop would have made us another $1,470 but a bird in the hand is certainly worth more than 1.75 in the bush and now I'd look to play oil (/CL) long off $56 for at least an 0.25 bounce ($250 per contract) but anything below $56 is a no-play but I think taking Trump's word for anything is an over-reaction and, as I said, we're already 10% lower than last March 1st, at $61.50 and the Feb highs were $65 and we went on to $72.50 in May so I hope I'm wrong and Trump can talk oil down to $50, where we would love to go long into the Memorial Day Weekend.
Oil is actually down on US/China trade fears and, now that that's going away, we should see an uptick in demand. One way to play oil long is to play the Ultra-long Oil ETF (UCO), which was in the $30s last summer and now under $20. With an ultra, you just think about how much oil is likely to gain (10%) and, since it's a 2x Ultra – our target is $24 and our time-frame is May but there are no May contracts but the UCO June $20 ($1.90)/23 ($1) bull call spread should be less than $1 and it will pay $3 (up 200%) if UCO is over $23 at June expiration.
That's all it takes to come up with a premise and to make an options trade that limits the risk ($1) and targets a gain ($2) and it's just 116 days to expiration and a spread like that requires no margin – what could be simpler than that? So, now that you've learned options, I'm going to teach you how to hedge:
Let's say you are a working Dad with a driving kid paying for 3 cars worth of gas per week and, at the current price ($2.75) x 15 gallons (300 miles) x 3 cars that's $123.75 per week. So, over the course of a year, you'll spend $6,435 on gasoline. Gasoline was $3.50 last summer and 0.75 more would be $1,755 more than you're spending now so a HEDGE against that (rising gas prices) happening would be to purchase $500 (5) worth of UCO June $20/23 bull call spreads and those will pay you back $1,500 if gasoline is more expensive in June, mitigating $1,000 of your $1,755 additional expese.
If Gasoline stays the same or goes lower, you will lose the $500 but you'll continue to pay these lower prices for gas – so still a win but then you've mitigated your savings. Of course, as investors, we have yet another way to hedge this because we know that, if oil is lower in the Summer, then Airlines will do better than last year as fuel is 30% of their operating costs. Alaska Air (ALK) is one of our favorite Airline stocks (now $62) so what we can do is promise to buy 200 shares of ALK for $60 ($12,000) by selling 2 July $60 puts for $3.20 ($640). So now our hedge looks like this:
Sell 2 ALK July $60 puts for $3.20 ($640)
Buy 5 UCO June $20 calls for $2 ($1,000)
Sell 5 UCO June $23 calls for $1 ($500)
Now we have a net $140 credit and, if all goes well, the short puts expire worthless and we collect $1,500 on the spread and that would be a net gain of $1,640 – covering almost the entire anticipated increase in gasoline costs and our worst-case scenario is that we're forced to buy 200 shares of ALK for a bit under $12,000 (we still have the $140 credit) and we would then sell options against that to further lower the basis.
Trading is FUN & PROFITABLE when you have the right tools at your disposal and understand how to use them. These aren't complicated concepts and, if you own a business that spends money on commodities, whether it's gasoline or heating oil or soybeans, wheat, copper or coffee… you SHOULD learn how to hedge your commodity costs – you'll save a lot more than you do by going with cheaper toilet paper!
Last week, we knew the FIX was in for the Markets on Monday, when we saw that we were going to have 5 Fed Speakers on Friday and they all came through cooing like doves. This week, Jerome Powell speaks to Congress on Tuesday and Wednesday and it's been a very long time since a Fed speaker has had to face a Democratic House – that happens Wednesday at 10 am.
There are 5 Fed speakers on Thursday and Friday to make sure the message is hammered home and Thursday has 4 of the speakers because GDP is out at 8:30 and the market will very likely need saving after seeing that report – which is also the real reason Trump is pulling the plug on the Trade War – as it's killing the GDP, where the Fed's own forecasts for Q4 have fallen from 2.7% to 1.4% – a massive embarrassment for the President (assuming he's capable of feeling embarrassed).
We also have Fed District Reports from Chicago, Dallas, Richmond and Kansas City along with Home Prices and Consumer Confidence (Tues), Factory Orders, Inventories, Pending Home Sales and Investor Confidence on Wednesday – along with another EIA Report, GDP, Chicago PMI and Farm Prices on Thursday and Friday we'll see Personal Income & Outlays along with PMI, ISM and Consumer Sentiment. If the S&P is still above 2,800 at the end of all that – THEN I will be impressed. Until then, I'm very worried about the market's reaction to the GDP because you already know it and I already know it but THEY are pretty stupid and only seem to react to the actual release.
Earnings, by the waay, are still rolling in, mostly from small-caps but still about 20% of the S&P left to report: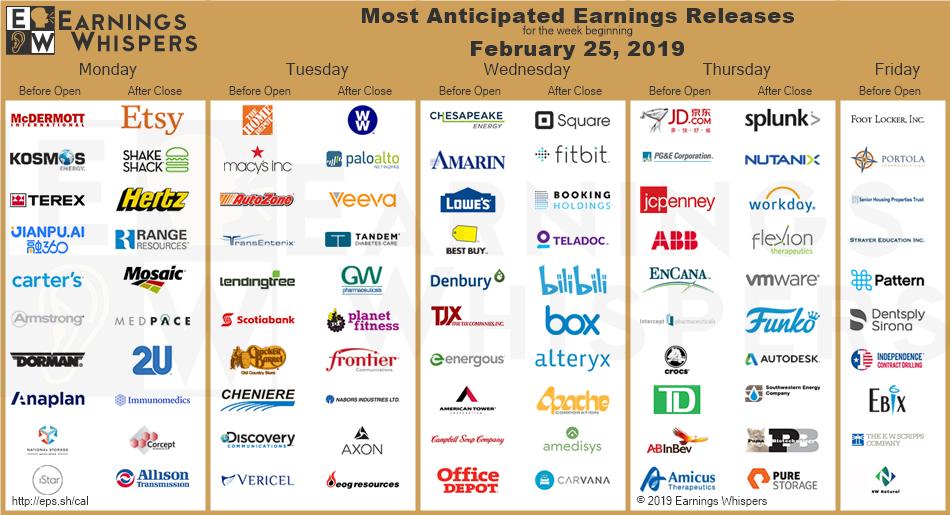 While Q4 earnings have been solid, up 13.1% from last year (better tax rate, so expected), 59 of the S&P 500 companies have given downward guidance vs just 19 raising it and that's a pretty big red flag going forward. As of Friday, the S&P was up 11% for the year so tax cuts are now fully baked in so – now what? The trade war ending isn't a positiive – it's just not a negative – so let's continue to be a bit cautious moving forward.