Archive for July, 2019
by ilene - July 16th, 2019 2:25 am
How tech firms make us feel like we own their apps – and how that benefits them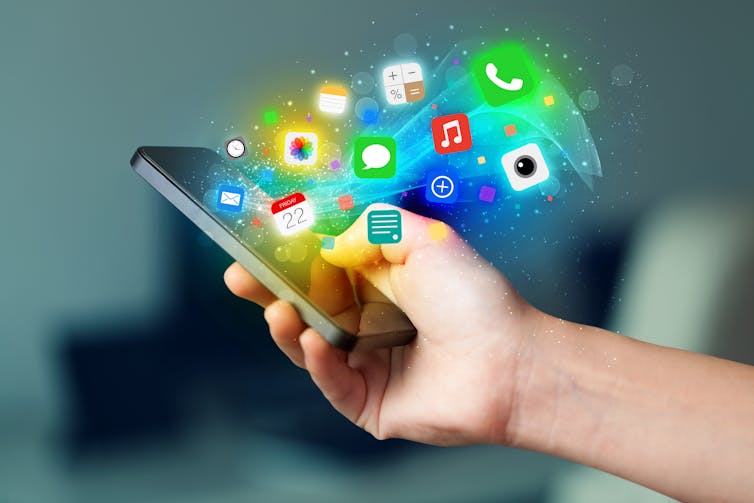 Courtesy of Melody Zou, Warwick Business School, University of Warwick
Possessions are going out of fashion. An endless stream of media reports claim millennials – that amorphous mass of people born in the 1980s and 1990s who have grown up with the internet and digital technology – are in favour of accessing rather than owning stuff.
And yet my research shows that owning possessions is still something millennials hunger for. It is just that these possessions are now digital rather than physical.
People who become heavy users of the apps they download can develop deep relationships with these services, so deep that they take on what we call "psychological ownership" of them. This means they perceive each app as something that belongs just to them and has effectively become an extension of themselves. After using it frequently and adjusting the settings to their liking, it becomes "my app", even though their rights to use the service and transfer their data are actually restricted and their accounts can be terminated at any time.
Psychological ownership can benefit the companies because it leads users to take on valuable extra roles. In the real world, companies have long pushed for shoppers to give feedback, recommend their products and help other shoppers. App "owners" are willingly doing all of this in the digital sphere and often with more expertise and commitment than traditional consumers.
My colleagues and I studied this phenomenon for users of music streaming apps such as Spotify and QQ Music and found that they went the extra mile in four ways. They provided services such as answering the queries of other users on internet forums or offering other information that would enrich the experience of users. They improved the app by giving the company feedback or taking part in the app's governance. They advocated for the app by championing it in public or defending it against critics. And they financed the service by paying a premium fee or even donating money.
By interviewing more than 200 users of these…

by Zero Hedge - July 15th, 2019 11:50 pm
Courtesy of ZeroHedge. View original post here.
Recent budget cuts by the Trump Administration slashed funding for the US Department of Agriculture's annual Honey Bee Colonies report that has recently detailed a collapse in the bee population across the nation. Now researchers will be observing a new study, one that hasn't been affected by spending cuts, shows beekeepers lost 40.7% of their bee colonies from April 2018 to April 2019.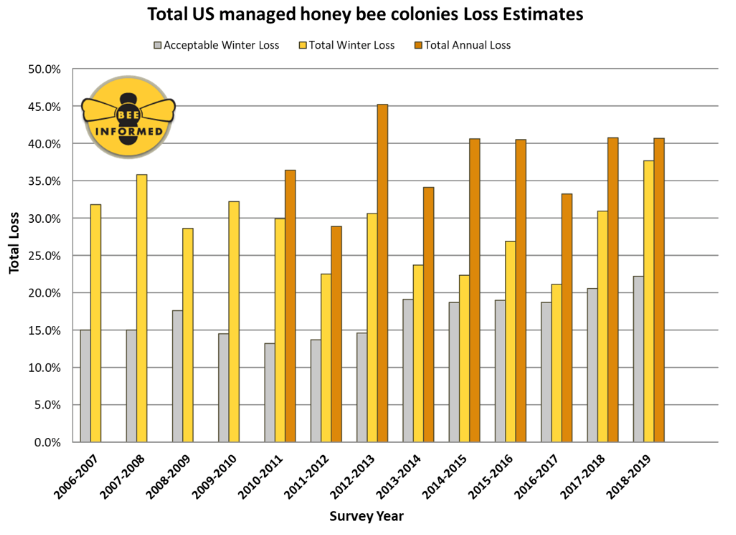 The nationwide survey administered by the University of Maryland-led nonprofit Bee Informed Partnership warns of declining honey bee populations, could soon have an impact on food crops because these pollinating insects play a significant role in the pollination of plants.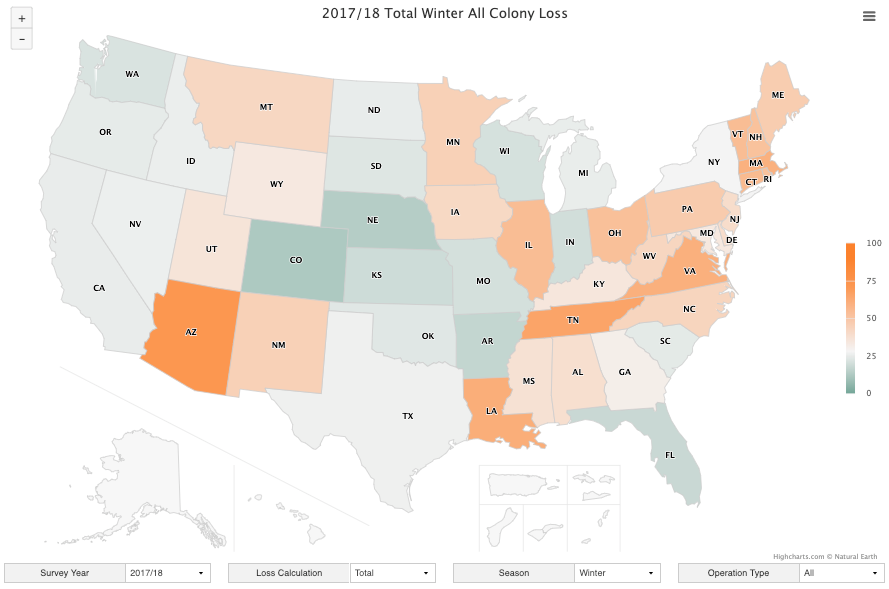 Survey results reveal the annual loss of 40.7% honey bees, a marginal increase over the yearly average of 38.7%. The study noted that the winter losses were the highest since the survey began 13 years ago.
"These results are very concerning, as high winter losses hit an industry already suffering from a decade of high winter losses," said Dennis vanEngelsdorp, associate professor of entomology at the University of Maryland and president for the Bee Informed Partnership.
The survey asked more than 4,700 beekeepers managing 320,000 colonies from all 50 states and the District of Columbia, represents about 12% of the nation's estimated 2.69 million managed colonies.
One of the most significant concerns respondents had about the winter colony losses is varroa mites, an external parasitic mite that attacks and feeds on the colony. "We are increasingly concerned about varroa mites and the viruses they spread, said vanEngelsdorp. "Last year, many beekeepers reported poor treatment efficacy, and limited field tests showed that products that once removed 90% of mites or more are now removing far fewer. Since these products are no longer working as well, the mite problem seems to be getting worse," vanEngelsdorp said.
"But mites are not the only problem," continues vanEngelsdorp. "Land use changes have led to a lack of nutrition-rich pollen sources for bees, causing poor nutrition. Pesticide exposures, environmental factors, and beekeeping practices all play some role as well."
The ten-year trend of elevated losses have sent researchers scrambling to investigate what…

by Zero Hedge - July 15th, 2019 11:33 pm
Courtesy of ZeroHedge. View original post here.
It's Been a Great Recession for a Few; Let's Do it All Again!

This month the economic expansion brought to you by your Federal Reserve and by US government largess becomes the longest expansion in the history of the United States! That's something, right? Something? Let's take an honest look at what we now call great.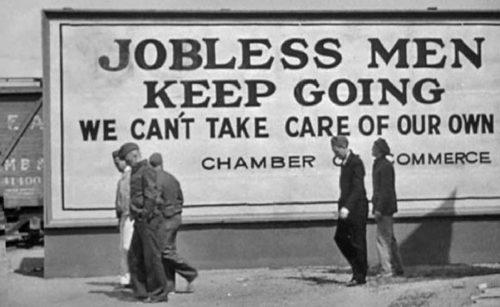 By "the longest expansion" we mean the longest period in which US GDP has been growing without a recession. Now, that's something to crow about, right?
Not so fast for many reasons. It's also been the most anemic expansion on the books, and it's not too hard to see why it's been the longest, having nothing at all to do with a great economy. It has cost us far more than any expansion (by an order of magnitude) because we've piled up ten times the national debt over any amount we accumulated during previous expansions. (I've said before, it's easy to let the "good times" roll when you are buying it all on the company credit card.) We also quadrupled the size of the size of the Fed's balance sheet. That didn't cost anything, but we sure didn't get much bang for the buck! We actually got less bang than in any previous expansion!
The permanent recession

Sure, we got outstanding growth in stocks, but growth in business revenue has been pathetic. Growth in corporate development has been even worse (i.e., new plants, improved productivity, etc.) Growth in earnings was decent, except for the fact that it is entirely a feint because it was created mostly by reducing the numbers of outstanding shares over which earnings are divided, not so much by growing business. (Why do you think Wall Street prefers to talk about "earnings per share, " EPS, instead of just actual profits?)
We can pretend the strength in EPS was because business has been booming during the "long economic expansion," but it wasn't. We got less production growth out of this expansion than in any other expansion in US history, and that is easy to prove with the Fed's own data. GDP went up, but the rate of growth in GDP has been…

by Zero Hedge - July 15th, 2019 11:26 pm
Courtesy of ZeroHedge. View original post here.
An opening that could cool tensions? Or just a brief pause in the continued build-up to a near-future war? On Sunday, Iranian President Hassan Rouhani said in a televised speech he's ready to hold talks with the United States if it lifts sanctions and returns to its commitments under the 2015 nuclear deal. "We have always believed in talks… if they lift sanctions, end the imposed economic pressure and return to the deal, we are ready to hold talks with America today, right now and anywhere," Rouhani said.
However, in an interview following the overture, Secretary of State Mike Pompeo dismissed it as "the same offer that he offered to John F. Kerry and Barack Obama." Pompeo concluded, "President Trump will obviously make the final decision. But this is a path that the previous administration had gone down and it led to the (Iran nuclear deal) which this administration, President Trump and I both believe was a disaster."
Pompeo also said during the Sunday night interview that the US has granted a visa to Iranian Foreign Minister Javad Zarif — who just earlier this month was reportedly the focus of potential US sanctions alongside top IRGC commanders and officials — but that his movements would be greatly limited and "sharply curtailed".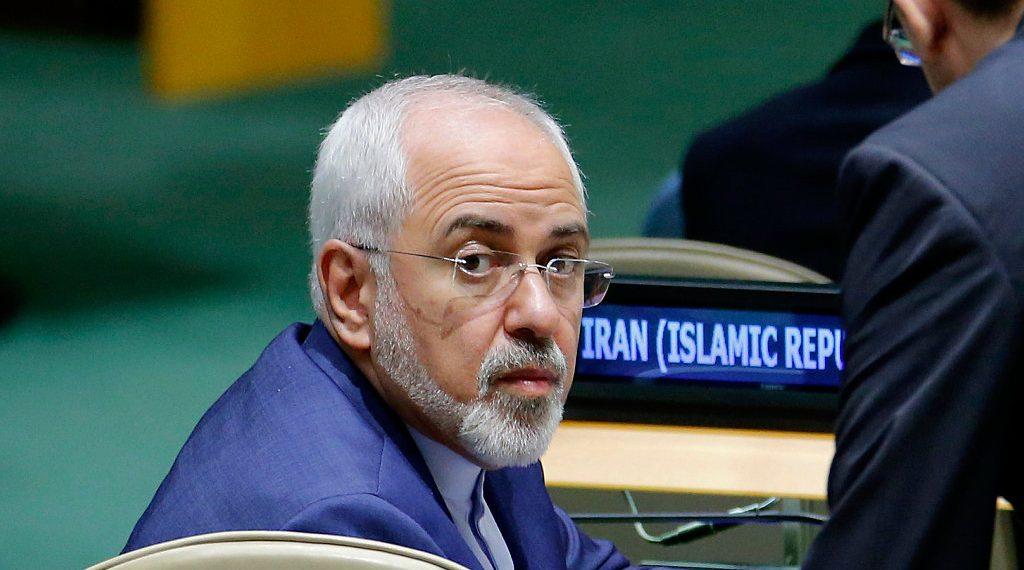 "U.S. diplomats don't roam around Tehran, so we don't see any reason for Iranian diplomats to roam freely around New York City, either," Pompeo said.
"It's absolutely appropriate that we provide Foreign Minister Zarif and his delegation with all the rights that they are due under the U.N. headquarters agreement, and nothing more than that," he said further.
According to The Washington Post:
Pompeo said in a telephone interview that Foreign Minister Mohammad Javad Zarif and his delegation will be permitted to travel between U.N. headquarters and the Iranian mission six blocks away, and to the residence of Iran's U.N. ambassador nearby. The group arrived in New York on Sunday morning.
The "restricted" travel and…

by Zero Hedge - July 15th, 2019 11:23 pm
Courtesy of ZeroHedge. View original post here.
Authored by Sven Henrich via NorthmanTrader.com,
A couple market lessons from history perhaps worth considering for both bulls and bears.
I'm an analytical soul. Data and facts matter to me. But clearly they don't blend well in our current age which is filled with noise and data that is subject to distortion and misrepresentation. Dare I say outright propaganda?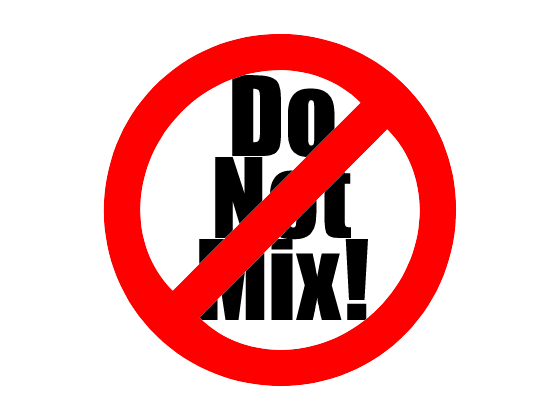 Much of this is coming from the political world. I'm not a political person, but I see tons of people on twitter who are very much engaged on the political side and I think it's fair to say emotions are running very high. My message: Whatever your political views and passions, don't let political views influence your assessment of where markets will go or should go. Trading and politics do not mix.
Markets will do their thing independent of anyone's political views or perceptions. But note our fragmented world does exactly that, project market direction based on political affiliation: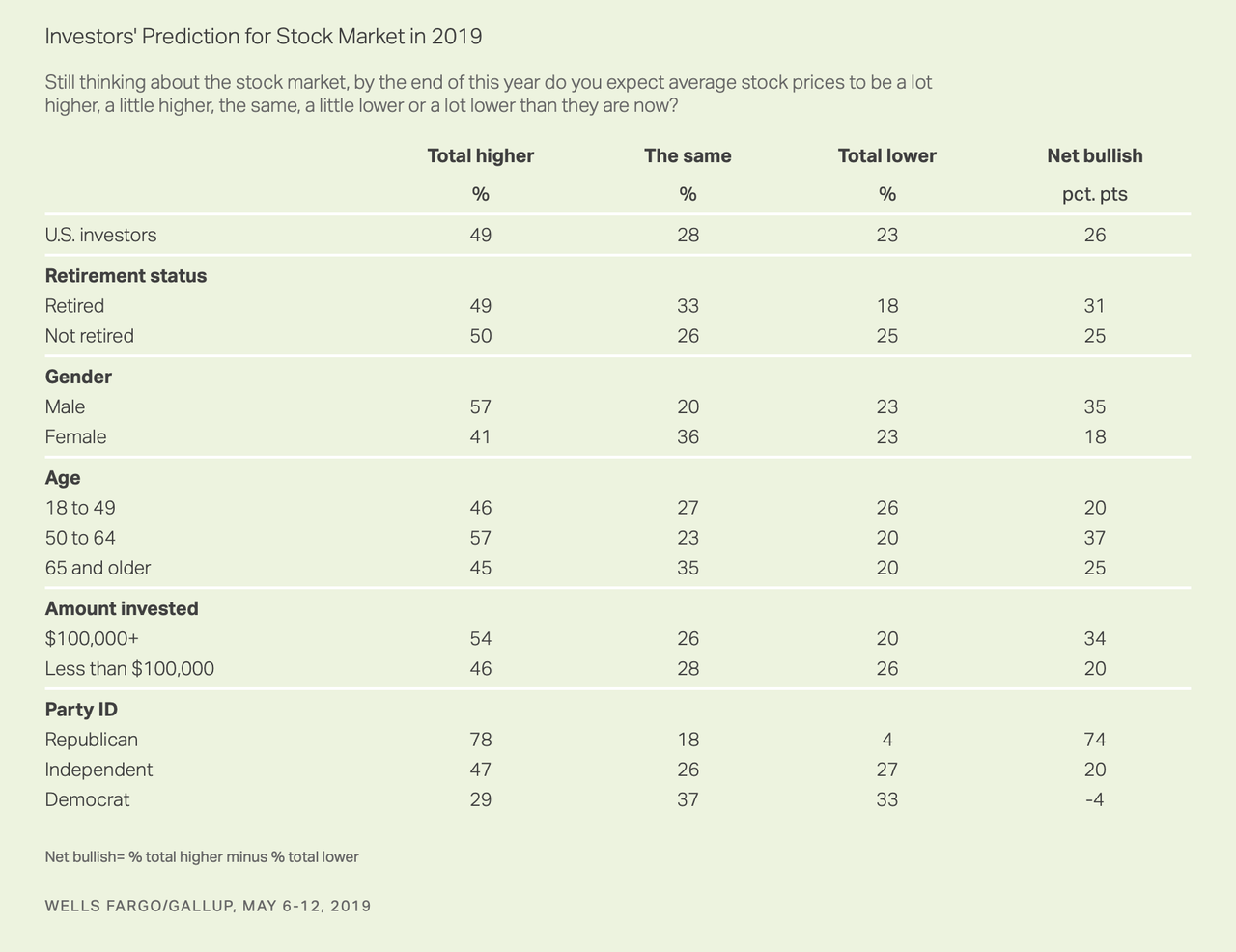 If people were to view market direction independent of politics one would assume they would reach the same market conclusion. But clearly they are not and it's influencing investment behavior.
I'm raising this point as I generally, and I'm sure you do as well, see a massive degradation and fragmentation in social discourse, especially on the political front. It's global, but of course is front and center in the US.
The upcoming 2020 US election will be ugly beyond belief and we're already seeing it shaping to be just that. That said one cannot let an assessment of political climates or views influence one's trade strategy. Markets are amoral, they place no judgement on whether something is heading for gloom and doom or not. In fact markets are notoriously bad at forecasting bad news to come.
Think of the 1920s which ultimately ended with the 1929 crash and depression, but saw wild speculations and exuberance before it.
And of course the 1920s led to massive political discontent and brought about reactionary political forces into power which led to even worse outcomes. Take a very extreme, but real example.…

by Zero Hedge - July 15th, 2019 11:20 pm
Courtesy of ZeroHedge. View original post here.
Jerome Powell took center stage last week and the Federal Reserve chair didn't do anything to dampen expectations of a rate cut. His comments sent both stocks and gold higher.
Peter Schiff recently appeared on RT Boom Bust with University of Amherst economics professor Richard Wolff to talk about the Fed and its impact on the markets. Pete said no matter what the Fed does, a recession is coming.
Peter opened the interview saying the main reason the Fed is cutting rates is to try to keep the air from coming out of the stock market bubble.
The other reason is they're trying to keep this so-called expansion going. There they're going to fail. I think we're headed for recession regardless of what the Fed does with rates. The only thing the Fed is going to succeed in doing is reviving inflation. The Fed claims inflation is too low and they want to make sure the rate goes up. Well, that's going to be their only success. But unfortunately, that's also going to be their biggest failure."
Wolff agreed with Peter's view that a downturn is coming, noting that we are overdue for a recession. He said the sudden dovish turn by the Fed is a "desperate move" by to try to postpone the downturn until after the 2020 election.
The host mentioned a tweet Peter put out during Powell's trip to Capitol Hill.
Are any House Democrats smart enough to ask Chairman Powell if he agrees with President Trump that the current U.S. economy is the strongest in history?

— Peter Schiff (@PeterSchiff) July 10, 2019
Peter said he never heard the question asked, but it would have been a great way to put Powell on the spot and ask him if he agrees with the president.
The president tweets every day that we have the strongest economy in history, which isn't even close to being true. But clearly, Powell doesn't believe that the economy is the strongest in history, because if he did, he'd be
…

by Zero Hedge - July 15th, 2019 11:17 pm
Courtesy of ZeroHedge. View original post here.
A surprisingly muscular response beyond mere threatening rhetoric out of the European Union over Turkey's violations of Cypriot territorial waters related to offshore drilling operations: the EU has agreed to bring financial and political sanctions against Turkey after repeat warnings of the past weeks.
European Union officials on Monday agreed political and financial sanctions against Turkey after Ankara went ahead with drilling operations off Cyprus despite repeated warnings, European diplomats said. — AFP
"The conclusions on Turkey have been adopted and they will be made public in the coming hours," the EU's foreign policy chief Federica Mogherini told reporters following a meeting of foreign ministers.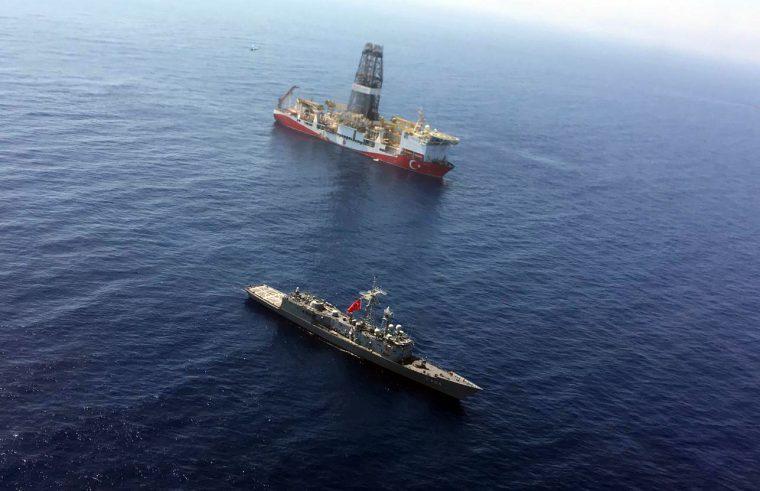 Austrian Federal Minister for Europe, Integration and Foreign Affairs Alexander Schallenberg also announced prior to Mogherini's remarks Monday from Brussels:
"Today, we will adopt a number of measures against Turkey — less money, fewer loans through the European Investment Bank, freeze of aviation agreement talks. Naturally, other sanctions are possible."
"We [the] are fully behind Cyprus," Schallenberg added while addressing the crisis, which has involved Turkey laying claim to a waters extending a whopping 200 miles from EU member Cyrprus' coast, brazenly asserting ownership over a swathe of the Mediterranean that even cuts into Greece's exclusive economic zone.
Last week the Turkish drilling vessel Yavuz sailed to an area off Cyprus' east coast — the second to follow a first drilling vessel, Fatih, which had already been exploring in Cypriot waters. Notably, the vessels have been accompanied by the Turkish military, including drones, F-16 fighters, and warships.
Cyprus has long condemned Turkey's aggressive oil and gas explorations as a "second invasion" in reference to the creation in 1974 of the breakaway Turkish Republic of Northern Cyprus after a military takeover.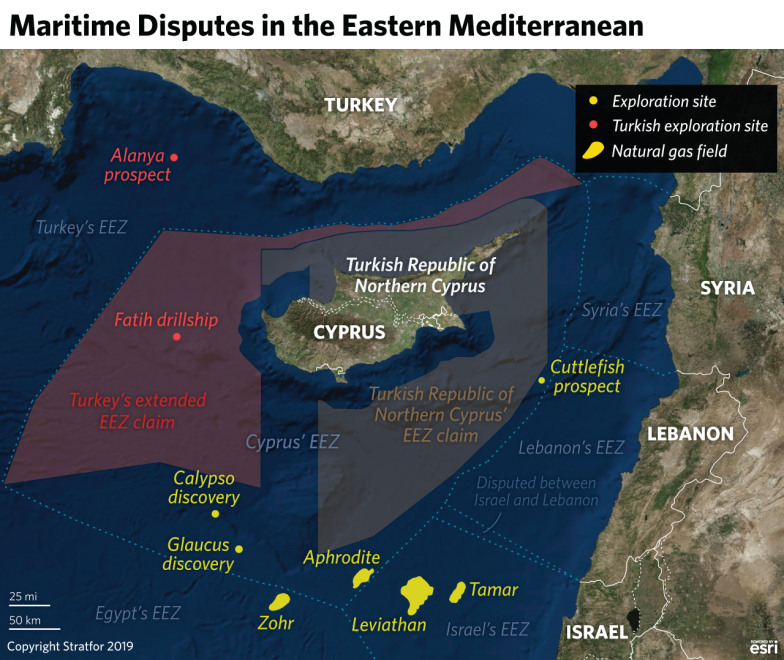 by Zero Hedge - July 15th, 2019 11:14 pm
Courtesy of ZeroHedge. View original post here.
There's a dip…
Chinese stocks were broadly higher overnight led by a panic bid in tech-heavy ChiNext…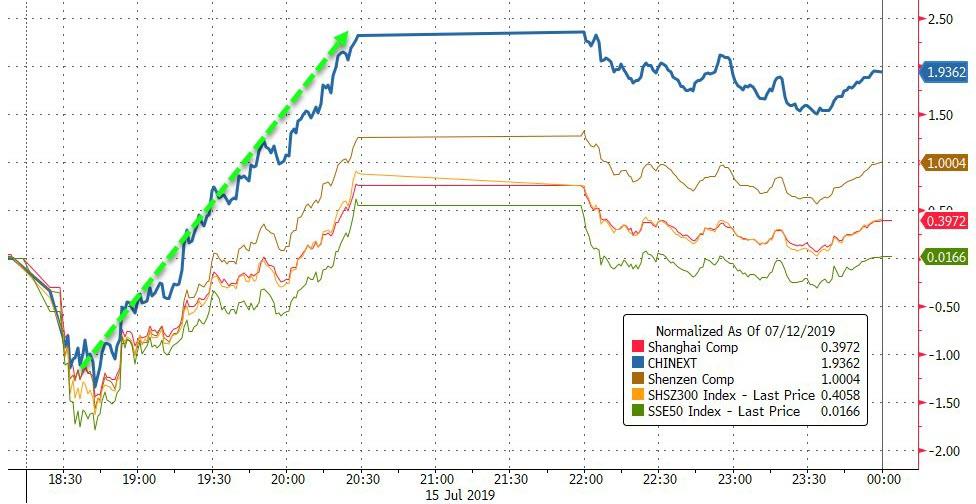 Because nothing says buy highly-levered growth stocks like record weakness in economic growth.
You will find more infographics at Statista
European stocks were higher today, ramping back from early weakness…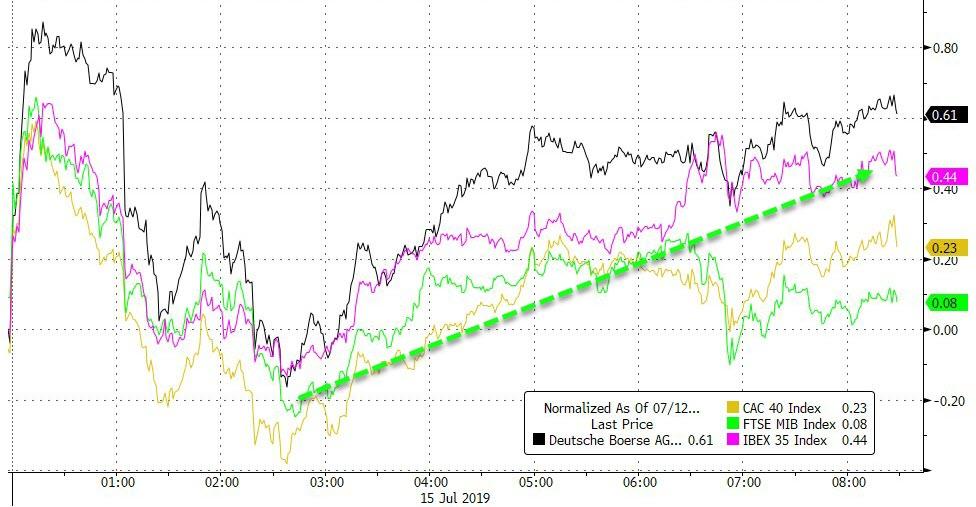 US markets were mixed once again with Nasdaq leading and Small Caps lagging considerably (Dow and S&P flatlined)…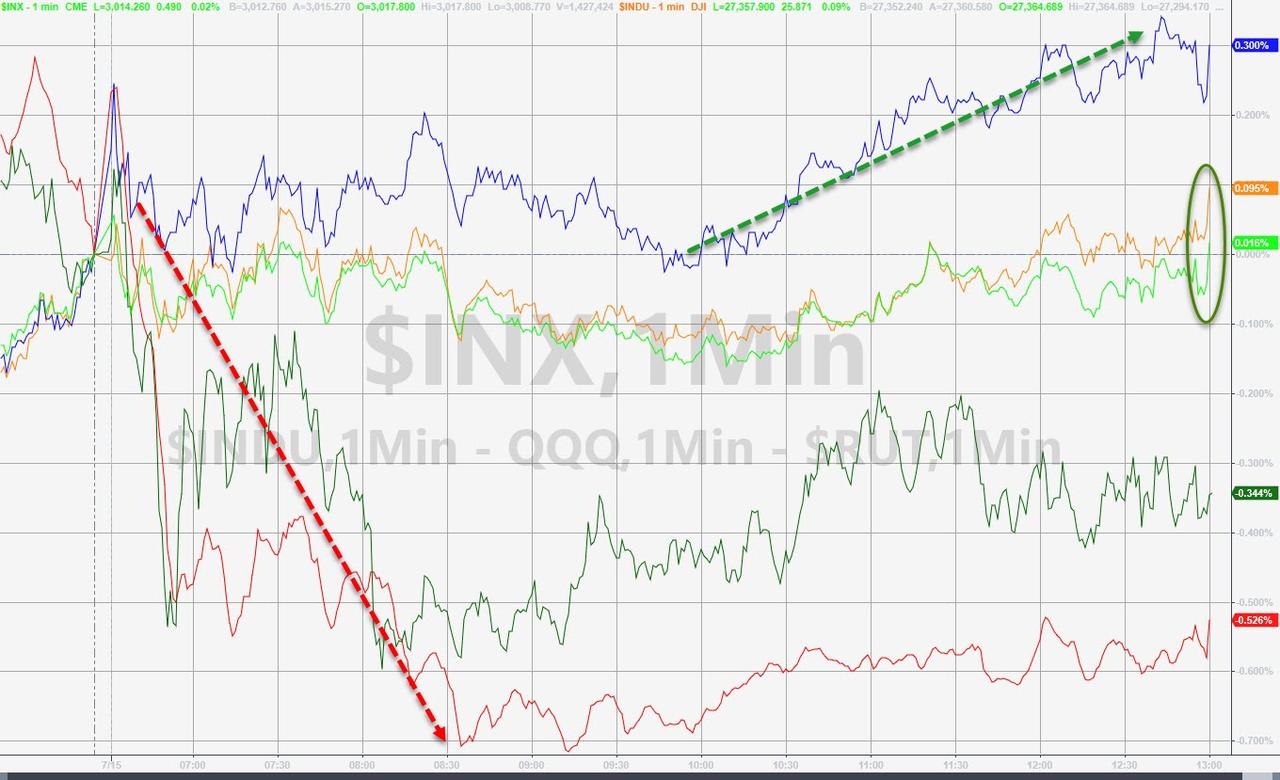 NOTE – look at the close in S&P and Dow!!!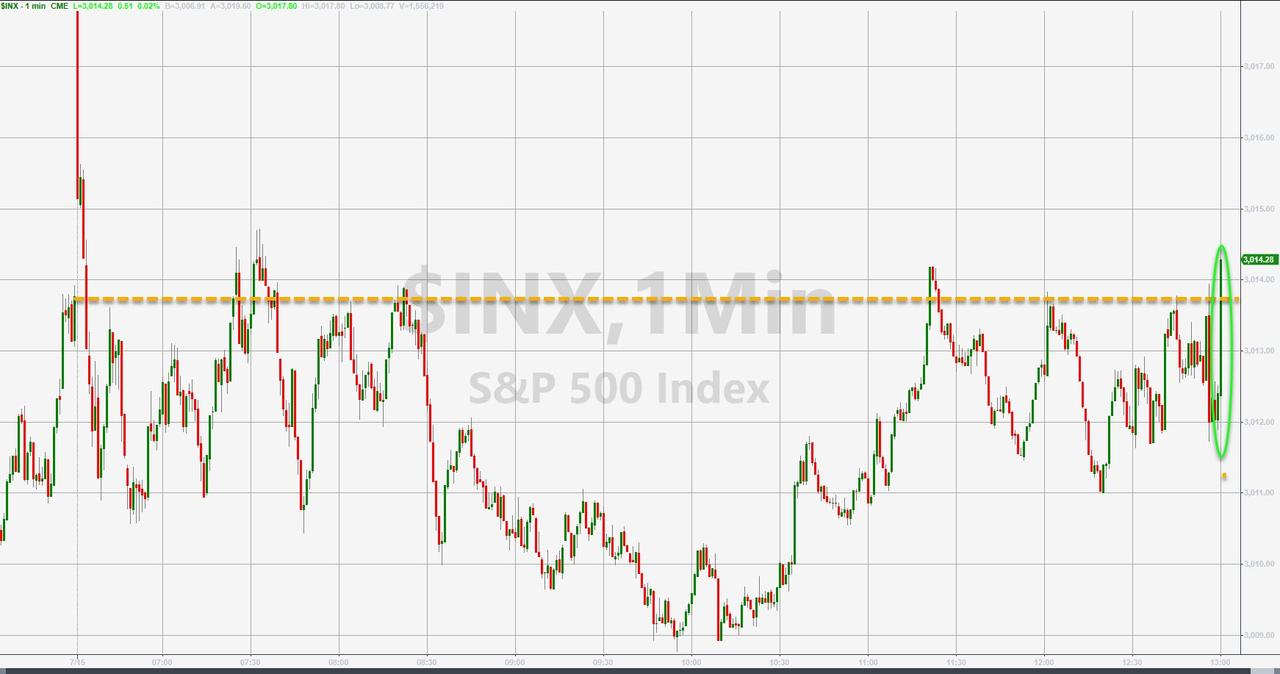 In fact, Small Caps continue to collapse relative to large caps sparking major concerns about the sustainability of this surge…
"Small caps are more sensitive to liquidity issues, both good and bad," said Tom McClellan, publisher of the McClellan Market Report, in a recent research note.

"They are like the canaries in Great Britain's coal mines during the 1800s, birds who were more sensitive to bad gases than the big burly coal miners."
As MarketWatch notes, Small-cap underperformance is coming at a time when many feel the biggest headwind for the stock market and the economy is all the uncertainty surrounding the U.S.-China trade war, which should weigh on large-cap multinational companies more than small-cap companies that have more domestic exposure.
"The message here is that something is wrong with liquidity, and it is affecting the small-caps but not so much the big burly large-caps," McClellan said.

"This ratio does not tell us what that 'something' is, only that there is a problem."
Another chart suggesting liquidity is drying up is the relative weakness in high-yield corporate bonds: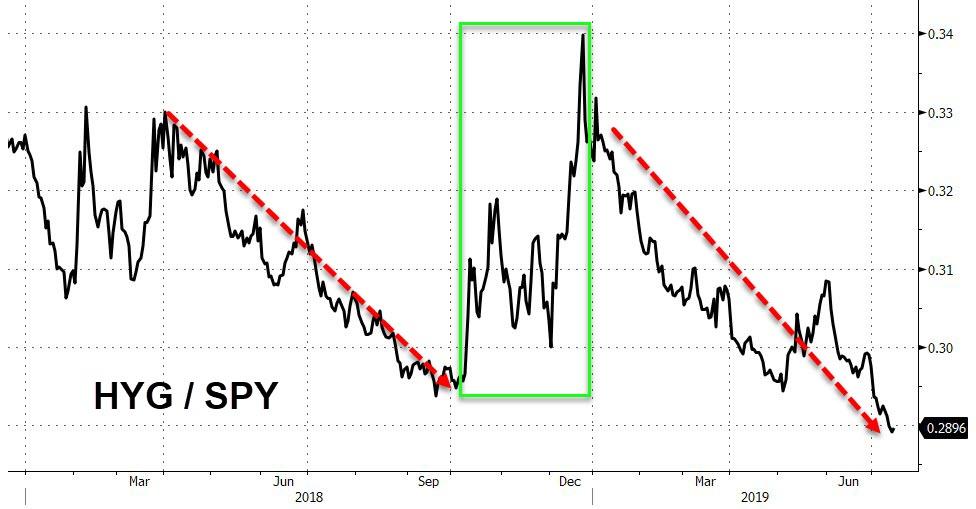 Defensive stocks dominated market performance today…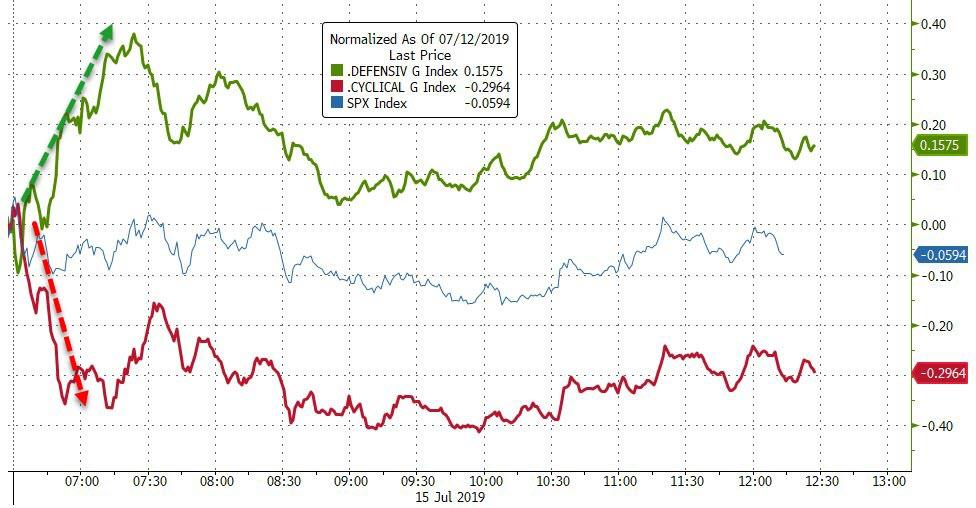 VIX was higher on the day, despite stocks gains…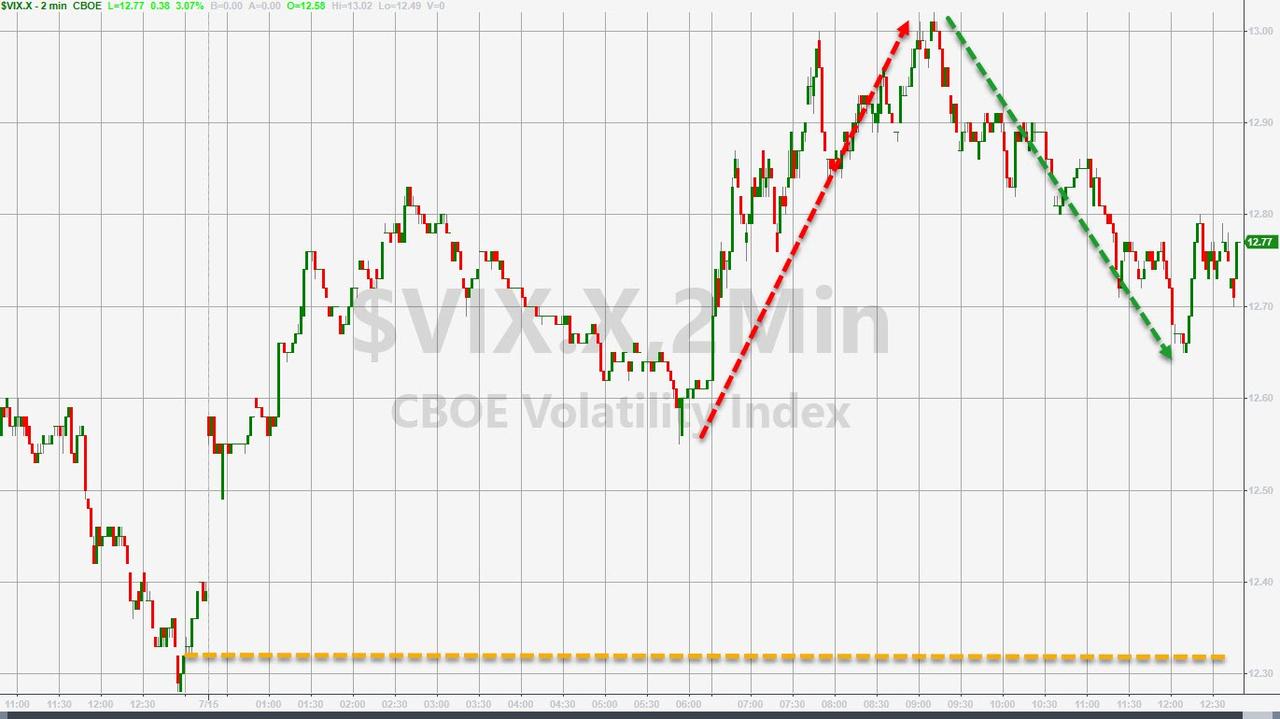 Treasury yields were lower across the curve with the long-end outperforming (after last week's underperformance)…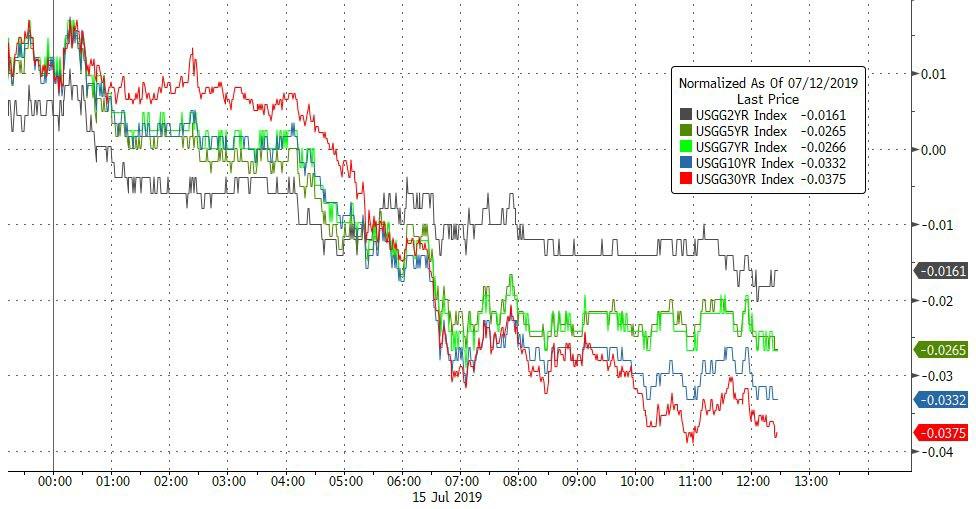 The yield curve (3m10Y) stalled at zero and remains inverted…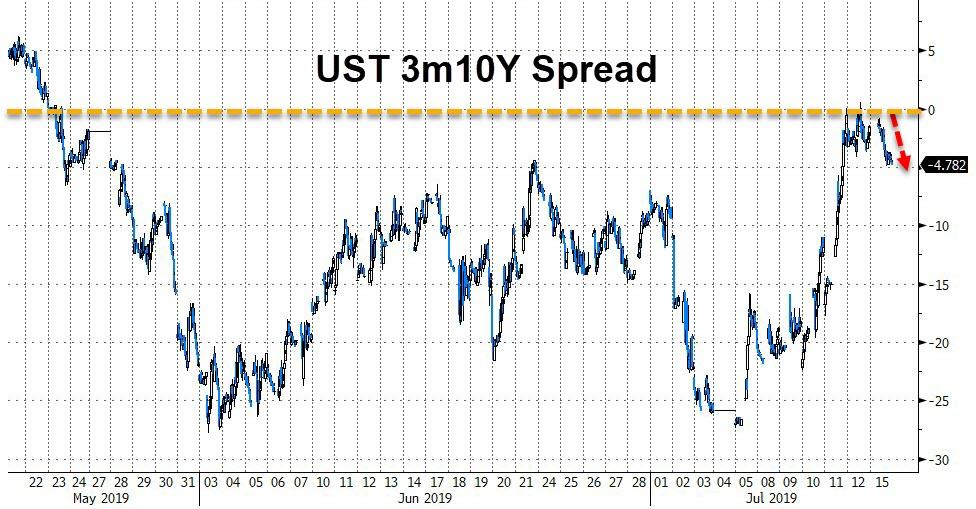 The dollar bounced back from overnight weakness to end the day higher…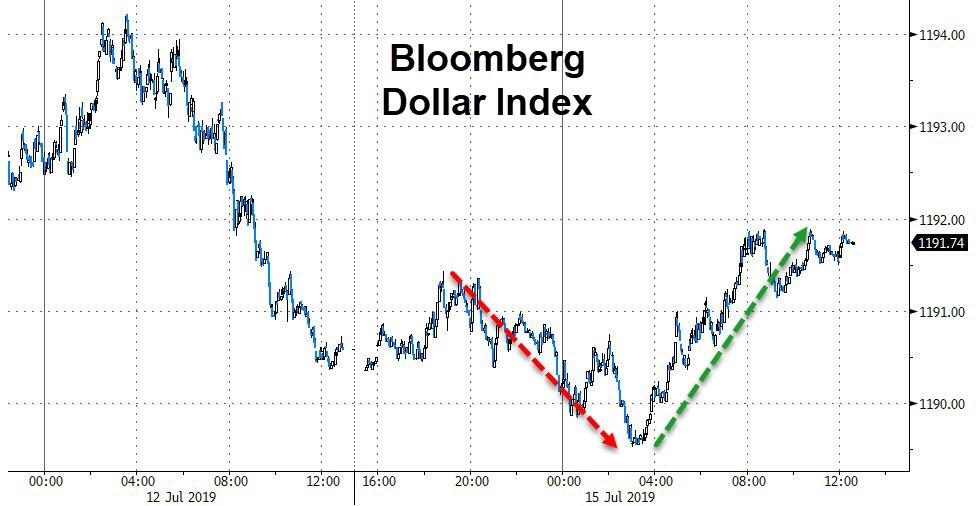 Despite TsySec Mnuchin's fearmongery, cryptos were actually bid after he spoke (Bitcoin was up 3% on the day after testing $10k overnight)…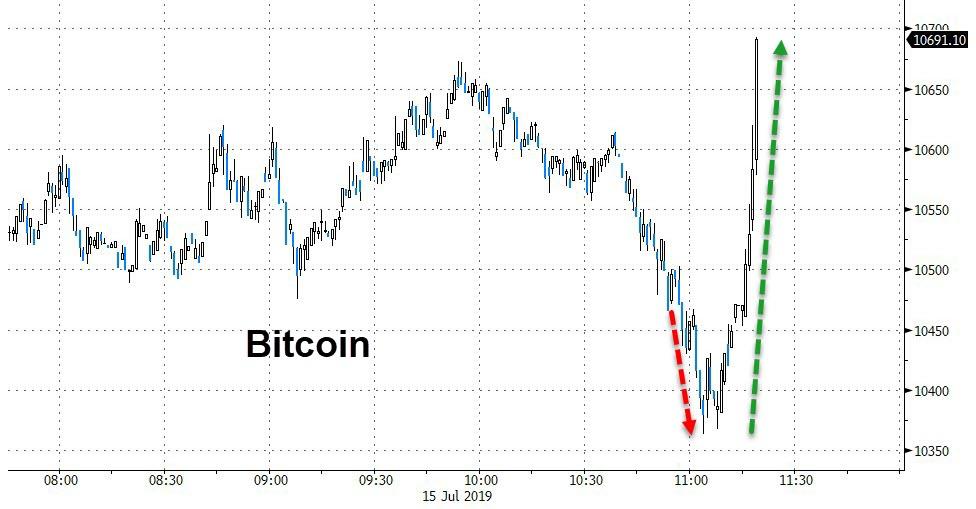 But are well down from Friday's close after the weekend's crypto carnage (Bitcoin down 10% from Friday)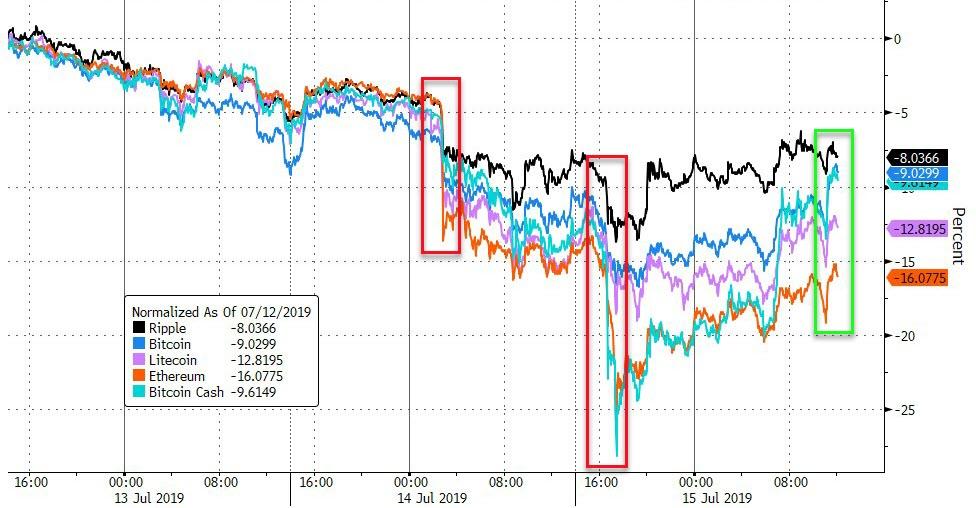 Oil prices underperformed on the day while copper rallied…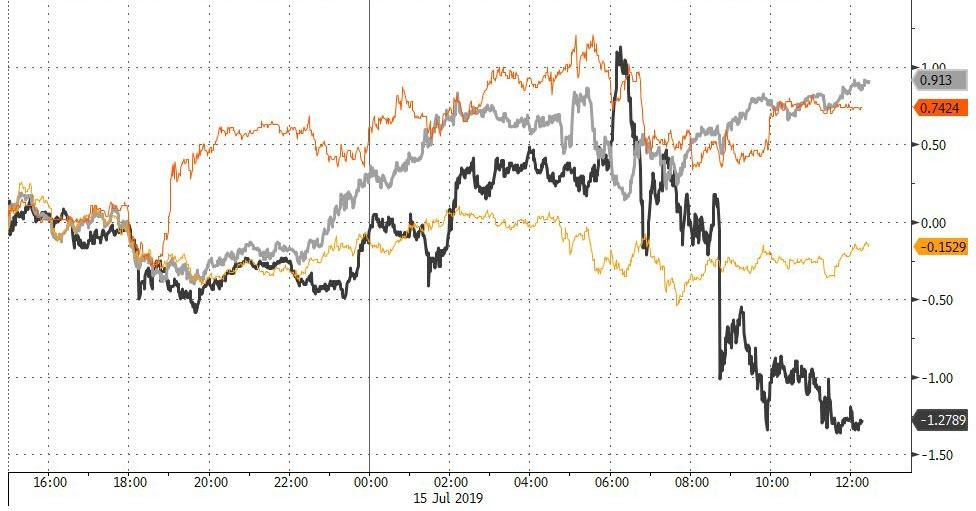 WTI dropped back below $60 as Barry blew itself out…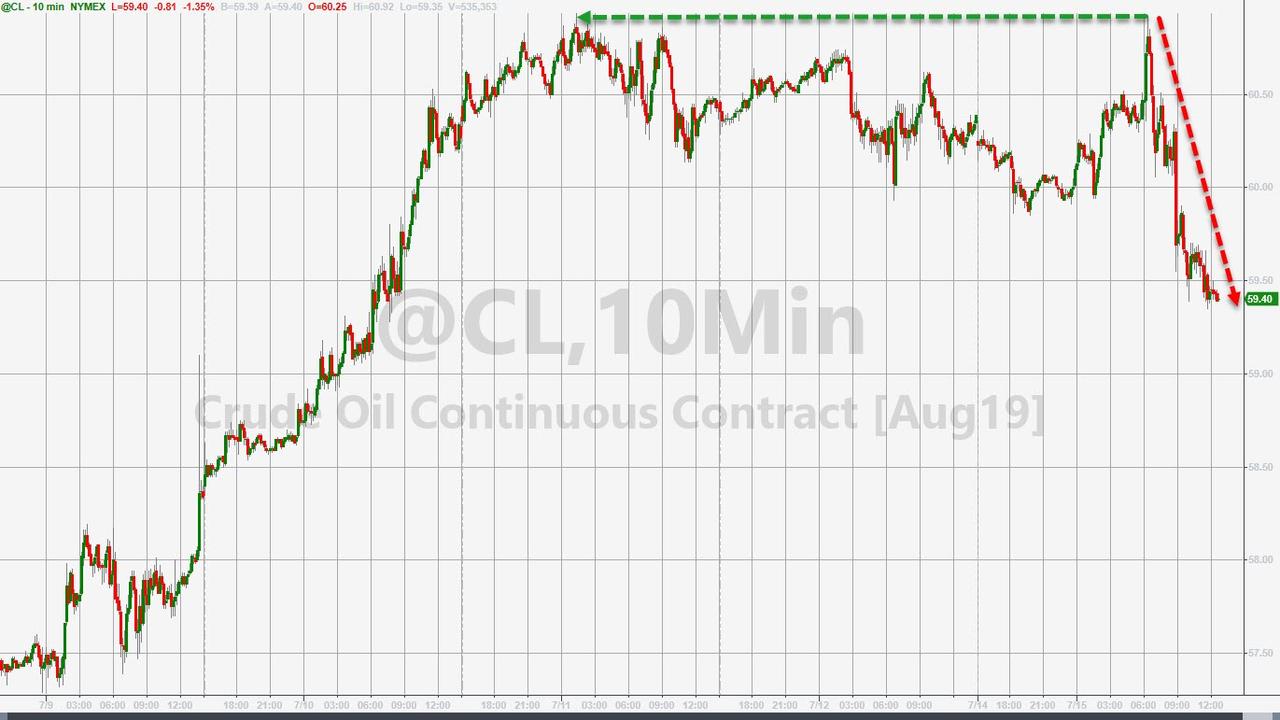 Silver notably outperformed gold on the day…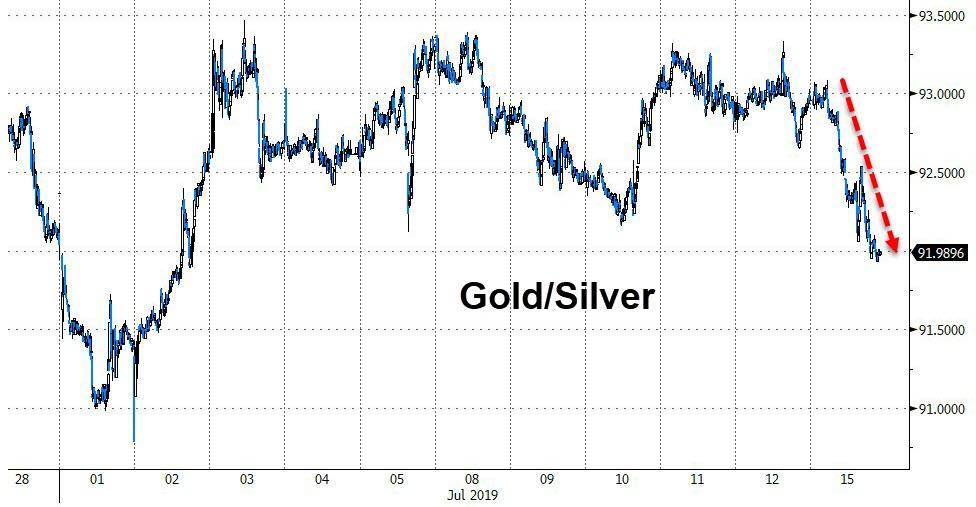 Finally, there's this…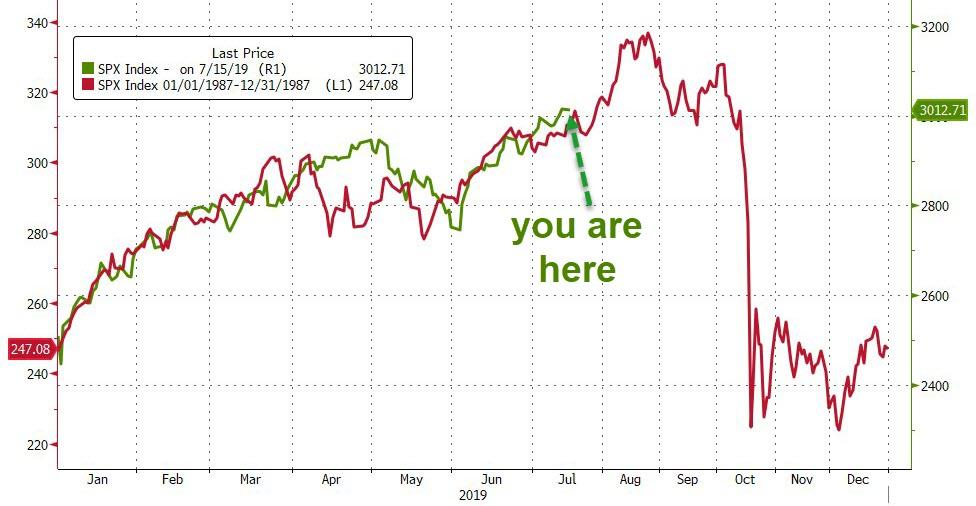 And this…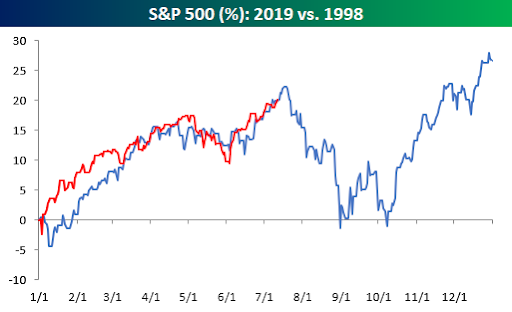 It's the upside-down…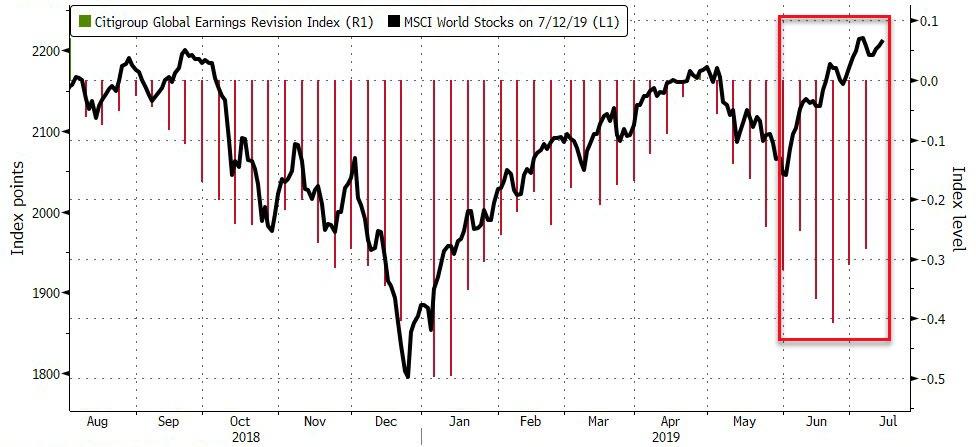 by Zero Hedge - July 15th, 2019 11:11 pm
Courtesy of ZeroHedge. View original post here.
Back in March, we revealed how pro-Tesla blogs identified a substantial design flaw with Elon Musk's Model 3.
The Model 3, which became infamous for having its bumpers fall off, was found to have a design flaw in its underbody that causes the car to trap and retain dirt, water and sand from roadways, according to electrek, who in March published an article detailing the flaw.
The blog pointed out that Tesla has "often been accused of designing cars for the Californian climate" and that water, dirt and sand used to de-ice roads in colder climates are susceptible to getting trapped in the underbody of Model 3 cars.
Posted in Feburary, Eric Bolduc, who owns a body shop in Quebec found significant amounts of sand and dirt accumulating in the underbody panel at the back of every Model 3 he has worked on so far.
There's even a striking video of him removing sand and dirt stuck inside of a Model 3 before working on the car. The video shows him approach the vehicle, repeatedly tap the underbody of the vehicle with a mallet, and then watch what appears to be an avalanche of sand and dirt fall out from a Model 3 on a lift.
This mechanic has worked on about 25 Model 3 vehicles and he says that he always finds about 10 to 20 pounds of sand and dirt stuck in the panel, due to what he believes is a lack of proper drainage. In one case, he extracted over 35 pounds of dirt from the underbody of a Model 3. He believes that the dirt is coming from behind one of the wheels.
Another video detailing the design flaw was published on July 2nd by YouTube account Dirty Telsa.
This Model 3 owner in the video, while servicing his car at 15,000 miles in his driveway, discovered about 15 pounds of dirt in the undercarriage.
Of course, it is normal for dirt to get in the underbody of any vehicle, but the panel…

by Zero Hedge - July 15th, 2019 11:08 pm
Courtesy of ZeroHedge. View original post here.
No longer can we call Jeffrey Epstein a "billionaire pedophile" or a "billionaire registered sex-offender." In a court document filed Monday afternoon following a bail hearing, the 66-year-old financier claims to be worth just over $559 million as of June 30, 2019.
He may even be less wealthy than Secretary of Commerce Wilbur Ross.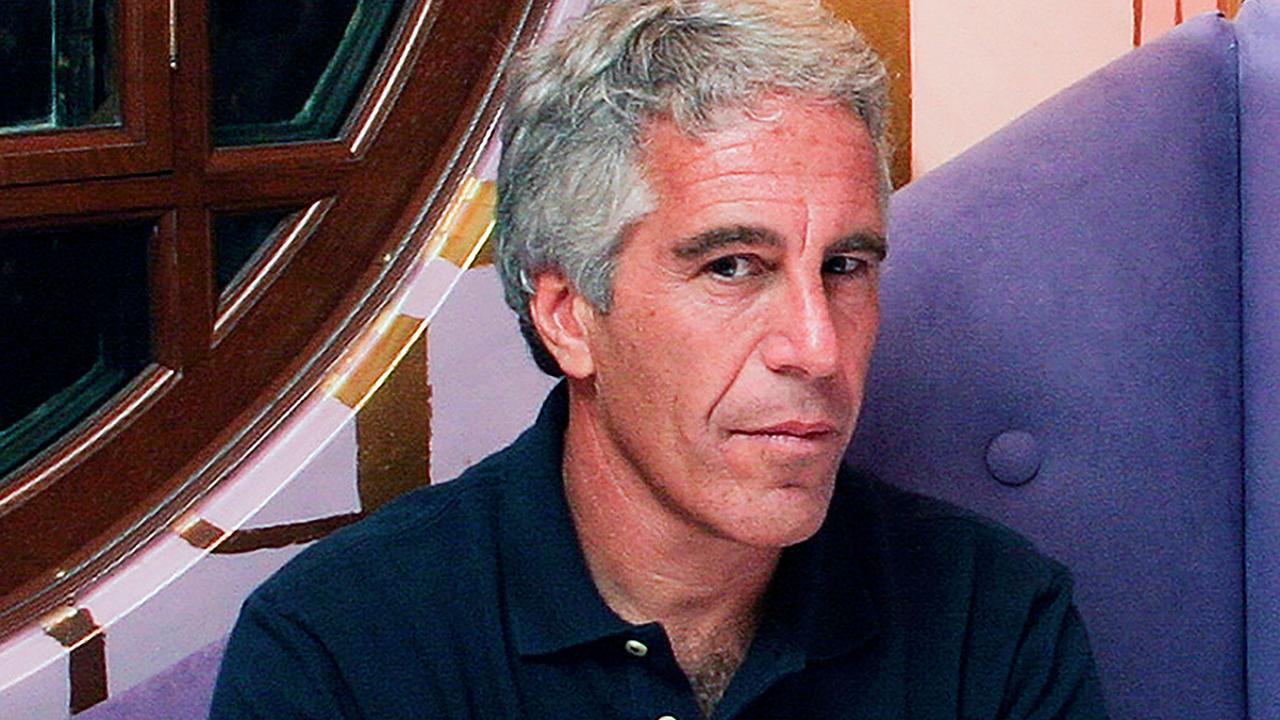 Of note, Epstein has valued his 21,000 square-foot New York mansion at just under $56 million (which prosecutors say is worth $77 million), and his infamous "pedo island" (Little St. James) at $63 million – which he bought in 1998 for $7.95 million before performing major construction.
Epstein also says he has $194,986.301 in 'Hedge Funds & Private Equity' as well as $112,679,138 in equities.
BREAKING: Jeffrey Epstein self-reported more than $559 million to the bank, in a record that Judge Berman previously called unverified and unaudited.

The 18-page doc here. cc: @CourthouseNews https://t.co/OrsVD6502L pic.twitter.com/zSZu5ZnvtG

— Adam Klasfeld (@KlasfeldReports) July 15, 2019
As Adam Klasfeld of Courthouse News points out, Judge Berman cited a study he cited "as to why Epstein's claims that he hasn't re-offended in 14 years provides cold comfort."
Also among the tranche of files that just hit the docket:

That study that Judge Berman cited as to why Epstein's claims that he hasn't re-offended in 14 years provides cold comfort.

What happens after 15 years. pic.twitter.com/dFOVaCf9SY

— Adam Klasfeld (@KlasfeldReports) July 15, 2019
Developing…