Courtesy of Pam Martens.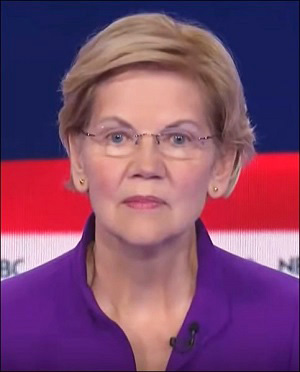 On Monday, Democratic presidential contender Senator Elizabeth Warren posted a column on Medium that carried the provocative headline: The Coming Economic Crash — And How to Stop It. Warren's column came just 11 days after we titled our own article: Is There a Stealth Financial Crisis? Alarm Bells Are Ringing.
Warren wrote about economic trends like the fact that the U.S. manufacturing sector is already in recession and the staggering amount of household and corporate debt. We wrote about the striking similarities to the early warning signs that ushered in the 2008 financial crash and those happening right now: like being locked out of withdrawing money from a mutual fund because of a run on the fund and an inability to find a buyer for its illiquid investments; and a major international bank firing a big chunk of its labor force and putting tens of billions of dollars of its toxic assets in a "bad bank" as its publicly traded stock heads toward zero. (It was Citigroup in the last crisis; it's Deutsche Bank right now. And like Citigroup in 2008, Deutsche Bank is deeply interconnected to Wall Street's mega banks.)
Warren is one of the leading contenders to snag the Democratic nomination for President and therefore must offer hope to the populace — thus the title of her column suggests that there's a way to stop the impending economic crisis. There isn't and Warren knows that. What Warren proposes are ways to lessen the economic impact on average Americans.
Warren has proven herself to be one of the most knowledgeable members of the Senate Banking Committee since 2013, particularly when it comes to the insidious and highly-leveraged risk taking on Wall Street. She knows there is not going to be any way to stop the Wall Street train wreck once it's in motion. That's because despite the pivotal role that derivatives played in deepening the epic financial collapse that began in 2008, derivatives have not been brought under control by either Congress or Federal regulators of Wall Street.
The Dodd-Frank financial reform legislation of 2010 attempted to reduce the risk that tens of trillions of dollars in derivatives posed to the federally-insured banks that had merged with the casino-like investment banks on Wall Street by requiring that the insured banks "push out" the derivatives to an uninsured unit of the bank holding company, which could, theoretically, be unwound or placed into bankruptcy without bringing down the commercial bank. (The only meaningful solution is to simply legally separate insured banks from the Wall Street casino but the Obama administration punted on that. Warren is a major supporter of that idea.)
…
Do you know someone who would benefit from this information? We can send your friend a strictly confidential, one-time email telling them about this information. Your privacy and your friend's privacy is your business... no spam!
Click here and tell a friend!