Archive for 2019
by ilene - March 10th, 2019 9:25 pm
Russian conspiracy theories: how Kremlin-backed yarns help keep Vladimir Putin in power

Courtesy of Ilya Yablokov, University of Leeds
Allegations of Russian meddling in the affairs of Western countries have been a persistent feature of Western politics since the Cold War. Claims of Russian interference in the 2016 US presidential election are only the most recent in a long series of suspected conspiracies across the past century or so. But Russian political discourse is also riddled with conspiracy theories. Everything bad that happens in Russia is traced back by some to one or another anti-Russian plot hatched in the West.
Even the collapse of the Soviet Union – a crucial point in world politics that left the USA as the only remaining superpower – was, according to some Russian conspiracy theorists, planned and executed by their country's enemies abroad. My research, the first study of Russian conspiracy theories in the post-Soviet period, examines why these theories have emerged and gained currency in Russia.
It explains how the image of the "dangerous, conspiring West" provides national unity in Russia and has helped legitimise the country's rapid turn to authoritarianism under Vladimir Putin.
Decline and fall

What stands at the centre of Russian conspiracy culture since 1991 is the idea that the Soviet collapse was a US plot. The speed of the collapse and the confusion with which it was perceived by Russia's general population and its elites alike fed the popularity of the idea that what lay behind it was US and internal agents of "Western influence".
Thus 1991 and the events that unfolded afterwards – the economic reforms and the decrease of Russia's influence in the world – are treated as the high point of success in the West's bid to destroy Russia.
It is important to note that conspiracy theories serve for some as an efficient way of interpreting power relationships in the modern world. They are great at explaining complex issues affecting us every day and can easily connect the dots and even provide relatively simple explanations for why a certain community – or, indeed, a whole nation – undergoes traumatic experiences.
Such turbulent times often give birth to gifted leaders who…

by Zero Hedge - March 10th, 2019 9:20 pm
Courtesy of ZeroHedge. View original post here.
Since China managed to weather the fallout from the financial crisis without registering much of a slowdown in its "official" GDP figures, playing "guess the real growth rate" has become one of the most popular parlor games among the professional economist set. Whereas the stakes are much higher for academics on the mainland (one of whom was censored and threatened by government thugs after speculating that GDP growth on the mainland might be closer to 2%), researchers at American think tanks have freely offered estimates ranging from 2% to 4% (which, admittedly, would still put China well ahead of the US).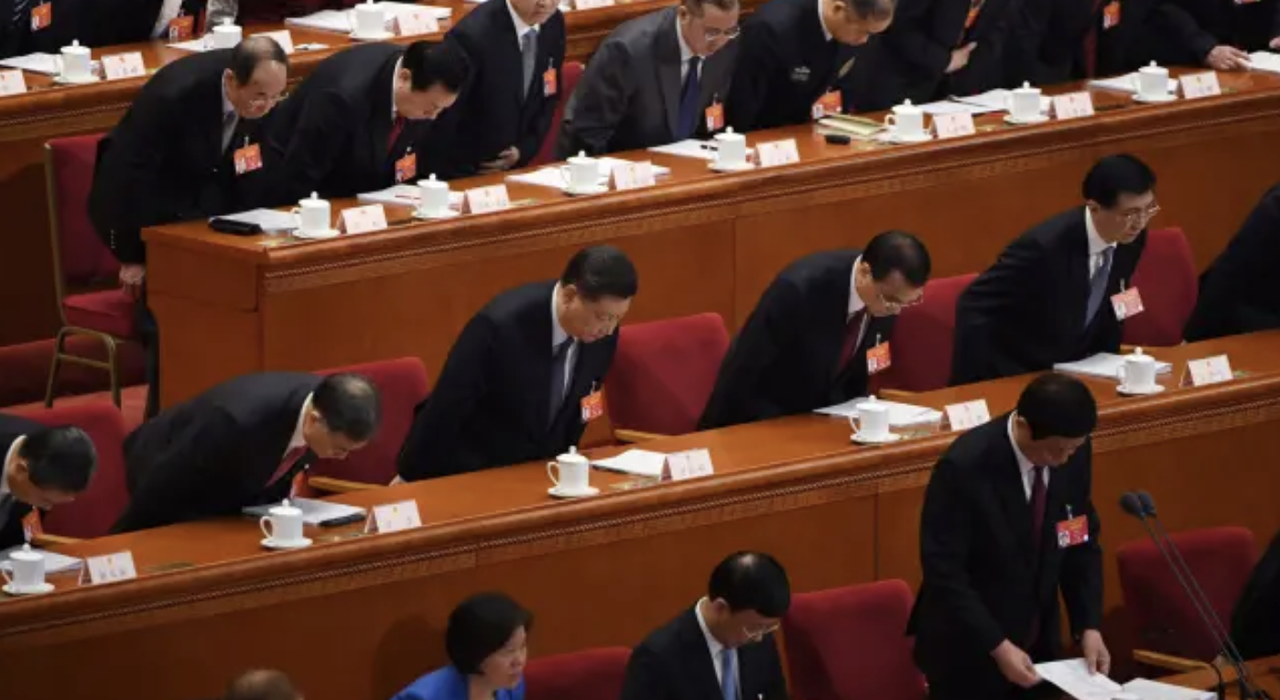 But as investors and economists once again cast a wary eye toward China as signs of flagging growth are once again threatening to sink the whole world into a recession, a team of researchers from the Brookings Institute has published a carefully researched paper detailing the exact mechanism by which authorities in Beijing inflate the country's GDP figures, while estimating that China's economy is roughly 12% smaller than the official figures would suggest. Brookings published the paper on Thursday, just two days after Party leaders at the annual National Party Congress lowered their economic growth forecast to between 6% and 6.5% of GDP.
Though the paper focused on the period between 2008 and 2016, it's the latest evidence that China's economic slowdown has been more severe than believed, and that the growth rate from last year – China's worst since the early 1990s – might, in reality, be just under 6% (compared with 6.6%).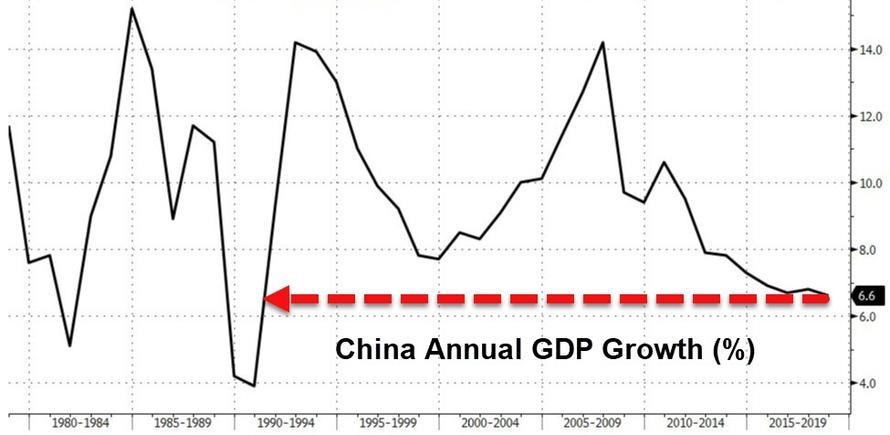 According to Brookings, much of the manipulation in Chinese official government statistics takes place at the local level. In what the FT described as "a legacy of Maoist state planning", authorities in Beijing hand down growth targets to local officials, who use it to goalseek the official statistics they hand back.
"China's national accounts are based on data collected by local governments. However, since local governments are rewarded for meeting growth and investment targets, they have an incentive to skew local statistics. China's National Bureau of Statistics (NBS) adjusts the data provided by local governments to calculate GDP at the national level," the study's authors said.
Evidence of this is relatively obvious: Year after year, the sum total of…

by ilene - March 10th, 2019 9:17 pm
The US government might charge for satellite data again – here's why that would be a big mistake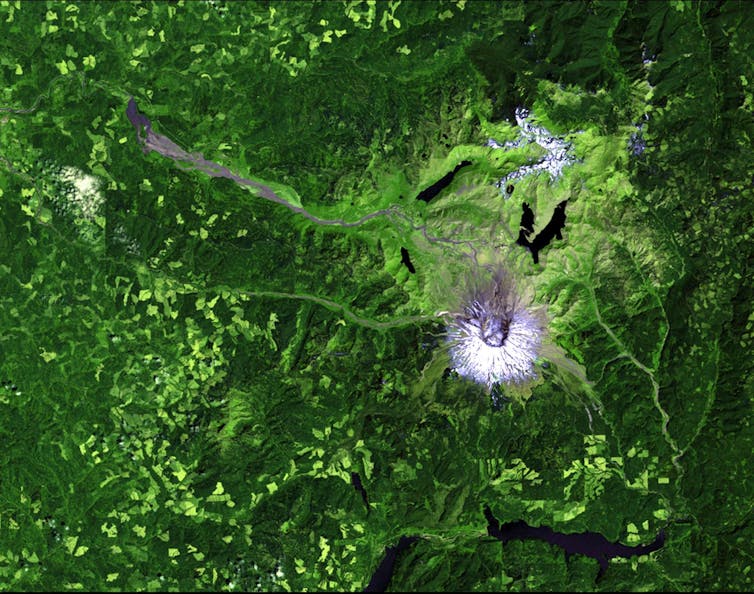 Courtesy of Zhe Zhu, University of Connecticut
Landsat is one of the most important U.S. satellite systems. Since the program's launch in 1972, Landsat satellites have provided the longest-running terrestrial satellite record and collected more than 5.6 million images.
For a long time, the U.S. government charged a fee for every Landsat image. But this changed on Oct. 1, 2008, when the U.S. Geological Survey opened the Landsat archive and made it free for everyone to use.
This open data policy has led to a dramatic increase in the use of Landsat data. Studies have used Landsat data to map global forest loss, surface water extent, human settlements and land cover, among other features.
However, the free and open Landsat data policy is now under scrutiny. An April 2018 news report revealed that the Department of the Interior was considering putting a price on Landsat data again. The decision will come sometime this year.
This potential policy change is concerning. The USGS-NASA Landsat Science Team, of which I am a member, published a study on Feb. 27 highlighting the major benefits of Landsat's free data policy. For the Landsat program to remain successful, free and open data is the key.
1. Encouraged more data use and research

Before the free data policy, the USGS and private sector sold at most 3,000 Landsat images per month. At the time, a single Landsat image cost approximately US$600.
In the first full year of free data policy, users downloaded more than 1 million images. That number has shot up over time, with more than 20 million images downloaded in 2017.
The number of Landsat-related scientific publications also increased rapidly. More than four times as many scientific publications came out in 2017 as did in 2005.
The free data policy has opened the doors for new research.…

by Zero Hedge - March 10th, 2019 8:30 pm
Courtesy of ZeroHedge. View original post here.
It is apparently China's turn to ramp up the bullish trade-deal talk. Though Larry Kudlow appeared on the Sunday shows to offer his boilerplate assurances that a deal would likely be completed by April 1, PBOC Governor Yi Gang offered more details about the talks during a press conference Sunday on the sidelines of the National Party Congress.
The central bank governor, who has been an influential voice in the ongoing negotiations, claimed that Washington and Beijing had come to an agreement on the thorny currency issue.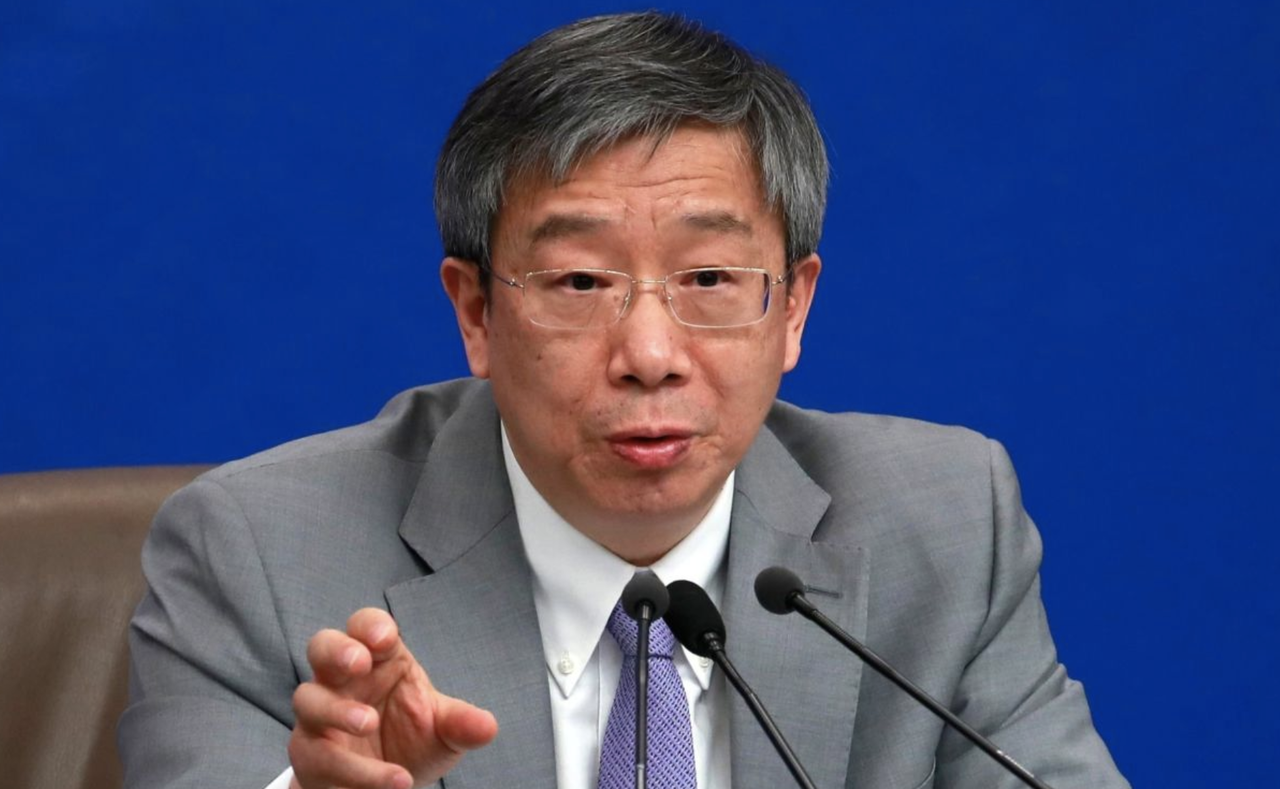 Yi Gang
While Washington had reportedly insisted that Beijing take steps to keep the yuan "stable" as part of any accord – presumably to prevent it from devaluing its currency to negate the impact of US tariffs, something that has probably taken on greater urgency following last weeek's trade-deficit number – Yi said that Washington had agreed to allow Beijing monetary policy as it does now – so long as the PBOC doesn't deliberately intervene in FX markets to devalue the yuan, which Beijing had already promised not to do by signing on to a G-20 communique a few years back.
"Both sides have reached consensus on many crucial and important issues," Yi said.
Yi said that both sides had agreed to respect the "autonomy" of their monetary policy, per WSJ.
Which shouldn't be a problem for the US, Yi said, because the PBOC's monetary policy is geared toward issues in its domestic economy, eliciting, we imagine, a few chuckles from skeptical economists, particularly when he insisted that "the exchange rate isn't a major factor in domestic monetary policy."
Bloomberg offered a more complete account of Xi's comments, which showed that China had largely agreed to abide by preexisting standards and commitments.
"The two sides discussed issues on the yuan including the need to abide by previous commitments made by the G-20 nations including not to engage in competitive depreciation and to communicate closely on currency issues," Yi said at a press conference during the annual National People's Congress legislative meetings.

"The negotiators discussed the necessity to respect the autonomy of each other's monetary policy, a market-oriented foreign exchange mechanism and the disclosure of information according to International Monetary Fund standards," Yi added.
If Yi's characterization of the currency agreement is accurate,…

by Zero Hedge - March 10th, 2019 7:52 pm
Courtesy of Zero Hedge
China has ordered all domestic carriers to ground their Boeing 737 MAX 8s after one of the jets seemingly dropped from the sky southeast of Addis Ababa just six minutes after taking off on Sunday. That accident – which killed all 157 people on board – was the second involving one of the jets in five months, and has led to speculation that Boeing might order all of the jets to be grounded pending further inspection.
Chinese media outlet Caijing was the first to report the decision, citing sources within China's domestic airline industry. Thee 737 MAX, the fourth generation of Boeing's narrow-body 737 line, was first flown in 2016, making the string of crashes – two in five months – unprecedented and, according to some analysts, extremely suspect.
China airline officials have suspended operations for the Boeing 737 Max aircraft: report pic.twitter.com/93QLjL4FrW

— Global Times (@globaltimesnews) March 10, 2019
The first crash occurred in late October when a 737 MAX operated by Lion Air crashed into the Java Sea, killing the nearly 200 people on board. Before the crash, the crew had reported unusual activity in the jet, including the nose of the plane unexpectedly tipping lower, which was blamed on a faulty data system. That crash is still under investigation.
Though its possible the two accidents could be a coincidence, the fact that they both involved brand new planes is particularly concerning. Yet, airlines have been reluctant to ground flights without a cue from Boeing, or some more evidence unearthed by investigators that the crashes could have been the result of some wider flaw in the plane's design. Ethiopian Airlines, which operated the ill-fated flight ET302 destined for Nairobi, has the best safety record of any carrier in Africa, and its CEO said at a Sunday press conference that its 737 MAXs would remain airborn.
Update: There are currently hundreds of Boeing #737MAX jets airborne across the globe right now, including an @FlyEthiopian Airlines one. pic.twitter.com/scqq1bt9wW

— Alex Macheras (@AlexInAir) March 10, 2019
As aviation analyst Alex Macheras pointed out during a series of appearances on cable…

by Zero Hedge - March 10th, 2019 7:40 pm
Courtesy of ZeroHedge. View original post here.
Regardless of whether Huawei represents a genuine national security threat to the US and its allies, there is another important reason why Washington might want to persecute Huawei: Namely, because US telecoms companies, fearful of ceding even more ground to global market leader, asked them to, as John Tamney explained in an essay published by the American Institute for Economic Research.
Huawei, a wildly highly successful telecom company can't place its goods on U.S. shelves because it is viewed as a national security threat. The laughable argument offered up by members of the political class to defend the indefensible is that Huawei's close ties to the Chinese government mean that American use of its phones and equipment imperil us because we could be spied upon. Oh dear…

The real threat here is U.S. telecoms that are close enough to our federal government such that they can convince federal officials to pursue always damaging protectionism. Luckily for U.S. smartphone makers (Apple sells 20% of its iPhones in China), the rules against our best and brightest in China aren't so stringent.
As Tamney explains, a closer look at the circumstances surrounding the arrest of Huawei CFO Meng Wanzhou swiftly shows why Beijing was outraged by her detention. As Tamney explains, arresting Meng for her work at Huawei would be like China arresting an Apple executive for working at Apple. Yes, Huawei may have violated sanctions against Iran, Sudan, Cuba and others by selling them equipment made with American components, but this is "a distinction without a difference". US companies sell goods to these countries all the time – they just have the sense to do it through several layers of intermediaries.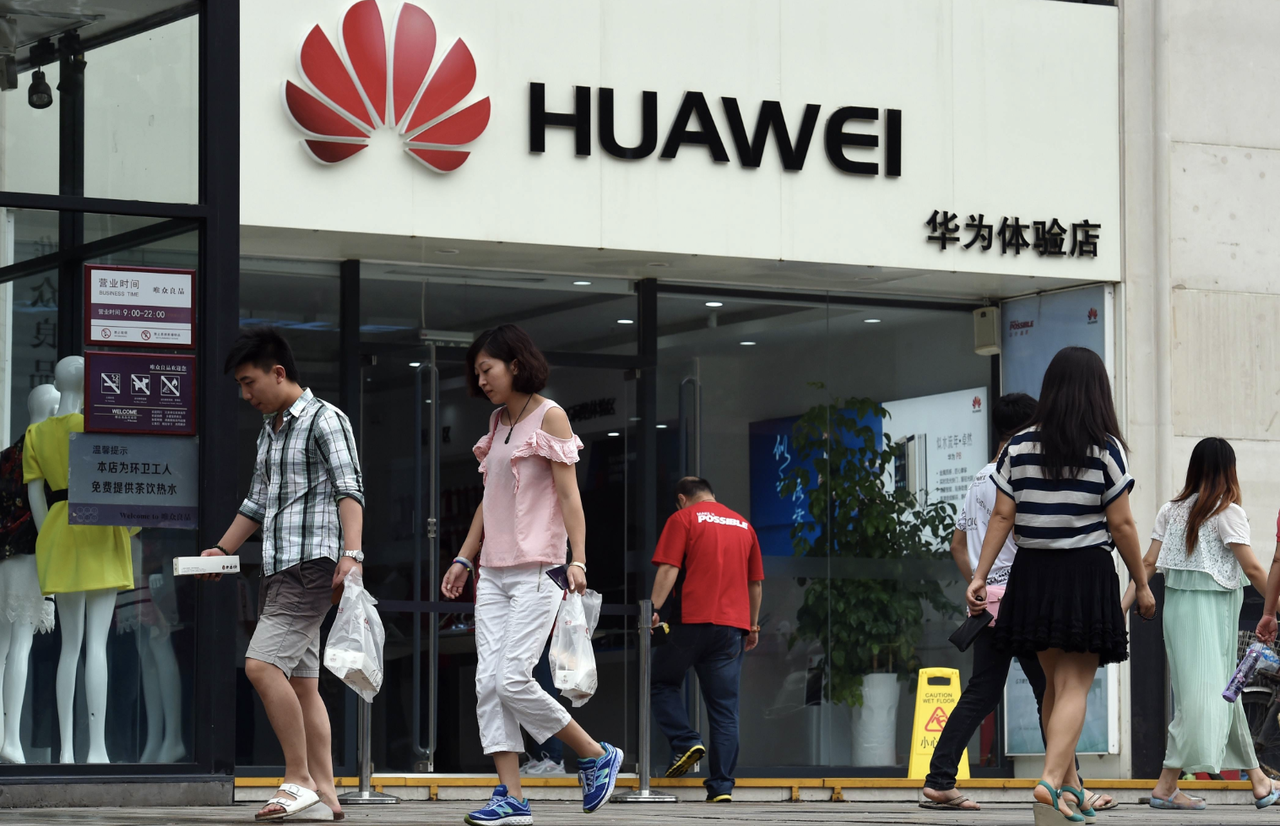 But as the US's war against Huawei escalates, to the point where, as Larry Kudlow recently acknowledged, could impact the tenuous trade talks between Washington and Beijing, it's worth taking a look at Huawei's growing global influence.
And a recent piece published by the Globalist entitled "Huawei in Charts" examines different aspects of Huawei's operations, showing the company's explosive international growth over the past decade:
Huawei's leadership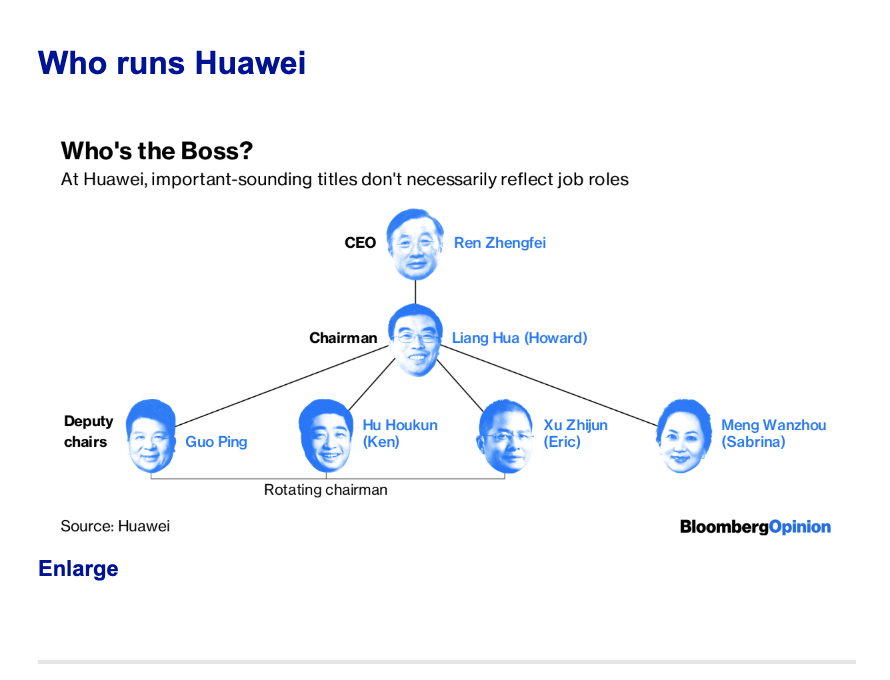 Growth…

by Zero Hedge - March 10th, 2019 7:08 pm
Courtesy of ZeroHedge. View original post here.
A decade after Ben Bernanke appeared on "60 Minutes", vowing that the Fed could easily crush inflation, as it could "raise interest rates in 15 minutes", of course with the occasional "pause" along the way should the S&P dip by 20% or so, current Fed Chairman Jerome Powell will follow in his footsteps on Sunday night, when surrounded by former Fed Chairs Bernanke and Yellen, he will try to reach beyond the Fed's traditional audience of markets, journalists and lawmakers to counter the attacks from President Trump, even after the Fed's paused on raising interest rates, said Sarah Binder, a professor of political science at George Washington University, quoted by MarketWatch.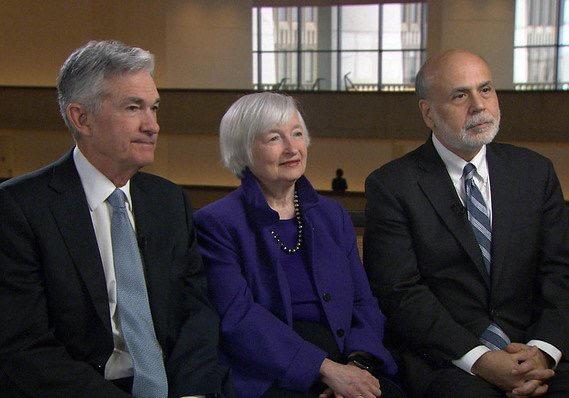 "He wants to counter the president's message that policy is all wrong," Binder said.
Binder said she was struck by the still photo of the "60 Minutes" interview that shows Powell alongside his two predecessors Janet Yellen and Ben Bernanke.
"This puts a human face on the central bank. It says, 'we're the Fed and we're here to help,'" Binder said.
Bernanke also faced criticism when he went on "60 Minutes" in March 2009. The Fed was facing concerted attacks by lawmakers and populist "End the Fed" groups, who considering the record wealth divide in the US created by the central bank, were spot on.
Robert Brusca, chief economist at FAO Economics, said Powell may also try to restore some enthusiasm in the outlook for the economy, especially in light of the collapse in Q1 GDP estimates.
Ironically, Trump was right in calling for an end to the Fed's rate hikes, as the Fed itself confirmed, albeit indirectly. In December, the Fed had penciled in two interest-rate hikes into its dot plot. Then in January, Powell – once again flanked by Bernanke and Yellen, almost as if in hopes of deflecting attention, reversed course and said he didn't know if the next move would be rate hike or a cut.
The Fed chairman wants to make sure his wait-and-see attitude "isn't taken as an indication that something is wrong with the economy," Brusca said although considering the near record plunge in retail sales, the sharp drop in payroll…

by Zero Hedge - March 10th, 2019 6:25 pm
Courtesy of ZeroHedge. View original post here.
During its latest, quarterly meeting, the Treasury Borrowing Advisory Committee (aka the TBAC, which many years ago we dubbed the Supercommittee That Really Runs America, an assessment which 8 years later Bloomberg now generally agrees with), released minutes of its Jan. 29 meeting held at the Hay-Adams Hotel in conjunction with the U.S. government's quarterly refunding announcement.
While there were many topics of discussion (discussed previously here), the TBAC highlighted two key areas of concern: i) the soaring US budget deficit, and specifically the possibility of significant financing gap over next 10 years amounting to over $12 trillion and the potential need for more domestic investor participation if foreign reserve growth slows; and tied to that ii) the worry that since "foreign investors already hold significant dollar debt", and have been paring back substantially on their Treasury purchases in recent years, the US will have to increasingly rely on domestic savings to fund its future budget deficits.
Of particular note, the TBAC said, tongue in cheek, that while the "USD is still the dominant reserve currency", reserve managers have been very gradually increasing allocation to other currencies, and that the USD share of FX reserves has steadily come down from 72% in 2000 to 62% now. It also pointed out that other countries with significant debt issuance needs (as a share of GDP) depend far more on domestic savings. As a result, "the Treasury should plan to meet financing needs more domestically than in the recent past."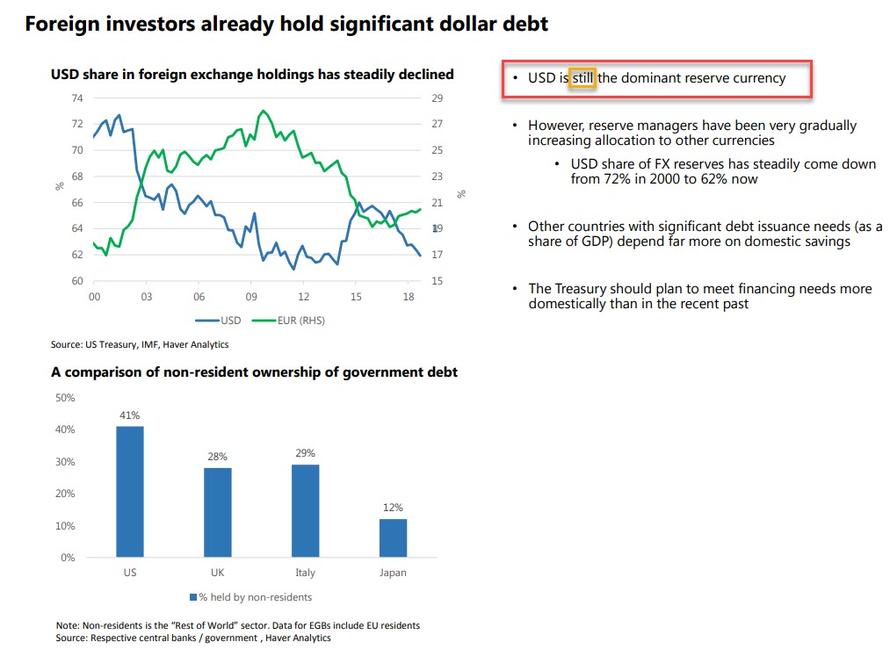 Which brings up a key question: who is buying US Treasurys, and who will be buying US Treasurys for the foreseeable future.
To address just this question, on Friday Deutsche Bank's team of economists and credit strategists led by Peter Hooper, Brett Ryan and Torsten Slok among other, published a presentation titled "Who is buying Treasuries, Mortgages, Credit and Munis" which seeks to address just the concern framed by the TBAC, and which will soon emerge as the most critical one for the US Treasury market (the biggest in the world), especially if public support for MMT (i.e. helicopter money to finance unlimited political promises) gains social traction.
Below we excerpt some of the key charts from the presentation starting with the most obvious: foreign appetite for IG, HY and loans…

by Chart School - March 10th, 2019 5:26 pm
Courtesy of Read the Ticker.
If the central economic planners (CEP) lose control and the fiat monetary balance is broken, where do you hide!
In the most recent years the pendulum as held firm on the side of the CEPs and central bank put (Greenspan Put, Bernanke Put, Yellen Put, Powell Put [just]) was (and is) a real thing.
Now in 2019, after being sold the story the easy monetary policy can end and return to normal. The current Fed Chairman Powell even suggested this would see the US 10 yr bond near 4% while they sold down the $4T FED balance sheet at $5OBN a month, while suggesting the US economy would not even notice. 
Well 2019 is not even half done, and the CEPs have arrived at their Little Big Horn moment and fell like General Custer. Things started to go wrong around the US 10 yr bond 3.25% mark, and this followed with a plunge of 20% in the SP500. Now CEPs are back to injecting monetary juice into the markets. Proof the new normal of never ending monetary stimulus can never be unwound. 
Little Big Horn is marked where an arrogant and ambitious plan fell apart. 
Will the CEPs monetary power ever fail? If it does what happens to Bob the Builder, Stacy the Hair Dresser, and Joe the Plumber. Us!
Well it seems those who are informed are putting the money where their mouths are. Billionaires who can afford the best research like Stan Druckemmiller, Sam Zell, David Einhorn, Ray Dalio and John Paulson have begun to hedge themselves against the CEPs failure to maintain power over inflated and fragile asset prices by investing in hard assets. Maybe masses should do so as well.  
Below are some of readtheticker.com favorite gold charts.
Gold with the big parallel channels.
Click for popup. Clear your browser cache if image is not showing.

Gold with RTT_HurstDPO Cycle
Click for popup. Clear your browser cache if image is not showing.

Gold with Gann Angles.
Click for popup. Clear your browser cache if image is not showing.

Two things the CEPs have ruined the middle class with: Globalisation and monetary debasement. Protect…

by Zero Hedge - March 10th, 2019 5:10 pm
Courtesy of ZeroHedge. View original post here.
More than 17 million young Americans have abandoned Facebook over the last two years after a series of data privacy scandals damaged public trust in the social media platform. According to the longest-running survey of digital media consumer behavior in America conducted by Edison Research, Facebook users between 12-34 years-old are now flocking to Facebook sister site Instagram, reports the Daily Mail.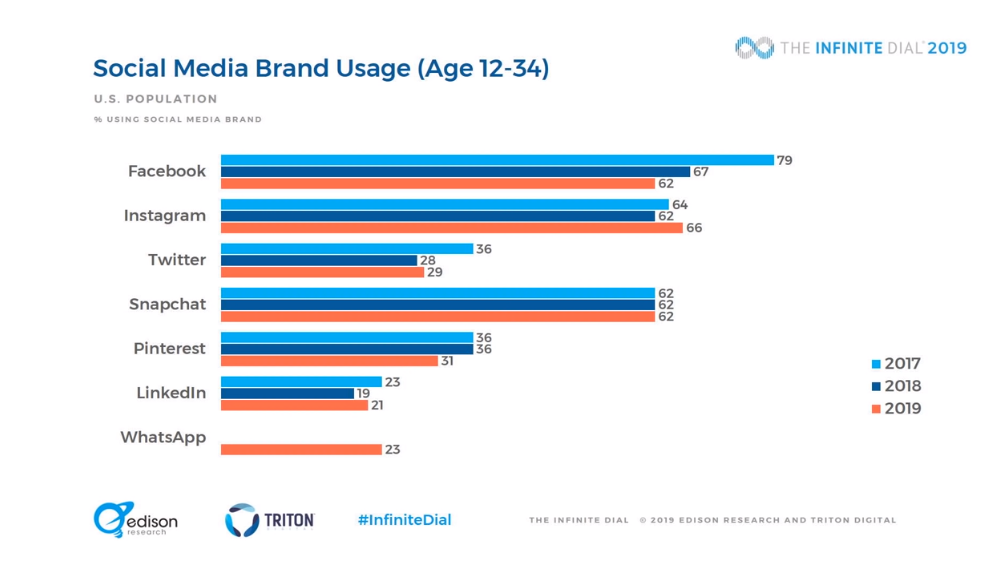 The report found that in 2017, 67 per cent of the total US population over the age of 12 used Facebook.

This has dropped to 62 per cent and 61 per cent in 2018 and 2019, respectively.  

These average figures equate to approximately 172 million current users, according to Edison Research. 

However, a breakdown of those ditching the beleaguered site found the drop off has been much larger in youngsters.  -Daily Mail
Older people over the age of 55, meanwhile, increased their Facebook usage – marginally offsetting the drop in younger users for a net loss of 15 million users over the last two years.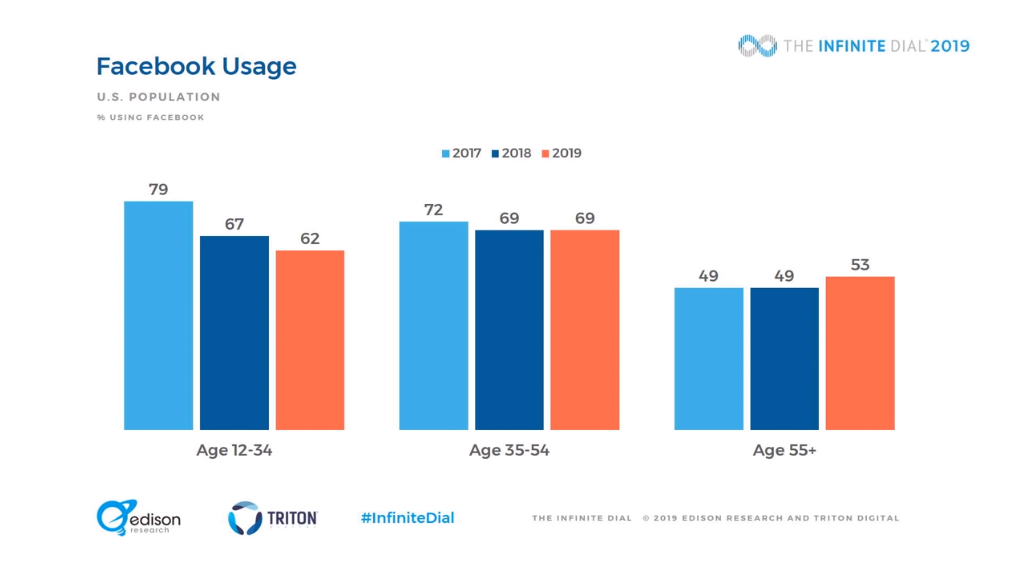 Still, despite the dropoff – Facebook remains the top social media platform for young users - with 29% saying it is the site they use most often. That said, the graphic below reveals a significant reduction in market share since 2015, when 58% of young users primarily used Facebook.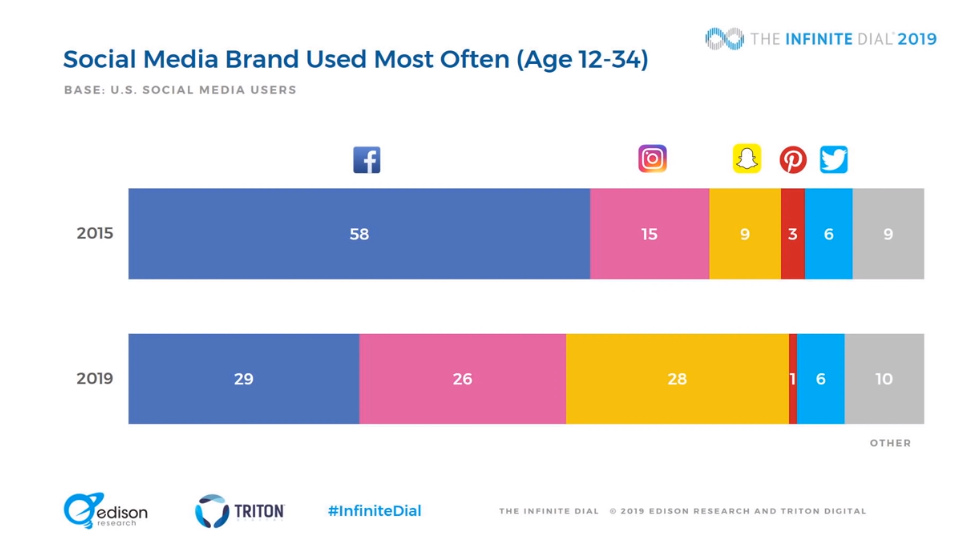 According to the report, approximately 223 million people over the age of 12 use social media.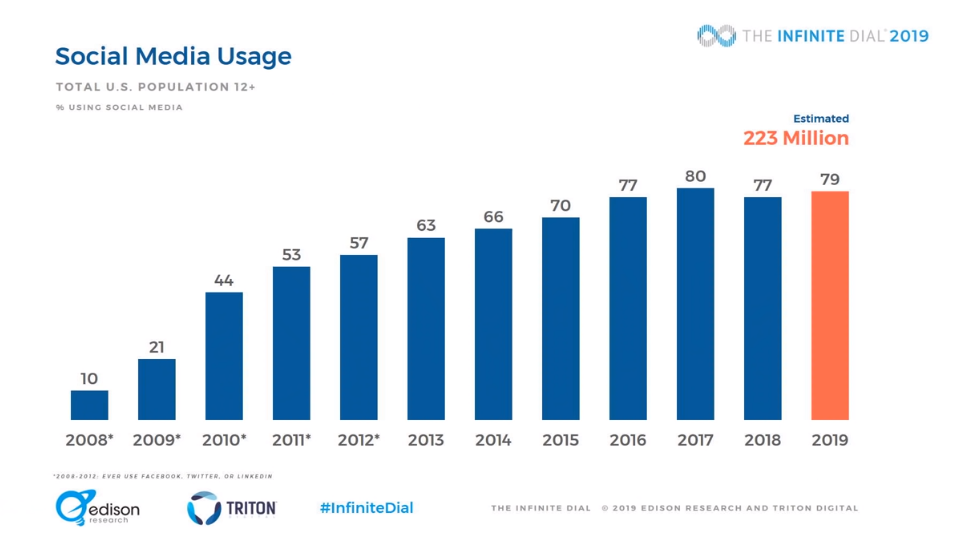 Last week Facebook announced in a lengthy blog post that the company plans to bring end-to-end encryption to their Messenger, WhatsApp and Instagram platforms in an effort to boost the company's reputation for poor user data security. 
Zuckerberg also said he's working to ensure your online activity won't come back to haunt you later in life. 

Ultimately, the CEO says the firm is striving to make interactions across Facebook 'a fundamentally more private experience.'  

'I believe the future of communication will increasingly shift to private, encrypted services where people can be confident what they say to each other stays secure and their messages and content won't stick around forever,' Zuckerberg wrote in the March 6 post. 

'This is the future I hope we will help bring about.' -Daily Mail
1,500 users over the age of 12 participated in the survey via telephone.