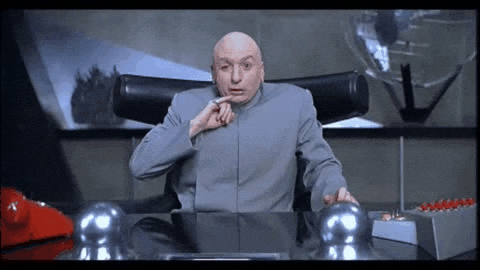 $153,498!
Not much action (up $1,445) since our last review on the Short-Term Portfolio and there is still no Long-Term Portfolio at the moment so the march to $1M is going very slowly at the moment. Still after being up 53.5% in 3 months – our primary goal shifted towards preserving our gains over the holidays and now we're just waiting to see if the markets hold up into earings and we can start buying again.
With the Iran situation and Trump's Impeachment and do we really have a China deal – it's hard to commit more cash into these overpriced stocks but we'll have to if they don't show any signs of slowing by the end of this month or we may miss the next ridiculous leg of this rally.
Short-Term Portfolio Review (STP): $153,498 (53.5%) is flat to the last review as our hedges killed us and so did TSLA. Still, I'd rather lock in a $50,000 gain over 3 months than risk giving it back so we got cautious after making ridiculous 2-month gains. Next month, we can start an LTP by simply renaming this one and removing the short-term plays and the hedges and putting them in a new STP – see how easy that was – we already started our LTP – and it's our STP!
Short puts – All on track with $8,710 of additional potential.
SQQQ – The December spread was a bet, not a hedge and offset by the CSCO puts – though it's a long time before we get this loss back. Just dead money here.
BKNG – Very nice as we bought back the short calls and now we can sell them again. Unfortunately, we shorted BKNG over China Trade issues affecting travel (it did) but that's over now and they really aren't that expensive at $2,000. Also, I no longer feel strongly about the bear put spread so

let's just cash this one in – it's been very good to us

.
CMG – Meh so far but right in our range.
FCX – Big pop off trade deal but it's a $5,000 spread and only net $2,530 so 100% to gain if we just wait. Yawn – I guess we may as well wait for the other $2,470….
MJ – See, we didn't sell enough calls so a fail so far. Still, we only paid net $7,200 for the $45,000 spread and our 2-month (out of 26) short puts and calls brought in $2,700 so 12 more of those is $32,400 of premium left to sell – I like those odds!
MO – Over our target already so another one of those boring ones that goes up before we get to double down or even adjust. Net $6,355 on the $7,500 spread means we have to wait until March to collect our last $1,145, but that's still 18% more in 3 months – what better do we have to do with the cash than wait when it's almost a sure thing?
SQQQ – Now this one is a hedge. Like the Earnings Portfolio, we should make the same adjustment, which was: "

we can still cash in our March $22 calls for $5,250 – that's more than we paid! I don't care about the puts because we'll roll them forever but, while SQQQ is low, let's buy some cheap, longer-term insurance like 40 June 20 ($4.60)/27 ($2.50) bull call spreads for net $2.10 ($8,400) so we're paying $3,150 for much more insurance

and we are double covered on the short March $27 calls, now $1.30 and if we put a stop on 10 (1/2) of them at $1.70 ($1,700) it's very doubtful we'll get in trouble on an upside move

."
TD – On track.
TLT – Should get our full $8,000 on that one!
TOL – Brand new and good for a new trade.
TSLA – Yikes – it blew over our short calls but fortunately, we made a lot on the short put side too. The short Dec $365 calls are now $40 but, fortunately, the short March $400 calls are $40 so

let's roll our 5 short Dec $365s ($20,000) to 5 short March $400 calls at $40 ($20,000)

and make it a problem for another quarter. Keep in mind, if TSLA keeps going up, we still have $17,850 more to collect on the short put side.
VALE – A nice $20,000 spread that's on track at net $6,330 so 200% left to gain makes it perfectly lovely as a new trade!
Earnings Portfolio Review: $102,715 is only up 2.7% in 6 weeks and, though that's considered great by most people – it's kind of boring for us. Our SQQQ hedge has sucked up $2,430 of our gains but, otherwise, we do love the positions and they are scheduled to make another $42,293 over the next two years - so we have to take the hedge in context as future adjustments are much cheaper than the initial entry and, of course, we will be adding more as next earnings season commences.
Anyway, that means this entire portfolio is good for a new trade and I love every one of our positions (except BA, which I'm worried about).
HBI – Another hidden retail gem.
BA – The were up $3,000 so this cost us since the last review. Very tempting to sell a put here but we don't know what the outcome will be so I think this spread is enough of a gamble by itself for now.
CLF - Finally woke up and on track.
IMAX – Star Wars is getting bad reviews but I doubt that keeps people from going. My Mom asked us if we wanted to go on Sunday AND she's bringing her boyfriend!
IRBT – Very happy with that bottom call. Sometimes they do work out…
SQQQ – In trouble already but that's OK, the idea is the portfolio needs insurance and this was our first policy. Unfortunately, we didn't die – so we wasted our first payment! Still we paid net $1,630 for our insurance and we can still cash in our March $22 calls for $5,250 – that's more than we paid! I don't care about the puts because we'll roll them forever but, while SQQQ is low, let's buy some cheap, longer-term insurance like 40 June 20 ($4.60)/27 ($2.50) bull call spreads for net $2.10 ($8,400) so we're paying $3,150 for much more insurance and we are double covered on the short March $27 calls, now $1.30 and if we put a stop on 10 (1/2) of them at $1.70 ($1,700) it's very doubtful we'll get in trouble on an upside move.
See how cheap it is to adjust a hedge once you establish it? And now it's a $28,000 hedge vs $10,000 before at the same upside point ($27).
Dividend Portfolio Review: Well, we filled this up already and it's already up 17% at $117,022 and that's well ahead of projections as we were only looking to make 37% for the year but we did well at the outset so we got a little more aggressive, adding TD short puts to close out the set. If all goes well, we won't touch this portfolio at all and simply let the money flow in over the course of the next two years.
So far, we've collected $756 on M, $740 on NLY, $370 on SIG and $355 on SKT – that's $2,221 in our first quarter with 5 more positions to pay but already 2.2% of $100,000 in a quarter alone is far better than we'd do in a bank!
Hemp Boca Portfolio Review: Up 5.5% is nice considering MJ is hitting us for a $7,770 (15.5%) loss so we'd be on track without MJ and, hopefully, it will get us on track again one day. Other than that, we seem to be in pretty good shape, fighting back from that loss and up 5.2% since last month with no changes at all.
TAP – They bumped up their dividend – hopefully not priced in Canadian Dollars… We just added puts to the bull call spread but our conservative entry is net $42.40 and I have no worries about that so

I fully expect to gain the remaining $3,750 (98.7%) on the puts, so still good for a new trade

. On the bull call spread, we're down $1,250 – so also good for a new trade at net $7,750 on the $20,000 spread so $12,250 expected to be gained there but $7,900 is $54 and I need more evidence before I begin to say I'm counting on that money – so no green on the rest!
IMAX – As noted in the Earnings Portfolio, I feel very good about this one and we're already in the money at net $3,625 on the $4,000 spread so

$375 (10%) left to gain if they hold $21 for 1 more month.
M – Finally popping! Nice $10,500 potential spread at a net $2,708 and that's up $5,926 since last month… Still, it's a $10,500 spread so

$7,792 (287%) potential gain if M can make it to $20 in two years

is still pretty good -

even if you IGNORED ME the other 1,000 times I said I loved this stock at $15

.
MJ – Well, we took a shot at fixing it a couple of weeks ago, leaving our old long calls as they weren't worth cashing but certainly we're not counting on this money.
THC – Another one we love to buy whenever investors lose faith. Miles in the money now at net $4,575 but it's a net $7,000 spread that's 50% in the money so not bad for a new trade with

$2,425 (53%) left to gain

, We entered for net $1,000(ish) so up 350% already but now it's pretty much a sure thing so 53% is not boring when you don't even have to think about it.
So that's $14,342 left to gain despite not counting a thing on MJ or most of TAP (another $12,000 potential) and that's 28% of a $50,000 portfolio but we still have 75% of our $100,000 buying power and we will find ways to deploy that over time. Keep in mind we only trade this one on the Tuesday Radio Show.
Money Talk Portfolio Review: Only up 3% at the moment but it's only been a month and we only have 3 positions that we can't touch – so I guess it's going well but, yawn…
SPWR – They are spinning off a division or I would have gone for the bull call spread too. I love these guys long-term and we can just sit on the short puts without worrying about the mess from the splits.

I expect to collect the full $2,935 on this one

.
GOLD – Our Trade of the Year so it better pay off! Was only net $1,665 at the last review and now $2,947, so up an additional $1,282 (77%) in a month was a nice trade, even if you were late.

I fully expect to collect the remaining $9,053 (307%)

- so still good for a new trade but nothing like our original entry anymore.
IBM – Last year's Trade of the Year is a resurrection play – as we've already cashed in the originals at $150. $135 got attractive again so we're back in with a $16,000 spread that's currently net $60, up $140 from our $80 credit so far. Still great for a new trade with a

$16,940 (28,233%) upside potential

over just $140! I
Only a month old and up $2,958 is on a good track and the potential for our trades is another $28,928 PLUS that $2,958 is $31,886 should be enough money to beat the S&P over the next two years so no worries. We're only using $8,000 in margin and none of our Cash (we have more than we started with) so PLENTY of room for expansion.
My next show is likely in Jan but not set yet.
Do you know someone who would benefit from this information? We can send your friend a strictly confidential, one-time email telling them about this information. Your privacy and your friend's privacy is your business... no spam!
Click here and tell a friend!