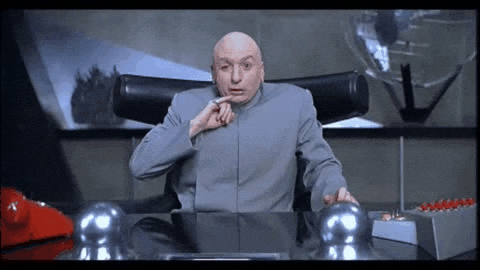 $644,380!
No we didn't make $500,000 – we actually lost about $9,000 in the past month as the TSLA trade blew up on us but that's our grand total now as we finally started a new Long-Term Portfolio (LTP) with $500,000 along with our Short-Term Portfolio (STP), that was at $144,380. Generally, we've simply changed the STP to the LTP and moved the hedges out of the new LTP to the STP and added $400,000 in virtual cash to the LTP and NOW we are ready to get serious playing the market with our main, paired portfolios.
Essentially, we made $44,380 while we've been waiting around for a good time to deploy more cash. Of course we cashed in $3M last year so we're only re-deploying a small portion of it but that's appropriate for the still-uncertain market we're in now and, anyway, we started with the same $600,000 back in Jan, 2018 so it's much more fun to build it all up again, isn't it?
Last month, we were worried about Iran and, frankly, I don't even remember why anymore as it's all about Coronavirus now although Trump's Impeachment still looms large in the background. Still, it's earnings season and we've already fired off 4 Top Trade Alerts in January and last week we added a few early trades to the New LTP already.
Here's this month's collections of our trade reviews from last week's Live Member Chat:
Short-Term Portfolio Review (STP): This is now the Long-Term Portfolio (LTP) and we'll make a new STP to cover these positions. Mechanically, we're moving $400,000 into this portfolio and making a new $100,000 STP whose main function is to protect the new LTP (so looking more for bearish opportunities than bullish ones).
The STP is at $144,380 and that's down $9,118 from our last review, pretty much entirely due to TSLA going off the rails on our short calls. We'll deal with that and decide which positions stay and which ones go in our new LTP:
CBS – Keeper
CSCO – Keeper
M – Keeper
CMG – We're on track so far and I doubt CMG goes over $900 so this will be

TRANSFERRED TO THE STP

.
FCX – Keeper
IMAX – Keeper (brand new)
MJ – Keeper.

The short $17.50 puts are expiring worthless and the $18 calls are 0.666 in the money and we'll pay those off and sell 10 April $19 calls for $1.50 ($1,500) and 10 April $18 puts for $1.50 ($1,500)

and that's another $3,000 collected against our net $7,400 long position and we have 7 more quarters to sell for $21,000 and we kept $2,034 of the $2,700 we sold in November – if we keep that up, that's $16,000 in pocket from put and call sales and the potential $45,000 on the spread is just a bonus.
MO – Looking good for a full March payout. We're at $6,600 out of $7,500 potential but I see no reason we won't make the last $900.
SQQQ -

TRANSFER TO THE STP. Also, we're going to roll the 10 March $25 puts at $6 ($6,000) to 15 2021 $20 puts at $4.60 ($6,900) and we'll roll 40 June $20 calls at $2.30 ($9,200) to 60 2021 $17 ($4.85)/$30 ($2.40) bull call spreads at $2.45 ($14,700) so that's $78,000 worth of protection that's $18,000 in the money for net $4,600

.
TD – Keeper
TLT -

We are cashing this in

.
TOL – Keeper, already deep in the money.
TSLA -

TRANSFER TO THE STP. We're going to absorb the loss here, in the new LTP, as we can afford it so essentially we're cashing it out and making a fresh position in the new STP which will be: Sell 5 TSLA 2022 $300 puts at $33 ($9,900) and sell 5 June $550 calls at $49 ($24,500) and we'll see how that goes

. We're down net $26,000 so easy enough to make it back.
VALE – Keeper – on track.
So, even though we were very hesitant to commit capital, we still ended up with an LTP that's up 8% ($44,000) for the new year. Our STP often makes money very quickly so I'm not worried about it catching back up but our main goal is always making 30-40% with our main portfolio and we're right on track – despite "missing" the big rally.
Money Talk Portfolio Review: $105,130 (+5.1%) is good as we only just started it in November and only put in 3 plays because I didn't want to risk all the uncertainty into this month but we'll add more in Feb, next time I'm on the show. This is another no-touch portfolio between appearances.
I know it seems very boring when we start these things but adding 3 plays per Q is PLENTY and we did it in the last MTP and that ended up gaining well over 100% in 2 years.
SPWR -

I expect to get the full remaining $2,650 from my favorite solar stock

. This would make a good short to pay for an SQQQ hedge.
GOLD – Already over our goal but just showing net $3,550 of our $12,000 potential so

$8,445 (237%) left to gain

is still a nice return on our Trade of the Year, though we're already up $2,875 (425%) from our $675 entry!
IBM – Last year's Trade of the Year so I'm super-confident in this one too and we're already about at the money. Net $1,340 is already up $1,800 (391%) from our $460 credit entry (aggressive put sales) but that's still $14,660 (1,094%) left to gain in this no-brainer of a trade.
So these were the 3 trades I was most confident in back on 11/14, when I did the show. I was very worried about the holidays with Trade War and Impeachment still up in the air so I was very conservative but still, the potential (aside from the $5,130 we already gained) is for another $25,755 left to gain on just these 3 stocks.
You don't have to play risky or even play often – just play sensible!
Hemp Boca Portfolio Review: $59,115 (+18.2%) is up a very nice $6,355 in our completely untouched portfolio since our last review. In fact, we haven't touched this since November as I didn't want to rock the boat into the holidays and then we went to Thailand and the show is off for Jan as we're still working full-time on that project. So no changes but things look good:
TAP – We picked a good bottom and it's rocketing higher now so I'm very much believing we'll get our full $20,000 and currently net $7,850 is already up $2,650 but

another $12,150 (154%) left to gain

at $60+ is still very exciting – especially for a $50,000 portfolio! And that's only the end of this year….
IMAX – How can you not love these guys? Here's a spread from back in July and, although they are just plodding along, the magic of premium decay works for us (the House) and it looks like we'll expire tomorrow just about where we planned but, sadly, that's already baked into the $2,830 gains (out of a potential $3,330).
M – See how consistent I am in my value plays? I don't need 6,500 stocks (there used to be 9,000+) when I have a few dozen I can play over and over again. That's because we don't need them to go higher to make money – flat is fine, down a bit is fine too! We jumped in on the Nov dip and it's a $10,500 spread that we paid $725 for and now it's net $3,112 so already up $2,387 (329%) but

another $7,388 (237%) more to go

and we're right on track.
MJ – Signs of life? This killed our gains last year with a $9,000 loss and I doubt we get that back but the new spread is $14,000 and we only need to get to $22 and that's currently net $150 so great for a new trade with

$13,850 (9,233%) left to gain

.
THC – Another one I will buy over and over and over again when it's low in the channel because traders are idiots and over-react and have no patience. Very high in the channel now but we are 200% in the money at net $5,637 out of a potential $7,000 so $1,363 (24%) is very boring for a year and we'll probably kill this on the next show.
So $33,388 is about 66.6% to be gained on the $50,000 portfolio over the next two years and that's pretty respectable for a low-touch portfolio.
Earnings Portfolio Review: $110,470 (+10.5%) is up a nice $7,755 from our last review and we've used almost no cash and little margin – so miles of room to play. Let's just make sure we still like what we have as we move into our 2nd earnings season.
HBI – Right where we started so good for a new trade and

I fully expect to collect the remaining $2,485

.
ACB – Not much action and back to where we added more in late December. I am confident we'll end up with the full $3,000 and now net $935 so

$2,065 (220%) upside potential

PLUS we can roll the short calls AND the short puts for another $2,000 and all ACB has to do is get back to $3 – but that is $3Bn and they are running $400M in annual revenues but did make $12.7M last Q so – potential!
CLF – On track for the full $10,000 and currently net $2,285 so

$7,715 (337%) upside potential

certainly makes them worth keeping or even good for a new trade – even if you did miss the first $1,335 in gains!
HRB – Pretty new but already making money as we timed it perfectly. Potential is $6,000 and we're at $2,949 so

$3,051 is a good double from here

and we only have to wait until July and it's 100% in the money already. Don't you just love option spreads?!?
IMAX – I just picked it as a Top Trade Alert yesterday so good for a new trade too. It's an $8,000 spread and currently net $2,912 so

$5,088 (174%) to be gained by June

will make it a lot easier to swallow the next time I have to fork out $20 for a ticket.
IRBT – We got a huge bargain on the 2022 $40 calls when it was gapping down in October. That's the value of a Watch List as we jumped on them as soon as we read that earnings report and decided it was an over-reaction. Even though we're already up $7,225, it's a $25,000 spread at net $5,875 so

huge $19,125 (325%) upside potential

and I feel very good about hitting it.
M – You know how much I love M! We're up a bit already and it's a $3,000 rollable spread (so maybe $6,000 potential) at net $2,777 and we'll certainly add more longs and roll the short calls but first I'd like to see earnings before putting more money down at these prices (we entered at net $1,300, so already more than a double). Not an accident that I'm not counting on more money from this unadjusted spread.
SQQQ – Why do we keep hedging? They never work! Actually, it's not to bad as we're only down $100 overall but it will get worse if we don't salvage our longs and roll our short puts. So,

we'll roll the 10 March $25 short puts at $5.70 ($5,700) to 15 June $22 puts at $4.20 ($6,300) and we'll put a stop on the 20 short March $27 calls at 0.80 and we'll roll our 20 June $20 calls at $2.50 ($5,000) to 30 2021 $20 ($4.20)/30 ($2.50) bull call spreads at $2.10 ($6,300)

so it's net $700 for the immediate adjustment and we'll spend no more than $1,600 buying back the short March $27 calls but we'll leave the 20 short June $27 calls to hang as were 50% over-covered. It's a $30,000 spread that's good protection tying up about $5,600 and

figure we lose $4,000 if the market keeps going up

.
By the way, we don't need to always roll the puts. We could roll $6,300 worth of SQQQ puts to 5 AAPL 2022 $225 puts at $12.50 ($6,250) or whatever we decide we'd REALLY like to own if the market does tank. But, for now, there's nothing wrong with owning 1,500 SQQQ at $22 as we could sell the 2022 $19 calls for $7.50 and drop our net to $14.50 ($21,750) and that would still be $6,750 of protection at $19.
WFC – That one still has that new trade smell but it already popped and made us $1,370 for the week and I'm pretty confident they can't take back $50 but not enough to put it in green.

Our potential is $2,500 and the net is currently $1,825 so I really don't see the point of risking it just to make $675 more so let's cash out

.
So there's $39,529 to be gained in our longs against a $4,000 loss on the hedge if all goes according to plan. Not that it ever does, but it's good to have a plan so you know whether you are on track or not, right? It's important to know what to expect from each of your positions and to make sure that your expectations remain realistic as we get more reports and learn more about each stock along the way.
Since these are mostly on track – I might be willing to take a few more chances this quarter (we've been very conservative so far) as we have this relatively safe backstop of $20,000+ coming to us this year.
Dividend Portfolio Review: $126,233 (up 26.2%) is up a lovely $9,211 from our 12/18 review - who says dividend stocks are boring? Best of all, we didn't touch a thing – we just collected a couple of additional dividend pay-outs but, otherwise, it's a full portfolio and we have no reason to touch it – though I am tempted to add more SKT down here….
So far, we've collected $756 on M, $500 on NLY, $370 on SIG, $520 on T, $420 on MO and $355 on SKT – that's $2,921 in our first quarter with 3 more positions to pay ($485/CHL, $300/ETP & $150/F) but already 2.9% of $100,000 in a quarter alone is far better than we'd do in a bank!
Butterfly Portfolio Review: $189,664 is up 89.7% but down considerably ($50K!) from our 12/19 Review as AAPL is killing us at the moment. AAPL is up $35 and our 30 short June $260 calls are hitting us for a $107,000 loss while our 60 2022 $240/2021 270 spreads are $163,950 out of a potential $180,000 so we'll certainly have to move the short calls to something with more chance of gaining if the short Junes stay in the money.
Fortunately, the rest of the portfolio is doing well so we just have to fix AAPL and get our $50,000 back and we'll be fine.
AAPL -

The short June puts are dead so we buy them back at $3,488 and then we can sell 15 of the 2022 $260 puts for $22 ($33,000) and roll the 60 short 2021 $270 calls at $60.50 ($363,000) to 60 of the 2022 $310 calls at $51 ($306,000) and we'll roll our 30 short June $260 calls at $59.50 ($178,500) to 40 short 2021 $300 calls at $42 ($168,000) and we'll sell 15 more of the 2022 $260 puts ($33,000) to bring a bit more balance to the force

.

All that is net $4,988 out of pocket and we now have a long 2022 $420,000 spread covered by 40 short 2021 2021 $300 calls ($168,000) and 30 short 2022 $260 puts ($66,000). We can't lose both sides and, though it's short-term ugly, we now can make $409,000 if all goes well (the current net is $10,987) vs much less in the previous set-up. So far, we have been "unlucky" as AAPL blew out of our range but we only have to be lucky once and it will all be worthwhile!

Keep that in mind, this is a net $10,987 spread that we're adding $4,988 to and the potential is to return $420,000 so, from scratch, it's a great trade (and you don't have to do as much as we have, of course).
DIS – See, that one came back down and we're doing very well again.

We're right on track for the April $145 calls but it's a lot of them so let's buy back 15 of 35 at $6.75 ($10,125)

so we can't get too burned if they pop on earnings (2/5). Other than that, we're right on track.
MDLZ – The short $52.50 puts should expire worthless and that leaves us with 10 short Jan $52.50 calls at $2.40 ($2,400) that have to be rolled but we sold the puts and calls for $5,560 so it's a $3,160 profit against our net $1,100 long position – that's exactly what's supposed to happen!

Now we just roll the 10 short Jan $52.50s to 10 short June $55 calls at $2.40 ($2,400) and 10 short June $52.50 puts at $1.50 ($1,500) so another $1,500 in our pockets while we wait

.
MJ – Suddenly catching fire! This one can't hurt us and we have 2 years to roll so no worries at the moment. 2022 $29 calls are $1.80 so, if MJ keeps going up, we can end up with 60 $9 spreads without spending more money.
WHR – Popping back up on trade deal but we're still making nice money on the short Jan $150 calls (+$3,700) and our long spread is 100% in the money.

Let's roll our 5 short Jan $150 calls at $4.50 ($2,250) to 5 short June $160 calls at $8.50 ($4,250) to pick up another $2,000 while pushing the short calls $10 higher. Let's also buy back the 5 short 2021 $100 puts

, not because I'm worried but because we can sell something better if they have an earnings dip.
X – Dropped a lot since we got in.

The March $14 calls are dead so let's buy them back to close and also buy back the short 2022 $17 calls at $1.25 ($3,750)

if we can (don't overpay) as that's just 0.05/month we'd be missing out on vs leaving it and I'd rather be more flexible into earnings.
Do you know someone who would benefit from this information? We can send your friend a strictly confidential, one-time email telling them about this information. Your privacy and your friend's privacy is your business... no spam!
Click here and tell a friend!