Posts Tagged 'biotechs'
by ilene - June 1st, 2010 7:53 pm
Courtesy of Pharmboy
Here at Phil's Stock World, we try to offer the best of all possible worlds. Phil has the rounded techniques of using options, covered calls, shorting and overall market direction to a prime. David Ristau gives us one up and one down pick of the day for 2-3% gains (he has been on a roll), and Optrader satisfies the swing trades. And then there is me, Pharmboy. I try to investigate the science behind the scenes to give the best possible chances to our readers on entering stocks we think will be profitable trades.
Take Ariad (ARIA), which I wrote about in August 2009. We had several different approaches, but the favorite was buying the stock at $1.30, selling and equal amount of the February 2010 $2.50 puts and calls which if the stock was $2.50 or above on OPEX, one would have made 68% ( in other words, 100 shares of stock with 1 call and 1 put sold would have gained 68% of the original $1.90). Where did ARIA finish up on the February OPEX…. $2.54. Lucky, somewhat on the OPEX play, but ARIA has been one of the core biotech holdings at PSW, along with DCTH (we jumped on this stock at about $5), CRIS (in at $1.21), KERX, and QCOR. Now, not all are perfect, as we have had a few that have gone south on us, most notably GILD. (Actually, Optrader correctly picked the direction on them a week back and I should have paid more attention to his 5d MA strategy.)
PSW has a great group of traders and investors that are willing to offer advice and point to better option and stock plays for all to benefit. As Phil notes, the more eyes on the charts and the market gives us the distinct advantage to play the game with them, not against!
Next, on to a few picks that could have us very happy in the next 6-18 months….
The picks I am outlining today are a bit more risky than past posts, but I believe they have the potential to make it to the game. They may not be a market leader, or the next Genentech, but I believe they have the right 'products' in place if management acts…

by ilene - May 17th, 2010 1:19 pm
Pharmboy discusses Merck, Regeneron, and Vivus and maps out his plans for trading stock and options in these companies. - Ilene
Courtesy of Pharmboy
Hola fellow PSW subscribers! The week is finally over, and the fluctuations in the market is making many of us jittery. This write up has a few picks for all, one that is conservative, one a bit more risk, and a fly-by-the-seat-of-your-pants short.
First, let's take a look at the pharma & biotech sector in comparison to the entire market. The Healthcare Spider (XLV) and now the Biotech Spider (XBI) are now under performing the market. The most logical explanation for this is the passage of the health care bill. If the reimbursement is less, pharma and its compadres will also collect less. Many of the companies have already factored in the hit to earnings, so it is known the ramifications going forward. Drugs will always be needed, as they are one of the scientific advances for extending life (which in turn makes medical care more expensive). The population is not getting any younger, so economies of scale will kick in and increase revenue, giving incremental increases in profit (if it is a well run company). So, on to the picks.
Figure 1. Comparison of XLI & XBI against major market indices.
Merck & Co. traces its origins to Friedrich Jacob Merck who purchased a drug store in Darmstadt, Germany in 1668; and Emanuel Merck who took over the store several generations later, in 1816. Emanuel and his successors gradually built up a chemical-pharmaceutical factory that produced — in addition to raw materials for pharmaceutical preparations — a multitude of other chemicals.
In 1891, George Merck established his roots in the United States and set up Merck & Co. in NY as the US arm of the family partnership, E. Merck (named for Emanuel Merck), which is now Merck KGaA. Merck & Co. was confiscated in 1917 during World War I and set up as an independent company in the United States. Between the wars and during World War II, the company was led by George W. Merck, who oversaw America's germ-warfare research at Fort Detrick.


Figure 2. 2010 Merck stock price.
Merck has a broad therapeutic focus, with key products historically positioned within the cardiovascular (Zocor, Cozaar/Hyzaar), infectious diseases, endocrine, respiratory
…

by ilene - April 18th, 2010 2:51 pm
Courtesy of Pharmboy
Cancer is characterized by a group of abnormal cells that grow and replicate uncontrollably. These cells' rapid replication allows them to invade adjacent tissues and organs and even spread to other parts of the body. As they replicate, they can crowd out organs, preventing the body's essential processes from occurring normally. Cancer, if left untreated, can hinder the body's organs from performing their functions enough to cause death.
Cancer is the second leading cause of death in the U.S. in 2009. Figures 1 and 2 show the Male and Female breakdown of different cancer types from the CDC (as of 2006) and we can understand why now prostate and breast cancer research top the list. Next comes lung, and Figure 3 shows a adenocarcinoma in the lung.
Number of deaths for leading causes of death:
Heart disease: 631,636
Cancer: 559,888
Stroke (cerebrovascular diseases): 137,119
Chronic lower respiratory diseases: 124,583
Accidents (unintentional injuries): 121,599
Diabetes: 72,449
Alzheimer's disease: 72,432
Influenza and Pneumonia: 56,326
Nephritis, nephrotic syndrome, and nephrosis: 45,344
Septicemia: 34,234
Figure 1. Top 10 Cancers: Male
Figure 2. Top 10 Cancers: Female
Figure 3. Adenocarcinoma – Lung cancer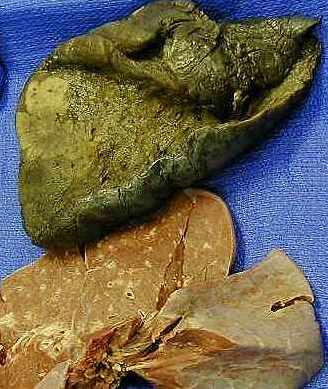 For about 40 years, the pharmaceutical and government sponsored research have waged a war on cancer, and many think that it has been a failure as the age-adjusted mortality rate for cancer is essentially unchanged over that time. But that's a deceptive metric. S. Dubner points out that the "flat mortality rate actually hides some good news. Over the same period, age-adjusted mortality from cardiovascular disease has plummeted, from nearly 600 people per 100,000 to well below 300. What does this mean? Many people who in previous generations would have died from heart disease are now living long enough to die from cancer instead."
BusinessWeek had an article on the costs of life, and as the population ages and the baby boomers start to retire, how are we to think about the costs associated with fighting cancer?
Eric C. Sun et al. ("An Economic Evaluation of the War on Cancer" (link) 2010) attempt to measure the degree to which R&D spending on cancer has benefited not only the life expectancy, but also the social and economic value to the economy.
For decades, the U.S. public and private sectors have committed substantial resources towards cancer research, but the societal
…