Courtesy of Pharmboy
Cancer is characterized by a group of abnormal cells that grow and replicate uncontrollably. These cells' rapid replication allows them to invade adjacent tissues and organs and even spread to other parts of the body. As they replicate, they can crowd out organs, preventing the body's essential processes from occurring normally. Cancer, if left untreated, can hinder the body's organs from performing their functions enough to cause death.
Cancer is the second leading cause of death in the U.S. in 2009. Figures 1 and 2 show the Male and Female breakdown of different cancer types from the CDC (as of 2006) and we can understand why now prostate and breast cancer research top the list. Next comes lung, and Figure 3 shows a adenocarcinoma in the lung.
Number of deaths for leading causes of death:
Heart disease: 631,636
Cancer: 559,888
Stroke (cerebrovascular diseases): 137,119
Chronic lower respiratory diseases: 124,583
Accidents (unintentional injuries): 121,599
Diabetes: 72,449
Alzheimer's disease: 72,432
Influenza and Pneumonia: 56,326
Nephritis, nephrotic syndrome, and nephrosis: 45,344
Septicemia: 34,234
Figure 1. Top 10 Cancers: Male
Figure 2. Top 10 Cancers: Female
Figure 3. Adenocarcinoma – Lung cancer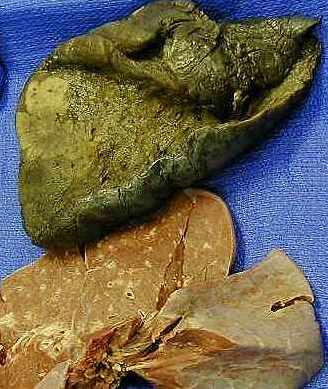 For about 40 years, the pharmaceutical and government sponsored research have waged a war on cancer, and many think that it has been a failure as the age-adjusted mortality rate for cancer is essentially unchanged over that time. But that's a deceptive metric. S. Dubner points out that the "flat mortality rate actually hides some good news. Over the same period, age-adjusted mortality from cardiovascular disease has plummeted, from nearly 600 people per 100,000 to well below 300. What does this mean? Many people who in previous generations would have died from heart disease are now living long enough to die from cancer instead."
BusinessWeek had an article on the costs of life, and as the population ages and the baby boomers start to retire, how are we to think about the costs associated with fighting cancer?
Eric C. Sun et al. ("An Economic Evaluation of the War on Cancer" (link) 2010) attempt to measure the degree to which R&D spending on cancer has benefited not only the life expectancy, but also the social and economic value to the economy.
For decades, the U.S. public and private sectors have committed substantial resources towards cancer research, but the societal payoff has not been well-understood. We quantify the value of recent gains in cancer survival, and analyze the distribution of value among various stakeholders. Between 1988 and 2000, life expectancy for cancer patients increased by roughly four years, and the average willingness-to-pay for these survival gains was roughly $322,000. Improvements in cancer survival during this period created 23 million additional life-years and roughly $1.9 trillion of additional social value, implying that the average life-year was worth approximately $82,000 to its recipient.

Health care providers and pharmaceutical companies appropriated 5-19% of this total, with the rest accruing to patients. The share of value flowing to patients has been rising over time. These calculations suggest that from the patient's point of view, the rate of return to R&D investments against cancer has been substantial.
With this data in mind, and the plethora of cancer drugs out there, investors are hungry for new technologies and treatments. While the list I am putting together is by no means exhaustive, these are some of the companies with strong pipelines or technologies for future growth in an area that will set the stage for years to come.
Roche
(Link to their pipeline is here.)
Roche is a leading player in the oncology segment. In 2009, oncology accounted for 53% of total sales. Its oncology portfolio revenues rose 8% to CHF 20.7 billion, led by Avastin and other drugs such as Herceptin, MabThera/Rituxan, Tarceva and Xeloda.
As we say at PSW, it is all about science, and the company is developing several new drugs (thanks Genentech) including, pertuzumab and T–DM1 for HER2-positive breast cancer, RG7204 for the treatment of malignant melanoma, GA101/RG7159 for chronic lymphocytic leukemia and non-Hodgkin's lymphoma, and RG3616 for the treatment of advanced basal cell carcinoma and potentially other cancers such as colorectal cancer.
Results from these candidates are expected over the next two years with the first regulatory submission anticipated in 2011. One of the most exciting areas though, is in the hedgehog pathway. GDC-0449 is from the Curis lineage that Genentech licensed. Dr. Dlugosz from the Poth Professor of Cutaneous Oncology at the University of Michigan in Ann Arbor notes: "There are many cancers in which the hedgehog pathway is thought to play a role, possibly as many as 30% of all human malignancies. They include pancreatic, gastrointestinal, colorectal, ovarian, prostate, some leukemias, and multiple myeloma. In many of these internal tumors, the cancer is driven by the production of a hedgehog protein that is secreted and affects the surrounding cells. They, in turn, secrete various proteins to create an environment that is nourishing to the tumor, allowing it to grow, he explained. In this case, the secreted hedgehog protein acts like a "fertilizer," he added.
With any company working in a high profile as well as high risk area, Roche has had its share of setbacks in the recent past with its lead product, Avastin (bevacizumab). We need to be prepared for setbacks. Nevertheless, I am long Roche.
Bristol-Myers Squibb Company (BMY)
BMY purchased Mederex in 2009, and they now have an extensive pipeline in the cancer arena. BMY continues to invest heavily in R&D for new treatments and products, spending $3.6 billion on R&D in 2008, up 11% from 2007 (annual reports). The company now has a strong and varied late-stage pipeline consisting of six drugs in phase III of development which are expected to launch at around the 2010 mark. These include:
3 treatments for cancer: ixabepilone, vinflunine and ipilimumab.
The biologic belatacept, for solid-organ transplant rejection, is in clinical trials,
Saxagliptin for the treatment of type II diabetes.
BMY has a decent pipeline, but the area of concern is that the new product introductions are entering markets in which they have to compete with other products that have already been introduced. The company is, however, pursuing a strategy of investing in the development of products which address areas of unmet medical need. No position in BMY, but may enter in the coming weeks.
Lilly (LLY)
I touched Lilly in a previous write-up, and my non-excitement stands. No position in LLY.
Pfizer (PFE)
Recently discussed here.
Merck, Sanofi, GSK, AZ and others all have clinical trials ongoing, but let's take a look at some smaller players in the market that are getting press for their treatments.
Ariad (ARIA)
Phase III clinical trial of oral ridaforolimus, its investigational mTOR inhibitor, in patients with metastatic soft-tissue and bone sarcomas. The company believes that this international study is the largest clinical trial to be conducted in patients with sarcomas. mTOR integrates the input from upstream pathways, including insulin, growth factors (such as IGF-1 and IGF-2), and mitogens.[3] mTOR also senses cellular nutrient and energy levels and redox status.[5] The mTOR pathway is dysregulated in human diseases, especially certain cancers.
The trial is designed to assess approximately 650 patients who are randomized (1:1) to oral ridaforolimus or placebo at approximately 145 sites in nearly 25 countries. The trial is 90% powered to detect a 33% increase in median progression-free survival (corresponding to a hazard ratio of 0.75) comparing the ridaforolimus arm with the placebo arm. A second interim efficacy analysis is expected approximately at the end of the first quarter of 2010 based upon about two-thirds of the total number of progression-free survival events anticipated in the trial. Final data analysis from the Succeed trial is expected in the second half of 2010. I am long ARIA.
Spectrum (SPPI)
I wrote about SPPI last year in a post, here. Several other links by another author, here. This small company actually makes money. I am long SPPI.
Curis (CRIS)
See above…. a drug development company seeking to develop next generation targeted small molecule drug candidates for cancer treatment, today announced that Chugai Pharmaceutical Co., Ltd. (TSE: 4519) has exercised its right of first refusal for the development and commercialization in Japan of GDC-0449, a Hedgehog pathway inhibitor, under an existing agreement with F. Hoffmann-La Roche, Ltd (SIX: RO, ROG; OTCQX: RHHBY). GDC-0449 is being developed by Genentech, Inc., a wholly owned member of the Roche Group, under the 2003 collaboration agreement between Genentech and Curis. I am long CRIS.
Array (ARRY)
Beacon Equity says, "Tight and uncertain capital markets have altered the Company's focus from one of widespread advancement of its pipeline drug candidates to one of advancement of its most promising clinical trials, which provides the Company with the largest chance of maximizing drug pipeline value. In addition, the Company has embarked on a cost-cutting plan to conserve capital by reducing its workforce by 10%, or 40 employees. Restructuring charges of approximately $1.5 million were taken for the third quarter of fiscal 2009 as a result of the workforce reduction.
"The Company also states in its latest SEC 10-Q that potential milestone payments derived from collaborators is more than $1.3 billion, as well as the potential for earned royalties from 16 separate drug candidates in development with partners, including novel drug therapies developed with Genentech Inc., Celgene Corp., AstraZeneca and InterMune Inc."
ARRY-403, a glucokinase activator for Type 2 diabetes - data should be interesting.
ARRY-162, a MEK inhibitor for rheumatoid arthritis and cancer -this is their baby, and if it is positive in either trial, they could go QUICKLY. Small molecule, not a mAb and more info below on the pathway.
ARRY-380, an ErbB-2 inhibitor for breast cancer - many in this space.
ARRY-520, a KSP inhibitor for acute myeloid leukemia and multiple myeloma - high risk
ARRY-614, a p38/Tie 2 dual inhibitor for myelodysplastic syndrome - ok, but to my comments below, p38 is a graveyard, unfortunately.
ARRY-543, an ErbB family (ErbB-2 / EGFR) inhibitor for solid tumors - see above.
ARRY-797, a p38 inhibitor for subacute pain and cancer supportive care indications - unfortunately a graveyard for many pharma companies. So, I write this one off.
MEK is a key protein kinase in the RAS/RAF/MEK/ERK pathway, which signals for cancer cell proliferation and survival. MEK is frequently activated in cancer, in particular in tumors that have mutations in the RAS and RAF oncogenes. MEK also regulates the biosynthesis of the inflammatory cytokines TNF (think Enbril), IL-6 and IL-1, which can act as growth and survival factors in cancer. Preclinical data show that MEK inhibitors are additive or synergistic in combination with other agents. In particular, the PI-3K/AKT/mTOR pathway interacts with the RAS/RAF/MEK/ERK pathway in response to growth factor signaling. Simultaneous inhibition of both these pathways has significantly greater preclinical anti-tumor activity compared to inhibition of either pathway alone. Because these pathways are commonly activated in many tumors, we believe that dual MEK and PI3K/AKT/mTOR inhibition could have broad anti-tumor activity.
Many companies have programs in the PI3K, AKT and mTOR (above) pathways. I am long ARRY.
C.R. Bard (BCR)
C.R. Bard manufactures medical devices such as stents and catheters. The company leads in market share in nearly all its markets – products for which the company was either the largest or the second largest by market share made up 80% of the company's net sales in 2006. Oncology was one of Bard's fastest growing therapeutic areas, with over 19% sales growth over the previous year. Bard's oncology products cover a wide range of devices used in the treatment and management of various cancers, including specialty catheters, ultrasound devices, and feeding devices. I have no position in Bard, but will watch for any pullback to enter a buy write.
Varian Medical Systems (VAR)
Varian has been on a tear the last six months. is the world's largest producer of cutting-edge radiation therapy equipment used to treat cancerous tumors. Its other, significantly smaller businesses include X-ray tubes for scientific research and X-ray security equipment. As of Q4 2007, Varian held about 60% of global market share in radiotherapy equipment.[1] High switching costs protect Varian's market share since a brand-new system costs $2-3 million[2], compared to upgrades like Varian's newest product RapidArc, which cuts treatment time and costs $400,000.[3] On the other hand, Varian's "open systems" approach lets customers integrate its upgrades with old equipment from competitors, presenting an additional opportunity to steal market share. The reverse is not true of all its competitors.
Figure 4. Chart on Varian Medical.
Varian is trading at 5X book, and only 3X revenue. The company has little debt, and has a FCF of $350M. Other competitors in the field, including Accuray Incorporated (ARAY) are smaller and not as diversified as of yet. I have no position in Varian as of yet, but they are on my watch list for a pull back to the 50d MA for an entry.
Genoptix (GXDX)
Lastly, a diagnostic company that has little following, but has a projected earnings growth of 25% a year over the next three to five years is Genoptix (GXDX). Genoptix is a specialized laboratory service provider focused on delivering personalized and diagnostic services to community-based hematologists and oncologists. Resembles a small-scale Lab Corp (LH).
Genoptix focuses exclusively on serving Hematologists and Oncologists in diagnosing their patient's illnesses. Most of the diagnostic tests are run on bone marrow samples which are very difficult and painful to extract from the patients. Because doctors consider these samples so precious, and the prospect of potentially drawing another sample is so unattractive, doctors typically are receptive to sending samples to this smaller more specialized lab rather than sending the bone marrow to a competitor. Its Compass service includes the determination by its pathologists of the appropriate diagnostic tests to be conducted and the performance of these tests. The company's Chart services combine assessments and analyses of disease progression after intervening clinical action (i.e., drug treatment, radiation, etc), providing doctors with diagnostic tools to track both a patient's disease and response to treatment over time. I have no position in GXDX, and options are lightly traded, and they will also be put on the list to watch for an entry on the 50MA.
Figure 5. Chart on Genoptix.
Disclosure: Pharmboy is long: Roche, ARIA, ARRY, SPPI and CRIS
Do you know someone who would benefit from this information? We can send your friend a strictly confidential, one-time email telling them about this information. Your privacy and your friend's privacy is your business... no spam!
Click here and tell a friend!