Posts Tagged 'BJS'
by Option Review - August 31st, 2009 5:22 pm
Today's tickers: SAY, UNG, DVN, BJS, AXP, & IP
SAY - The global IT solutions provider popped up on our 'hot by options volume' market scanner this afternoon after bullish call activity was observed in the near-term September contract. Shares of the firm have rallied higher by more than 16% during the session to stand at the current price of $6.37. Investors appear to have purchased approximately 4,000 calls at the September 7.5 strike for an average premium of 35 cents apiece. Shares of SAY would need to surge 23% higher in order for traders long the calls to begin to amass profits above the breakeven price of $7.85. Bullish sentiment spread to the October 7.5 strike where another 1,600 calls were scooped up for a premium of 51 cents. Option implied volatility on Satyam has exploded upwards from an intraday low of 74% to the current reading of 120%. We note that the 15,000 contracts exchanged on the stock today represent more than 54% of the total existing open interest on SAY of 27,735 lots. – Satyam Computer Service Limited –
UNG - Shares of the natural gas exchange-traded fund have slipped 4.4% lower today to reach a 5-year low of $10.64. Despite the present weakness in UNG, one investor was seen making far-term bullish bets on the fund by targeting the April 2010 contract. It appears that the trader established a bullish reversal play by shedding 3,000 puts at the April 10 strike for 1.85 apiece in order to purchase 3,000 calls at the higher April 11 strike for 1.82 each. The trader receives a net credit of 3 pennies per contract and has positioned himself to add to his gains if shares rally higher than $11.00 by expiration. The short put position indicates that the investor is happy to have shares put to him at an effective price of $8.15 in the event that the put options land in-the-money by expiration. Shares need only remain higher than $10.00 for this individual to retain the 3 cent credit indefinitely. – United States Natural Gas ETF –
DVN - The independent energy company appeared on our 'most active by options volume' market scanner following contrarian options activity in the January 2011 contract. Shares of DVN may have slipped more than 2% lower to $61.15 today, but did not deter one option trader from initiating a bull call spread on the stock. Hoping…

by phil - August 31st, 2009 8:17 am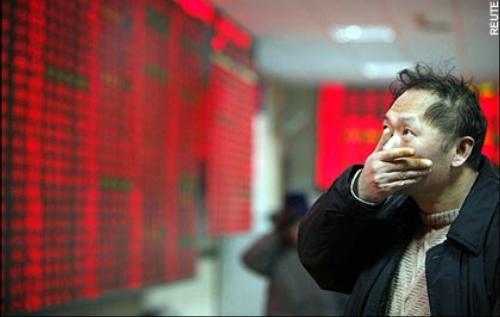 The Shanghai Composite fell 6.7% this morning!
I mentioned our love of FXP (ultra-short China) in our August Market Review and the short sale of FXP puts (a bullish play) was our primary cover in the last $100KP since early August for exactly the reason we are seeing play out today. Of course China's problems were my theme on Friday and on 8/16 we warned that China's GDP wasn't real and on 8/7 we pointed out that China's 2009 growth was nothing more than an accounting trick after my August 6th article in which I pointed out that GS was desperately working to pump China up at the top (likely while they were dumping their own shares on unsuspecting suckers). Do fundamentals matter? Sure they do — evenutally. But we had to roll and DD our August FXP short puts (big winners now) as it always pays to remember the words of John Keynes: "The market can stay irrational longer than you can remain solvent."
We nailed the move in the Shanghai, which is now down 25% since we turned negative on it but the Hang Seng, which is much easier to manipulate as it's controlled by foreign IBanks (our beloved gang of 12), has mysteriously flatlined near their August highs, maintaining the myth of the Chinese recovery so Uncle Rupert could run his almost daily articles telling you how great the global economy is on the other side of the world, where you can't see it. Interestingly, in China he's running stories telling them how the US economy is leading the way back and in Europe he has total control of the media so whatever he wants to tell them is the truth anyway.
Ler's see how rational the markets get as mainland China falls to it's lowest level since May and let's keep in mind that "limit down" on the Shanghai is 10% so a 6.7% drop in one day indicates that scores of companies were likely halted at 10% down. It's going to take some really big plate spinning by GS et al (already attempred by GS last night with this idiotic release calling China…