Posts Tagged 'market bubble'
by ilene - February 16th, 2011 7:29 pm
Courtesy of SurlyTrader
In the future they might coin this the "Bernanke Effect" or maybe the great commodity bubble of 2011. The truth is that commodity prices are rising…dramatically. You might have started to notice this disconnect in your grocery store shopping or in gasoline prices, but if you were to ask our government they would tell you that a basket of goods consumed (CPI) is rising modestly. How modest do these numbers appear to you?
Sugar and Corn? Those are luxury goods.
If the basic ingredients to food are skyrocketing, then prices of food will eventually have to keep pace which will directly hurt consumers.
Of the 853 ETF's that I looked at, which unleveraged funds do you think had the greatest return over that same time period? It is not a trick question:
Are you noticing a theme?
My conclusion is simple: this time is NOT different. Commodity prices cannot go up forever and China will not continue to support the market regardless of prices. What is this "Bernanke Effect" doing to farmland prices? Well, according to a survey by Farmer's National Company:
"non-irrigated crop land in central Kansas averaged $3,000 an acre, up 50 percent since June…
Crop prices have seen an extraordinary run since early July. A bushel of wheat priced about $4 a bushel on July 4 is now more than $8.50. Other crops have experienced similar increases.
As the land generates more income, it puts more cash in the pockets of the most likely buyers, nearby farmers. It also provides an attractive return for investors who then rent it out to farmers.
The result: Auctions are drawing twice the number of bidders as before, said area agents."
As with all hot speculation, the commodity run will surely come to an end and will probably have repercussions for all financial markets. We should have learned by now that large financial dislocations tend to not occur in isolation.
by ilene - August 19th, 2010 4:47 pm
Courtesy of The Pragmatic Capitalist
There is increasing chatter of the great "bond bubble" as U.S. Treasury bonds surge ever higher and deflation fears rise. This is just one more myth that has persisted in recent years (decades really) due to mass misconception of the way the bond market actually operates and this propensity to label everything as a "bubble".
Before we dive into the real meat of the argument it's important that we define what a market "bubble" is. A "bubble" occurs when market forces combine to generate a highly unstable position. This results in the system entering an extreme disequilibrium and ultimately failure. The causes of this "bubble" (or extreme disequilibrium) can be many – though primarily psychological any number of exogenous factors can contribute to the instability of the system (government policy for example). The psychological aspect of a bubble is well explained by analysts at BNP Paribas:
"When interacting agents are playing in a hierarchical network structure very specific emerging patterns arise. Let us clarify this with an example. After a concert the audience expresses its appreciation with applause. In the beginning, everybody is handclapping according to their own rhythm. The sound is like random noise. There is no imminence of collective behavior. This can be compared to financial markets operating in a steady-state where prices follow a random walk. All of a sudden something curious happens. All randomness disappears; the audience organizes itself in a synchronized regular beat, each pair of hands is clapping in unison. There is no master of ceremony at play. This collective behaviour emanates endogenously. It is a pattern arising from the underlying interactions. This can be compared to a crash. There is a steady build-up of tension in the system (like with an earthquake or a sand pile) and without any exogenous trigger a massive failure of the system occurs. There is no need for big news events for a crash to happen.

Financial markets can be classified as open, non-linear and complex systems. They also exhibit emanating patterns as a result of which the "invisible hand" can be very shaky. More then 40 years ago Benoit Mandelbrot described the fractal structure of cotton prices and the emanating properties of fat tails and volatility clustering and Hyman Minsky proposed a theory for endogenous speculative bubble formation.
…

by ilene - October 11th, 2009 9:31 pm
Courtesy of John Lounsbury
The price to book ratio (P/B) is not a good valuation metric for individual stocks, because the price discounts future earnings and growth. A P/B ratio less than 1 for stock X with low earnings and no earnings growth does mean that stock X is undervalued. If stock Y, with P/B=2 has healthy and growing earnings, it may actually be undervalued and a much better buy than A.
However, P/B does have value when assessing the relative valuation of indexes over time. To that extent, I found the following chart from David Rosenberg, Chief Economist at Gluskin Sheff, which I have modified as indicated.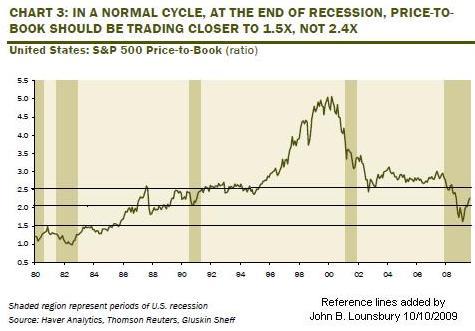 Rosenberg suggests that the normal range for P/B ratios is between 1.5 and 2.4. The lower number is what is expected coming out of an economic trough and 2.4 is approximately the long-term average. By his analysis we have not had a P/B ratio consistent with economic reality since 1996. We came close on March 9 but quickly left that place.
Note: My reference lines are slightly above 1.5, 2.0 and 2.5 and are minimally above Rosenberg's reference numbers.
Rosenberg also discusses other valuation measurements at length, including price to earnings ratios (P/E). Read his entire post here.
A graph such as this reinforces the opinion that some have regarding when equities in the U.S. really topped. Looking at this graph, one would say the market topped in 2000. The same conclusion is drawn when the market indices are priced in inflation adjusted dollars or gold. (See here.)
The inference from the Rosenberg graph is that one of the following conditions must pertain:
We are well into recovery and should entering a maturing growth phase of the business cycle within a couple of years; or
We are still declining from the 2000 market high and the current rally will have to give back substantial portions of the gains before long-term market growth can be maintained; or
We are still declining from the 2000 market high and have not yet reached the bottom.
I give a greater than 50% probability to #2. The other two get much smaller probabilities: #1 Less than 10% and #3 less than 30%. (You can put the missing 10% into rounding errors. After all, guesses should have large rounding errors.)…