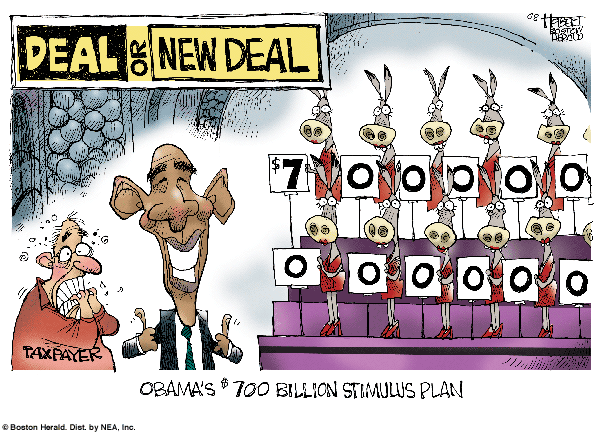 Wow, a 6% GDP!
I'm guessing as it's only 7:30 but WOW! What an amazing economy this must be in the fantasy-land where they concoct these numbers. Let's see, we have 138M working people so we must have added 8.6M jobs, right? NO??? Well, then the people who are working must be putting in a lot of overtime, right? No? I know, everybody must be making 6% more money than last year! No? Well, then it must be coming through in benefits, right? No? Hmm, this is a hard game isn't it? I KNOW!!! Housing prices – with China-like GDP growth our housing market must be red hot and surely our homes are up 6% in value! No? Damn, I feel like I'm playing deal or no deal and I picked the case with the penny…
Just like our discussion about what total BS the CPI was – GDP is no different. GDP is the sum of Consumption, Investment, Government Spending and Net Exports which means a combination of inflation and government spending can boost our GDP even as real consumption falls and the rising dollar papers over export losses. In other words – I buy $100Bn worth of Toyotas (5M at $20,000 each) from Japan with the dollar at 85 Yen. Now the dollar rises to 93 Yen and I'm "only" buying $90Bn worth of Toyotas (5M at $18,000 each) and our GDP for that segment is up 10%. Wow – FANTASTIC!
Are we happy? Are more Americans working? Is there more shipping? Are there more sales at the Toyota dealership? No. Is Japan happy? Not at all, they are getting less money for the same cars. Another group that hasn't been happy are the oil exporters, who shipped us an average of 10.5 Million barrels a day at an average price of $60 last year ($630M) and are now shipping us just 8.5Mbd at $80 last week ($680M). Sure they are still getting their $680M a day by choking off production and creating false supply shortages, but they miss the days when they were able to charge us $100 for 11Mbd.
Don't worry my OPEC pals, JPM and the other oil manipulators are working very hard to make sure you once again have Billions of more American dollars that you can funnel to terrorists and this Democratic Congress turns the same blind eye to the shenanigans as the previous administration did so happy days will soon be…
You must login to see all of Phil's posts. To read the rest of this article now, along with Phil's live intra-day comments, live trading ideas, Phil's market calls, additional member comments, and other members-only features -
Subscribe to Phil's Stock World by clicking here
.
To signup for a free trial membership,
click here
.
Do you know someone who would benefit from this information? We can send your friend a strictly confidential, one-time email telling them about this information. Your privacy and your friend's privacy is your business... no spam!
Click here and tell a friend!