Featured Trades: (IDX), (INDONESIA), (FSLR), (STP), (YGE)

1) Was that nice for you, dear? Now that cash for clunkers has expired, new car sales have cratered. September is coming in at a 7 million unit run rate, lower than before the program started, and down 24% from already depressed YOY levels. It really makes you wonder what will happen when the other government stimulus programs run out. The $8,000 tax credit for first time home buyers ends November 30, and unless you have a deal in contract, the program is effectively over. That is thought to be behind the recent weakness in new home sales, the biggest beneficiaries of the program. Is this the beginning of the "square root," or the "W."

or

?

2) If you are looking for another emerging market to add to your list of things to buy on dips, then take a look at Indonesia. The world's largest Muslim country offers a combination that I love, a population with great demographics that is also a major energy and commodities exporter. The archipelago is the biggest country in Southeast Asia and a huge exporter of oil and LPG to Japan on long term contracts. (An old friend of mine torched their Borneo fields at the beginning of WWII, and spent four years in a Japanese prison camp for his troubles.) Other big exports include marvelous textiles, rubber, and increasingly rare tropical hardwoods. The global financial crisis only knocked their growth rate from 6.1% to 4.5%, and now it is back above 6%. No doubt, $63 billion of direct foreign investment into the country helped. A series of tax reforms promise to keep the train moving, cutting the top corporate rate from 30% in 2008 to 28% this year, and 25% next year. Wisdom Tree had the "wisdom" to launch the country's first ETF (IDX) in January (what timing!), which became one of the best performers this year, rocketing over 300% from the lows to $60. Islamic inspired terrorism is still a lingering concern. I keep Indonesia in the category of highly volatile, high risk, high return frontier markets that you only want to buy on a big dip. Keep it on your radar.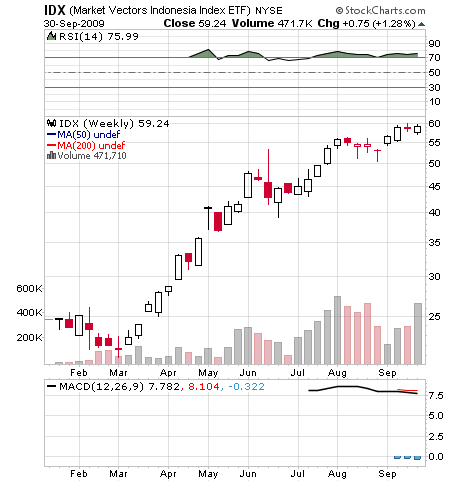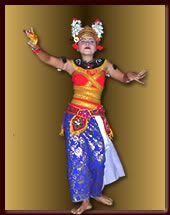 3) I spent the evening speaking to Gao Jie, a Beijing civil judge who left the bench to join China's growing environmental movement when her kids came home from school one day coughing and wheezing. You only have to inhale in the capital city these days to understand that they have a huge problem there. One of the dirty little secrets of international trade for the last three decades has been the offshoring of high polluting industries from the US and Europe to China, which then vociferously complain about the emerging country's toxic environment. "Cancer villages" are now proliferating throughout the landscape. China gets 80% of its power from coal, compared to only 50% in the US. As a result, scientists figure that China became the world's largest emitter of CO2 in 2006. The central government is now asking the provinces to achieve both GDP and energy conservation goals. Government policy dictates that air conditioners only kick in at 79 degrees. It is also pushing headlong into alternative energy, with an eye to exporting low cost platforms to the US.
It is no accident that two of the most competitive solar companies in the world, Suntech (STP) and Yingli Green Energy Holding (YGE), are Chinese (click here for my piece on the Chinese solar wars). China is also negotiating to have Phoenix based First Solar (FSLR) build the world's largest thin film solar power plant in Western China, which, it turns out, looks a lot like Arizona. The mammoth, 25 square mile facility will supply power to three million homes. China's problems give one an inkling of how we might have ended up if we hadn't passed the Environmental Protection Act. I first visited China during the Cultural Revolution, when they doused piles of bodies of those who died in the famine with kerosene and burned them, and anyone educated had to endure being paraded down a street in a dunce cap. I had to pinch myself after seeing a sophisticated and well educated woman like Gao Jie openly pursue her liberal goals, unfettered by a totalitarian regime.

QUOTE OF THE DAY
"What you read in most financial theory textbooks bears almost no resemblance to what you actually see on most trading floors," said Benoit Mandelbrot, the French American mathematician who fathered the fractal geometry used in many risk analysis models.
For full disclosures click here.
The "Diary of a Mad Hedge Fund Trader"(TM) and the "Mad Hedge Fund Trader" (TM) are protect by the United States Patent and Trademark Office. The "Diary of the Mad Hedge Fund Trader" (C) is protected by the United States Copyright Office.
Do you know someone who would benefit from this information? We can send your friend a strictly confidential, one-time email telling them about this information. Your privacy and your friend's privacy is your business... no spam!
Click here and tell a friend!