Interesting study – the researchers controlled for exercise, weight, blood pressure, smoking and other factors correlated to vascular events, including strokes. So what might be the problem with diet soda? Perhaps the artificial sweetner itself (Aspartame/Nutrasweet?). Drinking sugary soda was not significantly correlated with an increased risk for vascular events. - Ilene
LOS ANGELES (AP) — It's not definitive proof of harm, but new research raises concern about diet soda. It suggests that people who drink it every day have higher risks for stroke and heart attack than those who drink no soda of any kind at all.

The findings come from a federally funded study of about 2,500 adults in the New York City area.

Doctors have no explanation for why diet soda might be risky. It could be that people who drink lots of it also fail to exercise, weigh more or have other risk factors like high blood pressure and smoking. However, the researchers took these factors into account and found the trend remained.
Continue here: The Associated Press: Study suggests higher stroke risk with diet soda.
According to "Diet Soda May Heighten Risk for Vascular Events," the risk for "stroke, myocardial infarction, and vascular death," were elevated in the group that drank diet sodas every day. "People who had diet soda every day experienced a 61% higher risk of vascular events than those who reported drinking no soda," lead investigator Hannah Gardener, ScD, an epidemiologist from the University of Miami Miller School of Medicine in Florida, told reporters attending a news conference here at the International Stroke Conference.
Details and limitations

Specifically, the University of Miami study (which followed more than 2,500 men and women aged 40 and older for an average of about nine years) found that people who drank diet soda daily were 61 percent more likely to experience a cardiovascular event than people who drank no diet soda.

That increase in risk held up after controlling for such factors as age, sex, smoking, physical activity and calories consumed each day. Even after the researchers controlled for metabolic syndrome and a history of heart disease, the people who drank diet soda daily had a 48 percent increased risk of having a stroke or heart attack compared to their non-diet soda drinking peers.

Surprisingly (because it contradicts other research), this study did not find any increased risk of stroke and heart attack among people who drank regular soda daily.

OK. OK. This study has all sorts of limitations. To begin with, it relied on the participants reporting their soda and other health-related habits, an unreliable source of data. Furthermore, it's an observational study, which means it can only show an association between two things, not a cause and effect. It could very well be that people who drink diet soda do other things — perhaps involving the types of foods they eat — that raise their risk of heart disease. In addition, the study hasn't been published anywhere, so it has yet to go through peer review. Its authors, from the University of Miami's Miller School of Medicine, presented an abstract of their findings at a medical conference on Wednesday.
Full article here >
According to statistics published by Forbes Magazine [i] based on Tate & Lyle estimates, aspartame had conquered 55 percent of the artificial sweetener market in 2003. One of the driving factors behind aspartame's market success is the fact that since it is now off patent protection, it's far less expensive than other artificial sweeteners like sucralose (Splenda).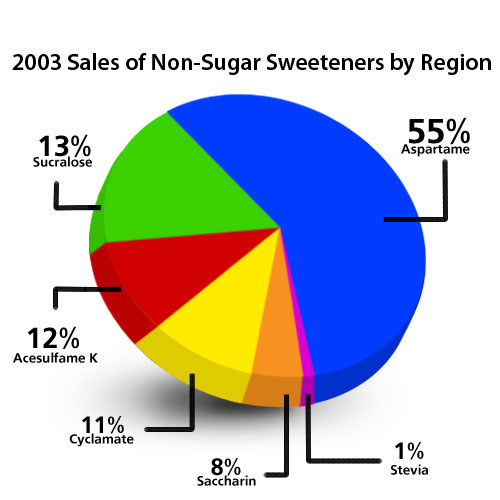 Today, the statistics on the aspartame market are being kept so close to the vest, it has proven to be virtually impossible to find current data on usage, unless you're willing to pay tens of thousands of dollars for a market analysis reports and I felt there were better uses for the money than to purchase the answer to that question.
However, a 2009 FoodNavigator article[ii] cites the current global market for aspartame as being less than 37.5 million pounds and worth $637 million.
According to aspartame.org [iii], diet soda accounts for 70 percent of the aspartame consumed. A 12 ounce can of diet soda contains 180 mg of aspartame, and aspartame users ingest an average of 200 mg per day.
For more information on Aspartame/NutraSweet read Dr. Mercola's full article here.
Also check out Segment two and Segment three of this video series.
For more information on the dangers of aspartame, visit http://aspartame.mercola.com.
Do you know someone who would benefit from this information? We can send your friend a strictly confidential, one-time email telling them about this information. Your privacy and your friend's privacy is your business... no spam!
Click here and tell a friend!