Reminder: Harlan is available to chat with Members, comments are found below each post.
Yesterday We Said:
Just when you think they were going to continue to kill em?They run em. Of course the flip side of that is true too- Just when you think they are going to run them? They kill em.
Today we say:
Wash Rinse Repeat
All of which makes for a volatile situation on the surface but also starts to have the look and feel of a trading range being developed in the indexes. We'll find out soon enough.
Remember those ABC's from yesterday?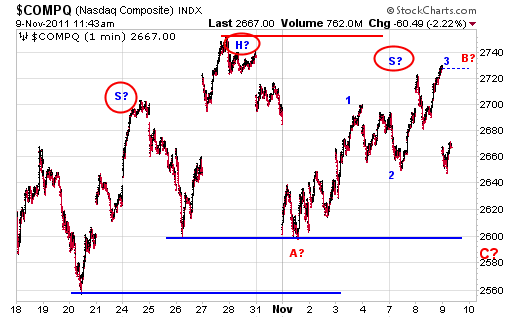 The COMPQ chart is a bit different than the SPX chart below as the wave 3 (wave 2's lows to yesterday's highs) up is comprised of 3 waves up vs in the SPX chart it has 5 waves (wave 2's lows to yesterday's highs)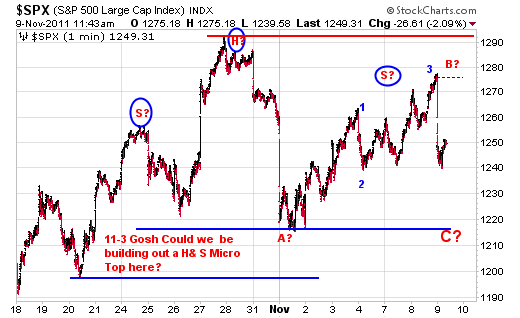 Does any of it matter? Not really except that true to form with Ewave after the 3/5 micro ups to yesterday's highs we got a reaction to the downside just like we were supposed to .
Noticing the wave action that was developing up thru yesterday's highs is what caused us to sit back the last few days with what we have vs jumping to the longside and now you know why. Keeps you from REACTING by jumping in on the longside.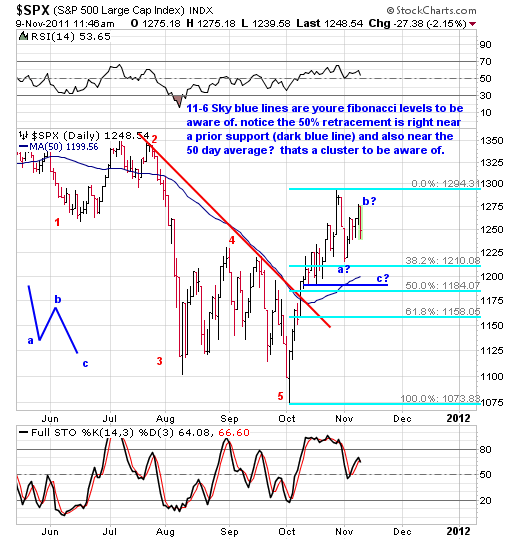 11-9 So what are we going to do about all this? Nothing really but what we've been doing. Why? It works that's why.
Today is also an EXCELLENT EXAMPLE OF " LET YOU'RE STOCKS TELL YOU WHAT TO DO BY THE ACTION THEY EXHIBIT". Case in point go look at the longside watch list! Even with the markets down big today look at the charts of those names. They are all pretty much intact here. Keep in mind this MAY be telling us something.
All in all I really have nothing bad to say about today's action when I look at the charts (objectively and free of emotions) of our current holdings and our longside watch list and neither should you, unless you are a highly emotional type that is.
Current Game Plan
So here is the bottom line through year end. We buy weakness and we'll use the 50-day average to define our risk once in a position. We'll also want to try to be investors (longer term) and hang on to some through the end of year or thereabouts (now if only we could get a pullback that's meaningful and stays above the 50 day average here). As for trading here too we'll want to do some hit and runs while at the same time holding a position for the longer into year end push. Said another way? Keep a core position and trade around with some too.
Keep in mind some names will pullback and others won't. There is a strong possibility that we'll start seeing names trade to the beat of their own drum from here and we can start to selectively nibble all along here on the long side.
==========================================================
SHORT SIDE WATCH LIST
NONE
==================================================
LONG SIDE WATCH LIST
"Only The Best And Forget The Rest "
"We Trade What We SEE, NOT What We Think, Hear Or Fear "
ALXN
NEW NAME
11-9 Still has nice structure, down to the big picture green trend channel support and check out the full stoh's below the chart. Just because it broke the 50 day means nothing as a lot of stocks will flirt with that "zone". We've seen it tons of times where a stock breaks the 50 day, people freak out and then it turns tail without them right back up. Not saying its going to happen but just pointing out a "It Comes From Experience" situation.
WFM
NEW NAME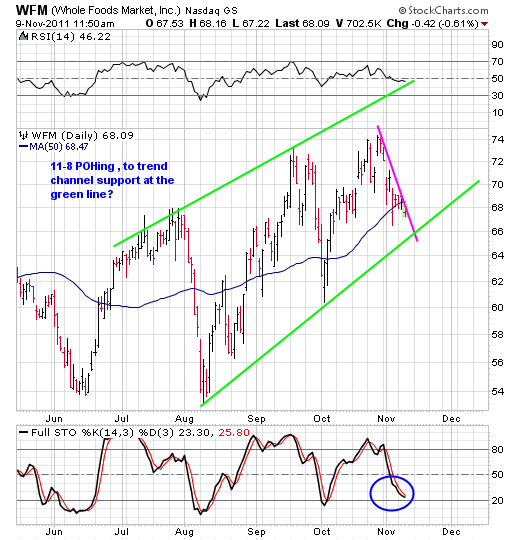 11-9 Check out the nice tight structure of the one minute charts. This issue is the best of the bunch setting up here today. Lets watch to see if it can tag the lows of the one minute chart below for a double bottom.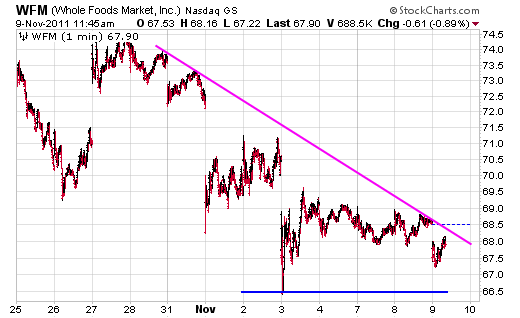 BJRI
NEW NAME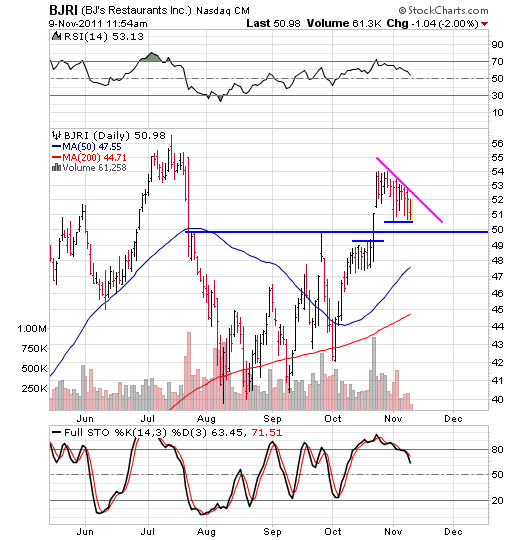 11-8 Check out those big daily ranges over the last week. A little wicked if you ask me.
DLTR
NEW NAME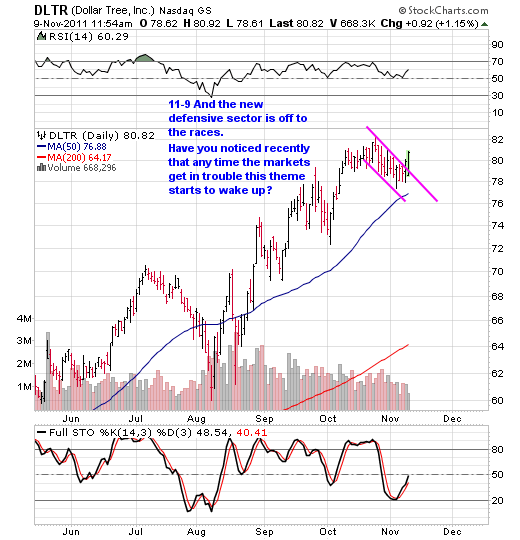 BIIB
NEW NAME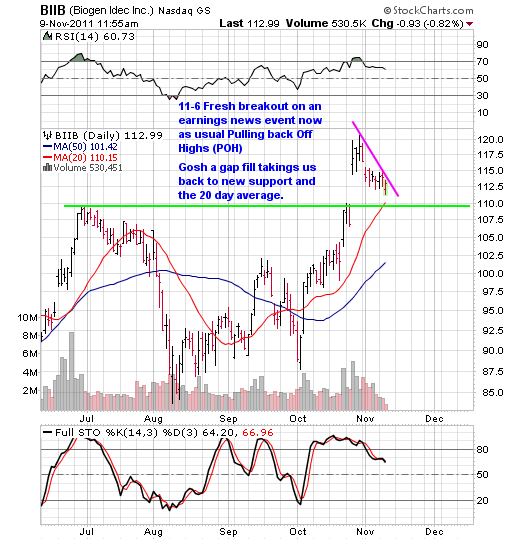 CELG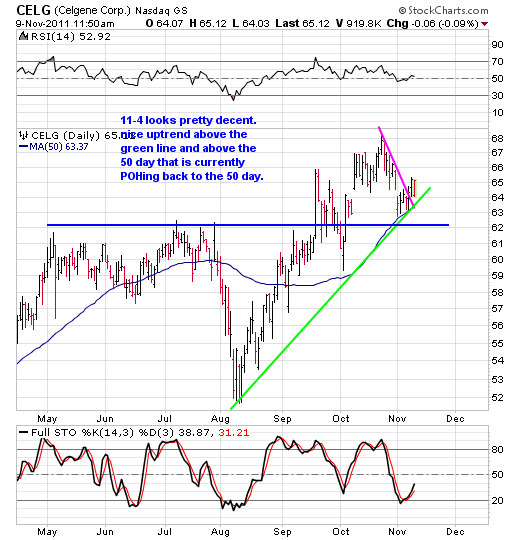 11-9 Nice recovery after the opening knee jerk if you ask me.
11-9 All of the above have "That Look" the nice uptrend and pulling back off highs simple as that.
VHC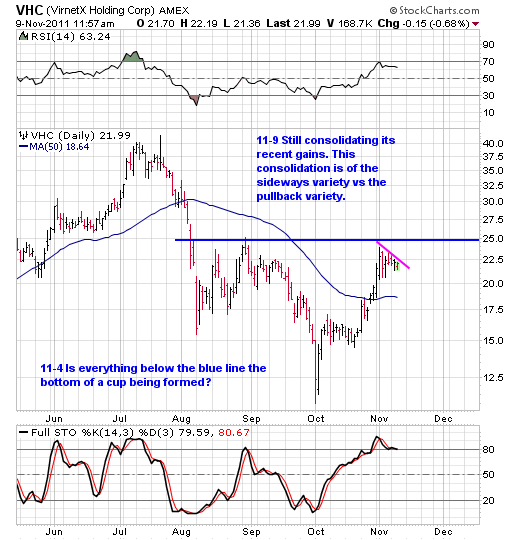 RP
AMZN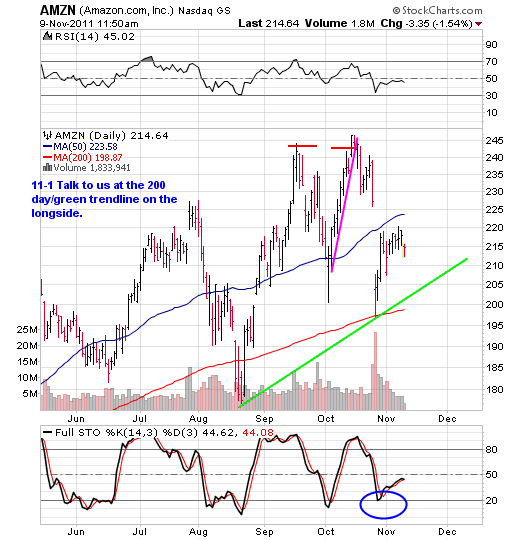 11-3 Still needs some sort of pullback to get me interested as there is a lot of thin air from here to the 200 day zone. Weakness folks, its what we are looking for, meaningful weakness of a few days. That pretty much goes for just about everything out there.
BIDU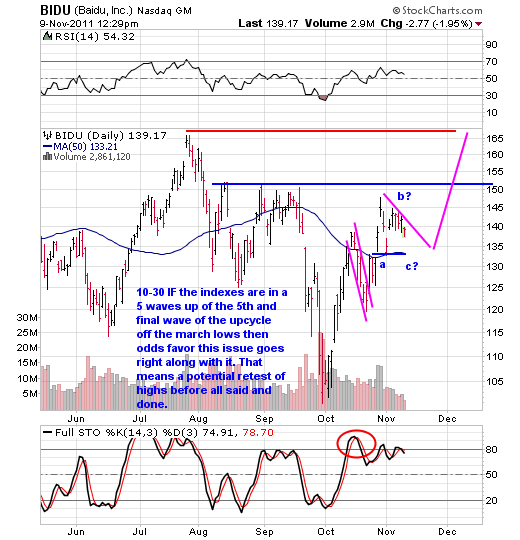 FEATURED BUT NOT TRADE TRIGGERED BY US LIST
GLD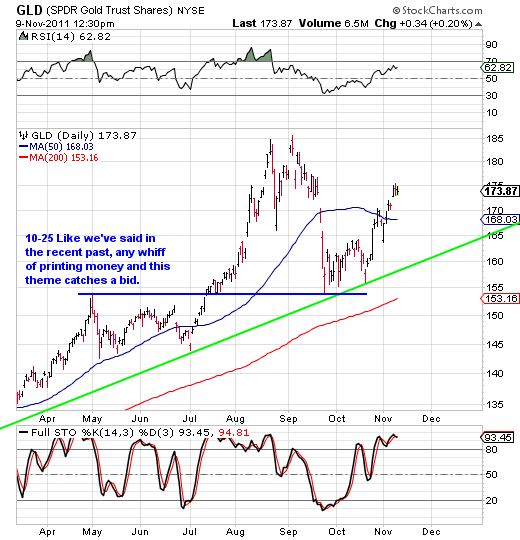 11-9 Gosh before you know it this issue will be testing its highs, which is resistance by the way.
OIH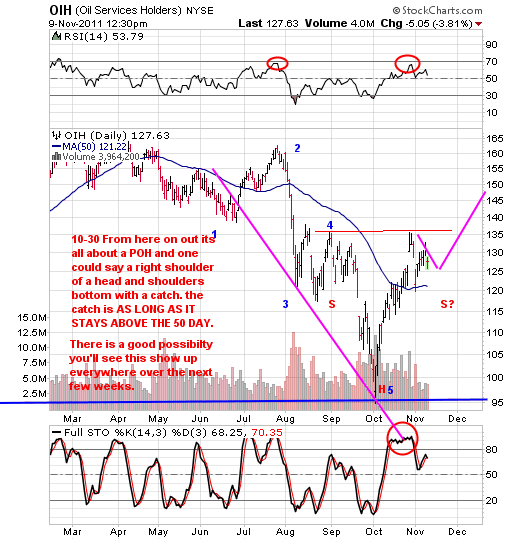 11-3 This index actually came down and tagged the 50 day average.
"Let Your Stocks Tell You What To Do By The Action They Exhibit"
NOT YOU'RE EMOTIONS!
LONG SIDE POSITIONS
BWLD (We are long 125 shares of this at 64.13 as of 11-4-11)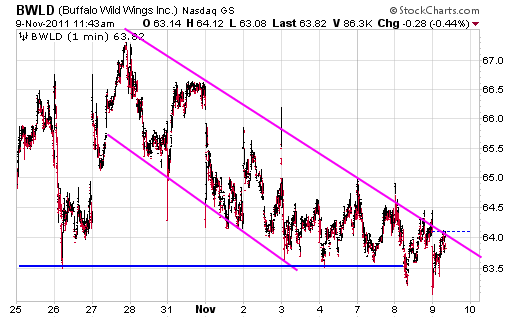 1-9 look at the 63.5-64 level. This issue has been hugging that level for like 5 days. And even in today's climate its still holding tight.
11-8 Just building out a nice big POH trend channel above the 50 day.
11-7 Per our weekend notes, notice where it stopped cold today? Yep right around 65 imagine that. Why? Its this POH trend channel resistance for the time being.
11-6 Some would say the pivot point is 67.25 we say nope, its around 65 and a break above the pink line. Alternative entry points folks alternative entry points. If this issue were to also get slammed to the 50 day or just general market weakness we'd consider adding to our position as well.
AAPL (We are long 25 shares of this at 398.56 as of 11-1-11)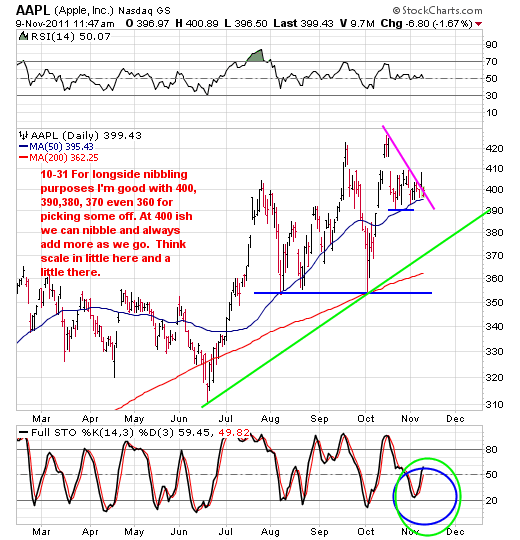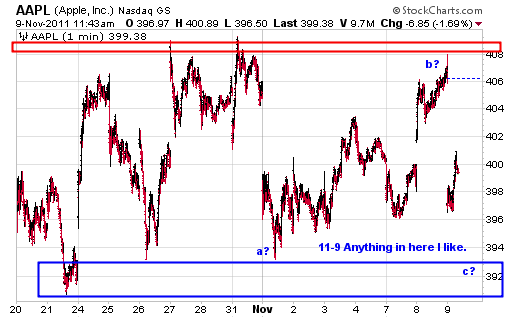 11-8 Looks good here, will it stick? Who knows. for now we are fine with our position but we do want to add to it at some point, we'd just prefer to do so on weakness.
11-6 To our New York city subscribers, heads up don't even bother going to the flagship store there as you won't get in the door its so packed from what we've heard that goes for the wee hours in the morning as they are open 24 hours a day there. Just saying.
11-2 On weakness we want a bit more of this name, bring on the face of fear trade!
Keep in mind that on Nov. 11th Iphone4s is released to the public in Hong Kong and Korea and we all know they are hi tech gadget junkies
MAKO (We are long 100 shares of this at 37.37 as of 11-1-11)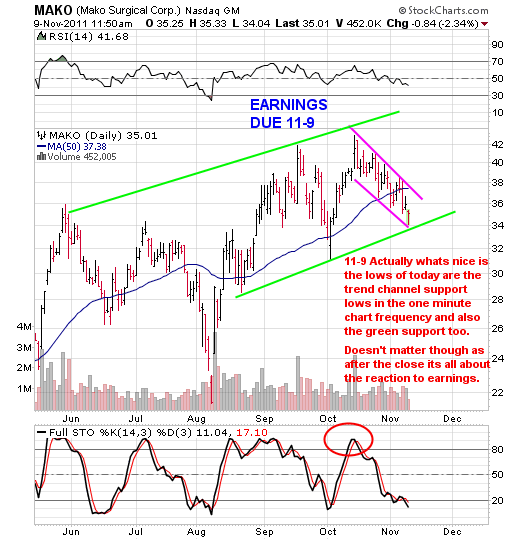 Check out this short term one minute chart! It actually looks pretty decent with its tag of trend channel support and lift off of.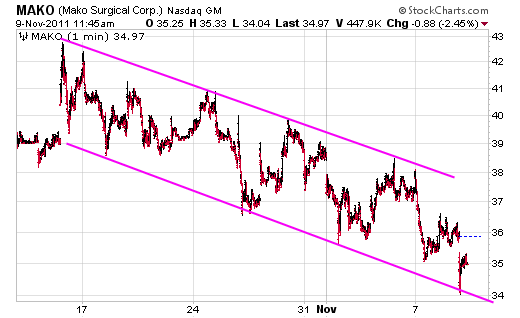 11-9 EARNINGS ARE DUE AFTER THE CLOSE our stance is to hang on thru earnings as we only have a whopping 100 shares.
11-6 By the way SPRD also reports on 11-9 and if that stock gets slammed and is still above the 50 day? We might want to take a piece of it too.
11-2 IF this issue were to get slammed to the green line either on its own or on an earnings event we'd probably add to our position.
SHORTSIDE
NONE