28 protesters were killed in Israel and 1,000 wounded this morning (so far).
Jared and Ivanka were on-hand for the opening of the new US Embassy in Jerusalem and, to no rational person's surprise, things did not go well and now tensions are escalating and Hamas claims they will have 100,000 people ready to storm the fence between those two countries – this is, of course, the kind of tension Trump wants to bring to this country along our Mexican border.
In more anti-American news, Iraqis voted for populist cleric Maqtada al-Sadr, who openly fought against US forces and has allied himself with the Communist Party but he ran on the Trumpian platform of "draining the swamp", which plays just as well with ignorant Iraquis as it does with ignorant Americans. This election puts al-Sadr on track to possibly become the next Prime Minister, which would be a tremendous blow that undoes all the progress the US has made in Iraq since the Bush years – yet another Obama policy Trump is completely reversing!
This has sent the price of oil (/CL) and gasoline (/RB) spiking higher this morning but not before we got a nice dip in /RB back to $2.17, an $840 per contract gain from our short at $2.19 on Friday.
Speaking of reversing: Trump announced this morning that he will be lifting the ban on China's ZTE Corp, which had been accused of "egregious behavior" in evading sanctions the US has placed on other countries as well as having phones that were a Trojan Horse for Chinese spyware. Trump said in a Sunday morning tweet that he and Chinese leader Xi Jinping are working together to give ZTE "a way to get back into business, fast.'' The U.S. blockade has choked off the revenue of the No. 2 Chinese telecom company, which regards the next two weeks as crucial as it faces potential collapse.
Trump's comments about the company and concern about Chinese jobs come as the U.S. and China are locked in high-stakes negotiations over trade and intellectual property. Both countries are threatening to slap tariffs on tens of billions of dollars of the other's products. Rep. Adam Schiff of California, the top Democrat on the House Intelligence Committee, responded on Twitter to the president's remarks: "Our intelligence agencies have warned that ZTE technology and phones pose a major cybersecurity threat." He chided Mr. Trump: "You should care more about our national security than Chinese jobs."
Any sign of cooperation between the US and China – even if it is Trump letting China spy on US citizens – is good news to the market and that picked the Futures up overnight. Trump also indicated that the US is ready to allow investments with his now-pal Kim Jong Un in North Korea with John Bolton saying on ABC's "This Week" that the U.S. was prepared to open trade and investment with North Korea as soon as it can. I know – CRAZY!
Meanwhile, the Arctic is melting away, down to nearly half of where it was 30 years ago and possibly on the way to being ice-free by 2030 – which will open up all sorts of possibly trade routs as well as become a military nightmare on water we share with Russia and China but thank goodness we have an Administration that values diplomacy above all else, right?
Meanwhile, in warmer climates, two new fissures in Hawaii began spewing lava over the weekend, forcing more residents to evacuate and scientists are warning an "explosive eruption" may be forthcoming. Team Trump's response to all this has been to shut down NASA's Cimate Research Project this weekend which not only makes it impossible for the US to study and measure the effects of Climate Change (fake news!) but the entire World was sharing that date, so Trump has stopped other countries from doing research as well.
Last year, Trump withdrew the US from the Paris Climate Agreement, making it, currently, the only nation on Earth that isn't participating. Shuttering the CMS, though, is a massive doubling down, as it will effectively bar all other countries from the data they need to assess their emissions and understand how to effectively combat them. Thankfully, not all is lost. Europe has one carbon-monitoring satellite now, and more are coming. Still, it's a serious dent in humanity's collective ability to share and understand basic information about our planet.
It's kind fun to be part of a rogue state, isn't it?
Earnings continue to trickle in this week but it's all about the Strong Bounce Lines we talked about last week with the S&P closing Friday at exactly 2,728 – the line we predicted back in February! Earnings continue to trickle in, with a lot of Retailers reporting this week: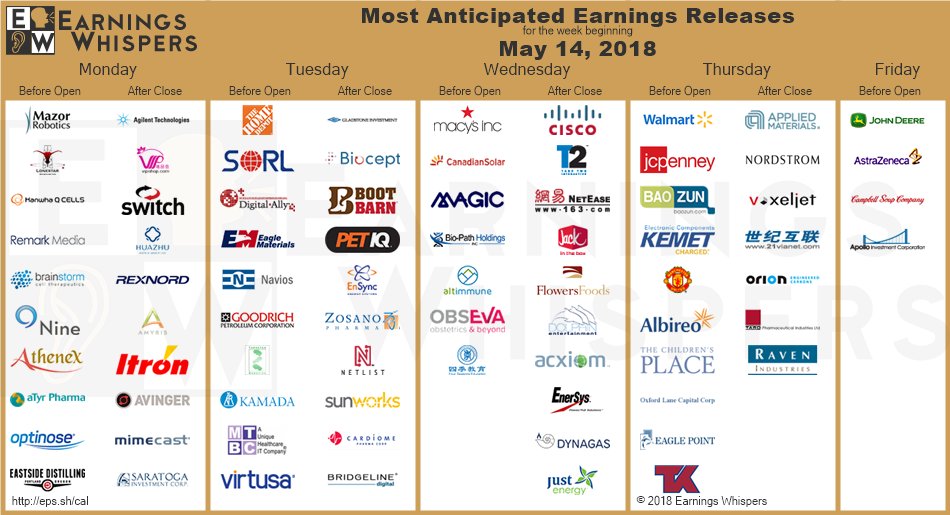 Jim Bullard did such a great job boosting the market on Friday with his doveish Fed Speak that they are bringing him out again this morning so we're not looking to short until and unless our bounce lines begin to fail. Bullard speaks yet again on Wednesday evening and that will be 7 Fed speakers for the week and Retail Sales comes in at 8:30 tomorrow along with the Empire State Manufacturing Report and the Philly Fed is Thursday but not a very exciting data week so the focus should shift to earnings – Retail Earnings…
Do you know someone who would benefit from this information? We can send your friend a strictly confidential, one-time email telling them about this information. Your privacy and your friend's privacy is your business... no spam!
Click here and tell a friend!