Archive for 2018
by Zero Hedge - November 25th, 2018 11:15 pm
Courtesy of Jeff Desjardins, Visual Capitalist
The novelty of the internet platform boom has mostly worn off.
Now that companies like Facebook, Amazon, and Alphabet are among the world's most valued companies, people are starting to hold them more accountable for the impact of their actions on the real world.
From the Cambridge Analytica scandal to the transparency of Apple's supply chain, it's clear that big tech companies are under higher scrutiny. Unsurprisingly, much of this concern stems around one key currency that tech companies leverage for their own profitability: personal data.
WHAT BIG TECH KNOWS

Today's infographic comes to us from Security Baron, and it compares and contrasts the data that big tech companies admit to collecting in their privacy policies.
Courtesy of: Visual Capitalist
While the list of data collected by big tech is extensive in both length and breadth, it does take two to tango.
For many of these categories, users have to willingly supply their data in order for it to be collected. For example, you don't have to fill out your relationship status on Facebook, but millions of users choose to do so.
DID I OPT INTO THIS?

The majority of the data categories on the list make sense – it's a no-brainer that Amazon has your credit card information, or that Google knows what websites you visit. Even the least tech-savvy person would likely understand this.
However, there are definitely some categories of data that get collected and stored that may sound unnerving to some people:
Facebook knows your political views, religious views, and even your ethnicity
Xbox users will have their skeletal tracking data collected through the Kinect device
Facebook also knows your income level, which it finds out through partnerships with personal data brokers
Platforms collect your documents, email, and message data – though some of this is just metadata
Facebook and Microsoft store facial recognition data, based on the pictures you upload
Remember, this is just what companies admit to collecting in their privacy policies – what else do you think they know?
by Insider Scoop - November 25th, 2018 11:00 pm
Courtesy of Benzinga.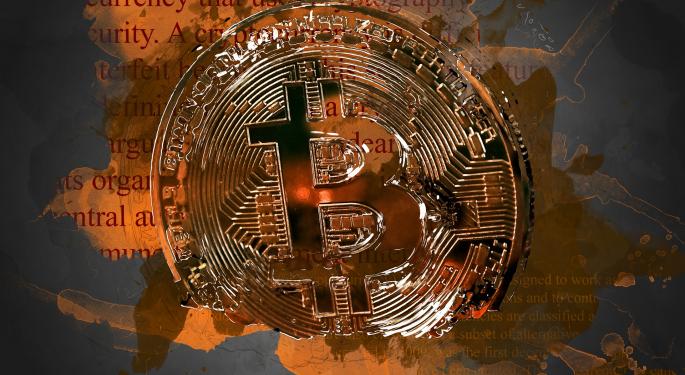 The steep sell-off in cryptocurrencies that pushed bitcoin prices to fresh 52-week lows last week took a breather Monday, with bitcoin prices bouncing back about 1 percent to $3,814. However, Morgan Creek Digital Assets' Anthony Pompliano told CNBC the worst may still be yet to come for bitcoin investors.
"Bitcoin has experienced two previous drawdowns of over 80 percent. We think that about 85 percent from the all-time high is about where we'll end up, puts us at about $3,000," Pompliano said.
Bitcoin dipped as low as $3,592 over the weekend, its lowest level since September of 2017.
Inherent Value
Pompliano said plenty of people have been birded by buying bitcoin near the peak of the bubble last year, but bitcoin's utility as a secure payment transfer mechanism means it does have some inherent value greater than $0.
Pompliano also said that, recent volatility aside, bitcoin has outperformed all other asset classes over the past decade and is still up 400 percent in the past two years.
"Through 2017, all of the buyers were retail… What I think you're seeing is the washout of these retail investors and now as the institutions like Fidelity, ICE, etc. [come in]," he said.
The bitcoin price crash has created another problem for the cryptocurrency now that the only the most efficient mining operations remain profitable. Pompliano said miners in China and elsewhere in Asia are still able to mine bitcoin at a cost of around $2,000 due to lower energy costs.
Buying The Dip
Pompliano said Morgan Creek has been buying the sell-off in bitcoin the entire year.
"We've got very deep conviction in this over a long period of time," he said.
Following last week's sell-off the Bitcoin Investment Trust (OTC: GBTC) is now down 79.6 percent overall in 2018.
Related Links:
This Week In Cryptocurrency: DoJ Investigates Tether, Crypto Hacker Steals $1M
With Tether In Focus, The DoJ Is Investigating Last Year's Cryptomania
Latest Ratings for GBTC
…

by Insider Scoop - November 25th, 2018 11:00 pm
Courtesy of Benzinga.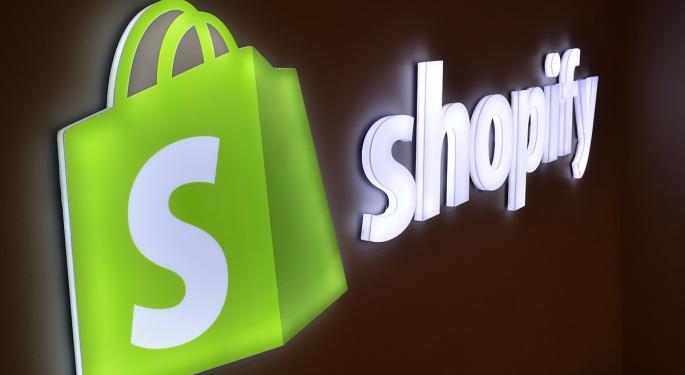 Shopify Inc (NASDAQ: SHOP) shares were surging Monday after news broke that the company acquired Tictail, an e-commerce platform focused on smaller brands.
Raymond James analyst Brian Peterson said that while no financial details for the transaction were disclosed, Stockholm-based Tictail has secured $32 million in funding.
"Similar to Shopify, Tictail has simplified the digital commerce process for small brands and entrepreneurs, with the ability to create a store from a mobile app while also providing a marketplace for brands on the platform," Peterson said in a Friday note. 
The analyst views the acquisition positively and said it aligns with Shopify's goal of enabling entrepreneurs while also providing a potential catalyst for growth internationally.
Tictail has approximately 80,000 to 125,000 brands on its platform. 
Guggenheim Stays Bullish After LA Visit 
Guggenheim analyst Ken Wong reiterated a Buy rating on Shopify after visiting the company's first permanent retail space in Los Angeles.
Wong said he left his meeting convinced that the physical presence in Los Angeles will help generate merchant adds, drive GMV growth and improve retention.
Sales are rarely made on first visits, but overall conversions have been better than anticipated and the site has helped frustrated merchants from competitors Wix.com Ltd (NASDAQ: WIX), Squarespace and BigCommerce migrate onto Shopify's platform.
"Management has talked up investments in brand marketing and we view the LA location as a strategic approach to killing two birds with one stone," the analyst said. 
If Shopify's LA location proves successful, New York would be the next logical city to open a customer center, according to Guggenheim. 
Shopify shares were up 5.44 percent at $142.03 at the time of publication Monday. 
Related Links:
Shopify Merchant Feedback Paints Bullish Picture For Q2, Roth Capital Says In Earnings Preview
Citron Blasts Shopify, Says Changes To Facebook Data Will 'Annihilate' Company's Entrepreneurs
Public domain photo via Wikimedia. 
Latest Ratings for SHOP
| Date | Firm | Action | From | To |
| --- | --- | --- | --- | --- |
| Oct 2018 | Jefferies | Initiates Coverage On | | Hold |
| Sep 2018 | Wedbush | Initiates Coverage On | | Outperform |
| Aug 2018 | Guggenheim | Initiates Coverage On | | Buy |
View More Analyst Ratings for SHOP
Posted-In: Brian Peterson Citron ResearchAnalyst Color News Short Sellers Price Target Reiteration Analyst Ratings Best of Benzinga
by Zero Hedge - November 25th, 2018 10:20 pm
Courtesy of John Rubino, Dollar Collapse
A recent MarketWatch article notes that:
GE was one of Wall Street's major share buyback operators between 2015 and 2017; it repurchased $40 billion of shares at prices between $20 and $32. The share price is now $8.60, so the company has liquidated between $23 billion and $29 billion of its shareholders' money on this utterly futile activity alone. Since the highest net income recorded by the company during those years was $8.8 billion in 2016, with 2015 and 2017 recording a loss, it has managed to lose more on its share repurchases during those three years than it made in operations, by a substantial margin.

Even more important, GE has now left itself with minus $48 billion in tangible net worth at Sept. 30, with actual genuine tangible debt of close to $100 billion. As the new CEO Larry Culp told CNBC last Monday: "We have no higher priority right now than bringing those leverage levels down." The following day, GE announced the sale of 15% of its oil services arm Baker Hughes, for a round $4 billion.

Of course, since that sale values Baker Hughes at $26 billion, and GE paid $32 billion for 62% of Baker Hughes as recently as last year, which looks to me like a valuation for the whole company of $52 billion, GE shareholders appears to have lost half the value of their investment in Baker Hughes in about 18 months.
But GE is just one of several hundred big companies with CEOs who now have to justify a massive, in some cases catastrophic waste of shareholder cash.
This most recent share buyback binge was dumb money on steroids, with artificially low interest rates leading corporations to borrow big and buy back their stock on the twin assumptions that:
1) since the cost to borrow was less than their stock dividend, they were generating "free cash flow" and

2) buying their own stock forced up the price, which would make the CEO look smart.
Both assumptions were only valid while the market was rising. And since most of the buying took place late in a bull market, with share prices at or near record highs, it…

by Zero Hedge - November 25th, 2018 7:45 pm
Courtesy of ZeroHedge. View original post here.
Earlier today we wrote how legacy retailers were struggling to adopt to Black Friday increasingly moving to a primarily e-commerce platform: we noted that not only did several "legacy" website by major retailers like Lululemon, Lowe's and Wal-Mart suffer various revenue-sapping glitches, but also that Black Friday was likely to set new spending records even as mall traffic – at least for now – appeared roughly the same as last year. Incidentally, total spending for Black Friday is now expected to be $6.22 billion, a gain of 23.6% from last year, according to analyst estimates.
And with Thanksgiving weekend all but behind us, the focus now turns to Cyber Monday, the "official" e-commerce holiday that takes place the Monday after Thanksgiving. Cyber Monday is a horrifying excuse to spend even money you don't have a "holiday" that's "celebrated" as everybody returns to work after Thanksgiving break and logs online to begin their holiday shopping.
According to Bloomberg, shoppers are estimated to spend $7.8 billion this Cyber Monday, starting off holiday spending on the right track and setting fresh records. But the question of whether or not the Cyber Monday numbers will have an effect on retail names and the stock market in general still lingers. In the midst of a rising interest rate environment where discretionary spending is all but guaranteed to fall as the economy cools – amid an ongoing trade war – some believe that even record Cyber Monday numbers simply won't be enough to move the needle.
DA Davidson analyst Tom Forte believes that the lingering consumer spending slowdown in 2019 is throwing a damp rag on any positive signs that will come with a strong holiday spending season: "many of the tariffs will likely be borne by consumers in the second half of 2019 in the form of higher prices on products. Higher interest rates may dampen spending on big-ticket items."
Overall, US shoppers are estimated to spend $124.1 billion online in November and December this year, up an impressive 14.8% from last year, based on figures from Adobe Analytics. The growth rate is simply astounding, especially so many years after the first adoption of e-commerce. But the stock of legacy retailers like Walmart and Target,…

by Zero Hedge - November 25th, 2018 6:45 pm
Courtesy of ZeroHedge. View original post here.
In one of the more whimsical notes published by Goldman in recent months, chief economist Jan Hatzius writes that he has received numerous questions about various "rules of thumb" for analyzing the US economy, and lays out a selection of these rules, covering Fed policy, financial conditions, growth, unemployment, inflation, bond yields, and recession risk.
While the note covers everything from monetary policy (in the context of rising rates) and the impact on financial conditions, to the labor market and the relationship between GDP and the unemployment rate, to the link between the unemployment rate and rising wages and overall PCE inflation, eventually closing the loop with the Taylor rule and how a mechanistic take on the economy translates to monetary policy, perhaps the most interesting aspect of the note is Goldman's take on what a 150bp "unexpected increase" in the Fed Funds rate would do to both financial conditions and GDP.
To be sure, unlike 2 months ago when discussions about the "overheating" of the US economy were all the rage, and some were even hinting that the Fed may engage in one or more surprise rate hikes, in recent weeks the US economy has shown troubling signs of a slowdown and as a result the conversation has shifted away from unexpected tightening to whether Powell may in fact terminate the Fed's tightening prematurely, the Goldman analysis is still interesting, if more as a thought experiment; it would certainly be relevant once more from a practical standpoint should high frequency economic indicators suddenly surprise to the upside in the coming weeks.
In any case, according to Hatzius, who notes that "the funds rate alone is no longer a reliable predictor of financial conditions", Goldman observes that monetary policymakers now affect GDP by influencing financial conditions. Specifically, according to Goldman calculations "a 150bp hawkish funds rate shock typically tightens the FCI by 100bp. By component, a 150bp hawkish funds rate shock tends to increase the 10-year yield by 45bp, lower equity prices by 9%, and raise the value of the dollar by 4%" as shown in the chart below.
While hardly a surprise that substantially tighter financial conditions – as a…

by Zero Hedge - November 25th, 2018 5:45 pm
Courtesy of ZeroHedge. View original post here.
Back on November 1, we reported a "fascinating statistic" by Deutsche Bank – as of the end of October, 89% (a number that has since risen to at least 90%) of most major global assets had a negative total return year to date in dollar terms. This was the highest percentage on record based on data back to 1901, eclipsing the 84% hit in 1920. Putting this in context, in 2017 just 1% of asset classes delivered negative returns. The final straw was when the S&P 500 index, which had valiantly resisted a negative return for the year, finally succumbed to the gravitational pull of most other markets and turned red last week when it also suffered its second correction of 2018.
And while this statistic was quietly ignored for much of November, it eventually made its way to the front page of the WSJ today – just days after the S&P turned negative for 2018 and slumped into its second correction of the year – which reported what most traders had known already: "stocks, bonds and commodities from copper to crude oil to burlap are staging a rare simultaneous retreat, putting global markets on track for one of their worst years on record and deepening a sense of unease on Wall Street."
For those investors who have somehow slept through the past two months, it has been a painful market ever since the S&P hit its all time high on September 20: major stock benchmarks in the U.S., Europe, China and South Korea have all slid 10% or more from recent highs. Crude oil lost a third of its value and slumped deep into bear market territory, emerging-market currencies have broadly fallen against the U.S. dollar, while bitcoin's price crashed below $4,000 over the weekend amid what a broad risk capitulation.
While havens such as Treasury bonds and gold rallied this fall as riskier assets swooned, both are still down on a price basis for the year, reflecting trader concerns with solid economic growth and tighter Federal Reserve policy that have begun to push interest rates out of their post-financial crisis doldrums.
And, as we first discussed last week in why "Nothing…

by Zero Hedge - November 25th, 2018 4:45 pm
Courtesy of Zero Hedge
A new report from Ernst & Young LLP., Research Now surveyed 1,202 adults aged 20 to 36 shows that millennials are fleeing big cities for suburban life.
When determining where to live, many millennials are now following the footsteps of their parents. In total, rent or own, 38% of millennials live in the suburbs, compared to 37% in the city.
Cathy Koch, EY's Americas Tax Policy Leader, told CNBC that millennials are choosing suburbs over cities.
"It's not just that they're settling down as they get older, either," Koch said.

"When looking at the very same age group today compared to two years ago, there's an increase in the share of millennials living in the suburbs."
"It was a surprise to me to see this generation increasingly choosing suburban locations to buy homes," Koch said, but the trend at play makes sense: "The 'suburbs' may very well be smaller cities close to larger urban areas – these still afford the richness of city living (including employment opportunities) at maybe lower home prices."
According to a recent report from Zillow, millennial home buyers can expect to pay 26.5% of their income to purchase a median-value home in a city, but only 20.2% of their income for a similar home in the suburbs.
Personal finances and student debt is likely the factor driving millennials out of big cities for regions that have a much lower cost of living.
More than 50% of millennials are currently paying off student debt (on average, Americans have $30,000 of student loan debt).
Millennials who majored in business have the least amount of student loans, but a large share of them have worthless humanities majors with low-paying gig-economy jobs.
Ernst & Young finds more millennials are buying homes in the last several years, but shows how student debt has delayed homebuying for many. This fragile generation is buying homes at a much lower rate than Gen Xers and Baby Boomers.
Student debt has not just delayed home buying, but…

by Zero Hedge - November 25th, 2018 3:30 pm
Courtesy of ZeroHedge. View original post here.
Authored by Sven Henrich via NorthmanTrader.com,
Are markets setting up for a major bear trap? Let's explore the question. Look, I could show you a 100 charts that say the same thing that everybody already knows: Things are terrible. From crude crashing 7 weeks in a row, $FAANGS dropping a trillion bucks in market cap and individual stocks getting taken out back and shot. Crypto is a wasteland. Global growth is continuing to slow down hard (Germany just printed its lowest GDP growth in nearly 4 years) and US growth is heading back to a 2% regime. Bulls that were aggressively pushing for ever higher targets are sheepishly reducing them fast. One analyst dropped his 3,200 year end target on $SPX to 2,900, another dropped his 2018 Bitcoin target from $25K to $15K (it's trading at $3,700 this weekend) and downgrades are permeating the daily news cycle. Long gone is the talk of global synchronized growth that dominated the headlines earlier in the year.
And currently the year is shaping up to be the worst ever in terms of total asset classes in negative territory, 90%:
In short: Bears have taken over everything and are dancing on the corpses of bulls that have mocked them for so long.
Heck they have even taken over the malls
Bears have taken over everything pic.twitter.com/dR0DUvUcQN

— Sven Henrich (@NorthmanTrader) November 22, 2018
Last week's price action was the most miserable Thanksgiving week in recent memory.
In lieu of that I have a question:
Why haven't we taken out the lows? I mean, given all this backdrop of global misery and wipe outs in asset classes, why is the $SPX still in range?
Indeed at this very moment that chart says higher lows. Now of course that can change in a hurry next week and we may enter that next risk zone we've been discussing in previous Weekly Market Briefs:
But why haven't we seen new lows yet? What else do bears…

by Zero Hedge - November 25th, 2018 3:05 pm
Courtesy of ZeroHedge. View original post here.
The Federal Trade Commission (FTC) under the Telemarketing and Consumer Fraud and Abuse Prevention Act ("Telemarketing Act"), has recently announced that it seeks law-enforcement action against a residential resort development in Belize, calling it "the largest-ever overseas real-estate investment scam" the agency has ever seen.
At a recent press conference in Washington, D.C., the agency said the development known by names that include Sanctuary Bay, Sanctuary Belize, Buy Belize, Buy International, and Buy Paradise, fleeced 1,000 American investors, out of more than $100 million.
Scheme Video: Belize Real Estate – Belize Property – Belize Homes – Buy Belize
According to court documents filed by the FTC in the US District Court of Maryland, 24 individuals and shell companies falsely claimed to be constructing a luxurious resort community that would feature a hospital, hotels, a golf course, a spa, a casino, high-end boutiques, cafes, restaurants, and an "American-style" supermarket.
Video: American National Sues Over "Sanctuary Belize" Multimillion-Dollar Scam
The agency said investors were fooled into believing the lots, which sold for between $150,000 and $500,000 each, would dramatically increase in value.
Scheme Video: Sanctuary Belize Real Estate
On page three of the court document, it said defendants sold "lots primarily to Americans looking to retire abroad or seeking investment opportunities. They target small business owners and couples nearing retirement. Among other things, they claim the lots are low-risk investments that consumers can resell easily and enjoy 200%-300% appreciation."
The Wall Street Journal has been following the developments of the scheme for more than a year.
More than ten years after sales started, the FTC said most of the Manhattan-sized development is still unfinished. Only twelve homes and part of the marina have been completed, many of which are occupied by people with close ties to the development
The FTC said investors were supposed to hire a builder to construct their Central American home, but many did not, because they saw the overall property was not fully developed and there was no real estate…