Down and down we go.
I said last week that we'd more likely to see 2,800 on the S&P before we see 3,000 but I didn't think things would fall apart so hard and fast. Still, a correction is a correction and this one is long overdue and it's still very mild as 2,850 is only down 5% from the 3,000 line and that means we expect 30-point bounces to 2,880 (weak) and 2,910 (strong) from there so we know exactly what range to watch and, conveniently, 2,855 is now the 200-day moving average – so it's a perfect level to test to see how real this rally is.
As you can see from this S&P chart, we're moving right within the 5% Rule™ around 2,850 as we predict 30-point incriments to drive the index in either direction. If we can stay in the top of the range and hold the 2,850 line and get back over the strong bounce line – then we're be consolidating for a move over 3,000 but anything below 2,850 and we'll have to consider another 5% drop (2,700) before this correction is over.
We're happy either way as we've considerably lightened up our portfolios as of last month, taking 1/3 of our gains off the table in the Long-Term Portfolio and bulking up our hedges – just in case. Having more cash on the sidelines allows us to take advantage of new trade opportunities, like yesterday's UGA spread and, in our Live Member Chat Room, we decided to buy the long July $29 calls for $2.75 as they weren't getting lower while the $32 puts were an easy sale at $2+ and we're waiting for a bounce to sell the July $32 calls for $1.70 now (to make up for the extra quarter we spent on the calls).
The July $32 calls are now $1.15 after bottoming at $1.10 and, since we expect $1.70, that's a 0.55 (48%) gain from here so actually it's good for a long play at this point too! We're nothing if not flexible in our outlook because we're Fundamental Investors which means we know the value of an option and, since we fell the July $32s are worth $1.70, but not more – just because we want to short them at that price doesn't mean we can't go long on them when they are far below it. Either way, our value assessment remains the same!
These contracts have 72 days to go and, as I noted, there are two major holiday weekends between now and then that can be beneficial for gasoline prices AND there might be a war in the Persian Gulf – also good for prices. Lots of ways to win and it's very unusual for Gasoline (/RB) to be below $2 in the summer and now it's $1.94 (we're also long on the Futures down here).
This morning, at 10:30, we get the EIA Petroleum Status Report, which will give us a handle on inventory levels but last night the American Petroleum Institute released the API Report, which shows a 2.8Mb build in Oil but a 2.8Mb draw in Gasoline and an 834,000 barrel draw in Distillates which is not a very bullish overall number – but it's not bearish either and that makes it hard to justify Gasoline's 0.20 (10%) drop since April 25th so we expect at least a weak bounce of 0.04, back to $1.99 but once we're there – why not test $2?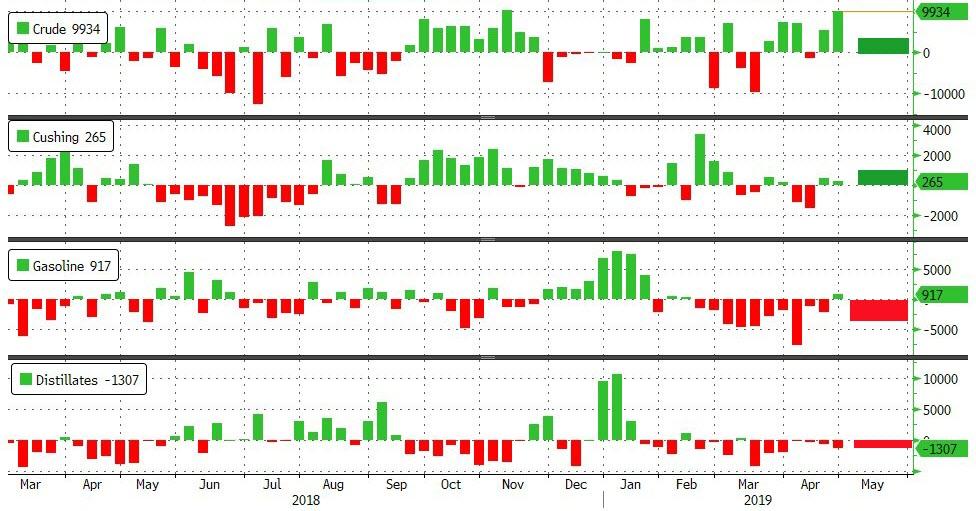 While an escalating trade war with China MIGHT lead to lower demand for gasoline – it certainly hasn't had that effect so far and, of course, a real war in Iraq could cause gas prices to skyrocket. Just the amount of oil it takes to get our Army, Navy and Air Force (not to mention our new Space Force!) moving is incredible. At the height of the Iraq war, the US Army alone was burning about 1Mb/day of Gasoline and Gasoline was $5/gallon in some parts of the country while oil topped out at $140/barrel. Trump wants to make America Great Again – no matter how much it costs you…
We'll examine the full EIA Report when it's released at 1pm this afternoon in our Live Trading Webinar, so tune in for that as we fine-tune our play but I'm loving the Gasoline (/RB) longs at the moment and the play we were making in the Futures is the July contract (/RBN19), which bottomed out at $1.91 and may still hit our lower goal of $1.90 – so see yesterday morning's PSW Report for our trading plan on that one.
Remember: I can only tell you what is likely to happen and how to profit from it – the rest is up to you.
As to the trade negotiations, China says they will be sending a trade delegation tomorrow to meet with Trump's team despite the fact that the US has accused Beijing of reneging on promises and Trump has threatened more tariffs on Friday but I suspect that China is coming over to tell Trump to F off in person – as they don't want to appear petulant and not attend a scheduled meeting – despite the insulting behavior on the part of Team Trump.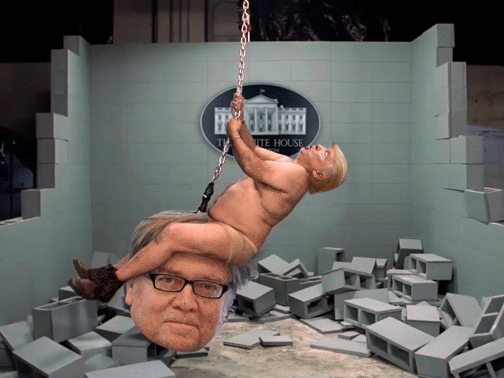 Trump's threat to tax American's another $50Bn through tariffs if China doesn't concede to his demands is juvenile at best but more idiotic and tone deaf as a negotiating tactic with China, who like to build relationships brick by brick while the President just hit them with a wrecking ball and pushed China into a position where any concessions they give him would be rewarding this insulting behavior – it's just not going to happen.
So strap in for more turmoil as I'll be surprised if the Chinese delegation isn't back on a plane by Friday with no deal in hand for Team Trump. Of course they will lie (10,050 and countring) and spin it and we've already got an army of Fed speakers lined up Friday with Brainard, Bostic and Williams all speaking early in the morning, following up on Powell, Bostic and Evans tomorrow – so who knows what the markets are going to do but certainly these are going to be INTERESTING TIMES (aptly that's an old Chinese curse).