Courtesy of Pam Martens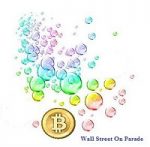 Anne Goldgar wrote of the Dutch Tulip bubble in her 2007 book, Money, Honor, and Knowledge in the Dutch Golden Age, that "the f1000 one might pay in January 1637 for one hypothetical Admirael van der Eyck bulb," could have bought "a modest house in Haarlem," or "nearly three years' wages" of a master carpenter. Comparing that to U.S. dollars in 2007, the year her book was released, Goldgar says it would be like one Tulip bulb selling for $12,000.
Goldgar notes that as historians have looked back at this episode, the tulip mania of the 1630s in Holland has become a "byword for idiocy."
In his 1841 classic on market bubbles, Extraordinary Popular Delusions and the Madness of Crowds, the Scottish journalist Charles Mackay wrote this about the Tulip bubble: "The rage among the Dutch to possess them was so great that the ordinary industry of the country was neglected…"
Four centuries have apparently not cured the propensity toward idiocy when the lure of riches beckons. The market cap of Bitcoin is now in excess of $1 trillion, despite the fact that it is backed by absolutely nothing.
No amount of disdain toward Bitcoin by the smartest guys in the room can stop the creature's incessant climb. Bitcoin has multiplied more than five-fold since September, trading yesterday at over $56,000.
Bitcoin has been thoroughly discredited by some of the smartest people in the investment community and global finance, but that hasn't stopped the oldest futures exchange in the U.S., CME Group, from offering futures and options trading on Bitcoin. CME Group's federal regulator, the Commodity Futures Trading Commission (CFTC), explains in this podcast that all that CME Group had to do to launch its Bitcoin futures was to "self-certify" its plan with its regulator, the CFTC. The self-certified plan may be just fine – it's the underlying product based on nothing that the regulator seems to have ignored.
…
Do you know someone who would benefit from this information? We can send your friend a strictly confidential, one-time email telling them about this information. Your privacy and your friend's privacy is your business... no spam!
Click here and tell a friend!