By Cristian Bustos. Originally published at ValueWalk.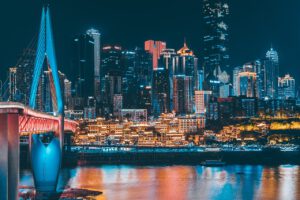 A recession in China threatens to knock down the nation's growth for this year. The International Monetary Fund (IMF) has reduced its growth forecast to 4.4%, while other analysts expect figures below 4%, while foreign investors have shed $18 billion in Chinese bonds and over $7 billion in equities in March.
Recession In China Looms
The main obstacle facing the Chinese economy is the crisis in the real estate sector, which represents up to 29% of the nation's GDP. The issue seems worse than expected after the crisis of the real estate giant Evergrande.
Q1 2022 hedge fund letters, conferences and more
Similar crises have spread as 10 Chinese developers have defaulted on their dollar debt, sending shockwaves among foreign investors.
Meanwhile, President Xi Jinping is clamping on the Chinese tech industry, reducing the market cap of China's 10 largest tech companies by more than $2 trillion in 12 months. The measures have forced these firms to lay off thousands of workers.
Another sticky point is the war in Ukraine. The Russian invasion has sent energy and commodity prices skyrocketing in China as well, and has crippled supply chains, which had already been affected by the pandemic.
On the other hand, Beijing has once again strengthened its Covid-related restriction, after Xi Jinping had declared "victory" last year. Still, the almost 373 million people in lockdown account for about 40% of China's total economic output, or about $7.2 trillion of annual GDP, sending shockwaves according to Bloomberg.
Impact
The combination of these problems is enough for Beijing's target of a 5.5% GDP growth this year to evaporate.
To control the situation, China has launched new expansionary economic measures, as in the first months of 2022, local governments fast-tracked the issuance of special-purpose bonds (SPB), to improve financing for infrastructure investment.
Amid talk of recession in China, Beijing also promised more tax cuts for businesses, deferred plans to expand a pilot property tax program, and is gradually easing restrictions on the real estate market. In the meantime, policymakers have issued support programs for several industries to dampen the impact of the pandemic.
The impact of the new restrictions in China may drag down the rest of the economies. The latest international forecasts warn of this matter in its latest updates, as the World Bank (WB) forecasts that China will grow by 5.1%.
Updated on
Sign up for ValueWalk's free newsletter here.