By Cristian Bustos. Originally published at ValueWalk.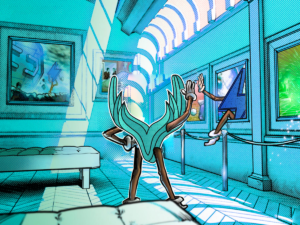 It's been a bumpy road for the crypto market, with major cryptos experiencing some harsh downturn, while the crypto assets have shed around more than $800 billion in market valuation in the last month.
Across all corners of the crypto market prices have been tumbling for four consecutive days, with leading cryptos including BTC, ETH, and SOL seeing their biggest price jumps in almost a year.
Q1 2022 hedge fund letters, conferences and more
With the crypto market now worth less than half of its peak in November 2021 ($3 trillion), investors are scrambling to see where they can pump cash into crypto and blockchain projects that could perhaps offer sizable returns for the greater part of the year.
DeFi Is Growing At A Rapid Pace
At the current rate of development, decentralized finance (DeFi) which includes some of the world's most valuable DeFi companies such as Coinbase Holdings (NASDAQ:HOLD) and Block (NYSE:SQ) have seen venture capitalists digging deep into their pockets to flow cash into the hands of startup entrepreneurs.
Even at the pace at which DeFi is rapidly growing, the sector has yet to be as disruptive as many would've liked it to be. For what it's worth, 2021 saw the biggest year in VC-backed deals for crypto and blockchain startups, with more than $33 billion of investments. At the back of it, this only accounted for 5% of all VC deals across all sectors in 2021 globally.
Yet, as little as these investments may have seemed, there's a sizable portion of investors and entrepreneurs who are throwing their weight behind the potential of DeFi, as it looks to revolutionize the next generation of lenders, borrowers, and traders.
While traditional retail banking and consumer finance products remain the ideal place for individuals to lock in monetary payments, loans, and transactions, the growing tendency surrounding DeFi is slowly taking shape, offering a ripe opportunity for growth and global expansion.
According to Ahmed S. CO-CEO & Chief Operating Officer at Hatom Labs, an early investor in the Elrond Blockchain, "It is possible to consolidate the adoption of decentralized finance protocols, but this would involve continuous research, innovation, and user education."
Hatom is the very first Elrond Blockchain-based decentralized money market. In its current capacity, DeFi can address a sizable market of opportunities. In 2021, the Ethereum network was able to process more than 1.3 million transactions per day, surpassing remittances, trading, lending, and borrowing.
Even more, the total value of assets transacted via DeFi has exploded. In 2020, roughly $2.2 billion worth of assets were captured. By the start of 2022, that amount has increased by more than 31,000% to over $68 billion.
On paper, DeFi has the potential to create a new breed of consumers, influencing the way they bank, lend, transact, and borrow money. In practice the story looks a bit different, leaving a contrasting backdrop on which blockchain-based lending protocols are working.
Lending And Borrowing Cryptocurrency
"When it comes to lending and borrowing cryptocurrency, users want to make sure that their information is secure and that they can use a protocol system without worrying about the underlying complexity. That is maybe one of the challenges that must be overcome in the sector in order to develop the larger influence of decentralized finance." Explains Ahmed S. COO and CO CEO of Hatom labs
It's perhaps interesting to see how much has already been done for the development of tools that help improve safety measures on various blockchain protocols.
Last year, more than $11.2 million were raised for Sienna Network, a privacy decentralized startup built on the Secret Network. As the adoption of DeFi projects becomes more commonplace, security and privacy are playing a big role in the overall performance of DeFi in the nominal financial ecosystem.
Then there's the case of intermediaries, which according to some DeFi enthusiasts are rallying consumers as online commerce becomes an everyday essential for billions of global shoppers.
With DeFi it's possible to cut out the middle man, or financial custodians. On the DeFi system or network, all transactions are transparent, and with blockchain, it's possible to have full disclosure and transparency on transactions.
By cutting out the middleman, some claim that regulatory and safety precautions could become a major concern for those using the protocols. Many share a unified opinion over how DeFi exchange protocols are making it easier to access a borderless monetary and financial system.
Decentralized control could perhaps be the key selling point for DeFi in the next few years, as crypto traders and a cohort of consumers are shifting opinions over a centralized monetary and banking system.
Even though the world has operated on these means for hundreds of years, modern technology and development thereof have enabled a newer, and broader sector of finance, that helps give traders and investors better control over their digital assets.
Ahmed S. states, "Although the cryptoverse is still mostly unregulated, its appeal and acceptance are rooted in its decentralized protocols. When it comes to DeFi and its set of principles, we are already witnessing how popular it has become among the general public, not only because it works alongside the crypto ecosystem, but also because it provides the much-needed security and mobility."
"We must not forget that the DeFi sector, like crypto and blockchain, is still in its infancy, and that future endeavors could enable the fast-track development of decentralized financial tools and blockchain protocols that will facilitate its mainstream adoption."
It's not impossible to consider how rapidly the market has already developed, but it's possible to see how a new generation of traders and consumers are claiming their stake in the world of decentralized finance.
Updated on
Sign up for ValueWalk's free newsletter here.