Archive for the 'Chart School' Category
by ilene - October 9th, 2015 9:01 am
Courtesy of Dana Lyons
Everyone knows that spikes in the S&P 500 Volatility Index, a.k.a. "VIX", are associated with distress in the equity markets. The recent August decline in stocks was a perfect example of this as the VIX jumped from near 11 to over 50 in just a few weeks with the S&P 500 dropping by more than 10%. As stocks have recovered, the VIX has calmed down. As of Monday, the VIX closed below 20 for the first time since the middle of August. Such returns to "normalcy" in the VIX have typically been associated with a return to calmer times in the equity market. This recent round trip in the VIX got us wondering how reliable of an all-clear signal that has been for stocks historically. So…surprise, we checked it out.
We originally searched for all occasions in which the VIX first returned to below 20 after having spiked above 40. Upon looking, however, we noticed that there were a few near-misses that would be interesting if included. Therefore, we adjusted our search for spikes above 37. Yes, this is pure data-mining, and we pride ourselves on avoiding such gimmicks. After all, our ultimate goal is to make our clients more money. Thus, mining for trivial data points is a waste of our time. This study certainly falls into that trap, however, we think the results are interesting enough to publish – and may serve a valuable lesson too.
As it turns out, since the inception of the VIX in 1986, there had been 13 occasions (before the recent one) in which the VIX climbed over 37 before dropping back below 20.
So what was so interesting about these VIX trips from over 37 to under 20? The most interesting thing is that this signal was not at all a consistent harbinger of calmer, happier times for stocks. In fact, in the longer-term, i.e., 1-year out, this signal was the opposite of consistent. The results were binary. They were like Babe Ruth's batting output: a home run or a strike out, all or none.
Of the 13 prior signals, 8 led to 1-year gains between +10% and +22%. The other 5 resulted in 1-year losses of between -12% and -40%. Here…

by Chart School - October 8th, 2015 6:31 pm
Courtesy of Declan.
Good stuff for bulls as resistance levels get ticked off on the advance. There breathing room for many indices and a chance for consolidation. Nit pickers could point to light volume, but it would be hard for buyers to be coming in here given the sequence of gains.

The Nasdaq 100 still remains tagged to resistance. Can it break tomorrow or will sellers make an appearance. All I know is yet another short trade of mine is stopped out. I should add, I haven't touched my investment account. I would be looking to buy if I had the funds available.



The S&P made a decisive push past its 50-day MA. Next resistance is up at 2,044. Technicals are nicely in favour of bulls.


It's the Russell 2000 turn to test its 50-day MA, but today's gain keeps the relative performance advantage against the Nasdaq (although not quite yet the S&P).


Tomorrow, look for more of the same. Every time I think an intermediate top is in place I'm undone by a closing surge of buying. While this can't continue, it does put a big distance on the low; firming up a bottom of substance.

You've now read my opinion, next read Douglas' and Jani's.


by ilene - October 8th, 2015 3:31 am
Courtesy of Joshua Brown, The Reformed Broker
I won't go so far as to say that these are the only charts that matter, but I think right now – at this moment – they could be.
Below, I'm doing a few ratio charts to demonstrate that the sectors in the eye of this year's storm – emerging markets, materials, oil stocks and industrial metals – are all staging dramatic comeback rallies relative to the S&P 500. To me, this is a more important story than anything happening with bonds or biotechs. These are the very sectors / asset classes that have brought global risk appetite to its knees this year. If they're truly putting in a bottom, sentiment about global growth could materially improve (pun intended), providing support for risk assets in general.
Just this morning, Morgan Stanley put out a big call saying it's time to buy the metals and mining stocks. It's definitely an outlier, as 2015 numbers repeatedly get ratcheted down for the group.
The good news is that these ratio charts are all breaking out to the upside, relative to the US stock market overall. Haven't seen this in quite awhile. I've included 50-day moving averages for perspective. The top pane for each chart is relative strength, the bottom pane is pure price.
Let's begin…
First, here's the Emerging Market ETF (EEM) vs the SPY, now above the 50-day: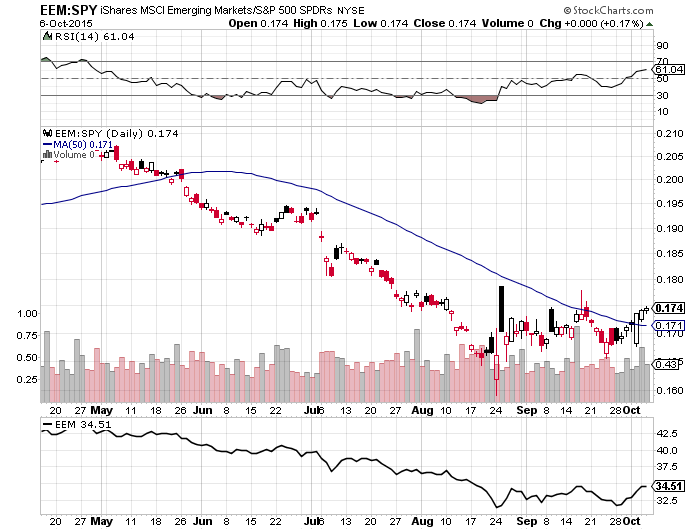 Here's the materials SPDR ETF (XLB), with a nice confirmation by momentum (RSI charging toward 70):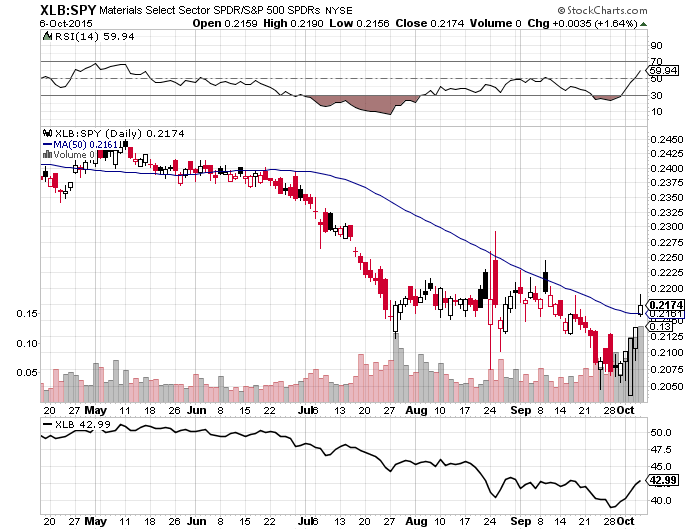 Here is the energy sector SPDR vs the SPY, also on fire with an 11% jump in a week's time: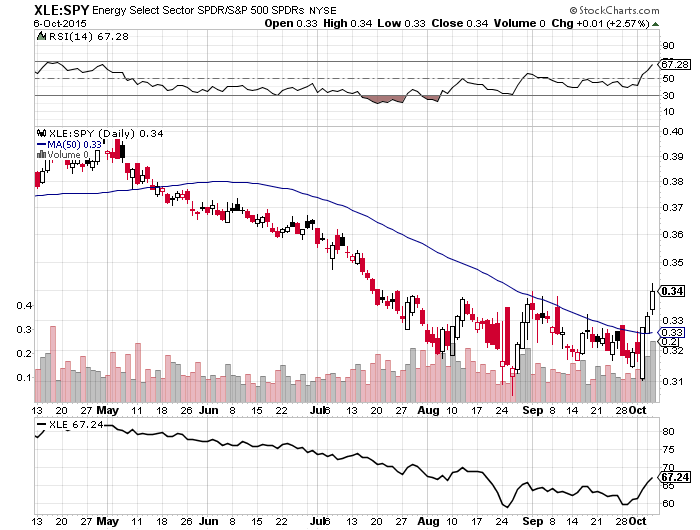 Finally, a risk ratio that has not yet popped but may be hammering out a tradeable bottom – the Shanghai Composite vs the SPY. It stopped going down at the end of August. But can it get up? Because that would be the mother of all sentiment squeezes. Literally no one thinks it can. Maybe the consensus is right – but what if it's not? Is anyone positioned for that?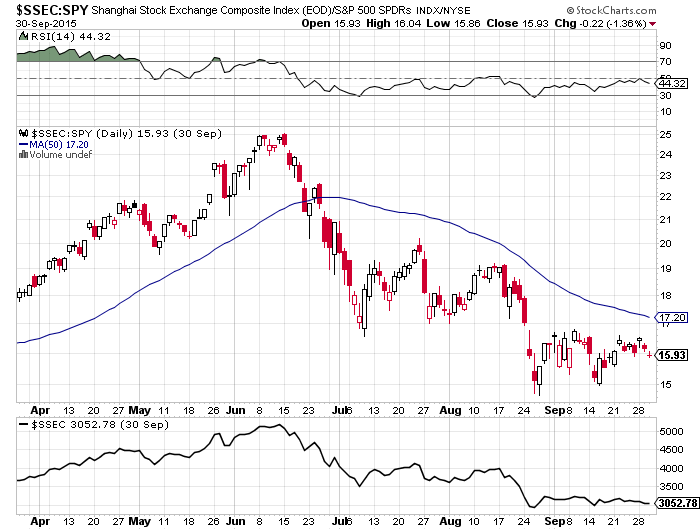 Bottoms are nearly impossible to call in real-time, so this is probably, at best, a useful thought exercise for most investors. But if these charts are getting constructive, it would represent a huge weight lifting off of everyone.
by Chart School - October 7th, 2015 5:03 pm
Courtesy of Declan.
Bulls can be happy with today's progress. What weakness emerged today was reversed by the close, a change on yesterday's action where sellers dumped in the last few minutes of trading. Volume climbed to register an accumulation day.

The S&P finished at the 50-day MA, but beyond that there is plenty of room beyond that to run to the next level of resistance at 2,045. Technicals are net bullish.



The Nasdaq pushed off its 20-day MA and has another 50 points of maneuver before it gets to its 50-day MA.  Technicals are not yet net bullish, but they are close.


The Russell 2000 also made good progress, and is now enjoying a relative gain against the Nasdaq (but not yet the S&P). Next up is the 50-day MA.


The Nasdaq 100 will be the first index to challenge a major resistance level as it comes up against declining resistance established in July and August. It's also attempting a push into the early summer base – the first of the lead indices to do so.


For tomorrow, bears will be watching the Nasdaq 100 and S&P for an opportunity, but a bright premarket might see a good run in the markets for the rest of the day.

You've now read my opinion, next read Douglas' and Jani's.


by Chart School - October 7th, 2015 2:03 pm
Courtesy of Read the Ticker.
This stock is rising from the depths of 5 year lows, a good base, strength coming in, folks are changing their minds on this stock.
Previous post on similar subject Gold and silver stocks near the end of their crash
This stock just made a 2 year high. Higher highs are in its future!

Investing Quotes…
.."Stocks, like atoms, are really centers of energies.Therefore they are controlled mathematically"…."There is no chance in nature because mathematical principles of the highest order lie at the foundation of all things"..
William D Gann
..The time of maximum pessimism is the best time to buy and the time of maximum optimism is the best time to sell"..
John Templeton

.."Look at market fluctuations as your friend rather than your enemy; profit from folly rather than participate in it"..
Warren Buffett
.."Money can't buy you happiness but it does bring you a more pleasant form of misery"..
Spike Milligan
.."Money couldn't buy friends, but you got a better class of enemy"..
Spike Milligan
by Chart School - October 6th, 2015 3:57 pm
Courtesy of Declan.
Most of the gains were posted pre-market, but bulls were able to hold gains after a couple of days of bullish strength.

The S&P is on course to finish with a spinning top doji. The 50-day MA is just overhead and close to 2,000 psychological resistance. Technicals are close to turning net bullish.



The Nasdaq closed above 20-day MA and has room to run to overhead resistance. Like the S&P, it 's close to turning net bullish technically. Today was a typical consolidation, which given recent price action should be viewed as bullish.


The Russell 2000 was another index to close near the day's highs. It too is trading near its 20-day MA, but it hasn't yet turned bullish technically or adopted a relative leadership against Large Caps or Tech indices.


Today was a can kicking exercise for bulls. I took short positions at the 10:00am ET turning hour at good entry prices, but I suspect I'm going to get stopped out either in premarket tomorrow, or in the first half hour of trading. If bulls don't push on, then the doubts will emerge, and this will give shorts an opportunity to turn small losses into bigger ones. However, as thing stand now, bulls hold the cards (against my expectations).

You've now read my opinion, next read Douglas' and Jani's.


by Chart School - October 5th, 2015 3:28 pm
Courtesy of Declan.
A fresh day of gains keeps bullish momentum running in healthy action. The Dow was the first index to break past declining resistance established by July – August declining trendline. Volume also climbed to register accumulation.



The Semiconductor Index was another to make a move higher. It cleared declining resistance and the 50-day MA. Better still, it was the first key index to return net bullish in technicals.


This will help the Nasdaq 100 which is just shy of a test of declining resistance. It too enjoyed a day of bullish accumulation. Technicals are not as bullish, but they are improving.


The Russell 2000 had the most ground to make up as it's the index which has consistently under-performed since July. While other indices have done well, a true bullish recovery will need leadership from this index, which hasn't come yet.


The S&P broke from declining resistance, but not the key resistance level challenged and broken in the Dow.


Today knocked out a short position I took at resistance in the Dow. Intraday analysis shows an extended sequence of green candles, which suggests short covering, but it was enough to knock me out. Watch for a 'bull trap' in the Dow, although buyers will be finding confidence on what is increasingly looking like a double bottom.

You've now read my opinion, next read Douglas' and Jani's.


by Chart School - October 2nd, 2015 5:41 pm
Courtesy of Read the Ticker.
Review of the SP500, pre Oct 2015, fire fighting the technical damage.

More from RTT Tv




NOTE: readtheticker.com does allow users to load objects and text on charts, however some annotations are by a free third party image tool named Paint.net

Investing Quote…


.."Your goals are to select only stocks that move soonest, fastest and farthest in bull or bear markets. Limited losses and let profits run."..

Richard D Wyckoff


.."Don't try to buy at the bottom and sell at the top. It can't be done except by liars."..

Bernard Baruch


…"People somehow think you must buy at the bottom and sell at the top to be successful in the market. That's nonsense! The idea is to buy when the probability is greatest that the market is going to advance"…

Martin Zweig (The inspiration behind a number of Martin Zweig's methods came, from Jesse Livermore).


.."It's easier to fool people, than to convince them they have been fooled"..

Mark Twain


.."The financial markets generally are unpredictable. So that one has to have different scenarios… The idea that you can actually predict what's going to happen contradicts my way of looking at the market."..

George Soros


by Chart School - October 1st, 2015 6:00 pm
Courtesy of Declan.
Things were looking a lot brighter in premarket, but in the end bulls were able to push markets into a higher close, even if volume was lighter than yesterday.

The S&P nicks a breakout of declining resistance from the September high, but hasn't yet challenged declining resistance connecting August and September levels. Technicals hold on to their bearish outlook. Based on the table listed at the end of this article, the S&P would need to drop to 1,600 to register a 25% loss from highs.



The Nasdaq did well to finish where it started. The doji to follow on from yesterday's gains suggests there will be further gains on Friday (but take nothing for granted!).


It had looked like the Russell 2000 was going to push down to touch provisional declining channel support, but it hasn't done so yet. Technicals are all net bearish.


The Semiconductor Index also remains poised to break higher. It's still stuck flush to declining resistance with the 'bull trap' still in play. Technicals are not as bearish as for lead indices.


Tomorrow#s job data is another opportunity to mix things up. August lows are important, but a new low would prove attractive for value buyers. Shorts are working with a short tether, and would need a good rally to reset the bear clock. Also, the move into October puts three consecutive months of bearish action into play, opening up an opportunity for a bearish rally.

You've now read my opinion, next read Douglas' and Jani's.


by ilene - October 1st, 2015 9:35 am
Courtesy of Dana Lyons
On September 8, we posted a chart showing how a key worldwide equity index – the Global Dow – was "hanging on the precipice". To refresh, the Global Dow is an equally-weighted index of the world's 150 largest stocks. Therefore, while it may not directly be the target of a lot of money changing hands, it most certainly represents the stocks that see the most money trading hands. Thus, The Global Dow is a fairly important barometer of the state of the global large cap equity market.
The "precipice" that we referenced in the September 8 post was the UP trendline from the bull market bottom in 2009. Not surprisingly, the index did attempt to climb up off of the precipice in the weeks following the post. However, as we suggested, "another test of the precipice here at 2280 would not be surprising". The Global Dow did return to test that area and is now officially off of the precipice – having fallen down off of it in the last few days, as the following charts illustrate.
Additionally, as the charts indicate, the post-2009 UP trendline also coincided with a cluster of important Fibonacci Retracement levels shown below. Therefore, this breakdown wasn't just about the trendline but a myriad of significant levels, making it even more consequential.
The 23.6% Fibonacci Retracement of the 2009-2014 Rally ~2291
The 38.2% Fibonacci Retracement of the 2011-2014 Rally ~2284
The 61.8% Fibonacci Retracement of the June 2013-2014 Rally ~2275
So what is the practical significance of this breakdown? In the immediate-term it opens up more downside as we wrote in the September 8 post:
Should the Global Dow fail to hang on the precipice here, the next major level of logical support would come in at the next sequence of Fibonacci Retracement levels in the 2050-2070 area, or another 10% lower.
However, more significant is the fact that this is one more in a rapidly growing list of examples of indexes around the globe that are breaking long-term UP trendlines and other significant levels of various magnitude. Each and every day, we are witnessing the ongoing global selloff inflict more and more damage to the post-2009 cyclical bull…