Archive for the 'Chart School' Category
by ilene - December 17th, 2014 1:02 pm
Joshua commented on the QZ article I posted a couple days ago and perfectly summarized the take-home message into an Investing Lesson.
Courtesy of Joshua M Brown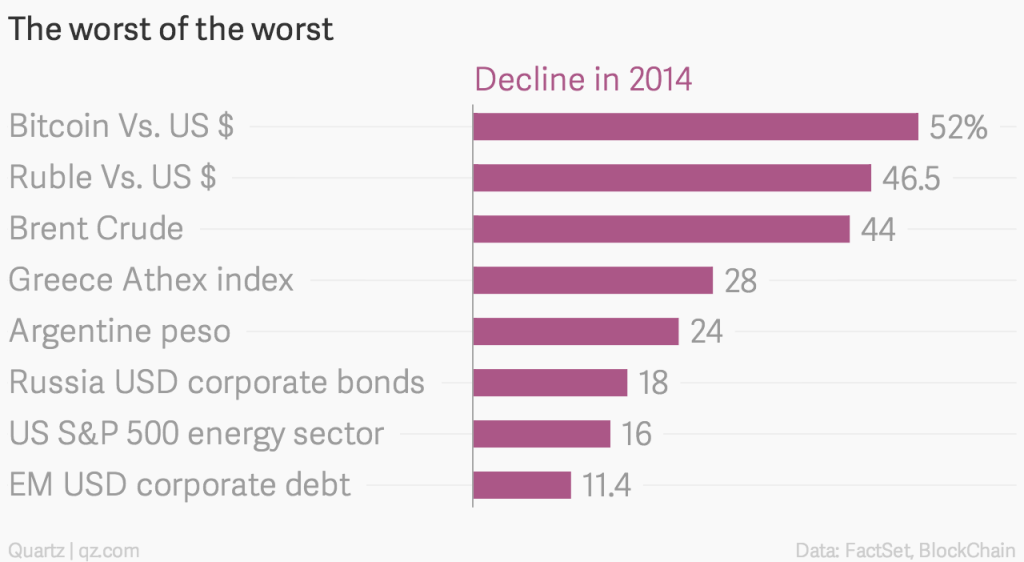 The chart above comes from Matt Phillips at Quartz and is a good reminder of why you shouldn't invest in stupid sh*t. Obviously any asset can decline in price – blue chip stocks, your house, etc – nothing is immune. But don't go out looking for additional trouble when the world is perfectly capable of handing you losses on the regular stuff.
****
Recall Bitcoin's ugly chart for the year (source).
by Chart School - December 16th, 2014 5:54 pm
Courtesy of Declan.
It ended up a roller coaster ride with markets rallying, then suffering losses to return indices to their lows. Volume rose in confirmed distribution, and many indices now sit inside Fib retracement levels – a good place to launch a relief bounce.
The S&P finished just a few points above the 50% Fib level, with the 200-day MA near the 61.8% zone – and a more probable place for a bounce.

The Nasdaq closed at the 38.2% level, but just below its 50-day MA. The inverse hammer at oversold stochastics is a potential reversal play. Watch for an upside gap tomorrow.
The Russell 2000 is another index sitting at the 38.2% Fib level, and just below its 50-day MA. Like the Nasdaq, it's primed for a bounce, but is also outperforming the Nasdaq in relative terms.
Not to be left out, but the Dow is on its 50% Fib retracement zone. Also note the clustering of distribution days from the recent high.
Finally, the Semiconductor Index is right back at its breakout level of 659. It's questionable whether the support level will hold given selling in lead indices, but this was also be the first test of the breakout. A small bounce may emerge because of this.
For tomorrow, we are edging ever closer to a bounce play. My #sectorbreadth analysis has the S&P at 27% bullishness, which is not heavily oversold. The S&P is also 1.3% above its 200-day MA – not exactly swing low territory. So tomorrow may not be the day, but those taking the punt may find themselves rewarded in 6-months time.