Where do we go from here?
Dylan Ratigan is going somewhere, off CNBC because THEY didn't like the direction he's been taking lately – going after the mechanism of Wall Street that led to this crisis and may well lead to the next one. Dylan wants to do more investigative reporting and thinks CNBC should take on a watchdog role – as he says in this clip re. Wall Street bonuses "it's not capitalism, it's stealing." CNBC, on the other hand, wants Dylan to look pretty and lob softball questions at CEOs while parent GE et al feed at the government trough while Dylan wants to tell people "capitalism is broken" and needs to be fixed and regulated. I don't know where he's going to find a job pushing that agenda but he can certainly find a forum here!
The official G20 kicks off in earnest on Wednesday (the underlings have been going at it for 2 weeks already) and our President is going to make a real World Tour out of it: Stopping by to see th Queen for tea ahead of the G20, at the meeting all day Thursday, having a Town Hall meeting in Strasboug on Thursday ahead of Friday's Nato Summit. Saturday it's off to Prague for a speech at the EU-US summit, Sunday he negotiates with Turkey on troops and trade and Monday he'll be in Istanbul before heading home. So what will you be accomplishing next week? "President Obama has been talking for many months, if not a year or more, about the need to restore U.S. leadership around the globe," said Reginald Dale, a senior fellow at the Center for Strategic and International Studies' Europe program. "This trip is the first chance, actually, to start doing something about that."
While Obama's away, the bears may play next week and we have tons of data coming: Tuesday we have Consumer Confidence, which has been below 30 since the Fall, The Case-Shiller Home Price Index, down about 18% since last year and the Chicago PMI, which should give us a small upside surprise from 36 expected. Wednesday we have the dreaded ADP report, which showed just under 700,000 Jobs lost in February and better be under 650K for March. We also have Construction Spending and the ISM and Pending Home Sales – all at 10am, so a crazy day ahead there (Crude Inventories at 10:30 of course) with Auto Sales in the afternoon. Thursday we get a lot of big earnings (see yesterday's post) as well as Jobless Claims and Factory Orders. Friday is a big day next week with Non-Farm Payrolls for March and the ISM Service report so a very big test for the end of the week (assuming we even hold up through Wednesday).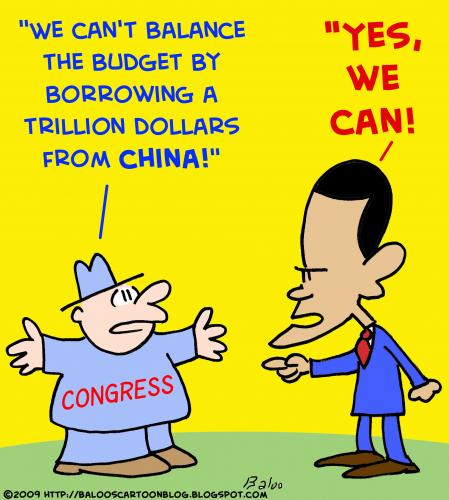 Next Wednesday the House discusses the Budget Proposal but, as Mark Whittaker said: "Look, this is Kabuki theatre at this point, because in the House side, Nancy Pelosi doesn't need the Republicans to get the budget through. And in the Senate, I think there's more and more a sense in Washington, that they're headed toward a legislative tactic called budget reconciliation that would allow them to pass the bill in the Senate…without a filibuster." So we can expect plenty of sound and fury about the budget over the next week that will, in the end, signify nothing.
A couple of weeks ago I had a video that explained the credit crisis but this week's South Park may have surpassed it with this fantastic recreation of what happened to people's money at the banks, I love the assessment of the economy from the economic reporter (3:00). Also funny was the FOMC's system for "consulting the charts." Also funny but great advice at the time is this clip of John Stewart giving financail advice to the nation on the eve of Bush's 2000 election. Gold was $250 at the time and I'll be updating last week's gold play in the comments of that post this weekend.
It's my birthday this weekend so no wrap-up, you'll just have to re-read the articles yourself… There are several new trade ideas in comments below but we're kind of in wait and see mode for next week. There's an excellent wrap-up of the week by Tyler Durden of Zero Hedge, which very neatly summarizes why we went bearish on Thursday and remained so over the weekend. Don't forget I was looking for something like a 5% pullback and "all" we got was 2.5% so far.
Do you know someone who would benefit from this information? We can send your friend a strictly confidential, one-time email telling them about this information. Your privacy and your friend's privacy is your business... no spam!
Click here and tell a friend!