Courtesy of Pam Martens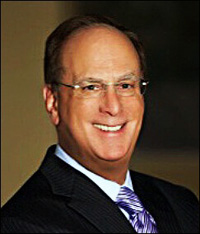 BlackRock, the international investment management firm run by billionaire Larry Fink, has played an outsized role in Federal Reserve bailouts of Wall Street. As it turns out, it's also been quietly managing hundreds of billions of dollars for more than five million federal government employees in their retirement plan, known as the Thrift Savings Plan (TSP).
During the last financial crisis of 2007 to 2010, the Federal Reserve gave BlackRock no-bid contracts to manage the toxic assets held in three programs known as Maiden Lane, Maiden Lane II and Maiden Lane III. These were Special Purpose Vehicles set up by the New York Fed. Maiden Lane purchased $30 billion of toxic assets from Bear Stearns as an inducement by the New York Fed to get JPMorgan to purchase the good parts of Bear Stearns. Maiden Lane II purchased mortgage-backed securities from the giant insurer, AIG, as part of a program to bail out its securities lending to Wall Street banks. Maiden Lane III purchased collateralized debt obligations (CDOs) on which AIG Financial Products had written credit default swaps that it couldn't make good on to the Wall Street and foreign global banks to whom it owed the money. (Thus, the AIG bailout was actually a bailout of mega banks.)
BlackRock was also one of the investment managers for the Fed's mortgage backed securities purchase program during the last financial crisis. It also advised the Fed on the pool of assets of Citigroup that the Fed ring-fenced and guaranteed. Additionally, the Federal government turned to BlackRock to evaluate the toxic assets of Fannie Mae and Freddie Mac after the government seized the entities in 2008.
Today, BlackRock has been selected in more no-bid contracts to be the sole buyer of corporate bonds and corporate bond ETFs for the Fed's unprecedented $750 billion corporate bond buying program which will include both investment grade and junk-rated bonds. (The Fed has said it may add more investment managers to the program eventually.)
BlackRock is being allowed by the Fed to buy its own corporate bond ETFs as part of the Fed program to prop up the corporate bond market. According to a report in Institutional Investor on Monday, BlackRock, on behalf of the Fed, "bought $1.58 billion in investment-grade and high-yield ETFs from May 12 to May 19, with BlackRock's iShares funds representing 48 percent of the $1.307 billion market value at the end of that period, ETFGI said in a May 30 report."
…
Do you know someone who would benefit from this information? We can send your friend a strictly confidential, one-time email telling them about this information. Your privacy and your friend's privacy is your business... no spam!
Click here and tell a friend!