By Jacob Wolinsky. Originally published at ValueWalk.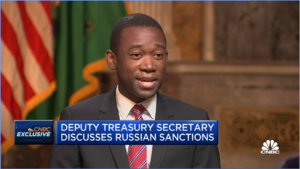 Following is an excerpt from the unofficial transcript of a CNBC exclusive interview with United States Deputy Treasury Secretary Wally Adeyemo on CNBC's "Squawk on the Street" (M-F, 9AM – 11AM ET) today, Monday, March 14th. More of the interview will air today on CNBC's "The Exchange" (M-F, 1PM – 2PM ET). Following is a link to video on CNBC.com:
Q4 2021 hedge fund letters, conferences and more
Deputy Treasury Secretary Wally Adeyemo On Invastion Of Ukraine And Sanctions Placed On Russia
KAYLA TAUSCHE: Morgan, as the war in Ukraine enters its third week and there is continuing to be carnage in the Russian economy, the Deputy Treasury Secretary Wally Adeyemo who's leading the Biden administration's sanctions effort says that every single day, Vladimir Putin faces a choice as to whether to continue or deescalate and so I asked him, what happens now?
What happens when Russian debt comes due this week? Is Treasury expecting a default?
WALLY ADEYEMO: So you're right that the Russian economy is in a state of pain. It's in a financial crisis. A financial crisis has been caused by our sanctions but are the result of President Putin's invasion. The steps that they're taking there demonstrate that the pain they're taking is having significant impact. They stopped Russian citizens from being able to withdraw foreign currency. They're in a position where they're going to have to make choices about what debts they pay going forward and those choices will ultimately put him in a position where he has to make a decision about whether he continues the invasion or stops that invasion.
TAUSCHE: And what comes next from the West? President Zelenskyy has asked the US for blockage of international waterways for Russia. He's asked for a full trade embargo. How likely are either of those things?
ADEYEMO: The first thing I have to say is that we are impressed and encouraged by the bravery of the Ukrainian people. The actions they've taken to stop Russia's invasion have been remarkable and we continue to support them. And what we've decided to do and what the President's directed us to do is to make sure that our actions are targeted at having an impact on Russia and minimizing the impact on our allies and partners going forward. That's exactly what we're going to do. So, you're going to see us continue to put pressure on the Russian economy to stop their ability to project power. We're going to continue to go after Russian elites in order to take away resources from President Putin. And then we're going to use export controls to degrade their ability to project power into the future, all of which are consistent with what President Zelenskyy has been asking us to do.
TAUSCHE: Have you identified alternatives for nickel, uranium, titanium, critical commodities that are coming out of Russia that still have yet to be sanctioned?
ADEYEMO: So you're right that Russia produces a number of critical minerals. Going forward, one of the things that we know is that there are plenty of supplies around the world. But the challenge of course is many of the prices for these minerals are set globally. So even if we're able to find an alternative supplier, if the price goes up because of President Putin's choice to invade, the price goes up globally. So we're going to work hard to mitigate those things. But the thing that we know is that the American people and our allies are willing to pay a cost in order to make sure that we defend freedom. The key for us is to make sure we mitigate that cost as much as possible.
TAUSCHE: We also discussed the role of China in Russia's ability to work around these sanctions. Secretary, Deputy Secretary Adeyemo said that, that to his knowledge, China has not been offering a workaround but he did not say whether Russia has been able to access its reserves that are denominated in Chinese Yuan. He simply said that, "Russia will need more than that." He also suggested that sanctions on crypto could be in the mix with new guidance coming out in recent days. European Union has gone in that direction already and he said that there could be support for a revived child tax credit that there are currently discussions with members of Congress. We will see where those go of course, that has been something that has been under discussion for several months. We'll air a little bit more of this interview later on today in "The Exchange" but Morgan, we covered a lot of ground but certainly there are no good answers during a situation that continues to escalate by the day.
Updated on
Sign up for ValueWalk's free newsletter here.
Do you know someone who would benefit from this information? We can send your friend a strictly confidential, one-time email telling them about this information. Your privacy and your friend's privacy is your business... no spam!
Click here and tell a friend!