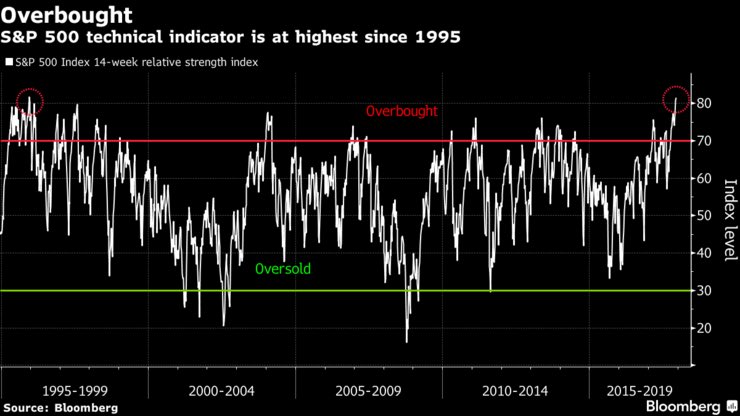 80% overbought.
We weren't even 80% overbought in 1999. The high on the RSI Index was hit back in early 1997 and, bulls take note – we kept going higher for 2 more years after that – so this doesn't mean it's the end – it just means this is crazy. This is about the point where Alan Greenspan called the market "irrationally exuberant" (Dec 5th, 1996) saying:
Clearly, sustained low inflation implies less uncertainty about the future, and lower risk premiums imply higher prices of stocks and other earning assets. We can see that in the inverse relationship exhibited by price/earnings ratios and the rate of inflation in the past. But how do we know when irrational exuberance has unduly escalated asset values, which then become subject to unexpected and prolonged contractions as they have in Japan over the past decade?
The Dow had just passed 5,000 at the time and, two years later, it was at 11,700 – up 134% AFTER the Fed Chairman said people were nuts for buying stocks. I don't know for sure if we were right to go to CASH!!! last week but it's not a permanent decision – it's simply something we're doing into the holidays and likely to remain until we see the Q4 earnings and 2018 guidance in January. THEN we will decide which stocks we want to ride for the next 100% of the market rally – if such a thing is coming.
As you can see from the chart, the Dow move was nothing compared to the Nasdaq, which more than tripled after his call. We just saw BitCoin more than double after JP Morgan's Jamie Dimon called it a scam and our GreenCoins (GRE) doubled yesterday and today they are up another 20% – that's a scam we can all enjoy!
We're waiting on a Fed decision tomorrow and they are expected to tighten and this morning's November PPI numbers were hotter than expected, at 0.4% with even Core PPI up 0.3% – so those are good reasons to expect the Fed will be tapping on the brakes tomorrow but Greenspan raised rates all the way from 5.5% to 6.5% before the market pulled back (collapsed, actually) and we're not even at 1.5% now. Is it the 1% rise or the 6.5% that kills the market? That we won't know until we cross that barrier, but it will be fun finding out!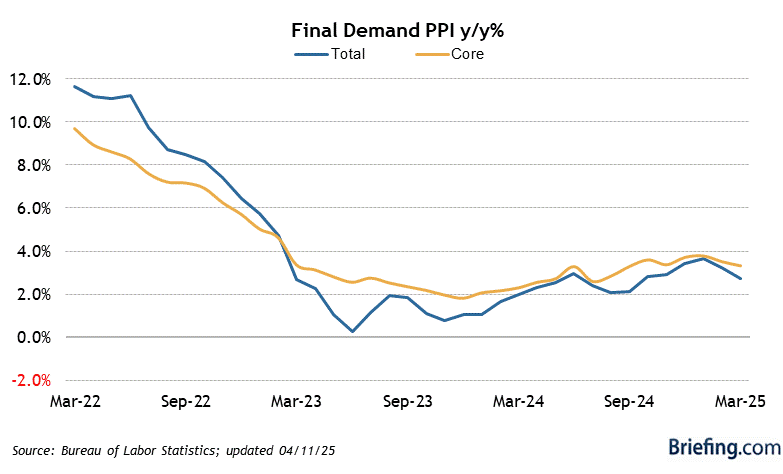 Oddly enough, we don't get CPI until tomorrow morning, but still ahead of the Fed Rate Decision. According to the Wall Street Journal, comparison shopping with smart phones by consumers has led to an era of price competition that is keeping inflation at record lows. Economists attribute feeble inflation across developed economies to several causes, including aging populations, slow productivity growth and globalization, which have reined in the ability of companies to raise prices and wages. With consumer spending accounting for more than two-thirds of the U.S. economy, the explosion in E-commerce has been added to the list.
Online shopping accounted for 9.1% of U.S. retail spending in the third quarter, according to the Census Bureau, up from 3.6% in the same quarter of 2008. Consumer prices for many of those goods fell in the year to October: Books were down 2.7%; sporting goods fell 1.9%; televisions dropped 10.3%; toys declined 8%. The consumer-price index for commodities, excluding food and energy, dropped 1% over that time. By contrast, the annual rate of inflation for services hasn't dipped below 2% in six years, largely driven by the rising costs of rent, health care and education.
So, looking to establish new positions going forward, we're going to concentrate on businesses that aren't likely to be low-balled by consumers. We've also picked up some Retailers though, and will do so again as, though the growth of on-line retail is impressive, it's still less than 10% of our $4Tn Retail Sector – room for more than one business to do well in that space.
In fact, our Stock of the Year for 2018 is Hanes Brand (HBI) but, before that, our top pick was L Brands (LB), the owner of Victoria's Secret and they happen to be in the only portfolio we have left, which is our Money Talk Portfolio, which we keep for the folks at BNN. These are picks I make on that TV show and, since I haven't been on since September – we haven't been able to tell the viewers to go to cash. That's OK though, as the portfolio is solid and I'll be on on Jan 17th to give them an update – they'll simply have missed all the fun of cashing out!
I'm certainly not worried about Apple (AAPL), which is a 3-time Stock of the Year champion. Though the spread is already

up $7,400 (113%)

at $13,500 after just 3 months, the goal is to get back $30,000 so this humble trade is still good for another $16,500 (122%) of additional gains if AAPL is good enough to hold $165 for the year.
IMAX should do very well this month with Star Wars out on Friday so the force should be strong for Q4 earnings but our Max return on this one is $8,000 and it's already at

net $6,050 (up 384%)

, so that one we're likely to call for cashing in on Jan 17th.
LB, as I said, was going to be our Stock of the Year for 2018 but it took off too fast for our official call but, fortunately, not before we grabbed it in all our Member Portfolios, including our Money Talk Portfolio on the 6th. We offically pick our Trade of the Year around Thanksgiving and it was far too late to chase LB, so we switched to HBI, which has also already jump 10%. This spread maxes out at $30,000 and is already netting $20,500 –

up $17,100 (502%)

from our net $3,400 cash entry in 90 days! Still it's good for another 50% into the end of 2018 but, yawn, we may cash it in and look for more exciting opportunities.
WPM was our Trade of the Year for 2017 and, depsite the recent pullback, we're still way ahead on the trade at net $11,787 from our humble net $2,000 cash entry so

up $9,787 (489%)

is yet another Stock of the Year success story but this spread pays $25,000 at $22 in Jan 2019 and that's another $13,213 (112%) more to be made from here – so no reason to get out of that one!
Our other portfolios at PhilStockWorld had similar success, as well as our Options Opportunity Portfolio over at Seeking Alpha and they are all being reset to zero so we can start from scratch again on January 2nd – it's going to be a great time to join us and learn the art of Options Trading and Portfolio Building in 2018.
Those were, except for WPM, trades that we identified just 3 months ago – long after the rally was well on it's way. That's why we're not at all worried about missing anything by going to CASH!!! We will always find something to trade, especially during earnings season because we are Fundamental Investors and the market always manages to misprice things. Even this morning, Cleveland Cliffs (CLF) is trading down around $6.40, which is beyond ridiculous and I just reiterated a bullish call on them with an aggressive spread in our Live Member Chat Room.
Another one that's still cheap is the Natural Gas ETF (UNG), which I just sent out a Top Trade Alert on at $5.60.
So, PLENTY of things to buy with our CASH!!! including gifts for our families and time to visit them over the holidays. The markets will still be here when we get back. Meanwhile, enjoy the season!