Vladimir Putin's suspected elimination of Yevgeny Prigozhin: The hunter to become the hunted?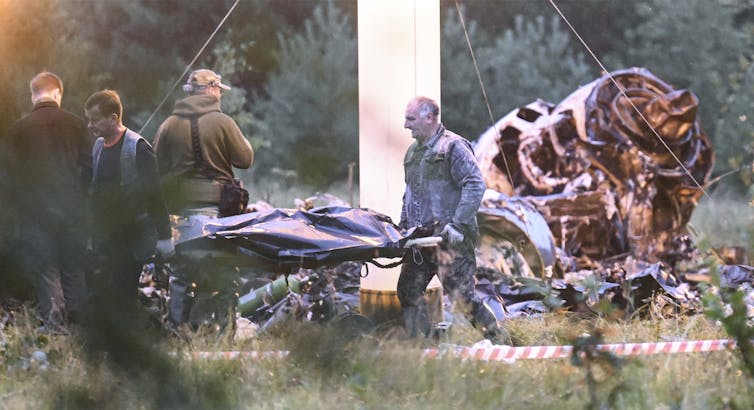 By Aurel Braun, University of Toronto
Yevgeny Prigozhin, the leader of the Wagner Group, is presumed dead. Russia's Air Transport Agency has said he was on the passenger manifest of 10 people on board a private jet that came down in a fiery crash close to Moscow, killing everyone on board, while a Telegram channel associated with Wagner confirmed his passing.
Plane crashes do happen, but in Russia, any unexpected events with political links are viewed with great suspicion. An incident of this magnitude will invariably cast suspicion on the Kremlin. Vladimir Putin's regime is unlikely to be able to disown the crash — and there will most certainly be unforeseen and unintended consequences.
Many believed Prigozhin was living on borrowed time ever since he led an unsuccessful uprising against Russian forces in June, when he not only demanded a change in Russia's military leadership but challenged Putin's rationale for his war on Ukraine.
Eliminating opponents
Though Prigozhin said his actions weren't an act against Putin, there could hardly have been a more brazen affront. Normally, Putin promptly and mercilessly eliminates opponents for far less.
In fact, during the morning of the mutiny, Putin labelled the mutineers traitors and their actions treason. Yet by the afternoon, faced with the reality that his military and his security services had shown no inclination to fight for him, Putin granted the mutineers amnesty. Several days later, he met with Prigozhin without punishing him.
The Russian leader was clearly faced with an intractable dilemma. His personality-centred regime — despite well-intentioned attempts by scholars to provide sophisticated theoretical characterizations of "Putinism" — does not fit the standard mould for authoritarian leaders. Various historical strands, philosophies or precedents for clues simply muddy the waters when it comes to Putin's rationales and motives.
In certain ways, Putin's rule is both more simple and more sinister. He is all about power and privilege, and given the nature of his corrosively corrupt regime, which the Economist magazine calls a "mafia state," he must ruthlessly and visibly punish challengers to deter anyone from infringing on his powers.
Normally, Putin's brutality has paid off and reinforced his image of invincibility. Opponents have been shot, poisoned, fallen out of windows or committed sudden suicide. Antony Blinken, the United States secretary of state, quipped recently: "NATO has an open-door policy; Russia has an open windows policy."
Putin, however, also appreciated the risks of eliminating Prigozhin. He had good reason to be cautious.
Prigozhin loyalists
Unlike other political opponents, or various dissidents, Prigozhin commanded a powerful base. The Wagner Group, co-founded by Dmitry Utkin, may have been bloated by the recruitment of thousands of convicts, but at its core the organization is comprised of highly trained former Russian military men, often from elite units, who have been fiercely loyal to Prigozhin.
These men could be profoundly dangerous if angered and focused on a particular cause.
Yet Putin could not afford to have the leader of the mutiny go unpunished.
The early reaction of the Wagner Group to the death of Prigozhin, (and his No. 2, Utkin) — declaring on the social media platform Telegram that Prigozhin was a "hero of Russia, a true patriot of his Motherland… (who) died as a result of the actions of traitors to Russia" — offers a noteworthy warning of events to come.
In fact, just weeks before the mutiny, Prigozhin was portrayed as a hero in Russia. In Rostov-on-Don, he and the mutineers were greeted by the population with enthusiasm.
As news began to spread of his death, Russians began leaving masses of flowers at Wagner headquarters in St. Petersburg.
The risk here for Putin is that rather than looking strong and fearsome — which could be the case in the short-term amid state media's reporting of the crash — he will also appear duplicitous and increasingly desperate.
Over the long term, it's hardly inconceivable that the core members of Wagner, who so admired and were so loyal to Prigozhin, will seek revenge against the Russian leader. In that case, Putin, who always views himself as a hunter, might well become the hunted.

Aurel Braun, Professor, International Relations and Political Science, University of Toronto
This article is republished from The Conversation under a Creative Commons license. Read the original article.