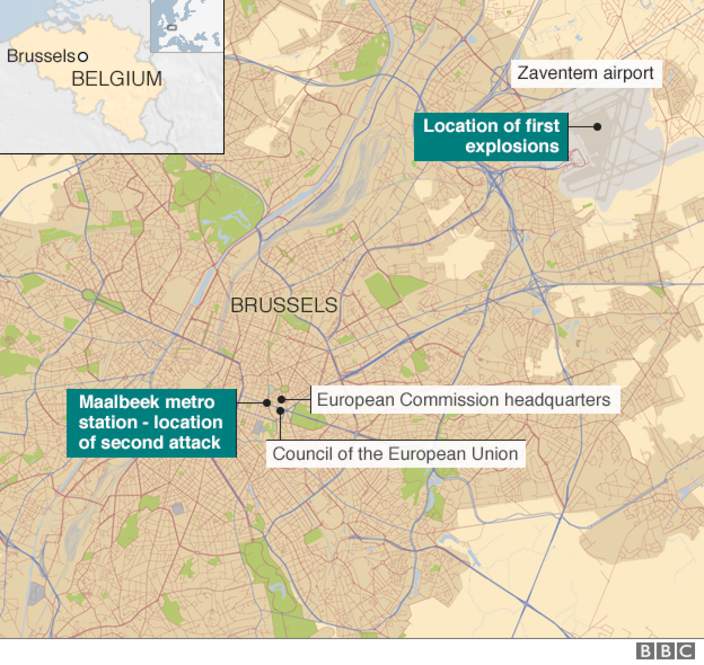 This is not the way we want to be right.
There was bound to be something that caused a sell-off. On Friday, we noted the massively overbought conditions that led us to bumping up our SDS hedges and yesterday morning, we marked off our lines for shorting the Futures at 2,040 on the S&P (/ES), 17,550 on the Dow (/YM) 4,415 on the Nasdaq (/NQ) and 1,100 on the Russell (/TF). If it wasn't this morning's bombings in Brussels, it would have been something else – the markets were bound to have a pullback after a 10% rally.
As much as we hate to think about it and discuss it, the possibility of terror attacks is ALWAYS a factor in hedging our portfolios for possible sudden downturns. These things can happen at any time and believe me, as a New Yorker, I can tell you that things can get very bad, very suddenly. When 9/11 happened Wall Street was shut down for 3 days and, when it opened, we had gapped down 10% and quickly fell another 10% – can you afford to have that happen to your positions?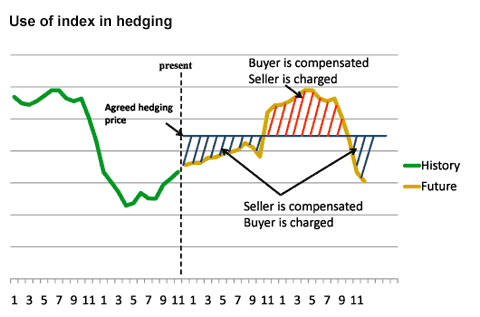 If not, you need to learn how to hedge and THAT is why we ALWAYS have downside protection in our portfolios and that is why, especially when there's a good bull run like last Friday – we spend a little more of our unrealized gains on insurance and THAT is why we like to have plenty of CASH!!! in our portfolios – just in case.
I'm not a fear-monger and I'm not an alarmist – terrorism is simply a very real fact of our lives and it will happen again. Already the market's ability to shrug off these incidents is amazing but it's always amazing what people can get used to if it happens often enough. When I was a kid, we still did duck and cover drills under our desks at school – then we'd go out and play.
If you did not follow our advice and hedge at the top last week or yesterday, today you'll need to chase something and you'll pay more for the same protection. Just like any insurance policy – it's cheaper when you don't seem to need it. No matter how much you think the Central Banks are backstopping your play – there are certain things that are out of their hands.
In today's attack, so far we know:
At least 26 people killed in attacks on Brussels airport and a central metro station

Two blasts at Zaventem airport – one probably a suicide bomber, officials say

Airport blasts kill 11, wound 81, says Belgian health minister

At least 15 people killed and 55 injured in Maelbeek metro station bombing

Prime Minister Charles Michel appeals for calm and solidarity

The blasts come days after the capture of Salah Abdeslam, the main fugitive in the Paris attacks in November
American Airlines (AAL) may have been one of the check-in counters that were bombed at the airport (they say they were one more over) and their stock is down 3% pre-market. Travel in Europe will be disrupted for at least a day but no major effects overall.
Oil (/CL), interestingly, is down, back below $41 this morning as we wait on this week's inventories and Natural Gas (/NG) hit our $1.80 re-entry point overnight, so we're back in that trade but at $2.08 on the July contracts (/NGN6). The April contract is /NGK6 – that's the one we previously played – now $1.93, down from $2. I had called the bottom on the April contracts live on TV, two weeks ago at $1.62 – our 10 contract play gained $33,000 in those two weeks with a $1.95 exit.
That same morning (March 7th), I posted a modification of our Trade of the Year, on the Natural Gas ETF (UNG), saying:
Keep in mind the Natural Gas ETF (UNG) is our Trade of the Year and it's very rare that you are still able to play our trades of the year this deep into the first quarter but you can still make the following trade:

Sell 10 UNG 2018 $5 puts for $1 ($1,000)
Buy 20 UNG 2018 $5 calls for $2.10 ($4,200)
Sell 20 UNG 2018 $9 calls for $0.95 ($1,900)

That puts you into the $8,000 spread for a net of $1,300 in cash, so the potential upside is $8,700. Your obligation, should UNG be below $5 (now $5.90 with Nat gas at $1.62) would be to own 1,000 shares of the ETF for $5,000 PLUS the $1,300 you put in (presumably lost if you don't pull the plug early) so net $6.30 is more than the current price, so this is a very aggressive trade. The margin on 10 shorts is net $517.49 of ordinary margin so it's a very efficient trade to have in your portfolio with a potential for a better than 4x return on cash+margin.

I know UNG isn't as sexy as our usual trade of the year picks but there's nothing unsexy about 200% annualized returns, is there? That's why I've been banging the table on this one. Once people catch on to the fact that US exports of natural gas have nowhere to go but up – it's not likely we'll see these prices again.
That trade is already at $1,940, up $640 (49%) on cash and up 123% on margin as this was a very efficiently-designed trade (as trades of the year should be!). Sadly, this will be the last free post until May as we've hit our new Membership goals and will be closing our Premium Individual Memberships, probably for the summer (Institutional Memberships still available.
Don't worry, if you can't afford $2 to subscribe to our newletter every day (and the above trade alone paid for the whole year already), I still do plenty of media appearances where I often drop free trade ideas and you can still follow our Options Opportunity Portfolio over at Seeking Alpha – now up 32.1% in month 7 – and that's our worst-performing portfolio!
We gave away 14 free trade ideas in our morning posts last month (reviewed here) and, as of March 4th, 12 of them were profitable (more so now), so we don't really have anything else to say about our service and performance – you either see the value or you don't and, if not – we'll talk again in May.
As I write this, the Futures are turning down again. We already sent a Morning Alert out to our Members reiterating our Futures shorts so all is well as far as our positions are concerned. Now we'll wait and see how much damage is done but I don't expect to fall below those strong retrace lines (see yesterday's post) we already predicted without an additional downside catalyst. Keep in mind, this is about the right price for equities – we just got a little too excited after the Fed announcement and now we need to calm down.
Watch out for US sentiment reports. Germany's ZEW sentiment index fell to 50.7 in March, down from 52.3 in Feb and leading economorons were expecting 53 – so they have no clue. In the broader Eurozone, sentiment fell from 13.6 to 10.6 – that's down 22% in a month folks – and that was BEFORE the bombings.
Be careful out there!
Do you know someone who would benefit from this information? We can send your friend a strictly confidential, one-time email telling them about this information. Your privacy and your friend's privacy is your business... no spam!
Click here and tell a friend!