This will be a good test.
For a very long time I've said that TSLA may be the trigger that takes down the market by forcing investors to re-think the ridiculous valuations they have been giving to these "tech" stocks on the assumption of miraculous future growth. Our PSW Member Portfolios are now TSLA-free but our Hedge Fund still has short positions on the stock, which will open down about 10% this morning, back around the October lows.
Tesla jumped the shark last August, when Elon Musk claimed he had the funding to take the company private at $420/share, causing me to write: "Wednesday's Whopper – Musk Claims Some Idiot Offered Him $420/share for Tesla!" I didn't need weeks or even days to know Musk was full of crap because $420 valued TSLA at $72Bn and I know all the rich idiots from my M&A days and none of them are stupid enough to pay $72Bn for an unprofitable car company so our trade idea was:
Let's take Elon at his word and sell 2 TSLA Jan $420 calls for $23 ($4,600) in the STP and buy 3 Jan $450 ($100)/420 ($79) bear put spreads for $21 ($6,300). That's net $1,700 on the $9,000 spread.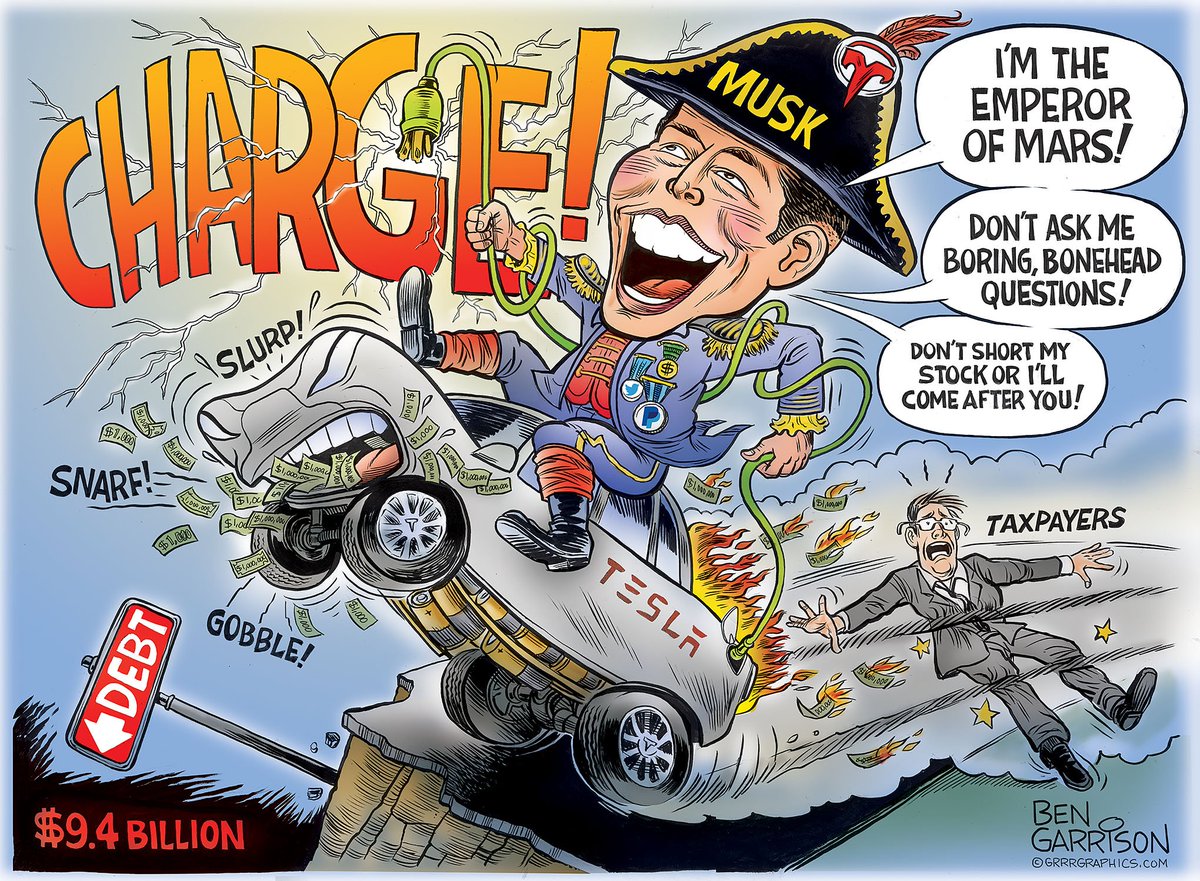 Needless to say, we collected our full $9,000 for a $7,300 (429%) and we got another chance to short them over $360 in December and now we're back to the bottom and we'll see if there are any dip buyers left or perhaps they are finally tired of being burned by Elon Musk's BS. If so, it could be the begining of the end for all the high-valuation Nasdaq companies that are being supported by similarly irrational investors.
I'm not going to autopsy their delivery report – it's just what we thought it would be and you can open any paper and read that (yes, I said paper – I'm an old man!) but I will point out that you should notice the continuing pattern of qualifiers from TSLA that sound like the excuses of a child who turns in an incomplete project at school. "It's this, it's that" – on and on with the excuses but how many times do we fall for this nonsense?
The big excuse in this report is that is was HARD shipping Model 3s to China and Europe but, just like when you interrogate an 8 year-old about their excuse – the facts don't add up. Let's try to remember that TSLA bumped up their valuation by claiming they had orders and deposits for about 500,000 Model 3s yet, INCLUDING the 60,000 they shipped this quarter, TSLA has only delivered 221,517 to date. If they REALLY have 500,000 deposits in North America – why are they shipping specluative sales to China and Europe?
It's not so much the production glitches or the slow sales that keep us short on TSLA – it's the LYING!!! Companies are not supposed to lie to investors – it's a crime. At best, TSLA is lying about their deposits but, if they are lying about deposits are they also cooking the books to cover up the lies? That's a much more serious crime, no wonder Musk is trying to escape to Mars before this all hits the fan.
If it's uncovered the TSLA never had 500,000 deposits for Model 3s or that they took the deposits in bad faith, having no ability to deliver the cars as promised – then they defrauded all the investors who bought the company's stock up from $260 to $360 (and $260 was ridiculous anyway) for about $20Bn in losses. Even without worrying about the potential crimes and cover-ups, we're still looking at a car company that's delivering just 63,000 cars in their 64th quarter of operation (founded 2003) and they are STILL LOSING MONEY on each car they deliver. How does that justify a $50Bn valuation?
We had a valuation discussion way back on May 4th, 2017 and, at the time, I said they weren't worth $300/share telling our readers at Seeking Alpha, where we were sharing our amazingly profitable Options Opportunity Portfolio, that we'd be better off buying GM instead and our Trade Idea there was:
Meanwhile, General Motors , a company that MADE $2.6 BILLION in PROFITS in Q1 (that's right, TSLA's entire sales, in profits alone!) is still being valued lower than TSLA and it's just as ridiculous today as it was a month ago when I laid out the following bullish GM options spread idea:

Sell 10 GM 2019 $32 puts for $4.25 ($4,250)

Buy 25 GM 2019 $28 calls for $7.25 ($18,125)

Sell 25 GM 2019 $35 calls for $3.60 ($9,000)
That spread had a net cash entry of $4,875 and the 10 short puts required about $4,000 of ordinary margin and, as we expected, GM closed at $37.78 on Jan 22nd (the expiration day) and the spread paid back $17,500 for a gain of $12,625 (258%) in 20 months. You don't have to put your money into idiotic momentum stocks to make great returns – simply using options spreads to leverage the return of blue chip stocks can give you fantastic gains and, when a blue chip stock goes down – they usually come back – because, unlike TSLA, they actually MAKE MONEY AND HAVE CASH FLOW!!!
Meanwhile, shorting the Nasdaq (/NQ) Futures at 7,575 is a great way to play the possible sell-off that TSLA may trigger and, of course, we already went over the Nasdaq Ultra-Short Hedges (SQQQ) in Tuesday Morning's PSW Report.
Do you know someone who would benefit from this information? We can send your friend a strictly confidential, one-time email telling them about this information. Your privacy and your friend's privacy is your business... no spam!
Click here and tell a friend!