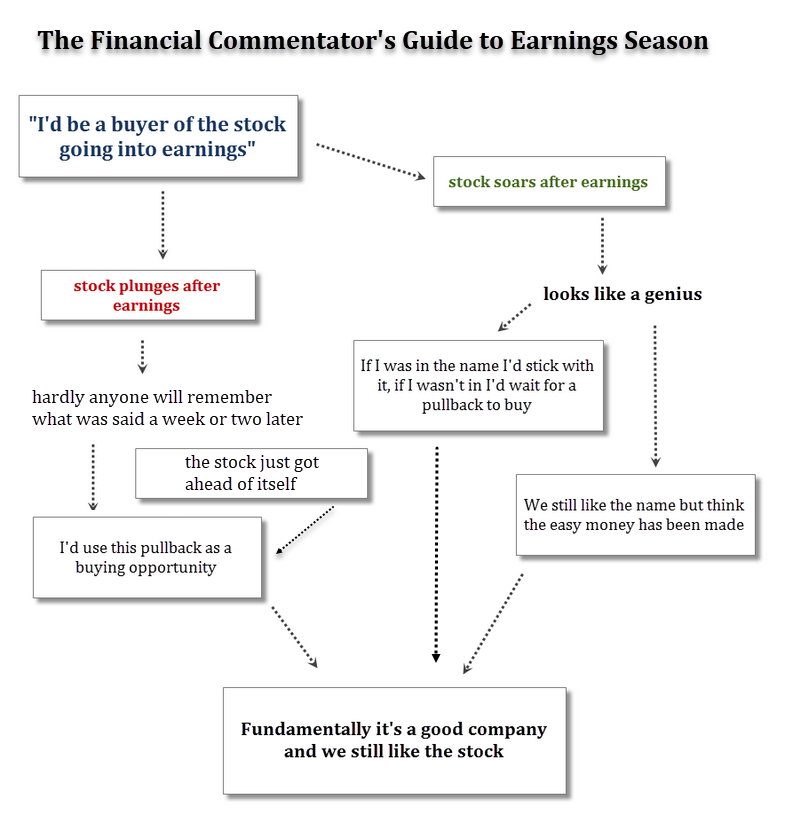 I love earnings season!
So far, it's loving us as well as we have generally been on the right side over each report but the seas are turning ugly as we get into the meat of earnings season, with about 40% of the S&P 500 scheduled to report next week AND there will be a Fed Rate Decision AND there will be Non-Farm Payrolls next Friday which have flipped between 312,000 in Jan to 33,000 in Feb to 196,000 in March – so be ready for anything there as well...
This morning, we're going to see the advanced estimate of Q1 GDP and it's still a low bar of 2.1% expected and we should be able to clear that hurdle, despite the Government Shutdown that caused so much damage to Q4 and Q1.
While we are waiting, we had big misses from Exxon (XOM) and Archer-Daniels (ADM) but XOM's miss was due to more CapEx spending, which we expected and we're wating on Chevron (CVX) who are in a bidding war with OXY now for APC, so I wouldn't touch them for fear they end up drastically overpaying in order to "win".
Sony (SNE) had very good numbers this morning but then ruined it by lowering guidance as the PS4 has run its course and they have nothing new planned for Christmas. The company was a real bargain though at $46.50 ($58.5Bn) yesterday and, even this morning, you can sell the 2021 $45 puts for $5.50 to net in for $39.50 – I'm happy to add 10 of those to the Long-Term Portfolio to collect $5,500 while we watch them.
8:30 Update: GDP was an even bigger beat than we thought, coming in at 3.2% so about 50% higher than the expectations of leading economorons but they'll ask the same idiots what they think next Q will be as well and no one is ever held accountable for these TERRIBLE predictions on CRITICAL data – amazing!
Government spending was up 2.4% and the export of LNG as well as 3Mb/d of oil we now export did a lot to support our balance of trade and accounted for much of the upside What I don't like about the GDP number is a huge contribution from a massive build-up in Inventories of $128.4Bn because the assumption in GDP is that we wouldn't be making stuff if no one was going to buy it, so rising inventories are considered a plus but, SOMETIMES, rising inventores can be a sign of slowing sales – so taking it as a positive all the time can lead to some very poor decision-making.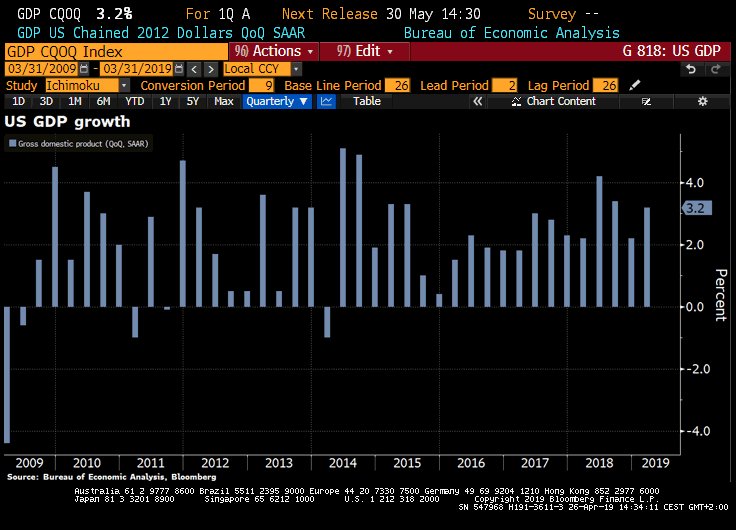 Also, 3.2% is almost "too hot" and the Fed has their decision to make next week. NO ONE expects them to hike rates and the political pressure from the White House is tremendous so probably no rate hike but the language may change or, a few weeks later, the Minutes may reveal some new hiking discussion because, if they don't take some kind of action soon – they run the risk of the markets overheating and then inflation could quickly follow – and that genie is very hard to put back in the bottle once it gets out (ask Argnetina, who are now near default this week).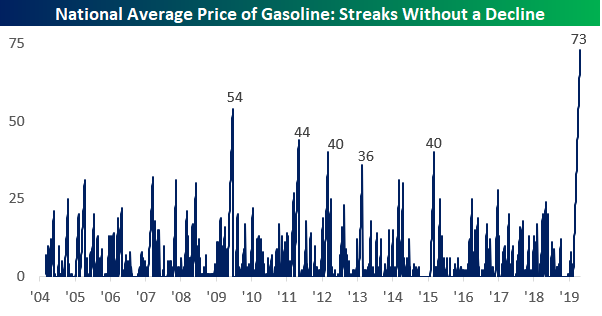 Speaking of inflation, and Exxon (CVX was about in-line), we are in the middle of an unprecedented increase in the price of Gasoline (/RB), which finally pulled back yesterday at our $2.15 line (which we called during our Live Trading Webinar on Wednesday) after 73 consecutive rising sessions. This morning we're pulling all the way back to $2.10, which is good for gains of $2,100 per contract – a great way to wind up the week!
My big concern for next week is going to be the Dow – as we've had some disappointments there and the Dow, for better or ill, does tend to lead the other indexes and we're very dangerously close to making a triple top on the index with not enough gas to push us higher. Another failure back at the 27,000 line on /YM could bring the whole rally into question and, as you can see from the chart below – it's a good 20% down from here to the next solid support level at 22,000.
Clearly earnings season has, so far, gone better than expected but now our expectations are higher going into the 2nd half with many, many reports coming at us hard and fast next week, including Apple (AAPL) next Tuesday. Until then, we're not too worried about the weekend as the market has been pretty resiliant so far but we did press all our hedges last week, when we made our portfolio adjustments – so it's not like we'd go into the weekend unhedged with all this political uncertainty.
Oh, and Congress comes back next week – Trump has been very brave and defiant while they are out of town but we'll see what happens once he's no longer shouting at a room full of empty chairs.
Have a greeat weekend,
– Phil