We're still using the same chart.
Our predicted range for the Nasdaq 100 Futures has been holding since last Monday (6/12) and, as you can see, it's been following our 5% Rule™ perfectly, which is why we were able to call the shorts for our Members in our Live Chat Room at the open, saying:
"2,450 still a good short on /ES, of course and 5,780 on /NQ and we even hit 1,420 on /TF again. Dow is unprecedented at 21,450+ but below that line will confirm a move lower for the day."
This stuff isn't that hard folks, it's been the same range for 2 weeks and we play it until it breaks. Notice how if we go long with tight stops at the red line and go short with tight stops at the green lines, we don't get burned too badly but we have several occasions where we make a nice sum of money. This morning the Nasdaq (/NQ) hit the 5,720 line and that was good for one-day gains of $1,200 per contract along with S&P (/ES) 2,430, which gained $1,000 per contract, Russell 1,396 was good for gains of $120 per contract and Dow 21,400, which was up $250 per contract.
That's a nice way to start the week and we needed the money to double down on our, so far, wrong-way bet on Oil ($44.50, now $43.50) and Gasoline ($1.42, flat), which we discussed in Monday's Morning Report. As we expected, the contract rollover caused a sell-off though, if you listen to the TV analysts, you'd think oil was going to $20. We see the holiday just around the corner AND, much more importantly, Saudi Arabia is taking the state oil company, Saudi Aramco, public and they are trying to get a $2 TRILLION valuation and the logic I laid out for our Members was:
Analysts are chasing all the sheeple out at the lows, methinks – then the Banksters can run in and BUYBUYBUY and take oil up $5 and make their quarter off of one trade. Don't forget Aramco IPO is coming and every $5 is a $400Bn swing in their valuation. Think the Saudis aren't motivated? Let's say they currently sell 10M/day at $45 = $450M x 365 = $164Bn so it's worth it for them to cut 2 or 3Mb ($45Bn) if that's what it takes to get oil up 10%.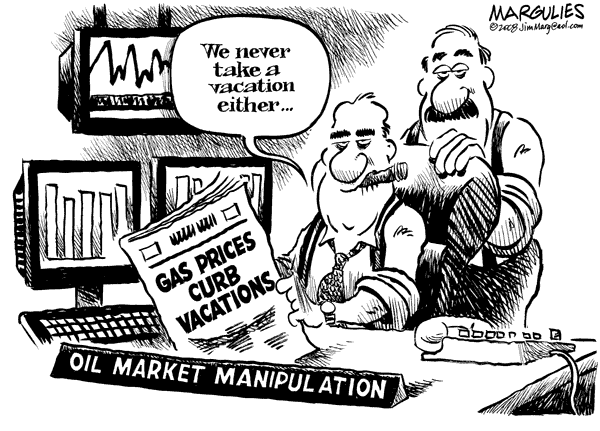 So we're expecting a shift in the narrative to drive prices up into the holiday weekend but, after that, we're going to be very skeptical of anything over $45 unless there are clear indications of another 1Mb/d of production cuts from OPEC because we still have too much oil sloshing around and taking another 180Mb off the market over the next 6 months is barely enough to stop it from getting worse.
Remember, if you can't beat them (and we have tried!), you may as well bet alongside them and make enough money to cover your gas bill, right?
Speaking of gas, Natural Gas got a nice pop this morning, back to test $3. We're long there from $2.95 with /NGV7 but it's more of a long-term play into hurricane season (Fall) so we're not going to take that $500 gain off the table. I'll be on Money Talk on BNN (Canada) this evening at 7pm and we'll be talking commodities, including our Trade of the Year on Silver Wheaton (WPM), which was (adjusted for BNN audience on 1/18):
Buy 50 WPM 2018 $17 calls for $6.90 ($34,500)

Sell 50 WPM 2018 $22 calls for $5.00 ($25,000)

Sell 25 WPM 2018 $17 puts for $3 ($7,500)

The net cost of this spread is $2,000 and you are, of course, obligated to buy 2,500 shares of SLW at $17, so we're calling a solid floor here – this trade is the same risk as buying the stock right now but with a smaller cash outlay. If all goes well, it will pay back $25,000 for a $23,000 profit for a 1,200% return on cash at $22 but anything over $17.40 next January will make money.
WPM (was SLW when we started) is trading at $19.15 and the short puts have dropped to $1 ($2,500) while the spread is $2.15 in the money and netting $2.10 ($10,500) for a net net of $8,000 which is up $6,000 (300%) already and right on track for our full $23,000 profit expectations so – you're welcome!
We are, of course, liking Silver (/SI) Futures at $16.35 this morning but it's going to be a rough time over the summer as the Dollar rises, keeping pressure on all the commodities and we won't be surprised to see $16 tested again, so careful accumulation at these levels with tight stops below $16.
Finally, also worthy of discussion tonight, is one of the victims of the AMZN/WFM merger – SuperValue (SVU), who we think were unjustly punished in plunging 25% since the announcement. SVU has been re-orienting themselves as a wholesaler and people are worried that that's the space AMZN is going to be pressuring but, if that were the case, why would they buy the highest-end of the food chain? They are paying $14Bn for Whole Foods, who have 500 locations while SVU has 2,000 much bigger stores for the bargain price of $800M at $3/share. Maybe Amazon will ALSO buy SVU..
In any case, SVU made 0.13 last quarter and are on track to hit their 0.36 target, which makes them kind of a good deal at $3, and we can improve that price considerably using an option spread as follows:
Sell 50 2019 $3 puts for 0.45 ($2,250)
Buy 50 2019 $2.50 calls for 0.80 ($4,000)
Sell 50 2019 $3.50 calls for 0.35 ($1,750)
That's a net entry of $0 on the $5,000 spread and your worst case is owning 5,000 shares of SVU at $3. The trade is starting out $2,500 in the money and you only need to get back to $3.50 to collect the full $5,000 with an infinity percent gain on cash! We already have a similar play in our Options Opportunity Portfolio as well as our Long-Term Portfolio but this dip is a great chance to get in at very low prices.
Do you know someone who would benefit from this information? We can send your friend a strictly confidential, one-time email telling them about this information. Your privacy and your friend's privacy is your business... no spam!
Click here and tell a friend!