by ilene - June 30th, 2015 5:07 pm
By John Mauldin
(Originally published on June 27, 2015)
"If this were a marriage, the lawyers would be circling."
The Economist, My Big Fat Greek Divorce, 6/20/2015
Greece is again all the buzz in the media and on the commentary circuit. If you're like me, you are suffering terminal Greece fatigue. You just want Greece and its creditors to "do something already" rather than continually coming to the end of every week with no resolution, amid finger-pointing and dire warnings from all sides about the End of All Things Europe – maybe even the world.
That frustration is a common human emotion. Perhaps the best and funniest illustration (trust me, it is worth a few minutes' digression) is the story about one of my first investment mentors, Gary North, who was working in his early days for Howard Ruff in Howard's phone call center before Gary began writing his newsletters and books. (Yes, I know I am dating myself, as this was the late '70s and early '80s, just as I was getting introduced to the investment publishing business. And for the record, I knew almost everyone in the publishing business in the '80s. It was a very small group, and we got together regularly.)
Howard set up a phone bank where his subscribers could call in and ask questions about their investments and personal lives. One little lady had the misfortune to get Dr. Gary North on the line. (Gary was the economist for Congressman Ron Paul and went on to write it some 61-odd books, 13,000 articles, and more – all typed with one finger. He is a human word-processing machine.)
This sweet lady lived way out in the country and was getting older. She asked Gary if he thought it would be a wise idea for her to move into the city (I believe it was San Francisco) to live with her daughter. Not knowing the answer, Gary helped her work out the pros and cons over the phone, and she decided to move. A few days later she called back and said that she couldn't bring her dog with her because of…

Posted in Appears on main page, Immediately available to public, Phil's Favorites | No Comments »
by phil - June 30th, 2015 8:30 am
Down in the pleasure centre,
hell bent or heaven sent,
listen to the propaganda,
listen to the latest slander.

Pump it up

until you can feel it.

Pump it up

when you don't really need it. –

Elvis
China has set a new Global record by dumping almost $200Bn (over 1Tn Yuan) in stimulus into their overheated markets in just two days. Sunday night it was a rate cut AND lowering the reserve requirements for banks and yesterday afternoon they dropped another $50Bn in a "Reverse Repo" operation and, to cap it off this morning, the Finance and social Security Ministries published draft rules that would permit the state pension fund to invest up to 30% of its net asset value in securities, potentially allowing ANOTHER 600B yuan ($97B) to enter the market.
Take 30% of our retirement savings and buy stocks that already gained over 100% this year in an attempt to prevent a bear market from wiping out all of the gains – BRILLIANT!!!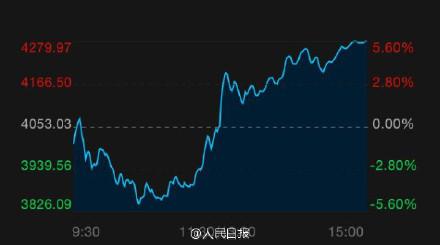 Certainly Chinese speculators thought so as the Shanghai went from down 5.6% at the open to up 5.6% at the close! This allowed them to save a little face at the close of the Quarter and, more importantly, promises Fund Managers a whole new round of suckers to dump shares into in July.
10% happens to be a Strong Bounce off the 25% drop, per our 5% Rule™, so we're not going to be too impressed until we see some follow-through. Like us, Bloomberg is skeptical, saying: "China's Magic Tricks Can't Save Its Stock Market" warning us:
Only time will tell if Beijing's bag of tricks is empty. But if it is, the fallout on global markets could dwarf the impact of Greece's flirtation with default. The world, after all, has had a few years to contemplate a Greek exit from the euro. But if the world's biggest trading nation suddenly hit a wall, it would
…

Posted in Appears on main page, Immediately available to public | Join Member's Chat - 101 Comments Here »
by ilene - June 29th, 2015 8:30 pm
Courtesy of David Stockman of Contra Corner
Late Friday night a solid blow was struck for sound money, free markets and limited government by a most unlikely force. Namely, the hard core statist and crypto-Marxist prime minister of Greece, Alexis Tsipras. He has now set in motion a cascade of disruption that will shake the corrupt status quo to its very foundations.
And just in the nick of time, too. After 15 years of rampant money printing, falsification of financial market prices and usurpation of democratic rule, his antagonists—–the ECB, the EU superstate and the IMF—-have become a terminal threat to the very survival of the kind of liberal society of which these values are part and parcel.
In fact, the Keynesian central banking and the Brussels and IMF style bailout regime—which has become nearly universal—-eventually fosters a form of soft-core economic totalitarianism. That's because the former first destroys honest financial markets by falsifying the price of debt. So doing, Keynesian central bankers enable governments to issue far more debt than their taxpayers and national economies can shoulder; and, at the same time, force investors and savers to desperately chase yield in a marketplace where the so-called risk free interest rate has been pegged at ridiculously low levels.
That means, in turn, that banks, bond funds and fast money traders alike take on increasing levels of unacknowledged and uncompensated risk, and that the natural checks and balances of honest financial markets are stymied and disabled. Short sellers are soon destroyed because the purpose of Keynesian central banking is to drive the price of securities to artificially high and unnatural levels. At the same time, hedge fund gamblers are able to engage in highly leveraged carry trades based on state subsidized (free) overnight money, and to purchase downside market risk insurance ("puts") for a pittance.
Eventually bond and stock "markets" become central bank enabled casinos—-riven with mispriced securities, dangerous carry trades, massive unearned windfall profits and endemic instability. When an unexpected shock or "black swan" event threatens to shatter confidence and trigger a sell-off of these drastically over-priced securities, the bailout state swings into action indiscriminately propping up the gamblers.
That's what the Fed and TARP did in behalf of Morgan Stanley and Goldman back in September 2008. And it's what the troika did in behalf of the French, German, Dutch, Italian and other European banks, which were stuffed with unpayable Greek and PIIGS debt, beginning in 2010.…

Posted in Appears on main page, Immediately available to public, Phil's Favorites | No Comments »
by phil - June 29th, 2015 7:38 am
I love a good distraction!
One of the great things about being good at forecasting the Futures is that we were not only 100% prepared for Greece to melt down (our Short-Term Portfolio was already up 152% as of Friday's close) but we're already done talking about it and looking ahead to the much bigger Financial crisis in CHINA!!!
If you are a typical short-term, short-sighted, impatient investor (they kind we make money off every day), now is a good time to click away and look for someone to explain to you what's going on in Greece. I liked Felix Salmon's "I Haven't Been Paying Attention. What's Going On In Greece?" enough to send it to the 1,000 people who asked me that this weekend. Greek markets are closed today (and will be all week along with the banks) but the Greek ETF (GREK) is trading and will open down 15-20% by my estimation.
As I said, I'm bored with Greece, we discussed it all weekend (and all year, and all month) in Member Chat, so you can catch up HERE, and we already played our strong bounce lines in the Futures and took our profits at:
Dow (/YM) 17,670
S&P (/ES) 2,075
Nasdaq (/NQ) 4,430
Russell (/TF) 1,264.20
Those are the strong bounce lines per our fabulous 5% Rule™ and we were able to predict them last night at 6pm, when the market opened and I tweeted out our long ideas as well as the exits and even used Seeking Alpha's Stock Talks to make sure all my readers got a chance to play. Now it's time to look at CHINA!!!, where the bi-weekly emergency measures to prop up their markets have already FAILED this morning. As I said on Friday in "Let's Ignore China (again) and Terrorism Today!":
At $47.75, FXI should open lower this morning and we do expect China to step in with more stimulus but the Aug $45.50 puts at $1 are still a fun way to play if you don't like
…

Posted in Appears on main page, Immediately available to public | Join Member's Chat - 199 Comments Here »
by Market Shadows - June 28th, 2015 7:17 pm
Talks between Greece and its creditors have broken down over the weekend and stock futures are tanking. The Greek stock market, and Greek banks, will be closed for the next week…. Could anyone have possibly seen this coming…?
Tsipras takes Greece to the edge of the precipice (Financial Times)
The FT takes a harsh view of Mr Tsipras' political tactics while also criticizing the creditors' uncompromising position and the political leadership in the eurozone. The result: an unfortunate, unnecessary standoff.
The threat to the euro has always been a soluble problem cloaked in an aura of political impossibility. But with each day, both sides seem more willing to indulge in blame shifting rather than constructive engagement. Greece now stands on a precipice. It is increasingly hard to detect the path of retreat.
Greece imposes capital controls as crisis deepens (Reuters)
After bailout talks between the leftwing government and foreign lenders broke down at the weekend, the European Central Bank froze vital funding support to Greece's banks, leaving Athens with little choice but to shut down the system to keep the banks from collapsing.

Banks are expected to be closed all next week, and there will be a daily 60 euro limit on cash withdrawals from cash machines, which will reopen on Tuesday. Capital controls are likely to last for many months at least.
Stocks are getting crushed (Myles Udland, Business Insider)
The drop in stocks comes after a wild weekend of headlines out of Greece that saw talks between Greece and its creditors break down, Greece call a referendum vote on the latest bailout terms for next Sunday, while Greek banks and the Athens stock exchange have been closed for at least the next week.

Greece also has a €1.6 billion payment due to the IMF on Tuesday, which it appears they will miss.

FinViz
Brace for a Sell-Off: Here's how the markets will respond to this weekend's debacle in Greece (Mohamed El-Erian at Business Insider)
Given developments over the last 36 hours —
…

Posted in Appears on main page, Immediately available to public, Phil's Favorites | No Comments »