by phil - October 9th, 2015 7:01 am
Wow, what a rally!
Yeah, yeah – go markets, BUYBUYBUY!!! OK, now that we have that out of our system, how about we take a deep breath and try to get real? This week has been the best week for the markets since late February and that's nice BUT, in early March, we gave back 50% of the gains.
While we are bound to respect the technicals over our strong bounce lines – we are very happy to remain mainly in cash ahead of the earnings reports.
As you can see from this Zacks chart - and as I noted on Benzinga Radio the other day, Q3 earnings are going to suck. Alcoa (AA) kicked things off with a bomb last night and the economic hits are just going to keep on coming as companies around the World report on the damage that's been caused by our anemic Global economy.
You don't have to take my word for it – just ask Nobel prize-winning economist, Joe Stiglitz:
As I said on Benzinga the other morning, how can earnings be good? Oil will be a disaster, of course (7% of the S&P), Banking is having trouble with low rates squeezing lending margins and M&A slowing down considerably (16% of the S&P) and Retail (16%) is sputtering, Manufacturing orders are the worst we've seen since the last crash and Materials (2.5%) were in a death spiral until this week (and the banks lend to these guys too).
Expectations/Market Prices simply haven't come down enough to reflect that – certainly not after this week's rally. Is this market really priced for two big, negative quarters?
The Energy drag notwithstanding, there is not much growth elsewhere either, with earnings growth for half of the 16 Zacks sectors expected to be in the negative for the quarter. The strong U.S. dollar and China-centric global growth questions are some of the key issues that will figure prominently in the earnings reports and management's outlook for the last quarter of the year.
…

Posted in Appears on main page, Immediately available to public | Join Member's Chat - 145 Comments Here »
by ilene - October 9th, 2015 12:00 am
By John Mauldin
I remember the first time I walked into Henry Blodget's new startup, Business Insider, back in 2009. Twelve fresh-faced kids were crammed into a room about the size of my bedroom, pounding away on laptops, creating a new destination website. He took me over to a corner; we sat down in front of a few cameras; and he began shooting question after question at me, later turning the session into a series of interviews.
You walk into his office today and it's still packed wall-to-wall with fresh-faced kids (the older I get the younger they look), but the offices are much larger, and it seemed to me last time that there had to be at least 150 people in them. But the interviews are still quick-paced, even if they're now conducted in a special room, with upgraded equipment.
One of the things Business Insider is noted for is compelling headlines. They republish much of the work from Mauldin Economics, but they often come up with more interesting headlines for our content than we do. And they still produce a lot of original material as well.
This week's Outside the Box is a brief note from Henry himself, with the snappy title "Market history is calling, and it's saying stock performance will be crappy for another ~10 years." Beyond the compelling headline is a look back at historical market performance and market cycles, with almost a dozen charts to illustrate Henry's thesis. It's a quick read, but investors should pay attention to his main premise: if you're looking for returns that are north of zero, you're going to have to be a better-than-average investor.
As an aside, I want to pass along my congratulations to Henry on the rather outsized offer (in the multiple nine figures) he has received from a German publisher for his business. I've always admired his determination and focus, and I enjoy watching another businessman prosper.
Now here's a good one for you. I'm sitting in my dentist's chair this morning, he's checking on the laser-evisceration of my gums he performed last week, and he says, "You know, most older people have the opposite problem from you – they have too little in the
…

Posted in Appears on main page, Immediately available to public, Phil's Favorites | No Comments »
by phil - October 8th, 2015 8:29 am
And the struggle continues.
As you can see from Dave Fry's SPY chart, this is the worst kind of "rally" where we get big volume sell-offs followed by low-volume, bot-driven pump jobs aimed to sucker the retailers into buying the dips so the guys driving the tradebots can dump more shares on them. Wash, rinse and repeat until the big boys are all cashed out (we already are!) and then they pull the rug out and crash the market.
The crashing part will be easy – all they have to do is not prop it up but, for good measure, "THEY" can always send their minions out to TV stations with a few well-placed downgrades to really send things into a tailspin. Suddenly, Russia bombing Turkey Syria, China's collapsing economy, Europe's slow economy, the refugee crisis, Fed raising rates, terrible US Jobs and Manufacturing numbers, Brazil or Venezuela's collapsing economies, Greece (again) or even our Debt Ceiling (again) will suddenly matter and the markets will quickly drop 10%.
I was on Benzinga's Pre-Market Show yesterday morning talking about my value reasons for being short up here (S&P 2,000):
It's not that we're all bearish – we have a lot of material stocks and our portfolios are at record highs this week so THANK YOU manipulators – it's just that we think the stocks we already cashed out of have further to fall before they are "correctly priced" – like the many material stocks we stuck with when we cashed out the rest. Having a materials-heavy portfolio this past week turned out to be the perfect way to play this bounce.
In fact, today is the end of month 2 for our Option Opportunities Portfolio over at Seeking Alpha, where our goal is to make $5,000 a month (5%) in a $100,000 portfolio and I'm very happy to say that our closed positions are, in fact, up $14,905 (14.9%) after 60 days:
As you can see, we only had to close 12 positions, averaging better than $1,000 per position with an average hold time of just over 2 weeks but, as we do that, we've been putting…

Posted in Appears on main page, Immediately available to public | Join Member's Chat - 238 Comments Here »
by ilene - October 8th, 2015 3:31 am
Courtesy of Joshua Brown, The Reformed Broker
I won't go so far as to say that these are the only charts that matter, but I think right now – at this moment – they could be.
Below, I'm doing a few ratio charts to demonstrate that the sectors in the eye of this year's storm – emerging markets, materials, oil stocks and industrial metals – are all staging dramatic comeback rallies relative to the S&P 500. To me, this is a more important story than anything happening with bonds or biotechs. These are the very sectors / asset classes that have brought global risk appetite to its knees this year. If they're truly putting in a bottom, sentiment about global growth could materially improve (pun intended), providing support for risk assets in general.
Just this morning, Morgan Stanley put out a big call saying it's time to buy the metals and mining stocks. It's definitely an outlier, as 2015 numbers repeatedly get ratcheted down for the group.
The good news is that these ratio charts are all breaking out to the upside, relative to the US stock market overall. Haven't seen this in quite awhile. I've included 50-day moving averages for perspective. The top pane for each chart is relative strength, the bottom pane is pure price.
Let's begin…
First, here's the Emerging Market ETF (EEM) vs the SPY, now above the 50-day: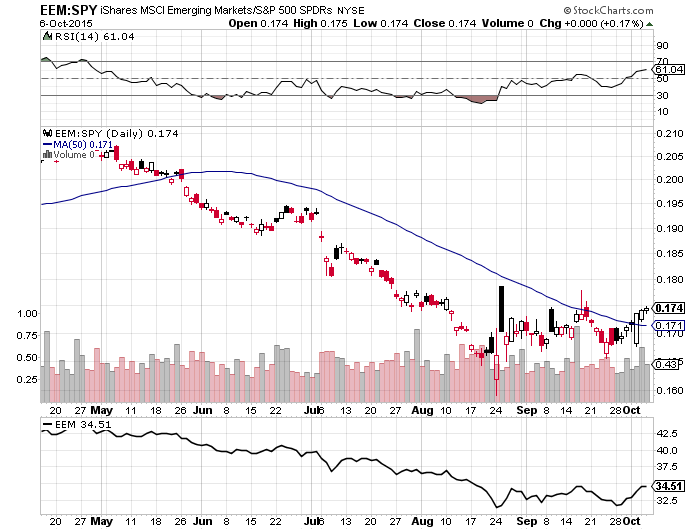 Here's the materials SPDR ETF (XLB), with a nice confirmation by momentum (RSI charging toward 70):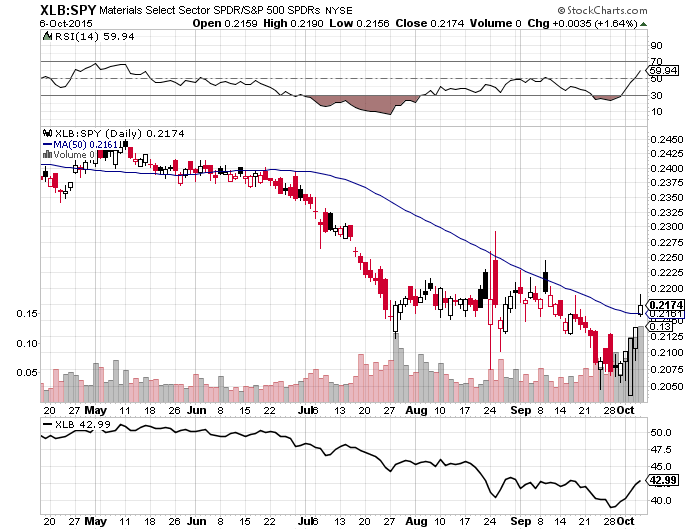 Here is the energy sector SPDR vs the SPY, also on fire with an 11% jump in a week's time: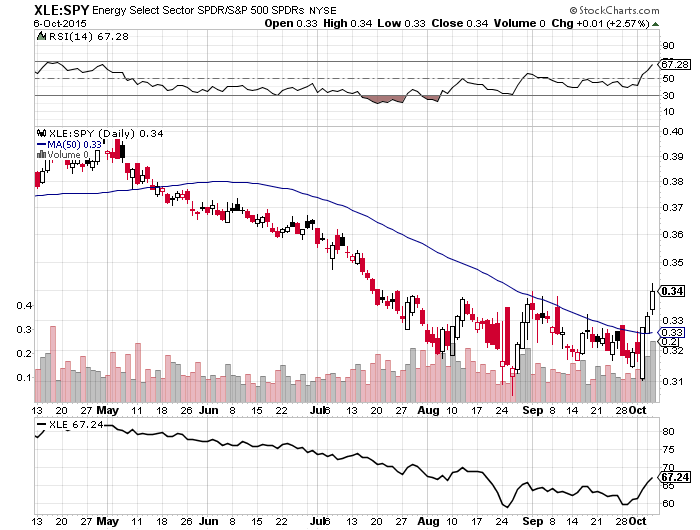 Finally, a risk ratio that has not yet popped but may be hammering out a tradeable bottom – the Shanghai Composite vs the SPY. It stopped going down at the end of August. But can it get up? Because that would be the mother of all sentiment squeezes. Literally no one thinks it can. Maybe the consensus is right – but what if it's not? Is anyone positioned for that?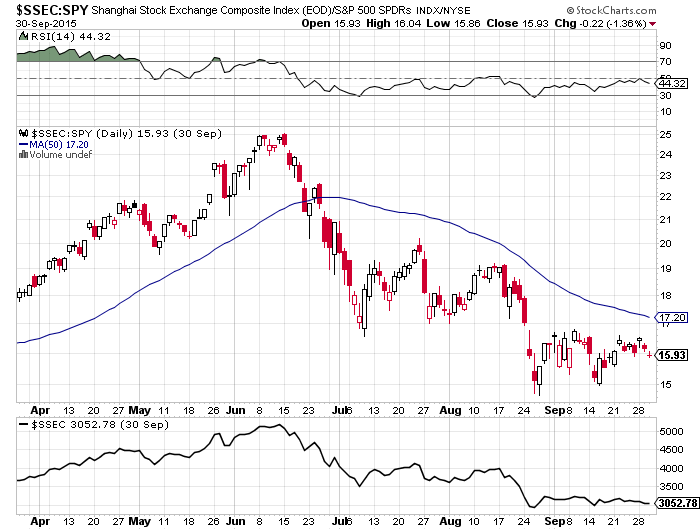 Bottoms are nearly impossible to call in real-time, so this is probably, at best, a useful thought exercise for most investors. But if these charts are getting constructive, it would represent a huge weight lifting off of everyone.
Posted in Appears on main page, Chart School, Immediately available to public, Phil's Favorites | No Comments »
by ilene - October 7th, 2015 9:20 pm
For quickest access to the PSW webinars, subscribe to our YouTube channel here.
Major Topics: Economy, Markets, S&P Chart, 5% Portfolio, Long-Term Portfolio, Butterfly Portfolio, GDP, Oil, Gold, Silver, FED, DAX, IBB, Standard Business Cycle, Corporate Profits, TLT, NLY.
3:05 S&P Chart
5:08 5% Portfolio, Trade Ideas
14:15 Long-Term Portfolio, Short Puts, Review Position
16:45 Short-term Portfolio is to protect the Long-Term Portfolio.
18:54 Butterfly Portfolio is self-hedging Portfolio
20:00 "Make sure your broker has your money in insured account."
22:23 "Our financial system is collapsing, we almost went to butter economy."
26:35 Long-Term Portfolio, Material Stocks. Review Position, Trade Ideas Puts and Calls
33:48 Silver Chart
37:36 "The Government will just print money."
40:10 The Worst-Case Scenario: GDP, Oil, Gold, Silver
47:30 Oil: Contracts run out.
50:10 5% Portfolio Review Position. Note: To make 400% you have to wait a year.
51:30 Fed: No help from emerging market, the Fed's balance sheet is maxed out.
53:00 SLW Puts and Calls spread
54:31 S&P Chart
56:10 DAX Chart, Futures
57:00 Draghi doesn't talk about policy… Forget it we're going down!
59:58 Standard Business Cycle: Contractions Financials Profits, GDP decrease, Commodity fall, Property Values fall, Recession, Bond rise, Inflation fall, Short-term rates fall, Economy looks weak, Stock prices rise, Economic Recovery, Economy Overheating, Bonds fall, Commodity rise, Inflation rise
1:03:48 Corporate Profits vs. GDP.
1:10:55 Biotech: IBB
1:18:54 DAX
1:20:27 TLT Trade Ideas, Puts and Calls
1:27:35 NLY Profits and Dividends, Trade Ideas Puts and Calls.
Posted in Appears on main page, Immediately available to public, Phil's Favorites | 1 Comment »
by phil - October 7th, 2015 8:19 am
It's the plot of "A Mad, Mad, World" and also the chart pattern we're getting as the S&P 500 makes yet another MIRACULOUS recovery off our Must Hold Line at 1,850. The 2,000 line is where the rubber hits the road and it's 8% over 1,850 and halfway back to our highs but, as you can see from our chart – there are A LOT of resistance lines bunched up in that area.
Our expected strong bounce line for the S&P was 1,950 (see yesterday's post), so that's no surprise and the Dollar is down 1% so add 19 more points and that's 1,970 without even overshooting the mark so no shocker at all to see us testing 2,000 but going over 2,000 is going to be another matter entirely.
For one thing, for the S&P to get over 2,000, the DAX has to get over 10,000 and, as you can see, we're right on that line now with a 1% gain on the day – capping off a 6.4% run from last week's low at 9,400. So, if the DAX is having trouble at 6.4%, why do we think the S&P will breeze over significant resistance at 8%?
If you are going to be a TA person – those are the kind of questions you should be asking yourself. As a Fundamentalist, however, I would ask you how any of this is happening when we just got TERRIBLE Industrial Output reports from Germany (-1.2%) and Spain (-1.4%). It is especially troubling for Germany, where leading Economorons predicted a gain of 0.2% because – well because they are clueless practitioners of a voodoo profession.
When are Economists (and Investors) going to wake up to the concept that the Global Economy is WEAK and still essentially in a recession – the one that never ended but has been papered over by TRILLIONS of Dollars in stimulus that has faked growth for 6 years. Like the proverbial dead parrot, this economy wouldn't go "voom" if you put $4Tn into it – and the Fed has proven that point – as has the BOJ, the PBOC, the ECB, RBI, SNB, ETC… This is an EX-ECONOMY!!
…

Posted in Appears on main page, Immediately available to public | Join Member's Chat - 193 Comments Here »