by ilene - November 18th, 2017 11:45 pm
New Weekend Reading:
We Were Warned (Anthony Doerr, NY Times)
Twenty-five years ago this month, more than 1,500 prominent scientists, including over half of the living Nobel laureates, issued a manifesto titled "World Scientists' Warning to Humanity" in which they admonished, "A great change in our stewardship of the earth and the life on it is required if vast human misery is to be avoided and our global home on this planet is not to be irretrievably mutilated."

They cited stresses on the planet's atmosphere, forests, oceans and soils, and called on everybody to act decisively. "No more than one or a few decades remain," the scientists wrote, "before the chance to avert the threats we now confront will be lost."
The Shocking Math of the Republican Tax Plan (Adam Davidson, The New Yorker)
If it gives us nothing else positive, the Republican tax plan—and, in its Senate form, the health-care repeal—at least provides clarity. There is no debate. The middle class will, in the long run, pay more in taxes than under current law, and the rich will pay less. For a brief moment last week, there did seem to be space for discussion, in the form of a disagreement between the centrist and highly regarded Tax Policy Center and the Tax Foundation, a pro-business group that is generally seen as more biased. Even if poorly matched, having two groups with similar, boring names set the stage for the appearance of a two-handed tax debate. One side says it helps the rich, hurts everyone else, and will lead to a bigger deficit; the other side says the opposite. Our media and political system has long viewed economic policy—and, especially, taxation—as the equivalent of "American Idol." There is a group of judges, loudly disagreeing, and the home audience can pick whichever side they like, based on whatever criteria they have. In past tax-news cycles (2001, 1993, 1990, 1986 . . . ), there were enough serious, respected economists on both sides to make it seem like there was a real, substantive fight over the impact of taxes on jobs and economic growth. (While each individual economist appears to know everything with certainty, as a group, they are surprisingly unsure of the impact of taxes on a
…

Posted in Appears on main page, Immediately available to public, Phil's Favorites | No Comments »
by ilene - November 17th, 2017 8:49 pm
'Hot potato' shows why workers won't benefit from Trump's corporate tax cut

Courtesy of Steven Pressman, Colorado State University
Many children have played hot potato, a game in which they pass a spud to other children quickly so they don't get stuck with it when the music stops.
Taxes are like that potato. No one likes paying them; everyone tries to pass them to others. The game of hot potato sheds some light on the debate over Republican tax cutting plans, particularly when it comes to companies.
The House just passed its tax cut bill. It would give about two-thirds of roughly US$1.5 trillion in net tax cuts over the next decade to businesses, mainly by lowering the corporate income tax rate to 20 percent from 35 percent. That puts a lot of money on the table. About $100 billion in U.S. corporate profits would be retained by companies rather than paid to the government each year.
Treasury Secretary Steve Mnuchin has claimed that most of this tax savings would go to workers, in the form of higher wages, in line with the president's argument that the plan would benefit the middle class.
With the help of hot potatoes, let me explain why he's wrong.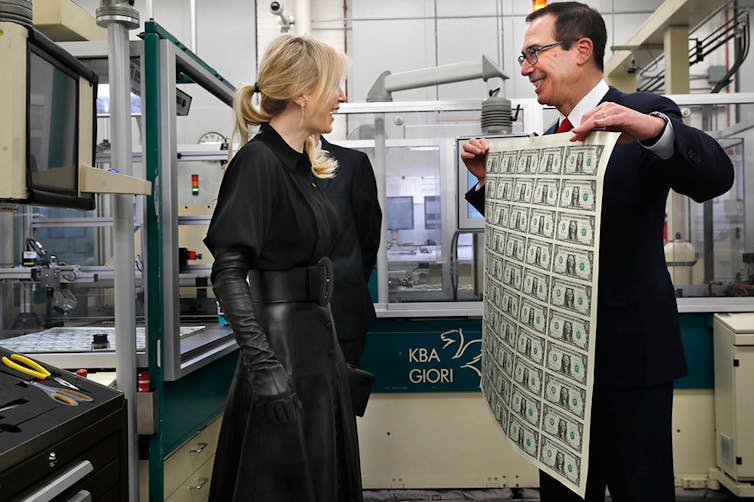 Why workers won't gain

There are two ways a corporate income tax cut can trickle down to workers' pockets: directly through higher wages or indirectly via lower prices at stores selling the things they buy.
Mnuchin contends that workers currently bear 70 percent of the corporate tax burden – or get stuck with 70 percent of the corporate tax hot potato. So, a tax cut would mean that companies pass much of their tax benefits to their employees by paying them more or by cutting prices and increasing the buying…

Posted in Appears on main page, Immediately available to public, Phil's Favorites | No Comments »
by phil - November 17th, 2017 8:18 am
Next week is nonsense.
In the US, Thanksgiving is Thursday and the markets are closed and many people take the whole week off and almost everyone is in vacation mode by Wednesday and Friday (a half-day on Wall Street) is a total joke for those who show up – often the lowest volume day of the year. So we don't expect much action next week and certainly not a move higher and then, after Thanksgiving it's Christmas time and then New Years so let's just meet back here on Jan 2nd and see where things are, OK?
We've been reviewing our porfolios in our Live Member Chat Room and we're well-locked in neutral already with very little gained in the past month but that's OK, as the market has made very little gains in the past months. In fact, our last Portfolio Review was October 28th and the S&P closed that Friday at 2,581 and, this morning, we're at 2,585 so – happy holidays – see you in Januray!
If you do insist on hanging around, you can expect more of the same in December – unless the Trump Tax Plan fails to pass the Senate, then we are likely to break below the range. At the moment, as we've discussed before, most people are holding their equities (including us) into next year, so we can take our profits when the taxes are lower. If no one is willing to sell (and take high-tax profits), then the new buyers are forced to offer higher prices and the market does drift higher but the low volumes indicate it may be very hard to find buyers once people do want to cash in their gains.
There are good strategies for locking in gains and I'll tell you a few. Apple, for example, is at $171 and let's say you bought 1,000 shares for $120 ($120,000) and you have a $51,000 gain. If you take that gain now, you will be taxed, for example, 38.5% ($19,635) but if you wait and next year you pay just 25% ($12,750) you are saving almost $7,000. So your 1,000 shares of AAPL would have to fall more than $7 (4%) for it to be…

Posted in Appears on main page | Join Member's Chat - 147 Comments Here »
by clarisezoleta - November 16th, 2017 6:14 pm
PhilStockWorld.com Weekly Trading Webinar – 11-15-17

For LIVE access on Wednesday afternoons, join us at Phil's Stock World – click here
Major Topics:
00:01:59 Checking on the Markets
00:03:44 AAPL
00:04:11 EXE
00:06:45 SQ
00:09:33 DFS
00:16:20 GNC
00:18:03 GE Chart
00:27:06 FTR
00:31:16 Checking on the Markets
00:32:13 GILD
00:40:25 TSLA
00:46:30 Pivot Points
00:49:25 SGYP
00:58:20 Big Chart
01:02:08 S&P 500
01:21:17 Watchlist update
01:38:19 NLY
01:47:13 Portfolio Review
01:51:38 GE Trade Ideas
Phil's Weekly Trading Webinars provide a great opportunity to learn what we do at PSW. Subscribe to our YouTube channel and view past webinars, here. For LIVE access to PSW's Weekly Webinars – demonstrating trading strategies in real time – join us at PSW — click here!
Posted in Appears on main page, Immediately available to public, Phil's Favorites | No Comments »
by phil - November 16th, 2017 8:27 am
$450,000,000!
That's a lot of money to spend on a painting and yet another justification for my daughter to go to art school! It just goes to show you how rich the rich are gettin as the previous record for a painting at auction was $300M for Kooning's "Interchange" 2 years ago and this painting was previously purchased in 2013 for "only" $127.5M – how's that for inflation? So, on this trajectory, we're only a few years away from the first Billion-Dollar painting – just in time for Madeline to graduate with her art degree!
The buyer is mystery but look for a guy with a 26" space on his wall – that's probably him. That's right, this is a pretty small painting but it is cool that it was painted by DaVinci 500 years ago though how they prove that, I can't say. There was a VanGough that went for "only" $81.3M that I liked better – and it's more in my price range.
This is an indicator of how drastic income inequality is becomming in the US. There was a roomful of people yesterday, bidding hundreds of Millions of Dollars on a painting while their pet Congresspeople are screaming to the cameras that these art lovers need massive tax breaks in order to "create jobs". In order to give the art lovers these tax breaks, we have to give up our nacent universal health insurance, we have to cut Medicare, cut Student Loan Funding and cut Farm Subsides – all while taking on $1,500,000,000,000 in additional debt (minimum), which is enough money to buy 3,000 more paintings!
Going long Sothebey's (BID) might be the best way to play along at home because all this money we, The People are scrificing is going to just 3M of our fellow citizens in the Top 1% and this chart is old as they now control 50% of the wealth in this country – and guess where they took the other 10% from?
That extra blob of green on the chart is what was cut off from the top of the top 90% and it belongs to the Top 97, 98 and 99th percentiles and yes, a…

Posted in Appears on main page, Immediately available to public | Join Member's Chat - 134 Comments Here »
by ilene - November 16th, 2017 1:52 am
How Silicon Valley industry polluted the sylvan California dream

Courtesy of Jason A. Heppler, University of Nebraska Omaha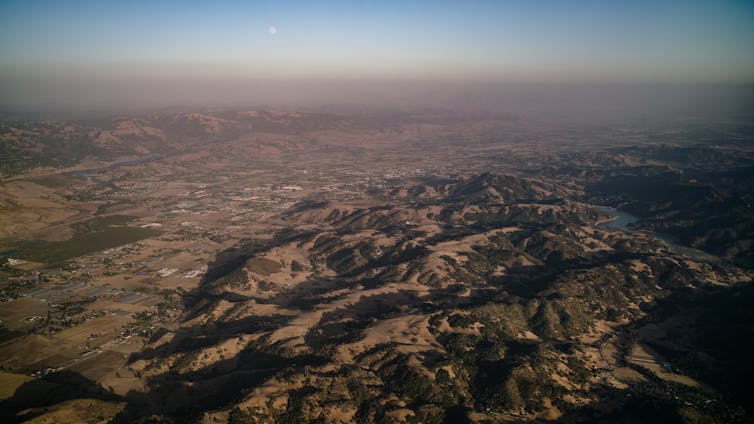 On Labor Day 1956, a caravan of moving trucks wound their way into Santa Clara County, just south of San Francisco, carrying the possessions of 600 families and equipment for the missile and space labs of the Lockheed Corporation. One month later, Lockheed's Sunnyvale campus opened for business. Many of the arriving families were relocating to Sunnyvale from the company's facility in Burbank, in Southern California.
The draw included good jobs in the emerging businesses of electronics research and development, as well as manufacturing of semiconductors and other electronic components for machinery and computers. Affordable housing, a pastoral landscape and a pleasant environment proved very attractive for newcomers. Local boosters, corporate executives and new residents alike envisioned a modern future in stark contrast with the declining dirty urban industrial model of the Northeast and Midwest.
This type of industrial work and manufacturing didn't need smokestacks, large warehouses, or other markers of the industrial age. The Santa Clara Valley's promise for leading Northern California into a bright economic future quickly brought the area the nickname "Silicon Valley." But in the book I am writing, I note that if this convergence of natural surroundings, suburban homes and high-tech industrialization represented a facet of the California dream, it also betrayed it.
A bright illusion of the future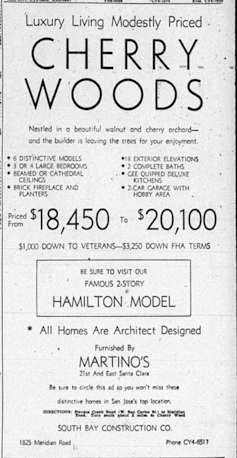 In addition to jobs in electronics and aerospace, the emerging suburbs of Silicon Valley promised newcomers a countryside experience. David Beers, whose father worked at the Sunnyvale Lockheed campus, remembered the chamber of commerce brochures claiming an "all-year garden" and "the most beautiful valleys in the world." Such advertisements were common, assuring home buyers "good living," the "calm of the country" and "a beautiful walnut and cherry orchard" that "the builder is leaving … for your enjoyment." The white-collar workers of high tech could make their homes in what…

Posted in Appears on main page, Immediately available to public, Phil's Favorites | No Comments »