by phil - September 21st, 2017 8:44 am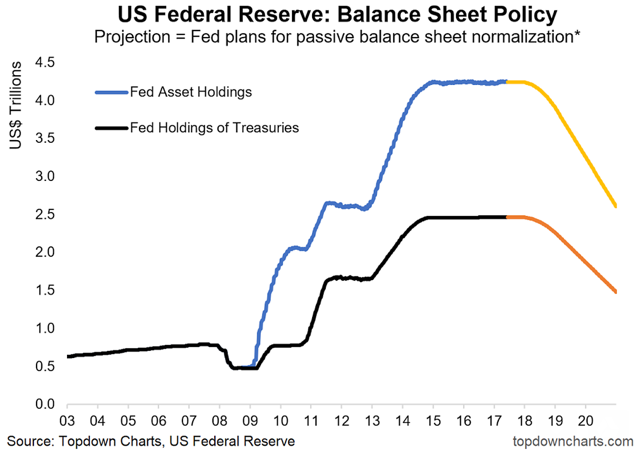 Well, that's that!
The great unwind has begun and I was off by $100Bn (20%) yesterday, when I predicted the Fed would aim for $500Bn a year in balance sheet reductions (they are going for $600Bn) although, to be fair, they are gradually stepping up to $600Bn so the net effect will be the same $500Bn a year, which is what we calculated would be the most even a recovering economy could withstand.
Keep in mind that treasuries are only half of the assets the Fed holds, they also have a lot of stock they need to dump and a whole lot of real estate and mortgages they need to find buyers for as well and you KNOW what happens when a seller HAS to sell to raise cash by a certain time – they are simply not going to get great prices for the assets they are dumping.
It's a lot easier to write a check to buy things than it is to sell them – ask anyone who's thrown a garage or estate sale. Whatever the Fed ends up writing off will be losses that transfer to Treasury and ultimately add to our deficit. None of this is accounted for in Trump's already pure-fantasy budget and, in fact, the Fed ADDED $97.7Bn in profits to the Treasury last year, reducing our defict. If instead they lose $100Bn a year – that's a $200Bn swing in our deficit. That's 5% of Government spending – no small item!
The market seems oddly calm about all this but, as we discussed in yesterday's Live Trading Webinar (where we shorted Oil (/CL) at $51 and the Russell (/TF) at 1,445), the process for large funds and banksters involves several meetings and perhaps board votes before they begin to unwind their own assets – so the real reaction is likely to be delayed into next week.

The quick reaction was a 1% drop in the indexes, a half-point drop in bonds (higher rates) and goaaaaallllll!!! on our Dollar trade, as it blasted up to our 92.50 target from the Morning Report and that was good for same day gains of over…

Posted in Appears on main page, Immediately available to public | Join Member's Chat - 63 Comments Here »
by ilene - September 21st, 2017 1:58 am
How Trump could undermine the US solar boom

Courtesy of Llewelyn Hughes, Australian National University and Jonas Meckling, University of California, Berkeley
Tumbling prices for solar energy have helped stoke demand among U.S. homeowners, businesses and utilities for electricity powered by the sun. But that could soon change.
President Donald Trump – whose proposed 2018 budget would slash support for alternative energy – may get a new opportunity to undermine the solar power market by imposing duties that could increase the cost of solar power high enough to choke off the industry's growth.
As scholars of how public policies affect, and are affected by, energy, we have been studying how the solar industry is increasingly global. We also research what this means for who wins and loses from the renewable energy revolution in the U.S. and Europe.
We believe that imposing steep new duties on imported solar equipment would hurt the overall U.S. solar industry. That in turn could discourage choices that slow the pace of climate change.
Trade complaints

A bankrupt manufacturer has petitioned the Trump administration to slap new duties on imported crystalline silicon photovoltaic cells, the basic electricity-producing components of solar panels – along with imported panels, also known as modules.
This case follows earlier and narrower complaints filed by SolarWorld, a German solar manufacturer with a factory in Oregon, that Chinese companies were getting an unfair edge as a result of subsidies and dumping.
Due to those cases, the U.S. has imposed duties on solar panels and their components imported from China and Taiwan. The punitive Chinese tariffs averaged 29.5 percent last year, according to the Greentech Media research firm.
Suniva, a U.S. company that – oddly enough – is majority-owned by a Chinese company, lodged this complaint in April under a rarely activated 1974 Trade Act provision called Section 201. SolarWorld Americas joined in a month later.
The key difference in this new case is that it will potentially lead to tariffs on all imported solar cells and panels, rather than specific kinds…

Posted in Appears on main page, Immediately available to public, Phil's Favorites | No Comments »
by phil - September 20th, 2017 8:29 am
Is America great yet?
It is if you get paid in something other than Dollars, or if your assets are not Dollar-backed. Otherwise, it's 3.4% less great than it was in November – as measured by Global confidence in our currency. Cutting taxes, running up Government spending, threatening war (s) and easy money policies are no way to strengthen a currency.
US Household Wealth is roughly $100Tn so a 3.4% cut in the value of those Dollars means $3.4Tn was essentially taken from us – pretty much confiscated by our Government. That's a lot worse than any tax because it's 3.4% of EVERYTHING we have. Fortunately for those of us in the Top 1%, a lot of that $3.4Tn went right back into the market, where we have the bulk of our wealth anyway and, of course, we have enough money that we diversify our assets into other currencies and, of course, Gold, which has flown up from $1,125 to $1,325 (17%) since the election.
So thank you, Bottom 99%, for your contributions to our portfolios. We couldn't have done it without devaluing everything you own! In yesterday's morning Report, we discussed the massive debt bomb we are facing and looked at the Fed's projections and concluded the market may be wrong and the Fed may tighten at this meeting. If they do, the Dollar will shoot higher and shorts will cover so I like Dollar Futures (/DX) long over the 91.50 line – with tight stops below.
If the Fed surprises us and brings rates up 0.25%, expect the /DX to move up to at least 92.5 for $1,000 gains per contract. Don't forget, Japan, Europe and China do not want a weak Dollar – this is the point they are likely to step in and prop it up anyway – so I feel pretty good about that play. If you are Futures-impaired, you can use the Dollar ETF (UUP) as a proxy. It's at 23.80 and the October $23.50 calls are just 0.45 so 0.15 in premium isn't bad for a month's worth of leverage, right?
We'll look at that trade this afternoon at…

Posted in Appears on main page, Immediately available to public | Join Member's Chat - 83 Comments Here »
by Zero Hedge - September 20th, 2017 1:00 am
Courtesy of Zero Hedge
The unpredictable nature of super-intelligent, self-improving machines lends itself quite nicely to the dramatic storylines of movies and books.
It's a science fiction writer's dream – as Visual Capitalist's Jeff Desjardins warns: if AI becomes smart enough to create more advanced versions of itself, pretty much every outcome is on the table. Machines could empower humanity to become enlightened and virtuous. On the less optimistic side? Machines could instead ruthlessly enslave all of humankind to tickle their own warped sense of satisfaction.
POP CULTURE PERSPECTIVES
From the plot of movies like The Terminator to The Matrix, pop culture offers up innumerable examples of what could happen from the rise of the machines – and most of them, as you can imagine, steer towards the less optimistic side of the spectrum.
Today's infographic from BBC Future provides an entertaining take on these scenarios, organized by potential likelihood.
Some experts see AI having a $15.7 trillion impact on our economy, but pop culture offers up a slightly different perspective of what the future may hold.
FUTURE AI SCENARIOS
Here are just some of the scenarios offered up in mainstream movies, books, and television shows. Some are apocalyptic and dystopian, and some seem just plain bizarre:
Seductive Siris: In 2013's Her, Joaquin Phoenix falls in love with an intelligent operating system named Samantha.

Self-Replicating AI: In 1995's Screamers, scientists create a self-replicating weapon with one purpose: to destroy all life.

The Singularity: AI vies to take over the world in 1982's classic Tron.

Rampaging Robots: In 1973's Westworld, recently re-envisioned as a different TV series by HBO, murderous androids go on a killing spree in a futuristic Disney-style theme park.

Feeling Machines: In the 1999 movie Bicentennial Man, a household robot experiences emotions, creative thoughts, and eventually develops sentience.

Androids Among Us: Artificial beings infiltrate society undetected in TV series Battlestar Galactica.

Human Enslavement: In the 1999 movie The Matrix, all life on Earth is an elaborate facade. The robots are really the ones in command, but you wouldn't know it until you take the "red pill".

Mind Upload: Digitized humans gain immortality and then wreak havoc, such as in 2014's Transcendence.
ONE CERTAINTY
While some of these ideas seem far-fetched, it's worth noting that not all future scenarios are as distant as they may seem.
With computing power increasing exponentially, the tail end of the hockey stick could happen sooner than we may think.
Posted in Appears on main page, Immediately available to public, Phil's Favorites | No Comments »
by ilene - September 19th, 2017 1:10 pm
Can the world's megacities survive the digital age?

Courtesy of Christopher H. Lim, Nanyang Technological University and Vincent Mack, Nanyang Technological University
Today, megacities have become synonymous with economic growth. In both developing and developed countries, cities with populations of 10 million or more account for one-third to one-half of their gross domestic product.
Many analysts and policymakers think this trend is here to stay. The rise of big data analytics and mobile technology should spur development, they assert, transforming metropolises like Shanghai, Nairobi and Mexico City into so-called "smart cities" that can leverage their huge populations to power their economies and change the power balance in the world.
GIF: The world's 20 biggest megacities leading up to 2100. A big shift east. (More: https://t.co/lzKkJAhSiY) pic.twitter.com/uTmRxxaKKk

— Visual Capitalist (@VisualCap) July 12, 2017
As technology researchers, however, we see a less rosy urban future. That's because digitization and crowdsourcing will actually undermine the very foundations of the megacity economy, which is typically built on some combination of manufacturing, commerce, retail and professional services.
The exact formula differs from region to region, but all megacities are designed to maximize the productivity of their massive populations. Today, these cities lean heavily on economies of scale, by which increased production brings cost advantages, and on the savings and benefits of co-locating people and firms in neighborhoods and industrial clusters.
But technological advances are now upending these old business models, threatening future of megacities as we know them.
Manufacturing on the fritz

One classic example of a disruptive new technology is 3-D printing, which enables individuals to "print" everything from ice cream to machine parts.
As this streamlined technique spreads, it will eliminate some of the many links in the global production process. By taking out the "middle men," 3-D printing may ultimately reduce the supply chain to just a designer on one end and a manufacturer on the other, significantly reducing the production costs of manufactured goods.
…

Posted in Appears on main page, Immediately available to public, Phil's Favorites | No Comments »
by phil - September 19th, 2017 8:33 am
What can go wrong?
Well, for one thing, the Fed could tighten. As you can see from the Fed's own projections, which are to be released tomorrow (but are on their web site today), the Fed is projecting a Fed Funds Rate of 2.9-3.9% next year. This year it was a much wider -0.1 to 2.9% and we're right in the middle at 1.25% but what if we're in the middle next year at 3.5%? Are you ready for a 2.25% rate hike? Is anybody?
Certainly people with adjustable mortgages are not ready or revolving debt (reccord highs) or variable loans like Corporations tend to have, which would add $400Bn to their $2Tn debt balance. Are the banks ready to have their loan margins squeezed as rates climb, which is often the case?
Even just 3% would require 7 rate hikes in 8 meetings – unless the Fed hikes us this year, then it would be 6 of 8 or, if they surprise us and hike tomorrow, they buy a bit of fexibility next year and "only" have to hike rates 0.25 every other meeting, plut one. Their other projections are on track. The market thought lowering the Q3 GDP forecast (see yesterday's Morning Report) would keep the Fed off the table but they are only projecting 2.0-2.4% GDP for 2017 and LESS next year – so we're right on track.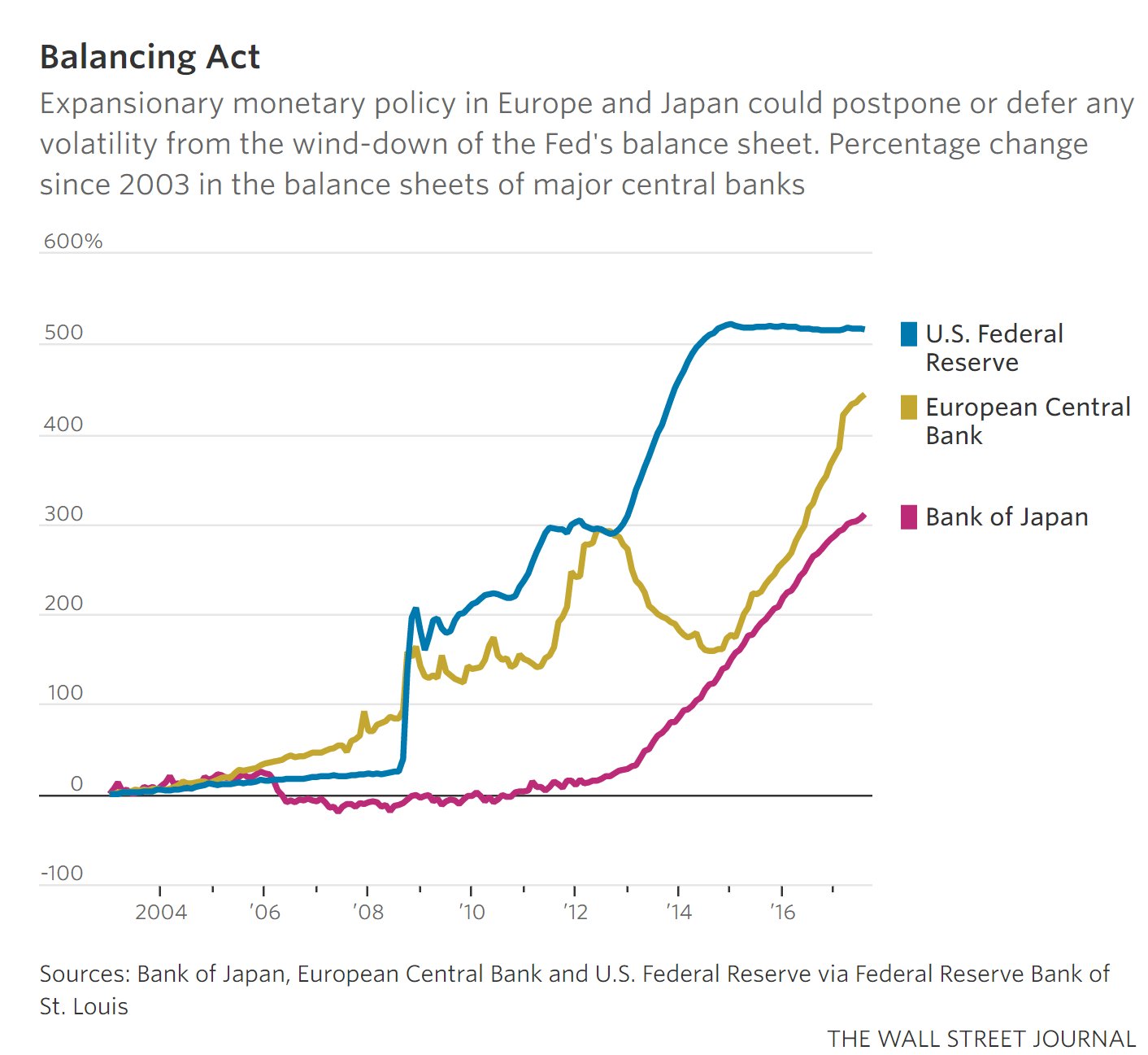 Unemployment is below their target, Inflation is above – there's really no excuse for the Fed NOT to raise rates so don't be surprised if everyone is surprised tomorrow by a quarter-point hike, hurricane or no hurricane. Of much more concern than the rates going up (though the repercussions of that alone will be tragic) is the potential unwinding of the Fed's Balance Sheet, which currently stands at $4.47 TRILLION and that's up about $3.7Tn since 2008.
Even if the Fed "only" withdraws their money over the same 8 years they put it in, that's $500Bn a year coming OUT of the economy – no wonder they project a significantly lower GDP next year! Meanwhile, the BOJ and the ECB have been putting in $400Bn a month and Japan's stimulus is so out of proportion to their $5Tn economy…

Posted in Appears on main page, Immediately available to public | Join Member's Chat - 114 Comments Here »