by phil - December 7th, 2016 8:39 am
I like this chart from Panamaorange at StockTwits:
I'm not a TA guy but I do know when things are overbought and oh boy are we overbought right now. Volume on the S&P ETF (SPY) was 57M yesterday as we busted up to new highs – that's about 1/2 "normal" volume of 100M, which is already down from 150M last year. Low volume means low conviction and we pair that with record ETF inflows (dumb money) of $56Bn and we know exactly what this rally is made of. Small Caps, Financials and Industrials captured most of the flows while, as noted yesterday, money is fleeing from Emerging Markets and Emerging Market Debt – we're simply the "safe haven" – for now…
And, of course, money is flowing out of bonds, which are a very bad thing to hang onto when interest rates are rising and December is on pace to blow November's numbers out of the water and, like Richard Gere, that bond money has nowhere else to go except into equities – regardless of how ridiculously priced they are.
And, of course, a person dumb enough to put their money into 30-year notes at 2% isn't going to think twice about running into equities that have a p/e of 30 – that's more like a 3.3% return, at least! That's also making dividend stocks extra expensive as the coupon clippers love dividend stocks and, as value investors, we're finding bargains very hard to find in that space but we're patient, we can wait for the correction.
Meanwhile, the Dow has climbed to the top of our target range already. Back on 11/25, we put up a hedge against our Russell Futures (/TF) shorts (was 1,350 then too!) that would cover us for an $11,250 profit if the indexes refused to back down – at the time I said:
In fact, the Russell 2,000 is just under 1,350 and that's up 200 points since early November (not counting their spike down) and that is just shy of 15% so the Dow is MILES behind
…

Posted in Appears on main page, Immediately available to public | Join Member's Chat - 193 Comments Here »
by ilene - December 7th, 2016 1:26 am
Courtesy of Joshua M Brown, The Reformed Broker
The President-elect of the United States is outraging some of our largest strategic partners before even assuming office, feuding with sketch comedy shows and literally accusing people of crimes on Twitter in the early hours of the morning.
He's disparaging the media on a daily basis. He's said more complimentary things about Russia than he has about our allies over the last half-century from NATO. He's conducting unprepared phone calls with Pakistan and Taiwan – the avowed enemies of India and China respectively – and inexplicably inviting his daughter to sit in on meetings with world leaders.
This sort of thing might be making you nervous. That's understandable. Most smart people I talk too – including Trump supporters – have their fingers crossed that he will grow into the role he's won for himself and stop doing embarrassing shit. He might. Lots of 70 year olds turn on a dime and make wholesale personality shifts. Okay, just kidding, but I'm trying to be optimistic.
Let's say you're not optimistic about the next four years. Well, my friend, Bloomberg has a feature just for you: The Pessimist's Guide to 2017. It's a compendium of scenarios in which things go very wrong in multiple categories. It's probably too pessimistic, but I think that's the point of the exercise.
I'm not as worried about the trade stuff and the wall stuff as some of you, mostly because I don't believe any of it will actually be pursued. I do worry about the potential for geopolitical mishaps that lead to armed conflict. I don't think the undisciplined and uninformed bluster and bravado of a "business genius" is what typically makes the world safe, forgive me for feeling this way.
The Bloomberg Guide talks about things like North Korea testing long range missiles that can hold a nuclear device, about ISIS radicalizing central Asia, about Saudi Arabia and Japan developing their own military defenses further upon feeling abandoned, about Putin feeling emboldened, etc. Let's assume you think any or all of these are legitimate concerns. Here's one investment that might make sense…
…

Posted in Appears on main page, Immediately available to public, Phil's Favorites | No Comments »
by phil - December 6th, 2016 8:13 am
Everything is awesome!
We did get some awesome Consumer Spending numbers yesterday but, as you can see from the chart, it's more of a reflection of inflation than of a confident consumer that's out shopping. The cost of "essentials" has risen sharply since May, up 8% while discretionary spending has remained flat. I imagine when the credit card data comes out – we'll see that a lot of this spending has been debt-financed – not the best kind of spending...
Still, the market hates nuance so YAY!!! Speaking of nuances, did you know that Fitch, Moody's and the S&P have taken a record 1,971 negative ratings actions on emerging-market sovereign and government-related entities in 2016 – and the year isn't even over yet! Isn't that awesome??? Not since 2007-2008 have we had this kind of uptick in negative ratings and back then the record was only 1,400 – we shattered that in September!
Now I'm not going to say this is a bad thing because NOTHING is a bad thing as far as this market is concerned but, it's kind of a bad thing. 26% of the 134 Sovereigns rated by Moody's still have a negative outlook – so things can get even worse. When a sovereign defaults, there's a domino effect of companies, private and state-owned, that follow. For once, S&P, Moody's and Fitch may be giving investors early indications of what to expect. The message for now is clear: Developing nations are no longer doing that well.
I'm not going to dwell on the negative, not when Bloomberg did such a good job of it in their "Pessimist's Guide to 2017".
We tried shorting yesterday and that failed, with our stops quickly broken to the upside but we're at is again today. In yesterday's post, I said the Nikkei (/NKD) was my favorite short at 18,500 and we made a +$500 move down to 18,400 (now back to 18,450) but that was disappointing given the Dollars sharp fall back to 100 so today we're not into them but we do have 19,225 on the Dow Futures (/YM) and those components are very stretched and oil…

Posted in Appears on main page, Immediately available to public | Join Member's Chat - 118 Comments Here »
by ilene - December 5th, 2016 10:50 pm
Coming soon? Turn on your Amazon Go App and walk into the store. Set the App to "Personal Assistant" mode and give him a British or French accent. Then, go grab your groceries. Your assistant will give you reminders ("out of milk"), praise for responsible choices ("excellent selection, fiber-rich"), and warnings for mistakes, such as "gluten!," "this will be your 6th Twinkie," and "I'm really going to have to self-destruct if you try to buy that."
Courtesy of ZeroHedge
After launching Amazon Fresh, an online food delivery service, in numerous cities just a few years ago, Amazon has now decided it has to go "offline" to capture incremental share of the grocery market. As such, the company today revealed its first brick-and-mortar small-format grocery store, Amazon Go, one of at least three formats the online retail giant is exploring as it makes a play for a higher share of grocery spending.
With in-store technology designed to track customers' every step, the Amazon Go concept promises "No Lines" and "No Checkout."
The first Amazon Go concept store is roughly the size of a convenience store, though according to the Wall Street Journal the company is also testing a drive-thru concept as well as a traditional 30-to-40,000 square foot grocery store that would combine in-store shopping and curbside pickup.
The Amazon Go store, at roughly 1,800 square feet in downtown Seattle, resembles a convenience store-format in a video Amazon released Monday. It features artificial intelligence-powered technology that eliminates checkouts, cash registers and lines. Instead, customers scan their phone on a kiosk as they walk in, and Amazon automatically determines what items customers take from the shelves. After leaving the store, Amazon charges their account for the items and sends a receipt.

Meanwhile, in the suburban Seattle neighborhood of Ballard, a handful of workers on Monday were finishing up one of Amazon's two drive-through prototypes in the area, which according to the people close to the situation are slated to open in the next few weeks. The wood-paneled building with green trim and an overhang appeared to have at least three covered bays for cars to pull up and pick up orders, with
…

Posted in Appears on main page, Immediately available to public, Phil's Favorites | No Comments »
by ilene - December 5th, 2016 10:41 pm
Picture via Pixabay
Courtesy of Joshua M Brown
RBC's chief strategist Jonathan Golub is firmly in the "new paradigm" camp as a result of the Trump presidency. He sees the S&P 500 hitting 2500 by year-end 2017 on $128 in S&P 500 earnings with $140 possible in calendar 2018. That's a 17.9 multiple on next year's profits.
Here's his case, in a nutshell:
Pro-Growth Policies

Corporate tax cuts could easily add 5–7% to profits annually going forward

Deregulation should increase economic growth through greater productivity

Financials would be the greatest beneficiary of less onerous regulations

Fiscal spending, while a positive, would have a delayed impact on growth

Consumer spending should improve as wages rise and savings rates fall

Higher rates should positively impact Banks and consumer spending (paradox of thrift)
Golub says the rotation to more cyclical, US focused financial stocks and cyclically sensitive, smaller cap companies is still in the early innings. He notes that, overall, the S&P 500 is only up 3% since the election, despite all the commotion. Here's two tables illustrating what's gone on so far, he thinks these trends continue: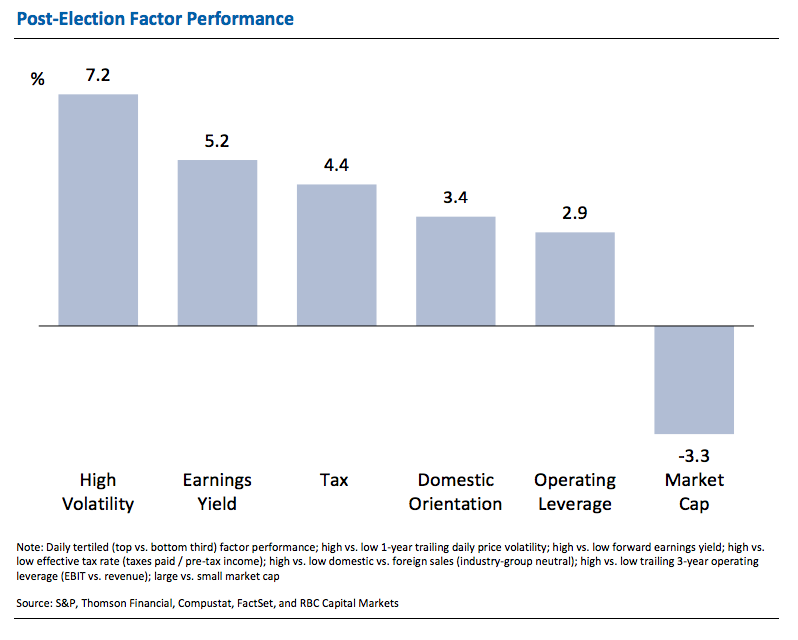 Here's how it looks by sector – technology companies are among the most likely to have large cash balances to repatriate so its weird to see them lagging by this degree. Perhaps its the globalized nature of their businesses vs the more US-centric banks and energy firms that have them languishing to this degree.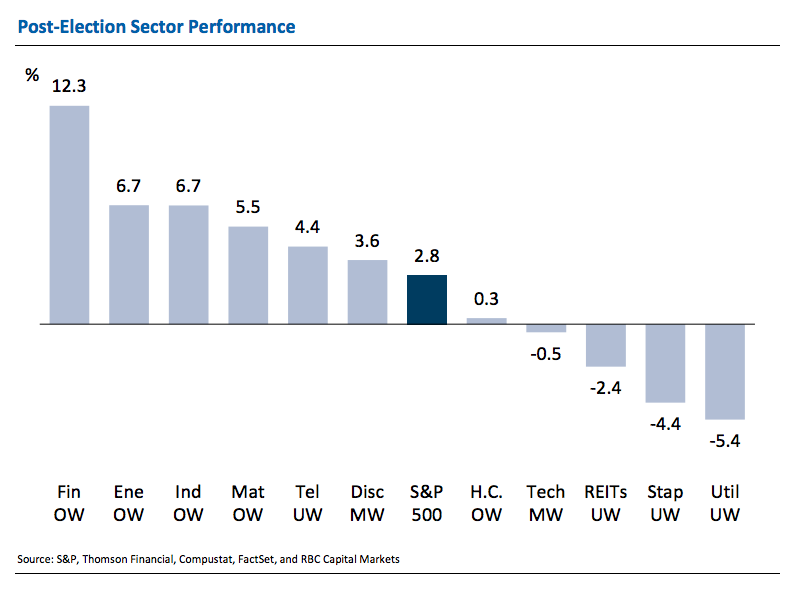 Josh here – there's a lot of wishful thinking in here, but the same could be said for all market / economic outlooks. How much of the agenda is implemented, and in what time frame, will determine how much these post-election trends can continue.
This also assumes no monkey wrenches thrown in the works, like a 35% tariff on goods imported from China, for example – or some other geopolitical freak-out. If an emboldened Putin marches troops into Lithuania, for example, I don't think we'll be out here celebrating corporate tax cuts.
Source:
2017 Outlook – The Trump Playbook
RBC Capital Markets – December 5th 2016
Posted in Appears on main page, Immediately available to public, Phil's Favorites | No Comments »
by phil - December 5th, 2016 8:27 am
Oh my God!
Shame on any editor who pretends politics shouldn't be discussed in financial posts – their cowardice has led to the election of a man who doesn't even understand that China has been propping UP their currency, at the insistence of the US and other nations, and have lately been REMOVING their supports and the devaluation of the Yuan is what the REAL market values are currently showing.
In May of last year, in fact, the IMF officially stated the Yuan was no longer undervalued. Since 2015, the People's Bank of China, the central bank, hasn't been keeping the currency cheap. Rather, it's been defending the yuan, drawing down its foreign-exchange reserves in order to keep the value aloft.
Why would it do that, knowing that might hurt the export sector, which provides a huge share of jobs? In the last few years, demand for the yuan has come less and less from trade, and more from investment flowing into China to speculate on the currency's appreciation against the dollar—a self-reinforcing phenomenon. Those inflows help prevent cash squeezes in the banking system, and push down borrowing costs. Letting the yuan's value drop might drive that investment out of China, draining cash from the financial system dangerously fast.
Is it too political to point out that the President-Elect of the United States of America COMPLETELY WRONG in his currency statements. Trump isn't just wrong about what Beijing is doing, he's wrong about the impact it might have. This year, even though the yuan depreciated against the dollar, Chinese exports have not picked up thanks to the weak global economy. "It has become less effective and unnecessary for Beijing to use a cheaper yuan to boost exports," noted Shuli Ren of Barron's recently, because "the pie is getting smaller and competitive easing can only get you so far."
Recently, with China's foreign currency reserves falling to the lowest since 2011, the Chinese central bank are believed to have sold the dollar to ease yuan's decline, in an attempt to curb record capital outflows—doing exactly the opposite of what Trump claims. Should I keep quite about this idiocy because this is a financial newsletter and Trump has armies of letter-writing fanatics that…

Posted in Appears on main page | Join Member's Chat - 110 Comments Here »