by phil - March 23rd, 2017 8:10 am
Big vote tonight.
If the TrumpDon'tCare Plan is approved (the CBO says it can no longer be called a health plan since the overall goal is to kill as many people as possible), then Trump's agenda is winning and the markets could leg higher. If, on the other hand, the GOP revolts against The Donald, all Hell could break loose so ignore the politics if you want to but we're paying very close attention!
Interestingly, the main GOP objection to TrumpDon'tCare is that it still cared about forcing Health Insurance Companies to provide minimum benefits to their customers. That has now been removed by the White House and now the Insurance Companies don't have to do anything for anyone at any time – isn't that great? As noted by Politico, however:
While altering the coverage requirements could help win over the Freedom Caucus members, it could drive away moderates — another coalition that House leaders need to build upon in the final 24 hours before the planned vote on Thursday. House leaders are still short of the 215 votes they need.
It's going to be hard to bridge the gap because the bill still is not Draconian enough for the "Freedom Caucus":
Freedom Caucus members, led by Meadows, want at least some parts of Title One of the bill removed. Included in Title One are many of the Affordable Care Act's benefits, like a prohibition on insurers denying coverage over pre-existing conditions and a prohibition on lifetime and annual limits.
That's right, your pre-existing conditions can now stop you from getting coverage and, even if you are covered, there can be a cap – so don't get too sick or you'll be on your own! Aside from leading to a great unwinding in the Health Care, Pharma and Biotech sectors, TrumpDon'tCare will put a huge burden on the bottom 99% and eat into their disposable income…

Posted in Appears on main page, Immediately available to public | Join Member's Chat - 231 Comments Here »
by ilene - March 22nd, 2017 9:17 pm
You and I are both rational beings who let facts drive our thinking, but it seems our fellow humans are not so thoughtful. Or at least that's what the research says. It turns out that behavioral psychologists have been undermining the bastions of human reasonability for decades, starting with some nefarious characters in the Stanford University psych department back in the '70s, whose devilishly clever experiments were then taken a frightening step further at that equally suspect institution over on the other coast: Harvard. Don't these mental types have anything better to do than conclusively prove that nobody (but you and I) can think straight?
Apparently not. And then the Harvard guys had the temerity to suggest that the human race's muddleheadedness goes allllllll the way back to the time we spent trotting around on the African savannah. Remember that? Lotsa fun – if you didn't get chewed up by a pack of hyenas or run down by a herd of water buffalos. You see, we weren't just sitting out there on the plain playing checkers or debating the finer points of Cartesian philosophy. No, we were hanging on by the skin of our teeth – even as our teeth got smaller so our brains could get bigger. But it turns out that the most significant way our brains got bigger – and the main reason we survived and evolved into the total media animals we are today – was that we figured out how to cooperate.
Or at least that's what the Harvard guys say. Their argument runs more or less like this:
It's quite frustrating … when you think about it. But I guess it's better to face the truth about ourselves than to go along blindly, always wondering over the irrational hijinks our fellow two-leggeds are forever getting up to.
The whole sordid – but not entirely unhopeful – story is laid out by Elizabeth Kolbert in a piece titled "Why Facts Don't Change Our Minds," in – you guessed it – The New Yorker … yes, the only rag in the greater English-speaking world that insists
…

Posted in Appears on main page, Immediately available to public, Phil's Favorites | 1 Comment »
by ilene - March 22nd, 2017 5:38 pm
For Background, read: A Brazilian meat scandal damages the country's two global producers (São Paulo, The Economist)
EVEN amid Brazil's pungent stew of recent big corporate scandals, the latest is particularly stomach-turning. On Friday March 17th, in time for a traditional weekend churrasco, or barbecue, the federal police accused some of the country's biggest meat producers of bribing health inspectors to turn a blind eye to grubby practices. These include repackaging beef past its sell-by date, making turkey ham out of soyabeans rather than actual birds and overuse of potentially harmful additives. The police operation, dubbed Weak Flesh, could reduce Brazil's meat exports, worth $13bn a year, and damage its two big global meat producers, JBS and BRF.

Two days later the president, Michel Temer, treated 27 diplomats from the country's main export markets to prime Brazilian cuts at a steakhouse (pictured [by AP]) in the capital, Brasília. Nevertheless, straight after that China, the European Union, Chile and South Korea, which together consume a third of Brazilian meat sold abroad, said they would ban some or all imports from Brazil until it can allay misgivings about its inspection regime. The reactions from China and Chile provoked particular anguish. Unlike the EU, which has restricted products only from the 21 plants that are under investigation, they have barred all Brazilian meat from crossing their borders until further notice.
Phil discusses Brazil's new meat scandal's impact on the country's economy:
Brazil's push to root out corruption is considered short-term pain for long-term gain. For more on new meat scandal's impact on Brazil's economy, CGTN's Rachelle Akuffo spoke to Phil Davis, publisher of PhilStockWorld.com.
Posted in Appears on main page, Immediately available to public, Phil's Favorites | No Comments »
by phil - March 22nd, 2017 8:37 am
Where's my tax cut?
The market is getting worried that TrumpDon'tCare is not only going to impoverish tens of Millions of Americans (bad for Retail) but that the fight over it will delay the things they really care about like MORE FREE MONEY in the form of lower taxes for the Top 1% and, of course, the dismantling of regulations as well as the regulatory agencies that are supposed to enforce them. In short – where is our Gangster's Paradise?
Fortunately, as members of the Top 1%, we are able to take full advantage of the chaos and the Biotech Short (IBB) from yesterday's morning Report opened at $4.45 and closed at $5.90 for a nice 32.5% gain on the day. Of course that's nothing compared to the Monday morning Report's timely Tesla (TSLA) short, which was:
We're hoping TSLA goes higher but worried they won't so our trade for the moment is going to be:

Sell 3 TSLA April $265 calls for $9 ($2,700)

Buy 5 TSLA April $290 puts for $30 ($15,000)

Sell 5 TSLA April $275 puts for $19 ($9,500)

That nets you into the $7,500 spread for $3,300 so the upside potential is only $4,200 (127%) but, on the bright side, it's only 32 days away (April 21st) to expiration. We only need TSLA to stay below $265 to collect the money and, if they go higher, we will roll our short calls to 6 May or June calls at higher strikes (the June $305 calls are $5 and the margin is $15,000 on 6 short ones)
…

Posted in Appears on main page, Immediately available to public | Join Member's Chat - 187 Comments Here »
by ilene - March 21st, 2017 8:29 pm
By John Mauldin, Thoughts from the Frontline
"America was not built on fear. America was built on courage, on imagination and an unbeatable determination to do the job at hand."

– Harry S. Truman

"Unemployment is a weapon of mass destruction."

– Dennis Kucinich

"Ever since 2000, basic indicators have offered oddly inconsistent readings on America's economic performance and prospects. It is curious and highly uncharacteristic to find such measures so very far out of alignment with one another. We are witnessing an ominous and growing divergence between three trends that should ordinarily move in tandem: wealth, output, and employment. Depending upon which of these three indicators you choose, America looks to be heading up, down, or more or less nowhere."

–Nicholas Eberstadt, "Our Miserable 21st Century"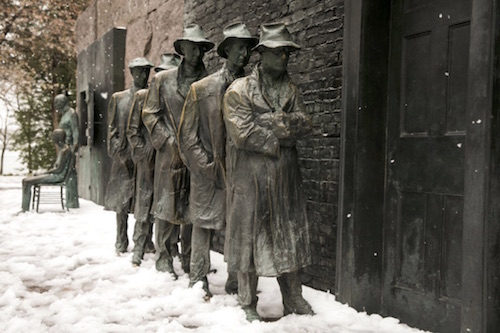 "Depression Breadline," 1991, by George Segal
Angst is "a feeling of anxiety, apprehension, or insecurity." Many of us feel it acutely right now – and that's new. Angst isn't a temporary, individual thing anymore. Now we all feel it together – or at least most of us do – and it's not at all temporary. Millions can remember feeling no other way.
There's a general sense in much of the developed world that we're headed for more difficult times. Deficits increase, unemployment rises, and the benefits of the future – or at least the future that is already here (to paraphrase William Gibson) – have been unevenly distributed throughout society. It is not just in voting patterns that you can recognize the sense of malaise. You can see it in the economic numbers and in a lot of the psychological/sociological research.
Angst manifests differently in different countries. Consider Japan:
Recent research by the Japanese government showed that about 30% of single women and 15% of single men aged between 20 and 29 admitted to having fallen in love with a meme or character in a game – higher than the 24% of those women and 11% of men who admitted to falling in love with a pop star or actor.

The development of the multimillion-pound virtual romance industry in Japan reflects the existence of
…

Posted in Appears on main page, Immediately available to public, Phil's Favorites | No Comments »
by phil - March 21st, 2017 8:41 am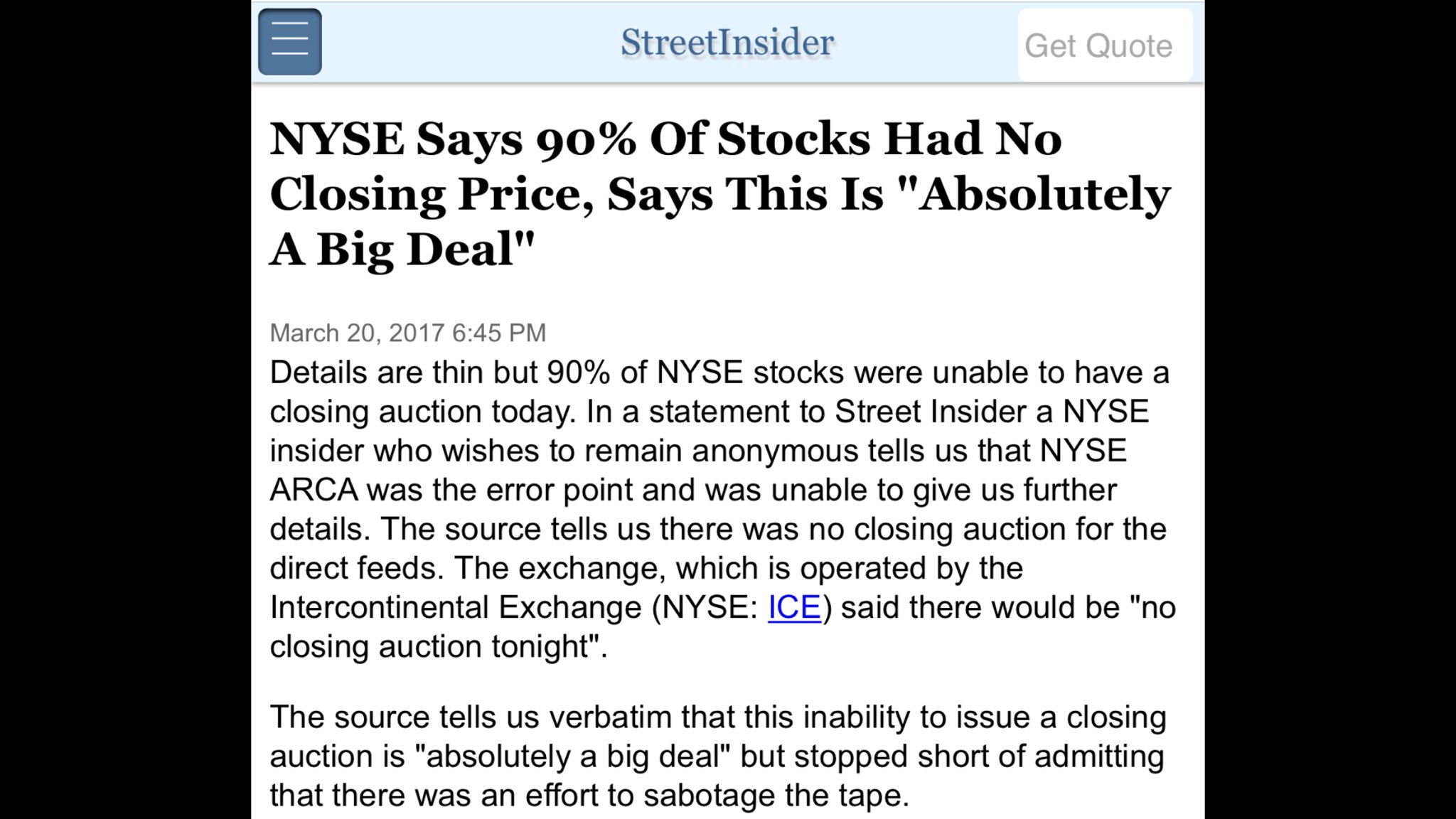 Treading water for two weeks.
On March 7th, I wrote: "Testy Tuesday – 11,550 or Bust on the NYSE" and yesterday the NYSE closed at 11,556.9 so no harm in waiting around for the Fed. At the time we pointed out that declining volume was greater than advancing volume and that was still the case yesterday with 1.86Bn shares in decline vs. 1.15M shares moving higher in light trading but yesterday's action was tainted by a failure at the closing auction. After-hours trading was suspended at 4:13 and all open orders were cancelled.
It seems to be working again this morning but it's very scary when a major market system – THE major market system, fails on you. If that had happened during a trading day – it would have been total chaos of the "flash-crash" variety. Have I mentioned how much I love CASH!!! lately? Hedges too!
Our well-hedged Long-Term Portfolio is up over $9,000 since our 3/10 review despite the market not making any progress. That's because we SELL risk to stock market gamblers using our system which teaches our Members to Be the House – NOT the Gambler. Notice we are 75% CASH!!! (have I mentioned how much I love CASH!!!) but the positions we do have are on track to make $250,000 this year as they use options to both hedge and leverage the cash we do have in play. You don't need to risk a lot to make a lot.
By selling risk premium, we don't need an up market to make money – flat or even slightly down works for us and anything less than slightly down kicks in our hedges and keeps us from losing too much. You don't hit a lot of home runs following this strategy but your batting average usually leads the league!
Balance is also key in this kind of market, we're slightly bearish overall, maybe 60:40 but we're moving towards 70:30, which is as extreme as we ever get in our positions. If you…

Posted in Appears on main page, Immediately available to public | Join Member's Chat - 178 Comments Here »