by ilene - February 15th, 2018 4:57 pm
No, artificial intelligence won't steal your children's jobs – it will make them more creative and productive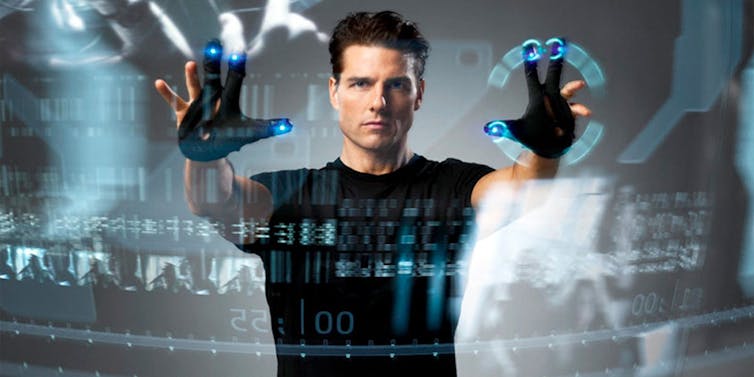 Courtesy of Marcos Lima, Pôle Léonard de Vinci – UGEI
"Whatever your job is the chances are that one of these machines can do it faster or better than you can."
No, this is not a 2018 headline about self-driving cars or one of IBM's new supercomputers. Instead, it was published by the Daily Mirror in 1955, when a computer took as much space as a large kitchen and had less power than a pocket calculator. They were called "electronic brains" back then, and evoked both hope and fear. And more than 20 years later, little had changed: In a 1978 BBC documentary about silicon chips, one commentator argued that "They are the reason why Japan is abandoning its shipbuilding and why our children will grow up without jobs to go to".
Artificial intelligence hype is not new

If one types "artificial intelligence" (AI) on Google Books' Ngram Viewer – a tool that allows us to check how often a term was printed in a book between 1800 and 2008 – we can clearly see that our modern-day hype, optimism and deep concern about AI are by no means a novelty.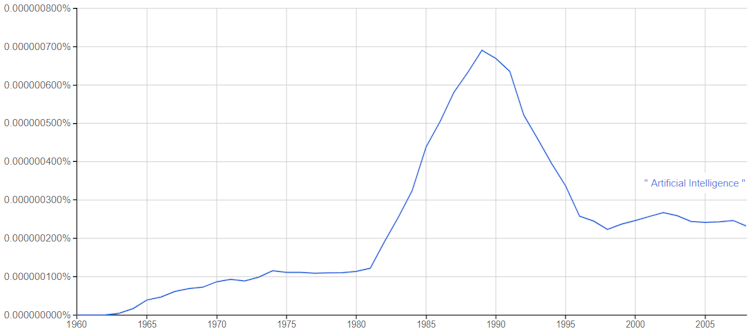 The history of AI is a long series of booms and busts. The first "AI spring" took place between 1956 and 1974, with pioneers such as the young Marvin Minsky. This was followed by the "first AI winter" (1974-1980), when disillusion with the gap between machine learning and human cognitive capacities first led to disinvestment and disinterest in the topic. A second boom (1980-1987) was followed by another "winter" (1987-2001). Since the 2000s we've been surfing the third "AI spring".
There's plenty of reasons to believe this latest wave of interest for AI is going to be more durable. According to Gartner Research, technologies typically go from a "peak of inflated expectations" through a "trough…

Posted in Appears on main page, Immediately available to public, Phil's Favorites | No Comments »
by clarisezoleta - February 15th, 2018 12:23 pm
PhilStockWorld.com Weekly Trading Webinar – 02-14-18

For LIVE access on Wednesday afternoons, join us at Phil's Stock World – click here
Major Topics:
00:01:54 Checking on the Markets
00:03:37 Russell
00:12:33 CMG
00:17:47 CMG Trade Ideas
00:29:57 RB
00:38:25 CMG
00:39:45 CISCO
00:43:09 WPM
00:46:35 BBBY
00:53:49 Active Trader
01:04:50 Butterfly Portfoli
01:05:24 OIH
01:06:34 Money Talk Portfolio
01:09:18 Long Term Portfolio
01:11:20 Short Term Portfolio
01:15:30 Option Opportunity Portfolio
01:22:46 ABX
01:27:22 Checking on the Markets
01:31:31 Indexes
Phil's Weekly Trading Webinars provide a great opportunity to learn what we do at PSW. Subscribe to our YouTube channel and view past webinars, here. For LIVE access to PSW's Weekly Webinars – demonstrating trading strategies in real time – join us at PSW — click here!
Posted in Appears on main page, Immediately available to public, Phil's Favorites | No Comments »
by phil - February 15th, 2018 8:28 am
You're welcome!
In yesterday's Morning Report, we decided the sell-off was overdone and went for the Russell (/TF) Futures longs at 1,480 and yesterday afternoon they blasted back to 1,520 for a $2,000 per contract gain on the day and this morning at 1,530 for another $500 per contract and NOW we are flipping short – but more on that later. Remember, we are still playing the bounce lines from the charts we made for your last week – so none of this is a surprise and none of this, so far, including this morning's pop in the Futures, is indicating a true recovery yet.
The S&P Futures (/ES) this morning are topping out at 2,720 and our 5% Rule™ Bounce Chart from last week (2/9) has, so far, predicted the moves perfectly:
All we are doing, so far, is topping out at the same place we bounced on 2/7 and that's being mirrored on the other indexes so the lines we need to be over now – in order to call today "bullish" are Dow 25,200, S&P 2,715, Nasdaq 6,700 and Russell 1,520 and, so far, the Russell and Nasdaq are a bit over but the Dow and S&P are below. Don't forget, we topped out at 2,872 on Jan 26th so there's really nothing impressive about 2,720 - other than the fact that we came back from 2,600 but it's only a halfway recovery (not even) at this point and, if we fail to get over these lines, it's as likely we're consolidating for a move down after 2 weeks as it is we're moving back up.
Fundamentally, nothing has changed and you saw how quickly the market can still move down (and recover) yesterday. Our 5% Rule™ takes into account that it's easy to manipulate a rally that recovers 20% and 40% of a drop if it's done quickly enough and we take into account the idiocy of dip buyers as well. Not that all dip buyers are idiots – we had a field day adding stocks to our portfolios over the past two weeks – it's just that we added well-hedged positions and now it is time to improve our hedges, many of which we…

Posted in Appears on main page, Immediately available to public | Join Member's Chat - 125 Comments Here »
by Zero Hedge - February 14th, 2018 11:20 pm
Courtesy of Zero Hedge
This Friday, China is going to celebrate its new year, kicking off one of the planet's great migrations.
Also known as Spring Festival or Lunar New Year, Statista's Niall McCarthy notes that this the event sees hundreds of millions of people leave their cities in order to visit their families in more rural parts of the country. In fact, practically all of China takes holiday at once, making the new year the biggest human event on earth.
Find more infographics at Statista
This year, the number traveling to welcome the Year of the Dog will be approximately 385 million, marking a 12 percent increase on 2017 according to China News.
Comparing China's largest annual migration with North America's is a good way to gauge its sheer size.
Thanksgiving 2017 saw 50.9 million travelers negotiate long tailbacks on the interstate and overcrowded airports. Even though Thanksgiving is a major travel event, China's new year is still seven times bigger, with its massive population making a big difference of course.
Known as "chunyun", the annual new year migration in China also easily surpasses the world's biggest pilgrimages in scale with Arba'een and the Hajj not even coming close.
Posted in Appears on main page, Immediately available to public, Phil's Favorites | No Comments »
by phil - February 14th, 2018 8:29 am
Happy Valentine's Day!
There's a massacre for the markets as we're down 300 points in a massive failure of the strong bounce lines which we predicted for you a week ago, which are:
Dow (

/YM

) 24,100 is weak and 24,700 is strong
S&P (

/ES

) 2,610 is weak and 2,670 is strong
Nasdaq (

/NQ

) 6,440 is weak and 6,580 is strong
Russell (

/TF

) 1,480 is weak and 1,510 is strong
We needed to see strong bounces on all 4 indexes taken AND HELD for at least a full day before we could safely say the correction is over (it's not).
Strong inflation numbers are killing us this morning (CPI), keeping the Fed on the table for more tightening. There had been no real news in the past week to change what were obviously overbought conditions 2 weeks ago so there was no logic in racing back to the overbought conditions – though we're still a good 5% below the highs. If you almost had a heart attack last week, this is a good time to consider hedges and a great example can be found from the way we adjusted our Money Talk Portfolio (which we discussed on Feb 1st in our Morning Report) by adding a Nasdaq Ultra-Short (SQQQ) hedge that has gained $5,900 in two weeks, almost exactly offsetting half the damage to the portfolio – as intended. That trade idea was:
SQQQ is the ultra-short Nasdaq ETF that's a 3x inverse of QQQ. So, if the Nasdaq drops 10%, SQQQ goes up 30% (in theory, it's not perfect). I'm going to add the following trade as a hedge and WE EXPECT TO LOSE MONEY ON THIS ONE – it's like life insurance, you pay for it but you hope that, each year, it's a waste of money!
…

Posted in Appears on main page, Immediately available to public | Join Member's Chat - 125 Comments Here »
by ilene - February 13th, 2018 11:46 pm
The 'real' St. Valentine was no patron of love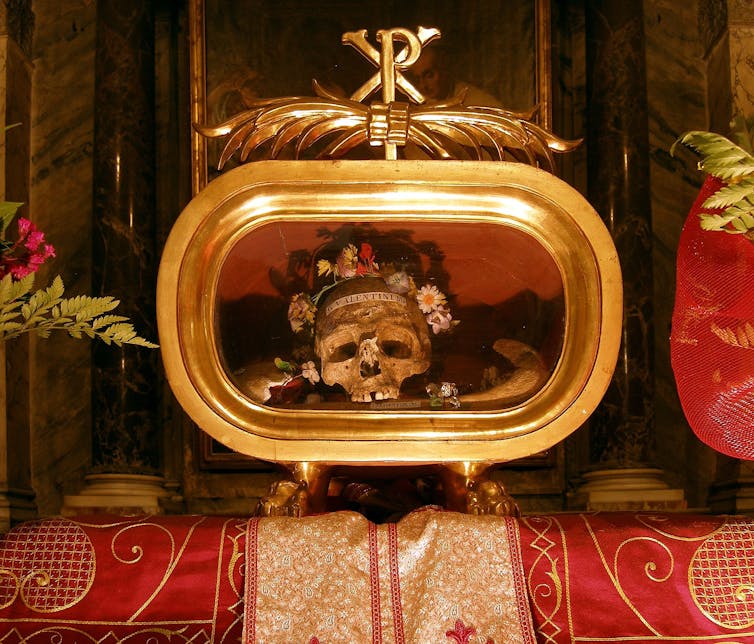 Courtesy of Lisa Bitel, University of Southern California – Dornsife College of Letters, Arts and Sciences
On Feb. 14, sweethearts of all ages will exchange cards, flowers, candy, and more lavish gifts in the name of St. Valentine. But as a historian of Christianity, I can tell you that at the root of our modern holiday is a beautiful fiction. St. Valentine was no lover or patron of love.
Valentine's Day, in fact, originated as a liturgical feast to celebrate the decapitation of a third-century Christian martyr, or perhaps two. So, how did we get from beheading to betrothing on Valentine's Day?
Early origins of St. Valentine

Ancient sources reveal that there were several St. Valentines who died on Feb. 14. Two of them were executed during the reign of Roman Emperor Claudius Gothicus in 269-270 A.D., at a time when persecution of Christians was common.
How do we know this? Because, an order of Belgian monks spent three centuries collecting evidence for the lives of saints from manuscript archives around the known world.
They were called Bollandists after Jean Bolland, a Jesuit scholar who began publishing the massive 68-folio volumes of "Acta Sanctorum," or "Lives of the Saints," beginning in 1643.
Since then, successive generations of monks continued the work until the last volume was published in 1940. The Brothers dug up every scrap of information about every saint on the liturgical calendar and printed the texts arranged according to the saint's feast day.
The Valentine martyrs

The volume encompassing Feb. 14 contains the stories of a handful of "Valentini," including the earliest three of whom died in the third century.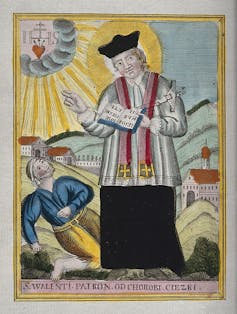 The earliest Valentinus is said to have died in Africa, along with 24 soldiers. Unfortunately, even…

Posted in Appears on main page, Immediately available to public, Phil's Favorites | No Comments »